The stretch along U.S. Highway 89 across from the National Elk Refuge used to be known in the mid-20th century as Billboard Alley.
And it wasn't alone. Across the country, larger-than-life highway signs became the go-to advertisements for a new generation of car owners and interstate tourists.
Lady Bird Johnson, wife of President Lyndon B. Johnson, saw the signs as an ugliness issue and infamously made it her mission to spiff up the nation's scenic routes.
In 1965 Congress passed the Highway Beautification Act, and not soon after, the Wyoming Department of Transportation began removing thousands of the state's billboards.
If you look down Highway 89 today, you won't see billboards. County land development regulations prevent businesses in that zone from putting up signs over 8 feet tall or over 40 square feet.
But you can still see a relic of Jackson's past, and arguably one of its most treasured signs.
With a combined 352-square-foot area held by a 40-foot-tall frame, the "Flat Creek Inn" sign and accompanying "Lodging Gas/ Diesel Mini-mart" sign are finally compliant with county regulations without needing to change.
The Bagley family, original builders of the old Red Barn Maverik a mile north of town, was granted a variance last Tuesday by county commissioners for their "non-compliant" sign.
The variance was needed for repairs but had been drawn out by miscommunication and bureaucratic drag since 2017 that Senior Planner Chandler Windom called a "series of unfortunate events."
Brett Bagley, Jackson native and one of the owners of the Flat Creek Inn, presented slides to planning commissioners in December, playing at sentiment and historical value for what could be seen as an oversized commercial eyesore.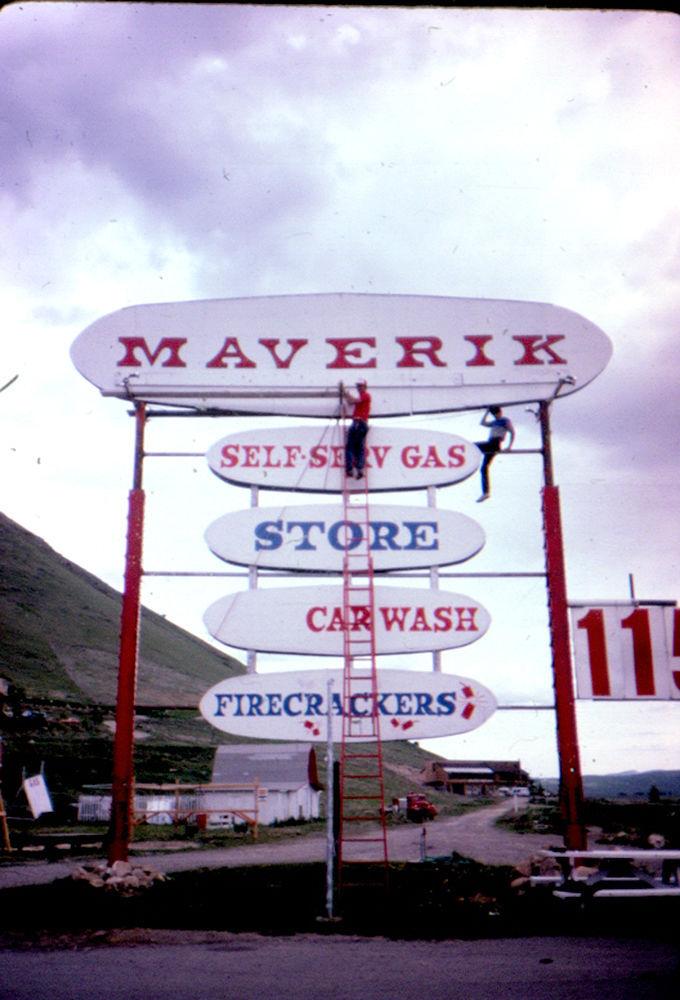 "Everything that my father built is gone except for that sign," Bagley said. "And so that sign means a lot to us. There's a lot of sentimental value. And you know, for me it's a part of the legacy of my father."
A plaque hangs in the Flat Creek Inn lobby informing visitors of how his father Jerry Bagley took the steel I-beams from the 1938 Hog Island Swinging Bridge to create the original Maverik sign in 1968.
"My dad recycled before it was cool. So he got permission to cut this bridge down," Bagley said.
Now the I-beams are encrusted in wood, but the vinyl sign has begun to peel in Jackson's extreme snow and wind.
The Flat Creek Inn owner's planning representative Susan Johnson, herself a planner at the county at the time that the original request was bungled, said she felt somewhat responsible for the delay.
"This whole sign fiasco happened on my watch," she said.
Johnson helped the family navigate the many rules and applications that govern county signage, which she called "too complicated for the average person to understand," and explained how the granted sign variance was right.
"There's certain situations and anomalies where you have these kinds of legacy properties that are serving tourists in the county outside of any resort or lodging overlay," she said. "I don't need a huge sign to know where something is because I've lived here long enough. But a tourist who is maybe looking at the elk on the other side of the road, you need a large sign kind of saying 'Hey, here's your hotel' … And that's why we have the variance process."
A handful of extended family members drove hours from several neighboring states to votes by both planning commissioners and Board of County Commissioners.
"For 50 years our sign has welcomed visitors coming to Jackson from the parks and we hope that it will continue to do so for the next 50 years," wrote family member Korrine Nelson to the News&Guide.
Nelson said the Bagleys just plan to repaint the sign as it looks now and they feel "elated about being able to keep and take care of our historic sign."
"In the end we received unanimous support from everyone to keep our sign which prevented our family from chaining ourselves to the sign and going on a hunger strike," she wrote.