Peter Long began his stump speech with a housing joke.
"It's great to see people in Legacy Lodge again," Long said addressing the approximately 60 people grazing on burgers and beer on the back patio of the former assisted living center.
As the crowd laughed he pointed to a line of parked cars on the back road, spillover from the lot out front and added, "with the parking right here, we've solved the infrastructure problem."
The second-time county commission candidate said the 57-unit building, which was denied a final permit to become apartments from Democratic county commissioners earlier this month, was the perfect example of a "lack of common sense" in county government.
Long was among 11 of 13 local GOP candidates for office who came to meet, greet, eat and stump at the Teton County GOP picnic Monday night. His anecdote exemplified one of the most referenced issues for commissioner and legislature candidates: housing and property tax.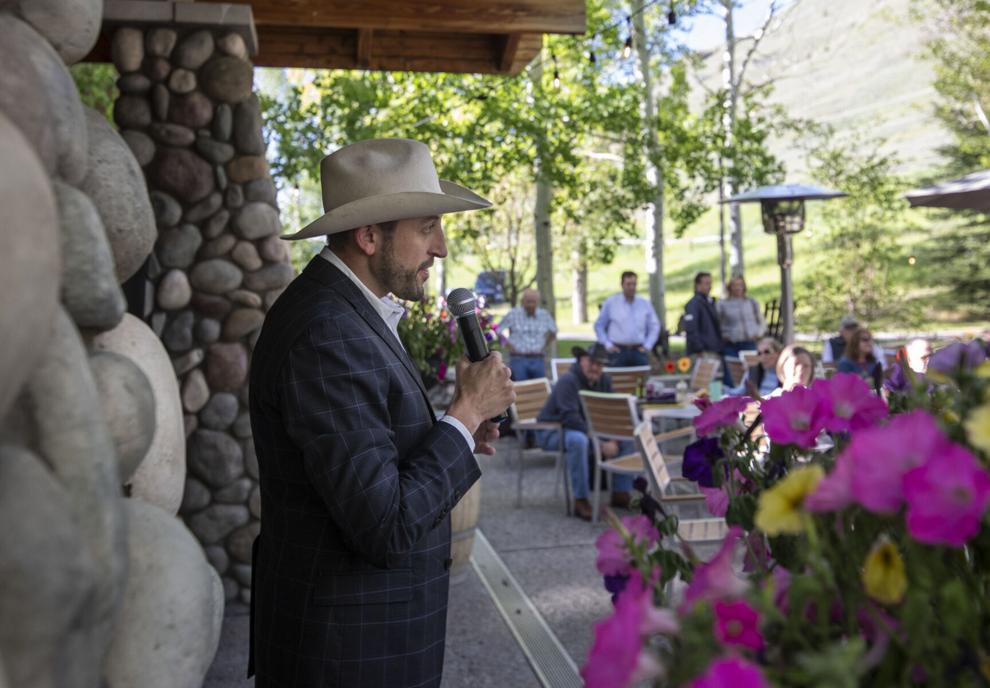 Alex Muromcew is running on a platform for county commissioner to lower the county mills to zero. Andrew Byron has said that as a representative for House District 22 he'd like to get a limit set on property tax increases, which would require change to the state constitution.
For town council candidates Katherine "Kat" Rueckert and David Scheurn, the top priority wasn't building housing but rather preventing housing, or anything else for that matter, from getting built somewhere very specific.
Both said they were relatively new to town and their top priority was to "save the rodeo grounds," which, even after a $40 million relocation SPET item was dismissed last month and the fairgrounds lease was secured through 2030, remains a rallying cry for local Republicans.
Moderate and conservation-minded candidates like Tom Segerstrom, running for county commissioner, Paul Vogelheim, running for House District 23, and Andrew Byron, contrasted Steve Duerr, running for Senate District 17, who earned applause for saying "we can't just buy the Kool Aid of the religion of climate change."
Climate change was the most disparate issue. A more unified mood was set by Teton County GOP chair and event emcee Mary Martin, who emphasized a Republican wave is needed to flip and hold as many seats in the majority Democratic county to Republican.
The last she heard from Republican Teton County Clerk candidate and incumbent Maureen "Mo" Murphy, there were 6,200 registered Republicans, 7,000 Democrats and just over 3,000 Independents in the county.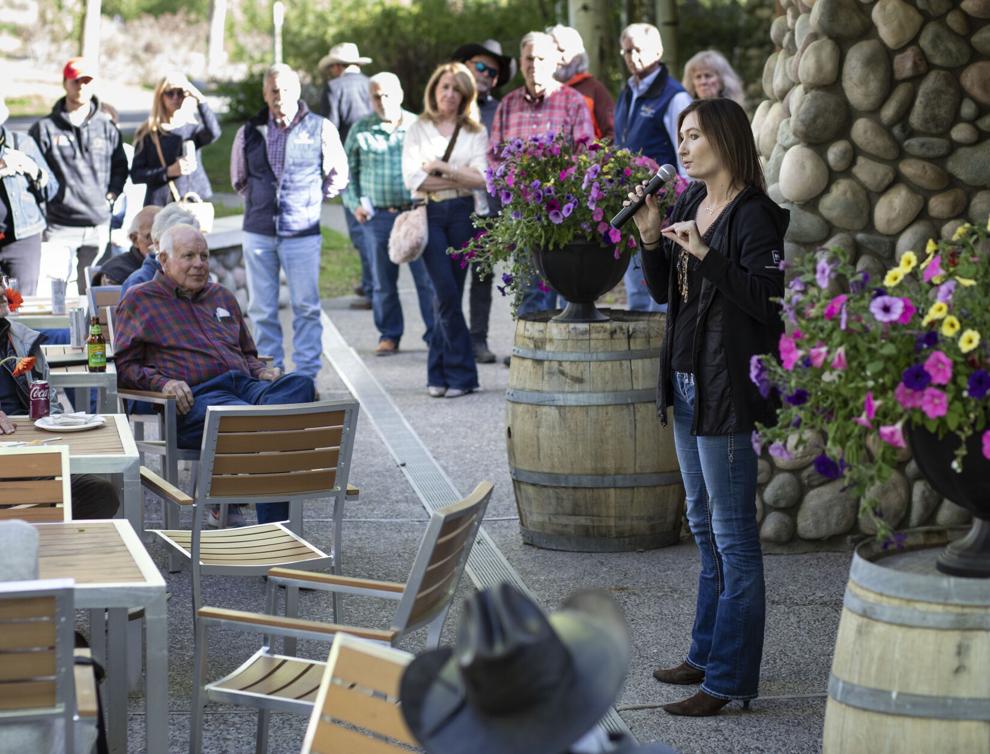 When asked to respond to Duerr, Vogelheim followed suit in that sentiment and said he finds himself "going to the positives" of Duerr's statements that Wyoming is "uniquely positioned" to move toward nuclear technology to transition away from coal.
Showcasing a typically moderate tone on social issues at the state level, Monday's event might have been more notable for the hot-button Wyoming legislative issues from this session that didn't come up: gun rights, abortion, critical race theory, and LGBTQ healthcare.
The only reference to former President Donald Trump was a smattering of Make America Great Again swag and conservative activist Rebecca Bextel's promotion of an event featuring Trump's son, Donald Trump, Jr., who spoke at the Exhibit Hall on Tuesday night in support of Harriet Hageman, who is Rep. Liz Cheney's most well-funded opponent for Wyoming's sole seat in the U.S. House.
Two more "meet the candidate" GOP events are scheduled, the first on June 28 before the Aug. 16 primary and another Aug. 28 before the general election Nov. 8.