Jackson Hole health officials from the hospital, Board of Health and Health Department said unanimously this week that now is not the time to lift the mask mandate in Teton County.
For reasons they pointed to the county's current case rate and pending vaccination campaigns for children and for seniors newly eligible for a third dose.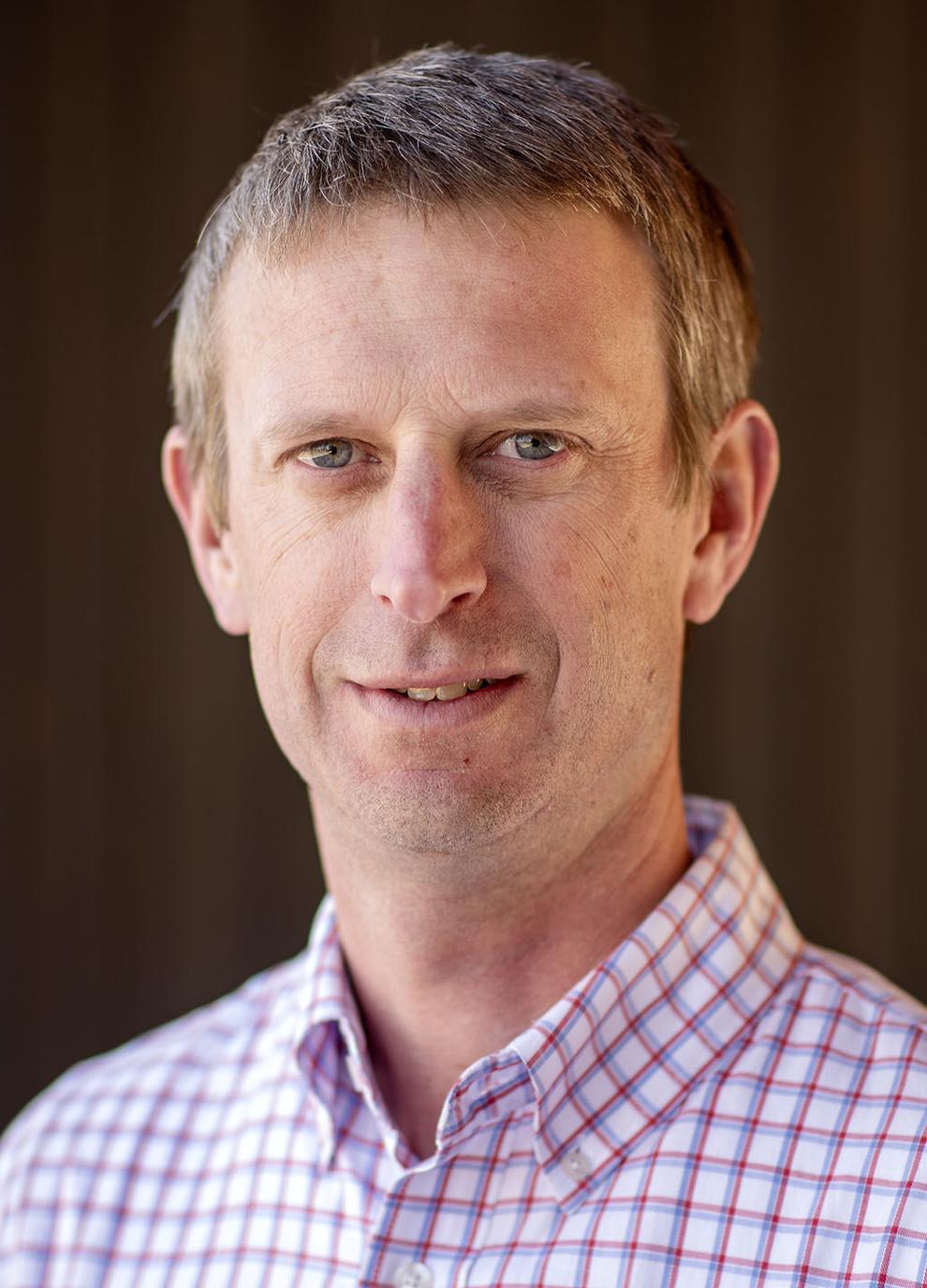 "My recommendation would be to continue as we are for the time being," Teton District Health Officer Dr. Travis Riddell said. "We will continue to continuously evaluate the system, and should that recommendation change at any point, of course we would make both the commission and the town council aware."
Riddell's advice followed an hour of public comment Monday dominated by a newly active coalition of citizens called the Mountain Freedom Alliance, which wants the mask mandate lifted as soon as possible.
However, one small-business owner testifying Monday disagreed, calling masks a prudent tool to protect employees serving tourists.
Mountain Freedom Alliance member Savanna Garnick was one of about 15 people who asked commissioners Monday to lift the mask order
"Can we not agree then that masks should be a choice — or that each individual, through data and education, can make their own informed decision as to what is best for their health and the health of their family?" Garnick said during the morning Zoom meeting.
Teton Toys owner Wes Gardner, however, countered that defaulting to personal choice would make it harder for him to protect his employees. He described how customers at his store are more willing to don masks when there's an official government order in place.
"I trust my public health officials, who overwhelmingly have stated and have shown that masks do reduce the spread of transmissible airborne transmissible diseases like COVID," he said. "Who knows how much, but for me anything will help."
Gardner was the only member of the public to speak in favor of the mandate Monday.
After the Wyoming Legislature changed state law to require local elected officials — rather than health officers like Riddell — to approve health orders that last longer than 10 days, the Jackson Town Council and Teton County Board of County Commissioners voted in August and September, respectively, to require masks in Teton County through Dec. 31. They followed health officials' recommendation and put a release valve in the order: If the county's risk level, per the Centers for Disease Control and Prevention, drops into the yellow, or "moderate," risk level, the mandate lifts automatically.
The order has become a lightning rod here, as similar orders have elsewhere in the country. That's part of why elected officials requested a Monday update, organized by commission Chairwoman Natalia D. Macker. The chairwoman put the update on the agenda after Commissioner Greg Epstein called last week for lifting the mask mandate. Other commissioners said at the time that they'd be interested in hearing from the county's health officials.
After asking a number of questions, Epstein did not repeat his call for removing the mandate Monday.
Others, however, did so earlier in the day.
Mountain Freedom Alliance members and others spoke during a general public comment period at the beginning of commissioners' regular Monday voucher meeting.
The vast majority of those who spoke called for lifting the mask order, with many saying masks don't work.
In contrast, Teton County health officials say masks do help reduce transmission. A January 2021 systematic review, published by the National Academy of Sciences, of many different types of studies concluded that mask wearing — especially if widely adopted — was effective at reducing COVID-19 transmission.
Mountain Freedom Alliance members also asserted that masks can have harmful physical and psychological side effects, encouraged people to build their immune systems rather than wearing a mask, and argued that people aren't following the order anyway.
Some commenters asked for another special meeting to discuss the order and the county's long-term COVID-19 plan.
Director of Health Jodie Pond, for her part, told the News&Guide on Thursday that health officials "need an exit strategy related to COVID becoming endemic."
What that is, she said, is the "million-dollar question that public health officials are grappling with right now."
She said booster shots for adults and first vaccine doses for kids under 5 years old are "a few of those things that need to occur before we can really say that people are protected in our community."
Commenter Megan Beck, who did not identify as a Mountain Freedom Alliance supporter, zeroed in on masks and schools. Beck didn't explicitly call for the mask mandate to be lifted. Instead she made the case that pending authorizations of COVID-19 vaccines for children ages 5-11 should change the calculus for masking in Teton County schools.
The town and county health orders apply to schools, and Teton County School District No. 1 instated a mask mandate days before Riddell and then town and county elected officials did so countywide.
"I personally support universal school masking up until vaccine eligibility but not a second after that," Beck told commissioners Monday. "Not every parent is going to vaccinate their child, but on an ethical level we are going to reach a point soon where every family in the public school system has every tool available to them to choose to protect themselves."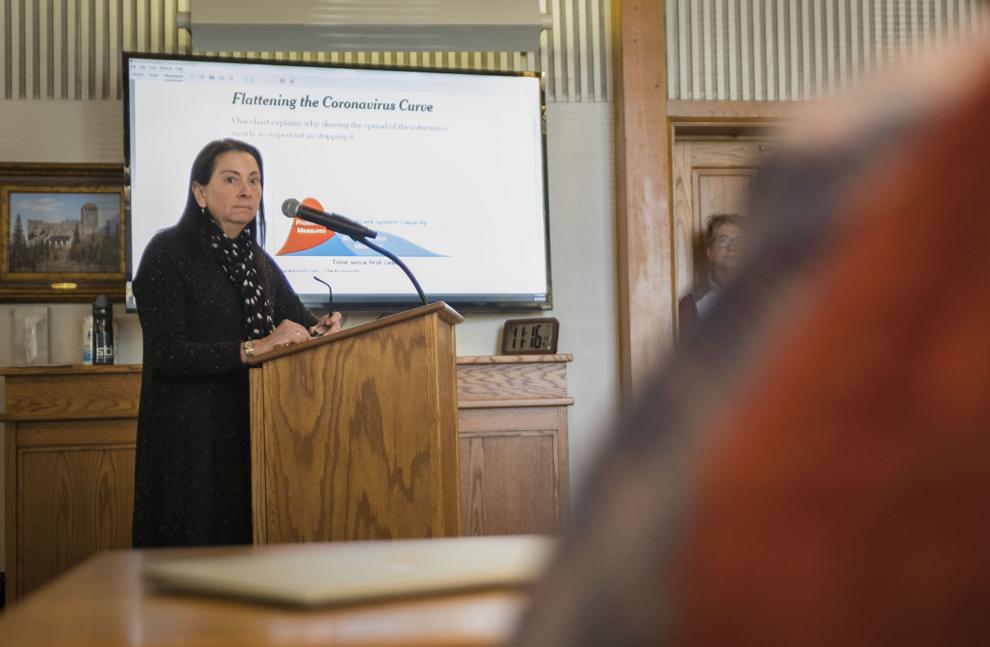 Health officials also had their eyes on schools.
Pond argued in favor of keeping the mask order around long enough to get younger students vaccinated and give older residents the ability to get a booster shot.
Federal regulators could approve the Pfizer vaccine for kids ages 5 to 11 in coming weeks, and in the last week expanded eligibility for booster shots, regardless of which vaccine people have already received.
Teton County's booster campaign is underway, and Pond estimated that the younger school-age kids could be fully vaccinated by Dec. 15.
Kids ages 12 to 17 are roughly 80% vaccinated, Pond said. And she pointed out that the vaccination campaign for younger children could wrap up only a week or two before Dec. 31, when the mask order is already set to lift.
"The Health Department just needs a little more time on the vaccine front to protect the most vulnerable in our communities," Pond said.
Jackson Hole is in the red, or "high," risk level. The county is documenting 323.9 cases per 100,000 people. The threshold for dropping to orange, or "substantial" risk, is fewer than 100. And the county would have to be in yellow to automatically lift the mandate.
That's one of the reasons Pond and other health officials are recommending staying the course.
"We could increase our denominator threefold in terms of our effective population and still be in red," she said.
St. John's Health COVID-19 czar Paul Beaupre also pointed to Merck's request of the Food and Drug Administration for approval of molnupiravir, which would be the first antiviral pill approved to treat COVID-19. He argued that could be a "game changer," particularly for unvaccinated people from neighboring communities who are ending up in the Jackson hospital.
"We're seeing far fewer admissions from Teton County than we did early on as our vaccination rate in the county has hit the 80% mark," St. John's CEO Dave Robertson said Monday. "The vast majority of our hospitalizations right now are coming from the surrounding counties where the vaccination rate is much lower. So Sublette, Fremont, Lincoln Counties, but particularly Sublette."
A physician assistant at two Sublette County clinics, Jason Ray, told Wyoming Public Radio this month that his county was seeing its worst outbreak yet. Sublette County does not have a hospital, and he described having trouble finding beds for his patients in Jackson, Idaho Falls and Salt Lake City.
"We literally don't know where to send those patients that just need hospital treatment because the hospitals are full of COVID patients," Ray told WPR.
But Beaupre offered a note of optimism, pointing to COVID-19 modeling that doesn't predict a terrible winter COVID-wise.
NPR reported in late September that the forecasters advising the CDC — forecasts can always change — are predicting a decline in COVID-19 cases through March.
"It's not modeling as though we're going to have a big spike in the winter," Beaupre said. "There are some treatment modalities and testing modalities like that are going to improve our community situation. And hopefully, we'll be seeing us get out of this fairly soon."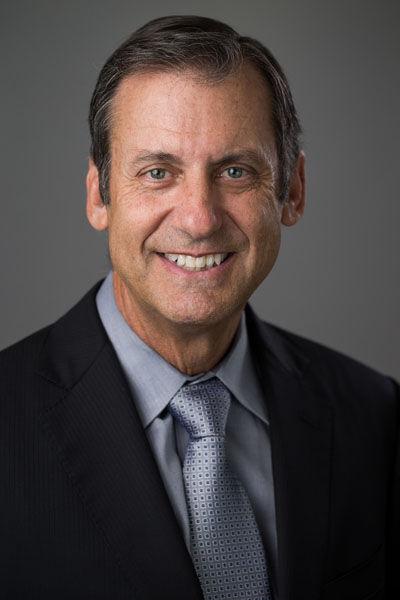 Dan Forman, chair of the Teton District Board of Health, joined Beaupre, Riddell and Pond in advocating for continuing with the mask order.
"I really do sympathize and empathize with the public comments from this morning regarding the psychosocial as well as potential medical detriments to wearing a mask," he said. "But the benefits, at least in my opinion, greatly outweigh the risks at this point."
Gardner, meanwhile, said he didn't have the "luxury of being wrong" on masking for the sake of his employees' health and was taking a cautious approach by requiring people to mask up in his store.
But he said he couldn't do that without the town and county requiring masks to back him up.
"It's miserable on my employees," Gardner said.
"I can no longer stand on this hill alone. I will not require masks if you don't."