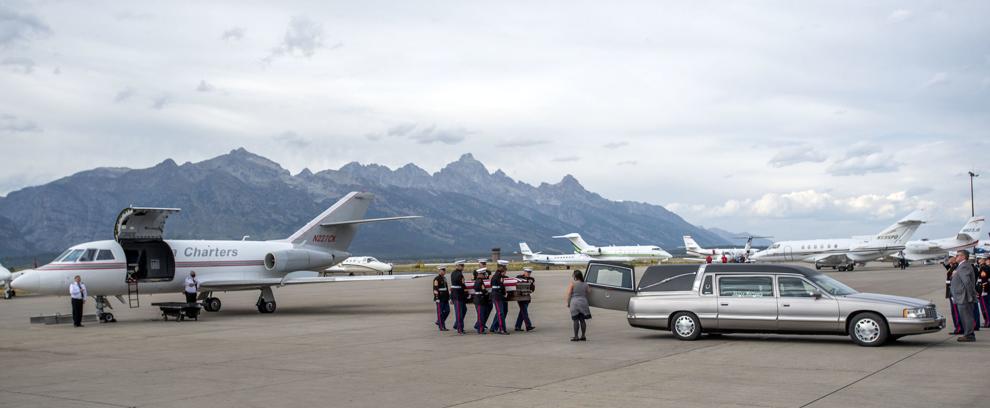 The Marines stood still when the plane touched down at 4:07 p.m., and ultimately for a total of 21 minutes and 30 seconds. They didn't move until after U.S. Marine Lance Cpl. Rylee McCollum's casket was taken from the plane and put on a cargo carrier, and a Marine issued a command to march.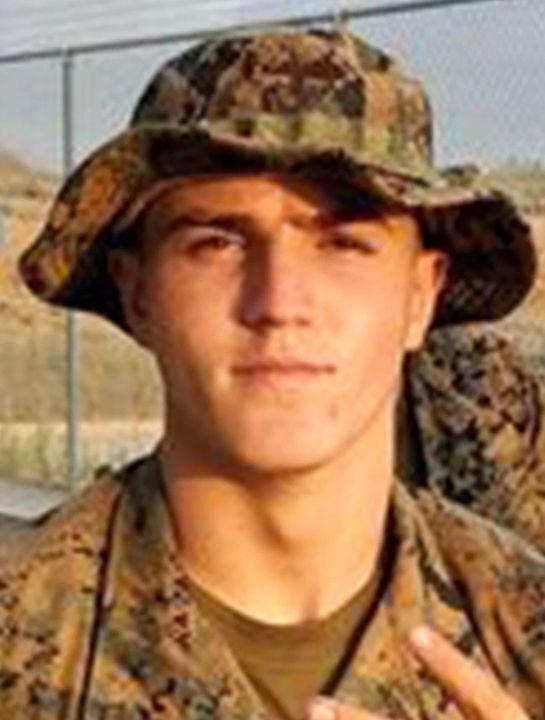 They walked forward, in sync, toward the casket draped in an American flag. They lifted it, then carried it to the hearse as law enforcement officers saluted and his father, Jim McCollum, held a cowboy hat over his heart.
"He's coming home," Jim said, moments before the plane touched down.
Dozens of people at the airport and thousands more along a route through Jackson stood ready to pay their respects to Rylee McCollum, a Jackson son and U.S. Marine killed in Afghanistan on Aug. 26 in a terrorist attack — one of the last American casualties in a 20-year war.
Foremost was his family — his sisters, his father and his pregnant wife, whose child was due any day as of Friday.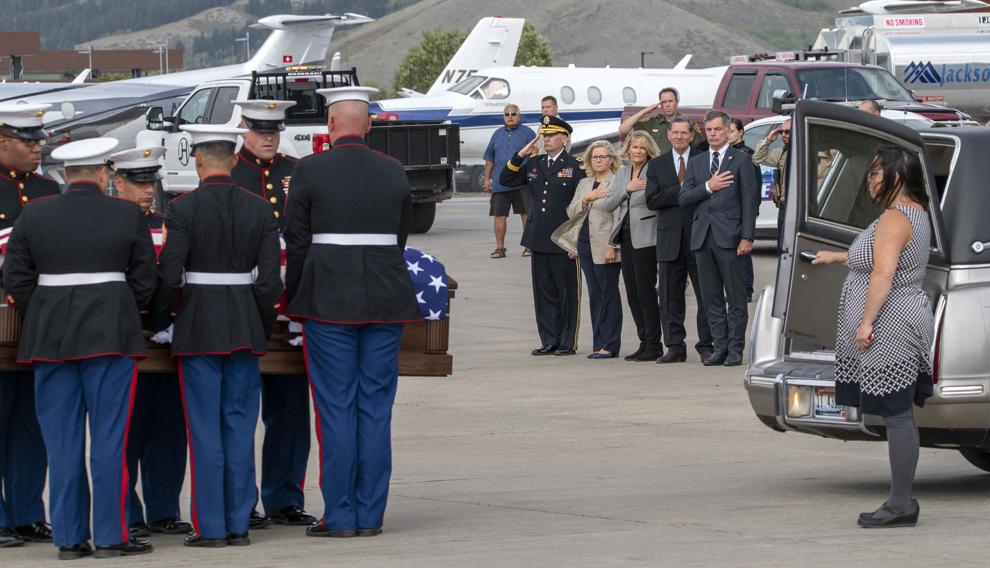 Then there was Gov. Mark Gordon, U.S. Sens. John Barrasso and Cynthia Lummis, U.S. Rep. Liz Cheney, Jackson police officers, Teton County Sheriff's Office deputies and others.
In a statement to the News&Guide, Gov. Gordon said: "I appreciate that the family has given Wyoming an opportunity to recognize her native son. Rylee's ultimate sacrifice in service to his country protecting American and civilian lives during the Afghan withdrawal will never be forgotten."
The politicians and law officers introduced themselves to the family, hugged them and stood by them. They gathered to the right of a silver Cadillac hearse, facing the runway and the Tetons towering over the valley under a cloudy sky.
To the left of the hearse were seven members of the 2nd Battalion 23rd Marines, poised and awaiting Rylee's arrival.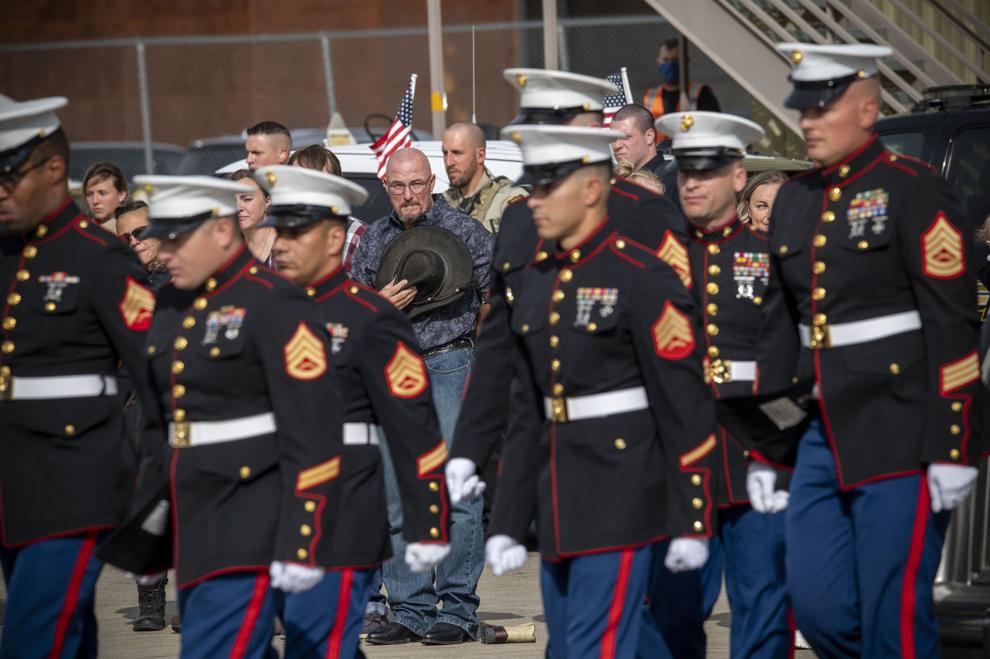 The procession — initially the family, the hearse and law enforcement officers — then left from the airport and went east on Airport Road, where dozens of law enforcement vehicles and hundreds of motorcycle riders were waiting to join in behind them.
They came from Teton County, Rock Springs, La Barge, Idaho Falls, Sublette County, Montana, North Dakota, South Dakota, Washington and beyond. Some motorcycle riders had American flags attached to their mirrors and dashboards. Others had stickers that said "R.I.P. Rylee McCollum."
The procession went south into town on U.S. 89, slowing down to 10 mph as the vehicles drove beneath two fire ladders holding a large American flag. On either side of them were hundreds — and perhaps thousands — of people waving American flags saluting the family and Rylee.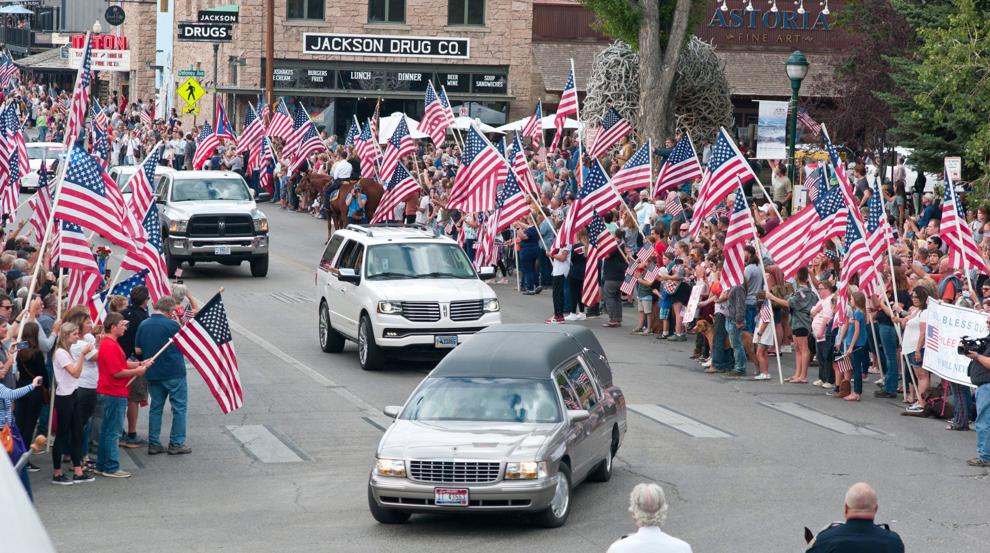 Crowds lined Cache Street, nearly filled Town Square and continued more than a mile down Broadway, carrying signs saying "Remember the fallen" and "God bless our hero." Many waved flags, many of which were provided by Teton Valley residents Ryan Bonilla and Bob Tomb.
Bonilla, who lives in Tetonia, said those flags came from the Teton High School Booster Club in Driggs, the Teton Valley Auto Center in Victor, Teton Signature Builders and the Veteran of Foreign Wars.
"I just love my country and want to participate," Bonilla said. "I think it's important for us as a small town to gather like this."
Bonilla and Tomb watched the procession as it passed through town. It stretched thousands of feet and took nearly seven minutes to pass any given point, from the first law enforcement escort to the Cadillac hearse to the last motorcycle rider.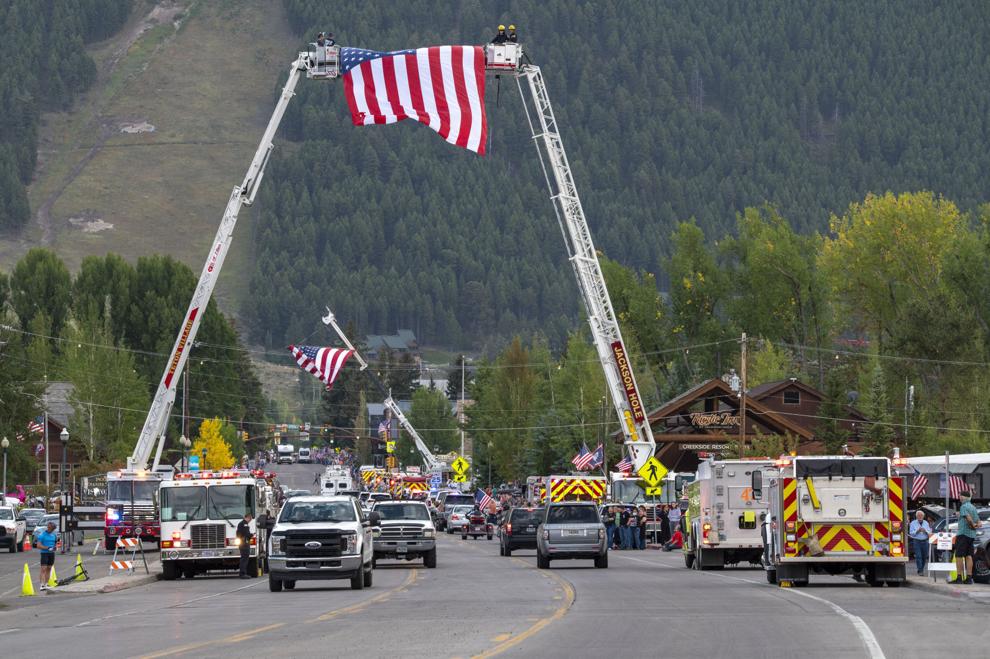 The procession passed retired Marine Roger Helle and his wife, who arrived in Jackson on Thursday night from Chattanooga. Helle served three tours in Vietnam.
"My wife and I, we pray for all of those in the armed services every day. Every day," Helle said. "We just need to let the family know that their loved one's sacrifice is not forgotten."
It also passed Dina Hearn, who stood on a corner with her flag. She and her husband, a retired U.S. Marine who rode in the procession, were in Jackson from Washington state.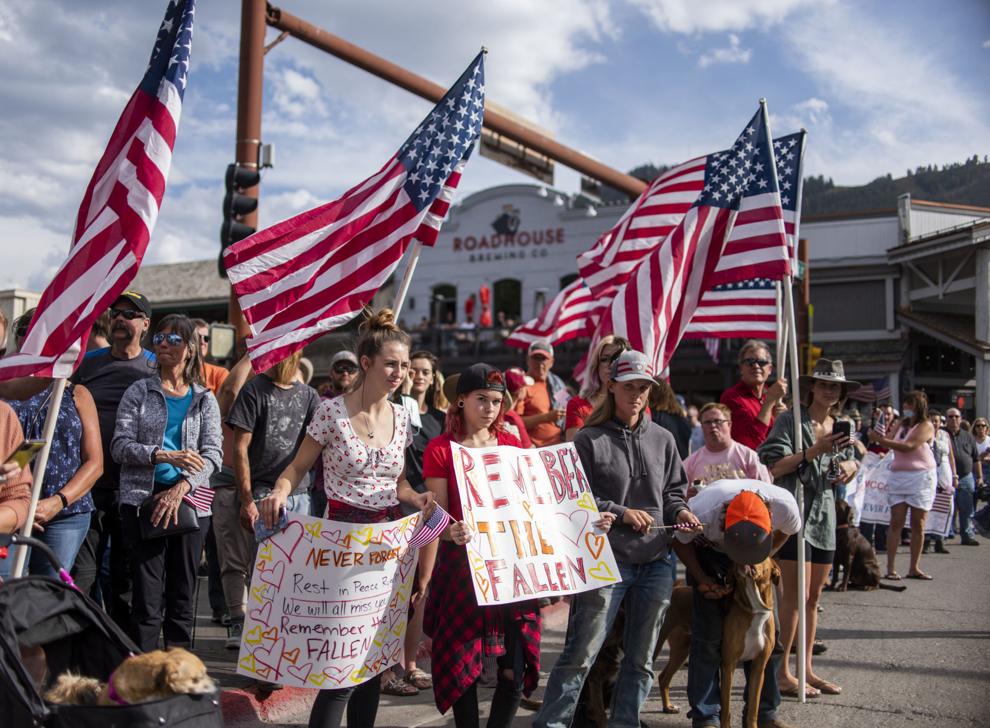 "It's important just to support the family, to support my husband," she said. "It's something that we had to do. I couldn't imagine not."
Pedestrians waved American flags as the procession went on until the family and the hearse carrying Rylee turned off Broadway to go to Valley Mortuary.
The exact date for Rylee's memorial service has not been set, but it will be toward the end of October, according to an obituary his father penned and which appears in the Valley section. The service will be open for family, Marines and community members to attend.
One thing is for sure, though: As his father noted, Rylee was home.
And soon after came the arrival of perhaps Rylee's most lasting legacy of all. Shortly after the procession, his wife Gigi went home to San Diego. And on Monday, she sent the world notice of a new arrival in her life.
She posted on Facebook a picture of the girl she just gave birth to — Rylee's daughter. She is 8 pounds, 10 ounces, and her name is Levi Rylee Rose.