Teton County has asked the Wyoming Department of Transportation to hold the speed limit on Highway 22 to a consistent 45 mph year-round, the latest move in a debate that's played out for almost 30 years.
"It keeps coming back," Mitzi Hodges said. "It's like the Energizer Bunny."
In 1988 she spearheaded a push to get the Wyoming Department of Transportation to raise the winter speed limit on the road to 55 mph — only a few months after other people lobbied the state to decrease the winter limit to 45 mph. Those in favor of the lower speed swayed WYDOT after collecting about 1,700 signatures and meeting with Gov. Mike Sullivan, a Democrat.
Both sides' concerns were similar to what opposing sides say now. WYDOT is pushing to increase the speed limit between Spring Gulch Road and Emily Stevens Park to 55 mph year-round. The Teton County Board of County Commissioners is opposed. In a letter approved Tuesday, commissioners asked the state transportation agency to approve instead a universal 45 mph limit.
In the '80s people in favor of a 45 mph speed saw it as a safety measure after two young women died on 22. Those opposed saw it as overregulation, an unnecessary step that would slow drivers down.
Now, 30 years later, the back and forth continues as it has in the intervening years. Speed limits on 22 have been contentious for decades, per a review of the News&Guide's archives. There was controversy when the feds passed in the '90s the National Highway Designation Act. And people have blamed alternating higher and lower speed limits for a number of things, including Teton Village traffic.
When the speed limits on Highway 22 reached the status quo (a 55 mph limit in the summer and a 45 mph limit in the winter) was unclear by press time.
But in the present debate, Teton County residents who have spoken seem to be squarely on one side. Based on public comment, they want the limit cut to 45 mph year-round.
Comments addressed to the County Commission have been widely in support of that limit. Only two of the 20 or so comments provided to the News&Guide Tuesday were in favor of the higher speed.
"Please increase the speed limit to 55 mph year round on 22 to help keep traffic moving at a reasonable pace," wrote Christi Yannelli, who was pro-increase. That, she said, "will ultimately turn into a lower speed anyway due to one car going slow that slows all traffic down."
On the other side, Alan Wood wrote that "slower, not faster, speeds would significantly improve the safety as well as the quality of life of the residents of this valley."
Two people who have been involved with the issue since the '80s supported a 45 mph limit.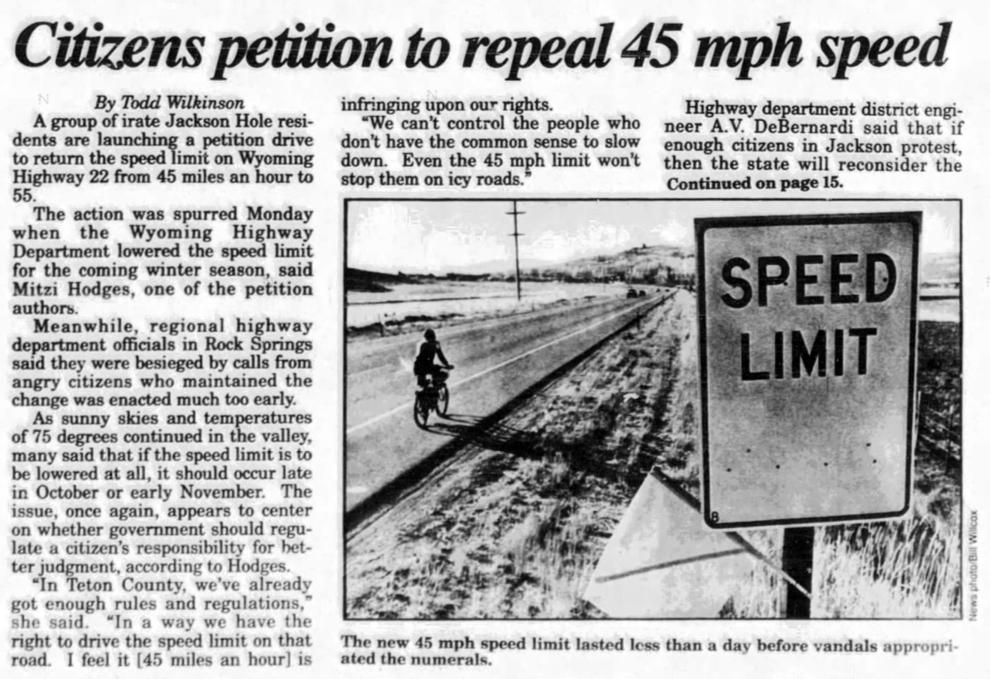 Hodges, who has since left the valley, was one of them — a change from three decades before. She said in an interview that the speed limit is a "tool to try to slow people down," and one of the only tools officials have to do so. Hodges also thought 22's traffic issues were symptoms of larger problems.
"You've got traffic problems, you've got parking problems, and a shit ton of land that's worth billions of dollars," she said. "Raising the speed limit isn't curing the issues at all."
Miles Royce, 67, was the other person. He worked as an EMT and firefighter in the late '80s and '90s, shortly after the speed limit was lowered. Royce said "you just don't forget" some of the wrecks he responded to on the extrication team.
But Royce did feel expanding the road to five lanes would improve safety.
"It gives a little bit more leeway for somebody to do an evasive maneuver and miss an elk, miss a deer," he said. "That helps a bunch, and that's huge. WYDOT's doing their part, for sure. But a lot of times, they can't do what they really want to do because of the politics in Jackson Hole."
WYDOT is considering expanding Highway 22 — but not for a few years.
In the meantime, the speed limit is set to increase to 55 mph for the summer on April 4. But if WYDOT chooses to go with the county's request, it would stay at 45 mph year-round.
Either way, a decision will turn the page on the latest chapter of a story likely to be told again.