Standing behind the counter at the Family Dollar in Driggs, Idaho, the store's assistant manager chatted with a visitor from Logan, Utah, telling him about her commute that takes her from St. Anthony to the northern end of Teton Valley.
"On my way here, someone was going 35 in a 65," Bekah Hunter, 20, said with a laugh. "I was like, 'I can't. I'm going to pull out my hair.'"
The visitor from Utah, Tom Sherlock, 42, laughed along. But he was surprised to hear how long Hunter's drive actually was.
"An hour to work here," Sherlock said, shaking his head. "That's quite a commute."
That commute shows how the gap between where jobs are and where workers live extends well beyond Jackson Hole.
With COVID-19-driven demand pushing housing prices up in Teton County, Wyoming, more people have moved west into Idaho, and south into Lincoln County. That exodus, coupled with outside demand for homes in the greater Teton area, has unleashed changes in neighboring towns like Alpine, Driggs and Swan Valley that in some ways mirror what's happening in Jackson, though perhaps at a lower price point. The cost of living is going up, and more affordable homes — if people can find a home at all — are hard to come by.
"We're seeing people commuting to what we think of as our commuter cities, or towns," said April Norton, director of the Jackson/Teton County Housing Department.
"And I think, yes, that's sort of a natural progression," Norton said. "It is definitely, in my opinion, a threat to us, because as those other communities become more and more established, people will quit commuting here."
Indeed, at least one Alpine town official sees opportunity for his community to grow.
Commuting to commuter towns
Roughly 10,500 people commute into Jackson Hole during the summer, according to town and county data. In the winter and shoulder seasons that number's closer to 9,000.
The number of people in situations like Hunter's is likely fewer. Some in outlying communities think the flow is generally from places like Swan Valley, Idaho, to Jackson Hole.
Shane Fisher, a real estate agent in Swan Valley, owns an RV park that he said has "tiny homes" and "glamping tents." He frequently gets calls about renting one of his properties.
"I can't even tell you how many calls I get on it," Fisher said, "people wanting to rent it out monthly because they're trying to rent in Swan Valley and work in Jackson."
He also gets calls from people looking to live in Swan Valley and work in Driggs.
That's a roughly 40-minute commute.
Hunter commutes to Driggs from St. Anthony, which is slightly farther away: about 52 minutes.
But Jordan Green — and sometimes his wife, Jayda — commute from even farther to reach their job in the redeveloped Swan Valley downtown. They travel from Idaho Falls, about an hour's drive.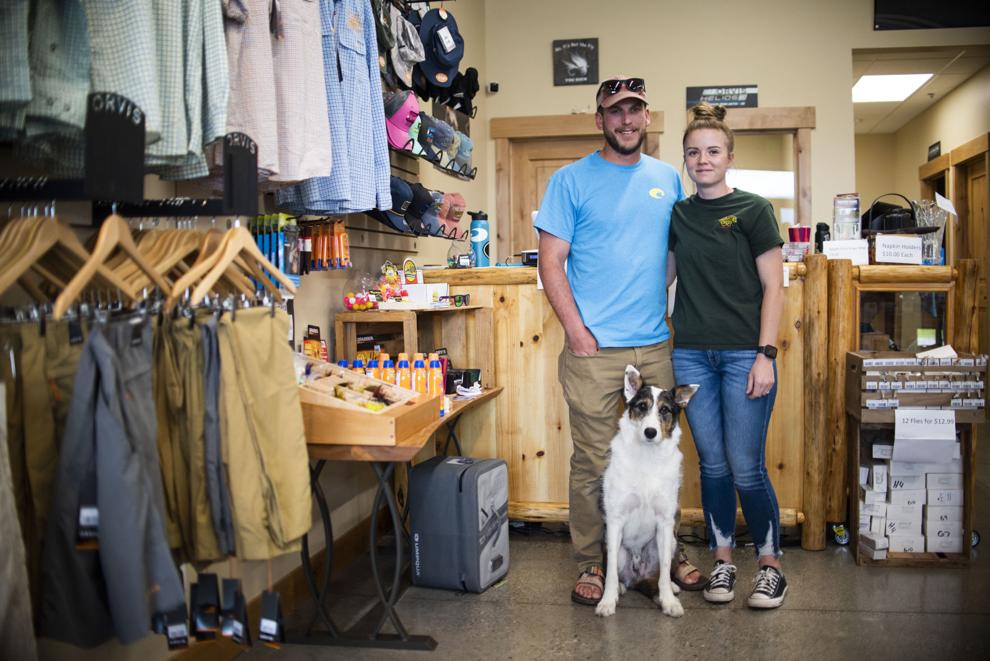 Jeremy Larsen, a member of the Alpine Town Council, said people have been commuting to his town for years. When he remodeled his house about four years ago, he said subcontractors came in from Logan, Utah, and Idaho Falls.
But the town councilor said he's now heard of new commuters coming to work in Alpine.
"What once was just the trades, subcontractors, coming up," Larsen said. "Now you're starting to see it in different economic sectors."
He said that he's heard that Broulim's and Melvin Brewing have both been looking far afield for employees, with the grocery bringing people in from Ririe and Idaho Falls to keep the shelves stocked.
Hunter moved to St. Anthony to be close to her grandmother earlier in the COVID-19 pandemic. She said she commutes partly because she can make more money closer to the Tetons.
She started out working in a Family Dollar elsewhere in November. But she was moved to the Driggs store and promoted in February, ending up with roughly double what she made previously.
She doesn't particularly mind the drive.
"That's the main time I have to myself," Hunter said. "I can just scream my heart out to songs."
It takes roughly an hour for Green, 30, to reach his job. He manages The Lodge at Palisades Creek's new fly shop in downtown Swan Valley and has worked for the lodge for years.
The drive is easier when he and Jayda, 23, travel together. But the couple can't always do that, in part because Jayda has school and work around Idaho Falls. Those days are less pleasant.
"It's much easier when we're together," Green said. "But the other days are just mindless, numbness. Driving. It's just something you've got to do if you want to go home."
The Greens aren't making the commute by choice. They originally moved from Swan Valley to Idaho Falls to be closer to Jayda's school and work.
Now they're trying to move back east.
"We're trying to move back, trying to buy a place this time and there's nothing left," Jordan Green said. "We're looking in Ririe and still getting [beat] by cash offers for 30,000 over."
For Jackson that's come after years of steadily rising prices. Neighboring communities have been feeling a similar pinch and, this year, the faucet turned on.
Fisher, the real estate agent, said there's a lot of demand.
"Our inventory has gotten so low, and there's not a lot of houses for sale in Swan Valley," he said. "When they do come on, it's like a feeding frenzy."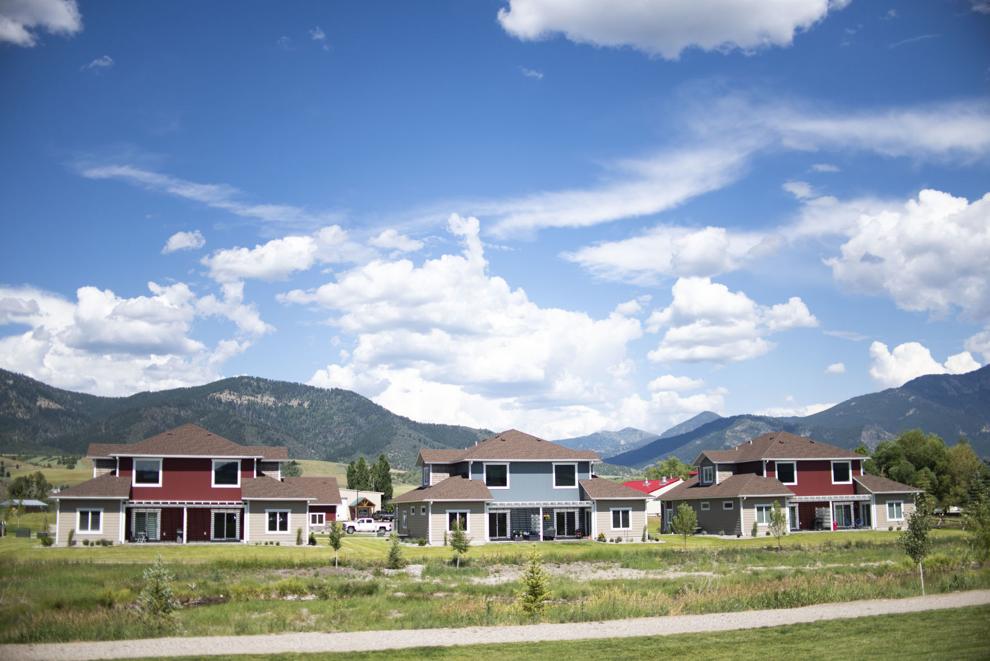 Part of that could be people leaving Jackson.
"A lot of our workforce is being pushed out of the valley," said Christine Walker, a board member for the housing advocacy group Shelter JH and a former director of the Jackson/Teton County Housing Department. "Do I know how much? Not at all. But I think everyone can feel that, and probably has a story to tell about how my neighbor or my friend down the road lost their housing, because somebody came in who could pay a whole heck of a lot more than I could."
Fisher said he has four people under contract from Jackson who feel the area is overpopulated. Some are selling and moving to Swan Valley. One client, Fisher said, bought a house on the river as a weekend home because he tired of all the people in Teton County on the weekends.
It's similar in Alpine and Driggs.
John Stennis, a GYDE Architect associate and former candidate for Jackson Town Council, moved to Alpine five years ago in part to take advantage of the area's "small town feel."
But he knows of a number of people leaving Jackson for Alpine and other bedroom communities as they are priced out, and said Alpine's real estate market has changed a lot in the past year.
"In the beginning of the year, we saw nearly a doubling of land values and property values going up at least another third in value," Stennis said. "It's become highly competitive for the homes that are available, and there's just not many homes available."
Doug Self, community development director for Driggs, emailed the News&Guide data showing that the vacancy rate in Driggs' rental housing stock fell from 6% in 2014 to 1% in 2021, and rental rates have climbed roughly 60% in the last six months.
Hunter has felt part of that pinch.
Another reason she commutes is that the cost of living in Driggs is too high, especially when she considers possibly paying $650 to rent a two-bedroom Rexburg apartment. That, she said, would compare with at least $1,200 in Driggs — if she could find a place.
"It's like gas or a room?" Hunter said, illustrating the tradeoff she makes in her head.
"It's just gas," she added.
The price of gas, she thinks, will drop.
Where do we go from here?
Larsen, the Alpine town councilor, thought Norton's assessment of how people's commuting patterns could impact Jackson was spot on.
He said he's talked with people that only commute to Jackson because wages are higher. And as Alpine gets more developed, he said that could change — and that it might be happening already.
"Either work here has gotten so profitable that they can focus now on Alpine ... or they've just chosen quality of life," Larsen said, adding that a big part of that is commuting: "Might as well live in a city, the commute's so bad."
In the face of rapid change, Larsen argued that his town and region have room to grow, especially if more local workers leave and choose to live and work in a place like Alpine rather than commute to Jackson.
"We have all of Star Valley," Larsen said, contrasting the relative abundance of private, developable land in northern Lincoln County to Teton County's relative scarcity.
"From Alpine to Afton is 30 miles, so it's a little less than Alpine to Jackson," Larsen said. "Between those miles is a lot more private land. It can be built on and house people."
Leaning against the counter in the Star Valley fly shop, Jordan Green worried for the area's future.
"It'll be just the same as Jackson. We'll all get pushed out," Green said. "I mean I'm not the only one looking for a house that works here that can't afford to live here."
But Fisher, the Swan Valley real estate agent, thought the changes weren't all bad.
"I actually want to see Swan Valley develop," he said, favoring new developments around the intersection of Highway 26 and Pine Creek Road. He argued that there was a happy medium between no development and overdevelopment, as long as the Swan Valley government allows it in a "controlled manner."
"There's a lot of people that are super against it, and I'm not," he said. "I just think it has to be done right."
Larsen acknowledged that change would likely be difficult. Employers are looking to find employees, employees are looking to find housing, and people are used to Alpine the way it is.
"It's just going to be growing pains that I see for the future," Larsen said. "It's a new crop of folks coming in, a different culture coming in. And so it's just mixing the pot."