Commissioners have approved a regulation intended to help Jackson Hole's wedding and special event industry, which has been dealt a tough hand.
Emily Lacoste, owner of Lily & Co., a boutique floral and event design house, estimated that she had lost 80% of her event income for 2020, in a public comment emailed to the Teton County Board of County Commissioners. Lacoste and her employees style floral arrangements for weddings, among other things, but a number of those gatherings have been postponed because of the virus.
"This year is going to be tough," Lacoste wrote to commissioners.
Likewise, employees and owners of at least three other wedding industry businesses — Macy's Services, Maho Catering and Jackson Hole's Canvas Unlimited — wrote commissioners to express similar sentiments and ask for help next summer.
"2021 is on the horizon and we hope for the opportunity to double down to cover our losses," Lacoste wrote. "The wedding industry is a large part of our community, and we are asking/begging for flexibility."
The policy in question was targeted at properties with conditional use permits. Many property owners and event planners have gone through long, costly public processes to obtain those permits for holding events like weddings that support the industry Lacoste and others rely on for income.
Teton County's land development regulations had contained provisions that trigger permits to expire when those permits are "operationally discontinued" for a year or more.
Because so many events were canceled this year, that could have led to what Associate Long Range Planner Rian Rooney called "inadvertent expiration" — an unintended discontinuance of the permit, which could require property owners looking to hold events in the future to reapply.
To avoid that, staff prepared an amendment to the land development regulations that would prevent discontinuance for reasons outside a land owner's control. A pandemic was one example, but catastrophic fires, natural disasters and government action were also listed as acceptable reasons to not use the site.
"This proposal would protect permitted uses from that inadvertent expiration due to the pandemic or other exceptional circumstances in the future," Rooney told commissioners.
The board approved that amendment unanimously.
But a related question attracted more scrutiny and push back.
Planning staff had originally proposed allowing event sites to roll over all canceled events from 2020 to 2021 to make up for this year's pandemic-induced losses. Under that proposal, if an event site was allowed 10 events a year and eight planned events canceled in 2020, organizers would be able to hold 18 events on the permitted site in 2021.
Neighbors of the Snake River Ranch — Chai Vasarhelyi and her husband, Jimmy Chin, included — pushed back, asking to cap the rollover at 50% of the events allowed in 2020. Under that proposal, an event site allowed 10 events a year would be able to hold 15 events on the same site in 2021.
Neighbors have fought the Snake River Ranch's permit, which allows up to eight events a summer, in the past, complaining about the noise from amplified music. That was a factor again this year. Neighbor Steve Feldman was concerned that a rollover of all canceled events could lead to 16 events on the site next summer.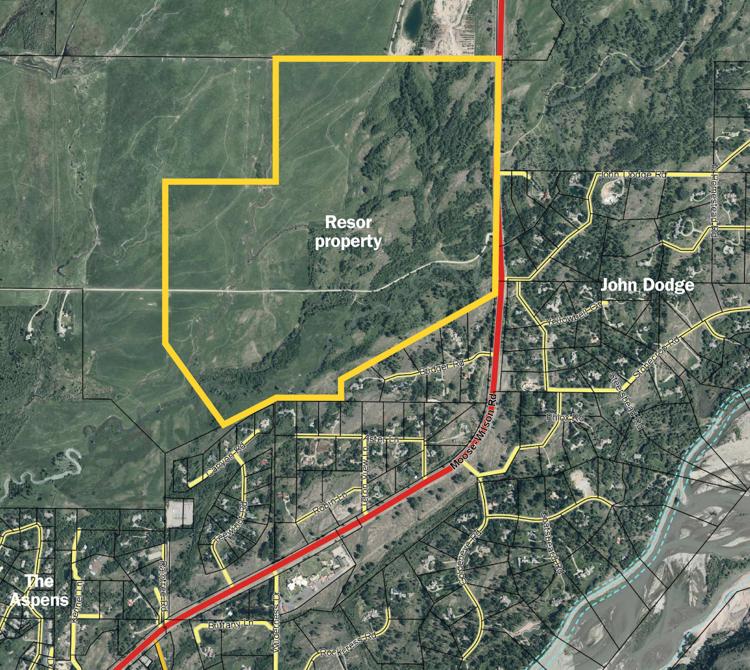 "We could face up to 100% more events next year," he said. "Every week I would be listening to Michael Jackson and other music which I used to like."
He got a laugh when he said he doesn't listen to the King of Pop much anymore.
Vasarhelyi, dialing in from her daughter's iPad, and another neighbor both spoke at the Aug. 4 meeting to support the 50% rollover proposal.
"We very much want to support the community, and we likewise enjoy being next to the ranch, but it does very much affect the neighborhood," Vasarhelyi told commissioners. "The 50% proposal seems to be a clean kind of organized way to proceed."
Susan Johnson, a consultant representing the Snake River Ranch, said the ranch had not been able to host any events this summer and was supportive of either proposal: "I think it's important for not just the ranches holding these events, but it's really actually very important for a lot of the vendors that are out there that are not able to work very much this summer, if at all."
Legislative wrangling ensued — Commissioners Greg Epstein and Mark Barron supported a motion, which failed, for staff's proposal — but the neighbor's proposal won out with a unanimous vote.