A central tension underlies the monthslong neighborhood planning effort for northern South Park: How to create a financially attractive plan for landowners that also pencils out for a community in dire need of housing.
That's a tricky balance to strike when land values in Teton County are exorbitant and building housing that workers can afford can cost more than it nets developers.
Four alternatives, essentially conceptual options for developing northern South Park, are open to public comment through Thursday. They lay out different mixes of housing density, allowing landowners and the public to compare the tradeoffs, especially around density and affordability. As the alternatives' densities increase, so does the proportion of homes set aside for local workers. The proportion of "affordable" units generally does the same.
Some housing advocates see the proposals and larger planning effort as an "unprecedented" opportunity to put a dent in the valley's housing problem.
But if the landowning families, the Gills and Lockharts, don't buy into a plan beyond what current zoning could yield, people on all sides fear that housing opportunity could be lost.
For some that concern centers around a land value from the models developed by Cascadia Partners, one of the consultants on the project — and how it's been discussed.
For others that value isn't so important — yet.
And others still say the affordability of the units proposed is what matters.
Ted Staryk, the owner of Snake River Brewing and a Jackson Hole Working board member, is in the first camp.
Staryk is worried that $100,000 an acre, the rough value financial models say developers would be willing to pay the families to develop their land, is too low a price for the landowners to bear.
But he and others are also questioning why the land value is just being discussed now.
"I assume to the landowners that's the most important question there is," Staryk said. "The models look good; I like them. I like the way it looks. I think they did a thoughtful plan. But if it doesn't pencil out at fair market value, it's posters for our wall."
But Skye Schell, the executive director of the Jackson Hole Conservation Alliance, wasn't so worried about the land value.
He called it a "distraction from the real questions for the public."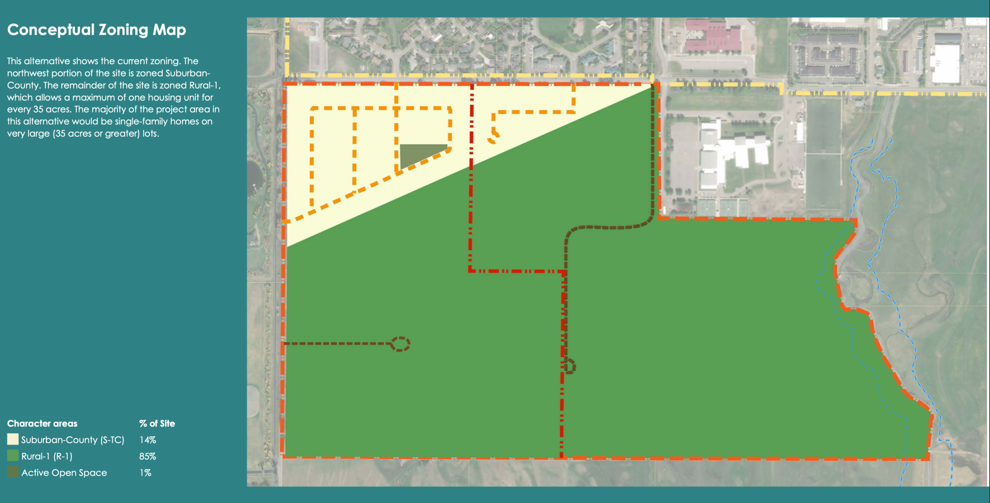 "I think the important questions for the community are 'What would these homes cost? What would they look like? Who would get to live in them?'" Schell said. "The alternatives they're proposing serve high-income earners much more than median-income earners."
Christine Walker, a former Jackson/Teton County Housing Authority director and board member for the housing advocacy group Shelter JH who spoke for herself, not Shelter, fell somewhere in between Staryk and Schell.
"I agree that we have to worry about the deed restrictions and making sure that we're getting a community benefit out of adding additional development in our community," Walker said. "And I agree with Ted, in that you have to create enough value in the land in order to encourage a developer to build something rather than the base zoning."
Should the landowners buy into a plan that the community supports, officials hope the approvals necessary to break ground could come quickly. But building the homes could take decades.
The zoning in northern South Park currently allows the Gills and Lockharts to develop roughly 100 units of single-family housing without deed restrictions, legal tools that pull housing off the free market and set it aside for local workers to purchase or rent.
While existing conditions would allow 98 units in the area, the lowest-density alternative, "Alternative A," would allow for 668 units, with significant space set aside for larger lot, single-family homes. "Alternative B" is progressively denser, allowing for 1,298 units and more of a mix of unit types. "Alternative C" is the densest, proposing 2,381 units and no larger lot, single-family homes.
The denser alternatives with more units propose more "affordable" housing, homes set aside for people who make less than 120% of median family income: roughly $138,000 for a four-person household.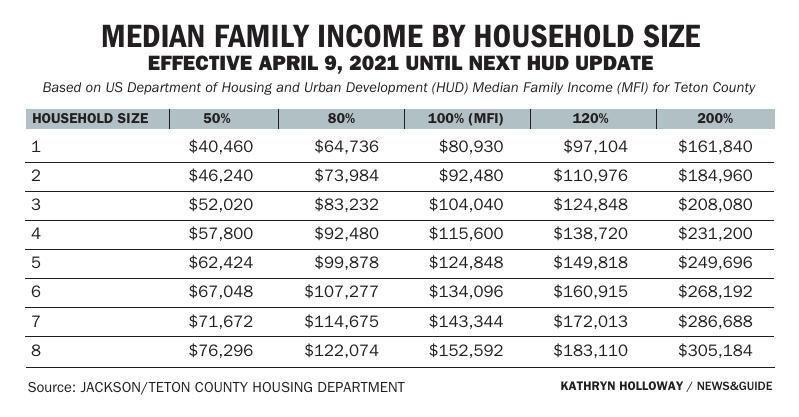 But, while "Alternative A" and "B" would see roughly a third of their homes give "affordable" deed restrictions, "Alternative C" would see more: roughly half of the development.
In any case, the models say land for "affordable" housing would have to be donated.
And they put responsibility for paying for that housing on the community.
Alternatives "A," "B" and "C" would require subsidies of increasing magnitude: $114.5 million, $205 million, and $500 million, respectively.
But the "affordable" housing is only part of what's proposed.
Those units would be interspersed among market-rate homes, and a new type of deed-restricted housing dubbed "workforce," and split into two income-based tiers: "Tier One" for households that make between 120% and 250% of median family income and "Tier Two" for those who make between 250% and 350% of the same metric.
While planners have not said what incomes those percentages correspond to, 200% of median family income is $231,200 for a four-person household.
Incomes corresponding to 250% and 350% of median family income would be higher.
In contrast to the subsidized "affordable" units, the models assume the "workforce" units would be built on private, rather than donated, land and would not require a subsidy.
The reason, according to Alex Joyce, a partner with Cascadia, is pricing.
He told the steering committee tasked with advising county planners and their consultant on the planning effort that the midpoint pricing for the first tier of "workforce" housing units was roughly $850,000. The midpoint for the upper tier landed around $1.2 million.
"That's why those units can be delivered by the market, basically all day long," he said.
Joyce did not respond to requests for comment and clarification about the models Tuesday.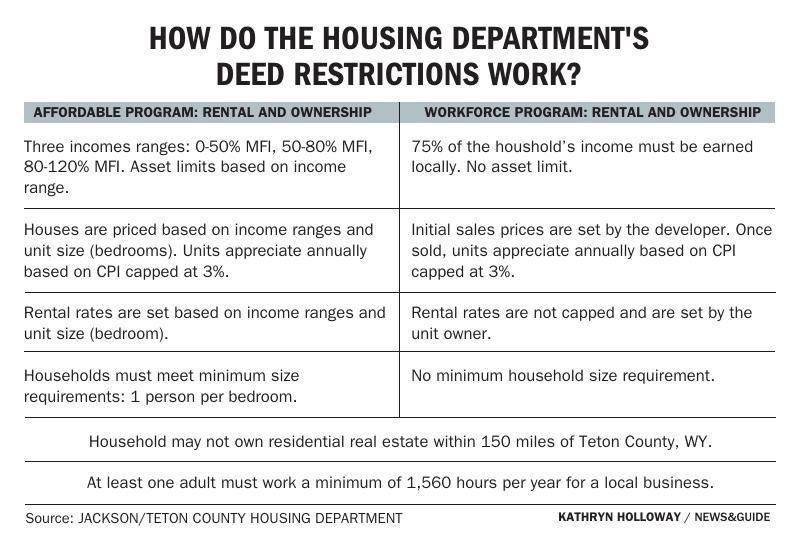 Staryk is not alone in fretting about the land value.
His concern was shared by at least one member of the steering committee, Jennifer Ford. She is a member of Jackson Hole Working, as is Kelly Lockhart, but they've been excluded from any of the board's conversations about northern South Park.
"We don't have housing in this county because we're not dealing in reality," Ford said. "That we are just now even having a discussion about land values, in August, is very disappointing."
But another steering committee member wasn't sure the question was so important — at least at this juncture.
"At the end it's important, but probably not so much right now," Scott Pierson said. "The three scenarios aren't fully developed yet, so there's too many variables still involved."
Staryk didn't know whether roughly $100,000 an acre was market rate or not, and he didn't know whether the Gills and Lockharts would be willing to accept that price.
But without that in the bag, Staryk worried that things could fall apart.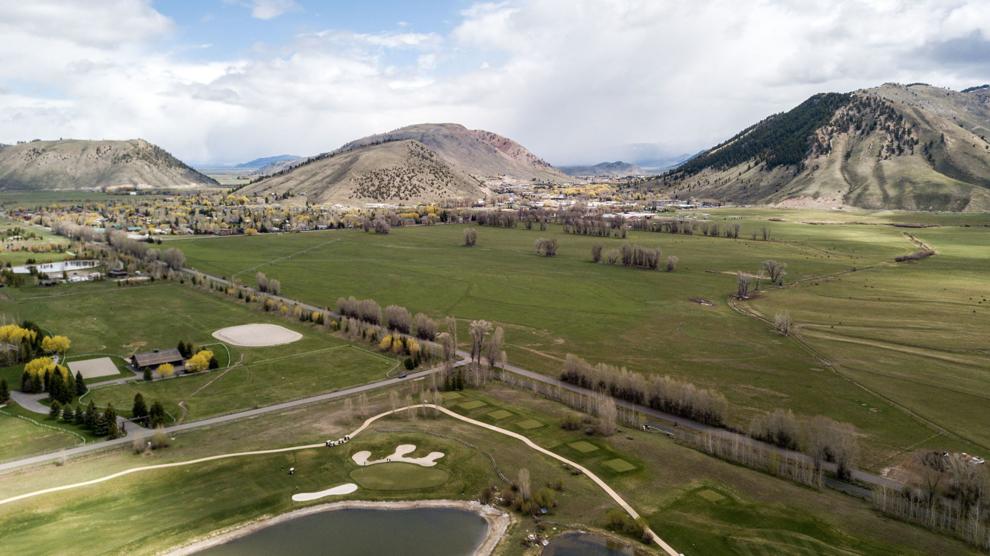 Lockhart declined to comment, and Nikki Gill did so as well until she saw more information about the models. She wants the full spreadsheet, with its formulas intact, to be released. Cascadia had consented to releasing only the PDFs by press time Tuesday.
In an email to the Teton County Board of County Commissioners, Teton County Planning and Building Director Chris Neubecker said the $100,000 land value was an output of the model: Something that wasn't based on the prices of comparable properties in the valley, but rather the amount "that a developer would pay for the land" based on the type of development the alternatives proposed.
It "helps to determine how much value the landowner is 'bringing to the table' and helps a developer and landowner create a contract or profit-sharing agreement," Neubecker wrote.
The planning department did not respond to a request for an interview by press time.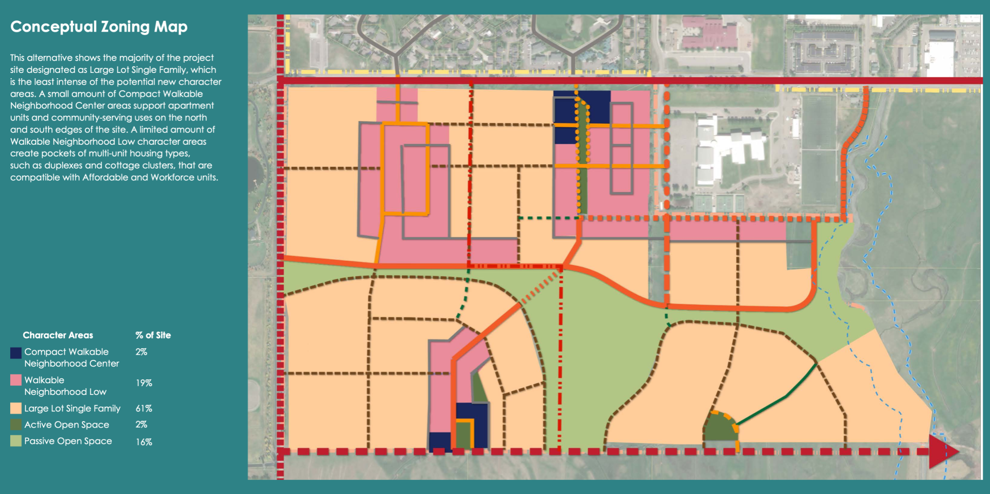 Staryk felt that focusing on what a developer would be willing to pay was beside the point.
"It doesn't matter what a developer is willing to pay if the landowner is unwilling to sell at that price," he said. "My sense is they did not work with the landowners to come up with that value, which you would think would have been the first thing they did."
He and Walker, the Shelter JH board member, thought $100,000 was low.
"But I don't think it's that far off," Walker said.
Using other sales to value the Gill and Lockhart properties, Teton County Assessor Melissa Shinkle said in a letter that she would have assigned the land a higher but similar value: about $134,000.
Walker said she could understand where the $100,000 value came from.
Building "affordable" housing is expensive. Costs can exceed revenue, and construction often requires a subsidy to pencil. So, she said the way deed restrictions limit future use of the properties could be driving the value down.
But Ford said she didn't think tying the land value to the assessed value was apt.
"That's a fool's errand right now," she said. "I couldn't sell my house for the tax-assessed value."
Schell argued that the land value wasn't the point.
Instead, he said, people should care about the housing types proposed. He's skeptical they'll meet Jackson Hole's needs.
"We're not serving the actual need with any of those alternatives," Schell said. "But it's going to generate a higher return for the investors, the landowners, the developers."
That, he said, had him feeling like Opticos Design, Inc., the primary neighborhood planning consultant, was more concerned with the return for the landowner than "providing as much housing as there is a need for various income levels of local workers."
Determining who needs what housing in Teton County is difficult.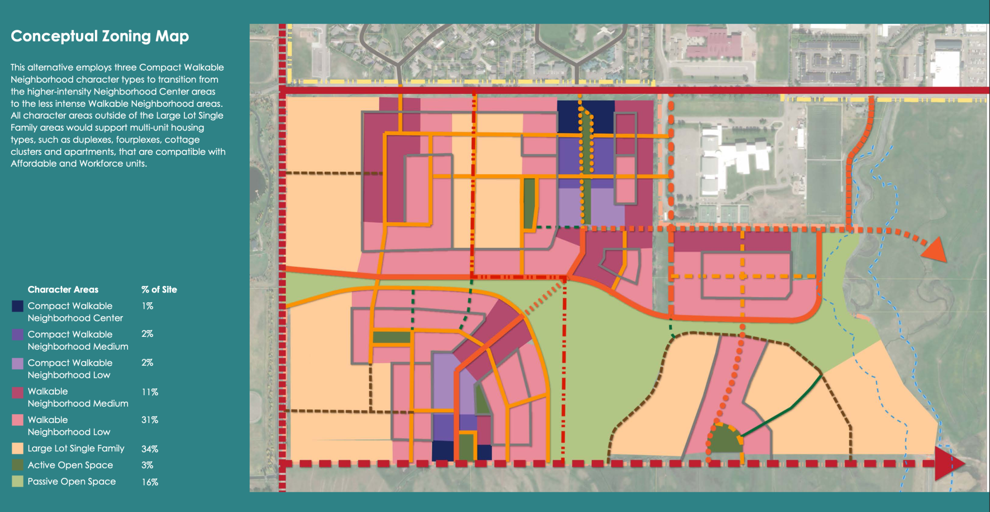 The Jackson/Teton County Housing Department, headed by April Norton, is one of the few organizations that attempts to quantify what sort of housing people are looking for.
It does so by surveying roughly 1,000 people on a form prospective renters and buyers fill out before renting or buying from the department, but that data is limited.
Norton said that more complete data would be available when the Regional Housing Needs Assessment, which is starting in earnest next month, is completed.
But that won't be until 2022 — after neighborhood planning is supposed to wrap up.
Without more timely data, Norton was hesitant to speculate on whether there is enough demand in Teton County to sell or fill apartments geared towards higher income earners.
She did, however, speculate when pressed.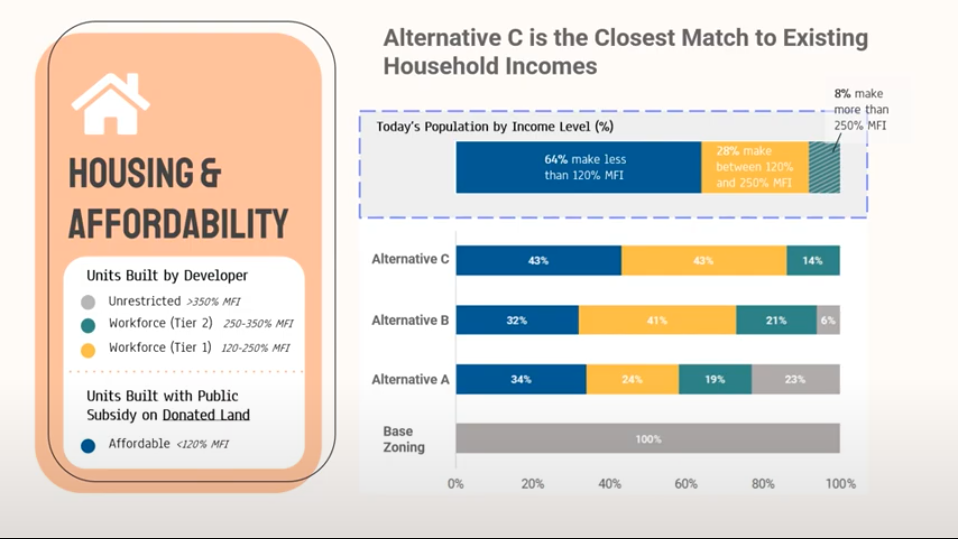 "I think there is certainly a demand in that 120% to 250% range," Norton said. "Those folks absolutely exist."
But she questioned the deed restrictions proposed for the upper income range. She wondered how many people make 250% to 350% of median family income and remain interested in buying housing with possible pricing constraints.
Teton County and Opticos, meanwhile, asserted in a presentation that the densest alternative, "Alternative C," provided the closest match to incomes in Teton County.
They said 64% of the population makes more than 120% of median family income, 28% makes between 120% and 250%, and 8% makes more than 250%.
Schell said there "is certainly a need for units that are restricted to the upper levels of income," but feels that the alternatives are "way overbuilding" for the category of earners who make more than 250% of median family income.
"Alternative C" would see 14% of its homes targeted at people of that income level. Twenty-one percent of "Alternative B" would be similarly dedicated. Ditto 19% of "Alternative A."
Walker, however, saw a benefit to those units: Models say they can be built without subsidy, providing a return for the landowners that could incentivize them to donate land.
"We absolutely have more need at the lower income ranges for affordable housing," she said. "That being said, when we're looking at a developer and requiring them or incentivizing them to build more homes for our working households, it's a really delicate balance to require them to pay to provide homes or donate land to build affordable housing."
The reason, she said, is the high cost of getting that sort of housing in the ground.
Pierson said he thought there would be enough demand to fill those upper-income units, especially because developing northern South Park in any of the ways proposed could take decades.
'Unprecedented' opportunity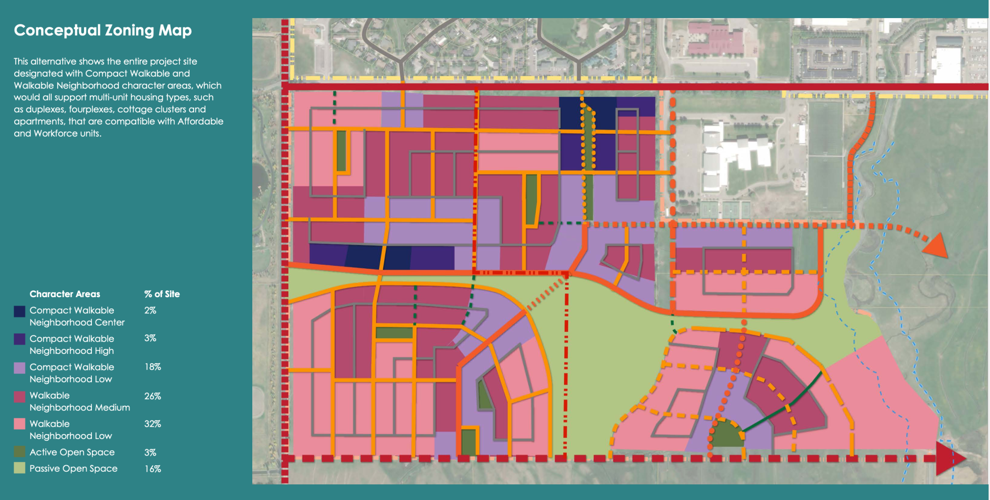 Walker said the opportunities presented in the alternatives, particularly "Alternative C," which she preferred for its density and affordability, are "unprecedented."
"It's the high percentage of the units in that neighborhood that would be truly affordable — and that's what's unprecedented," she said.
Staryk, who didn't say what alternative he preferred, agreed that the opportunity was immense, and encouraged people to stick with the process, even when it gets hairy or confusing.
"If this goes forward it's a huge step to solving our housing problem," Staryk said. "We need something big and I think everybody realizes that."
He acknowledged that people are now talking about housing at the Teton County Fairgrounds. But he said that's not going to be any simpler.
"It's as complicated as this solution," Staryk said. "Let's not give up just because something gets complicated because everything, any major development, is going to get complicated."
This article has been updated to correct an error. Christine Walker was the director of the Jackson/Teton County Housing Authority, not the Jackson/Teton County Housing Department. — Eds.