Harriet Hageman hardly mentioned U.S. Rep. Liz Cheney or former President Donald Trump when she addressed a crowd of Teton County conservatives Wednesday.
"Her speech was focused on Wyoming and what she could do for Wyoming. Period," Wilson resident Cindy Day said after hearing Hageman talk. "That's what I heard."
Hageman, a Wyoming attorney and Republican who received Trump's endorsement in the race for Cheney's seat in the U.S. House of Representatives, spoke about her upbringing in Fort Laramie. She inveighed at length against what she sees as federal overreach.
She also reflected on her career, which she said was mostly dedicated "to fighting against unelected bureaucrats who make decisions that may be a good idea in Washington, D.C." but aren't a "good idea in Kemmerer, Wyoming." And she made the case that she is the candidate best suited to continue that fight in Washington.
Hageman said her upbringing made her want to "work with policies that are going to make people's lives better."
"When you say that, people automatically think, 'What is the government's responsibility in that regard?' " Hageman said. "For the most part, I don't think it is the government's responsibility.
"It is our individual responsibility to take care of our fellow man," she said. "And I think that when we do that, we do a better job than the government ever can."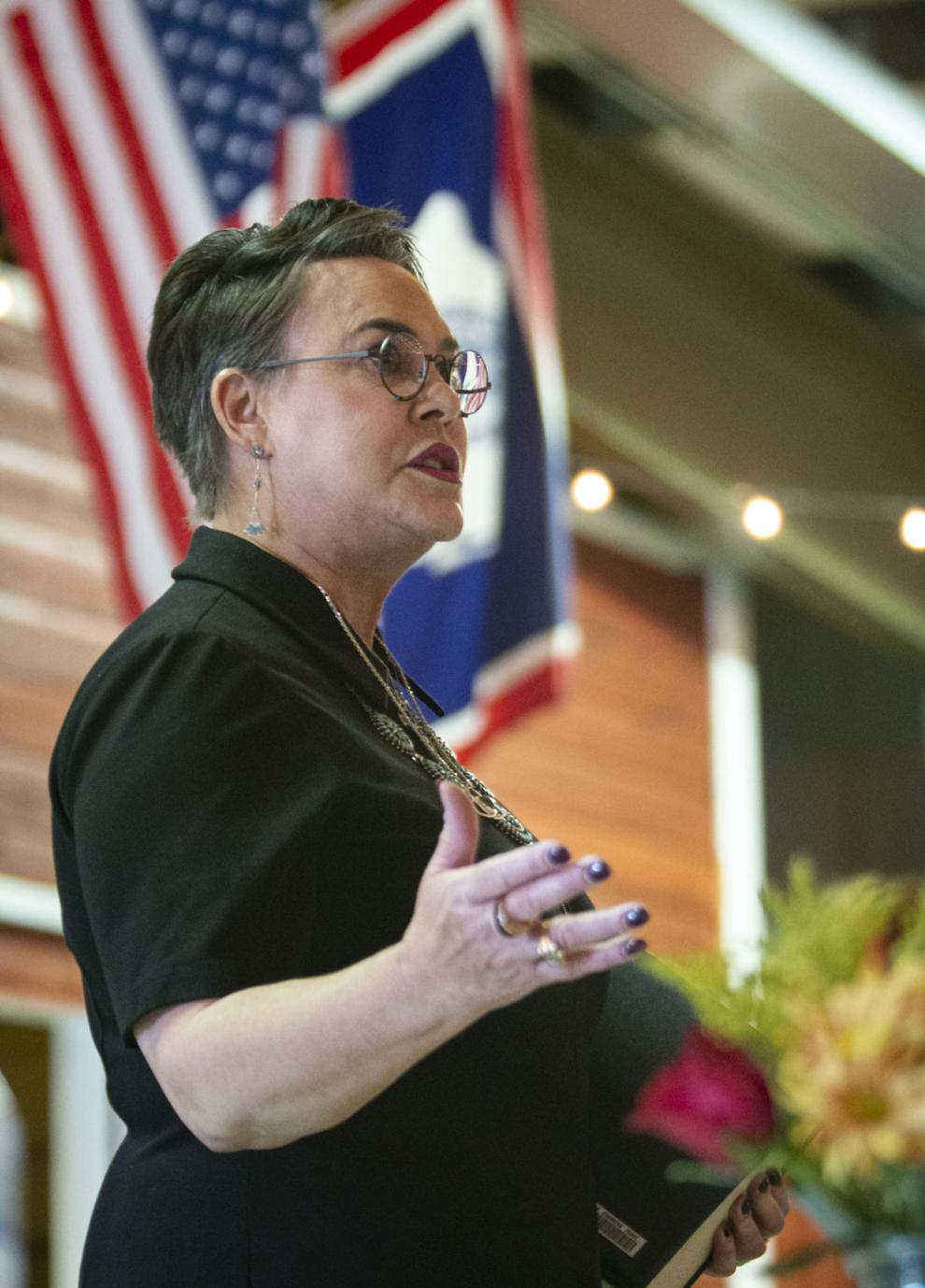 Hageman is a Wyoming water and natural resources attorney who has frequently challenged the federal government.
She ran for Wyoming governor in 2018, placing third in the Republican gubernatorial primary behind now-Gov. Mark Gordon and Foster Friess.
This time around, Hageman's name has gone national after Trump offered her his endorsement.
The former president and conservatives in his camp have been trying to unseat Cheney after she voted in favor of impeaching Trump. Cheney, nine other House Republicans and all House Democrats voted to impeach him, citing the role Trump played in inciting the Jan. 6 Capitol insurrection.
In recent weeks, there has been a stream of national press about Hageman's past support for Cheney and opposition to Trump.
The Cheney issue didn't surface when the public asked Hageman questions Wednesday.
"Trump supporters — we're a very diverse group. But just because President Trump endorsed a candidate doesn't mean that you have all of us on board," one attendee said, questioning Hageman. "I just want to know how you're going to convince the other Trump supporters to come on board with your candidacy, because we all do not want to see Liz Cheney win this election."
Hageman was fuzzy on the details of when she reportedly said those things.
"I don't remember talking to that guy," she said, tying those comments to a discussion she said she had about preventing crossover voting, which is when a voter switches parties to vote in another party's primary election.
Hageman said she remembered being asked about that practice.
And she recalled talking about Democrats participating in a Republican primary, voting for a weak candidate and then, when that candidate wins the nomination, turning around and saying, "See, you guys elected a racist, xenophobe, sexist, whatever it might be."
"I said, 'That's part of why I want to stop the crossover voting,' " Hageman said. "So that was where that came from."
But Hageman did admit that she was concerned at the time about Trump, in part because she was unsure that "the guy from New York would fully appreciate our oil and gas issues."
She said that has changed. The night Trump was elected, she said, was one "of the greatest nights" she has "ever had."
All in all, Hageman appeared to be well received by the conservatives in the room.
As she spoke, she got many rounds of applause from the roughly 50-person audience in the Exhibit Hall at the Teton County Fairgrounds.
And, after she finished speaking, Bob Tillman, who is from California but recently bought a home in Jackson Hole, said he wanted to see the other GOP contenders for Cheney's seat drop out.
Some have. But others, such as Rep. Anthony Bouchard, a Republican who represents Laramie and Goshen counties in the Wyoming Senate, have not.
"For Harriet to succeed, the field needs to be consolidated," said Tillman, who has donated to Hageman's campaign. "She is by far the best alternative to Liz Cheney."
Day, the Wilson resident, came away feeling positive about Hageman.
"It sounds like she has a real heart for Wyoming," Day said. "She wants to do the right thing. ... I just love her attitude, and I'm hoping that she'll be able to make Jackson Hole Wyoming again."