After a flurry of public comment in late summer where petitioners raised a number of questions about Squaw Creek Road, the lone entrance to the Game Creek neighborhoods, commissioners are once again trying to figure out how to make the private byway a county road — and how much of it to should be brought under Teton County's wing.
The Teton County Board of County Commissioners considered the issue in a Monday workshop as a follow-up from August. That's when, after hearing concerns about a landowner's new driveway that will intersect Squaw Creek Road at one of its steepest points, commissioners decided to schedule a workshop to discuss two issues: jurisdiction over the road and the driveway.
Commissioners did not discuss the driveway Monday.
But they did discuss jurisdiction over the road, which is currently private. They heard from Deputy County Attorney Abigail Moore and Chief Deputy County Attorney Keith Gingery.
Moore highlighted past work on making the road public, which has been ongoing since at least 2016.
And, while Gingery has said commissioners could discuss condemnation, or government acquisition of private property for a public purpose, he encouraged the elected officials to continue attempting to acquire land from property owners on either side of Squaw Creek Road via donated easements that would cede parts of their property to the county.
For the time being, he's advocated for keeping those transfers voluntary.
"We always try to get the voluntary free donation first," Gingery said.
Gingery said Moore is making progress on getting the easements.
"As soon as she has them, then you need to start making some decisions," he told commissioners. One of those decisions will be how much of the road should be public.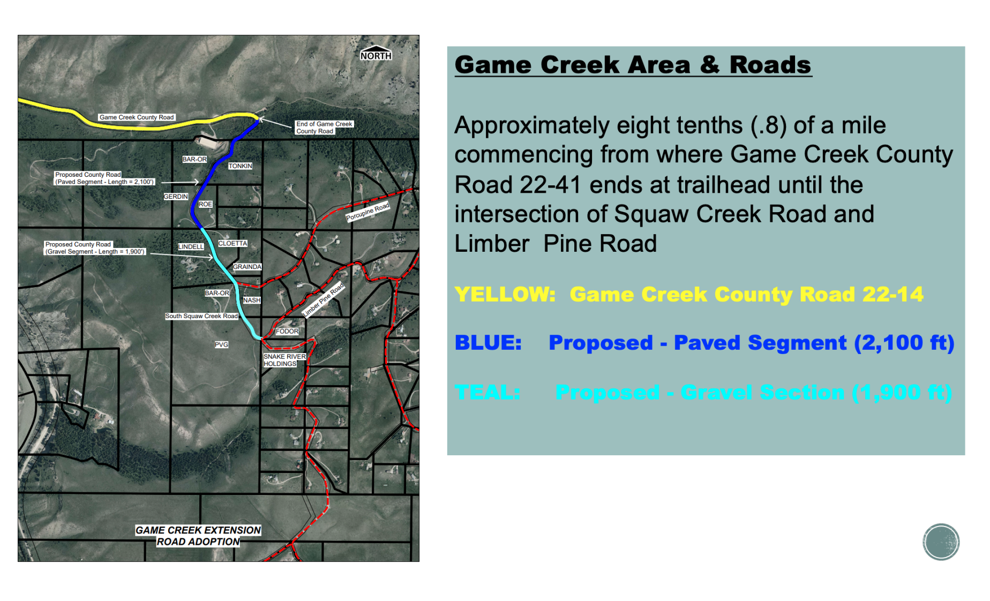 On Monday, the elected officials seemed to prioritize acquiring the first, steep part of the road but didn't make any hard and fast decisions.
The county's historical proposal has been to bring the full, 0.8 mile stretch of road between Game Creek Road, a county road, and Limber Pine Road, a private road, under its purview.
But that could be complicated if the necessary easements aren't acquired.
Moore said Monday that, after reaching out to Game Creek residents in October, she'd received one more easement of the 12 that would be required to make the full stretch public.
That brings the total number of easements acquired by Teton County so far to four.
One property owner has rejected the request outright.
But Moore said she's been talking with most of the other seven landowners being asked for easements, and thought she could secure the rest "without too much time passing."
Commissioners asked Moore Monday to continue that work.
They also asked Teton County Engineer Amy Ramage for a more detailed cost estimate for making "minor safety improvements" on the road.
Ramage estimated that would cost "several hundred thousand dollars" and said doing so would likely not "bring the road to county standards."
And, while Ramage said further work could be done to bring the byway in line with county code, she wasn't "sure the cost benefit would really be there to do that."
Commission Chairwoman Natalia D. Macker said the commission could next consider the issue in a workshop on either Dec. 27 or Jan. 3.