The Teton County Board of County Commissioners gave a soft approval Monday for the placement of a historic building, and removal of some trees, on a property that's being redeveloped for housing.
That property, 445 E. Kelly Ave., was owned by the Brown family until Teton County purchased it for over $2 million in 2020. Norris and Grace Brown lived on the property from the early 1970s on, and the family would decorate the giant spruce tree in the front yard for Christmas.
The county is slated to redevelop the property in partnership with Habitat for Humanity of the Greater Teton Area. On Monday, commissioners settled on a few changes to a conceptual plan for the lot: Relocating historic parts of the property's more northern building to the southeastern corner of the lot, removing a few trees from the middle of the lot, and nixing a sidewalk from the plan. The goal of all three changes was to allow for more space for the homes set to be developed there.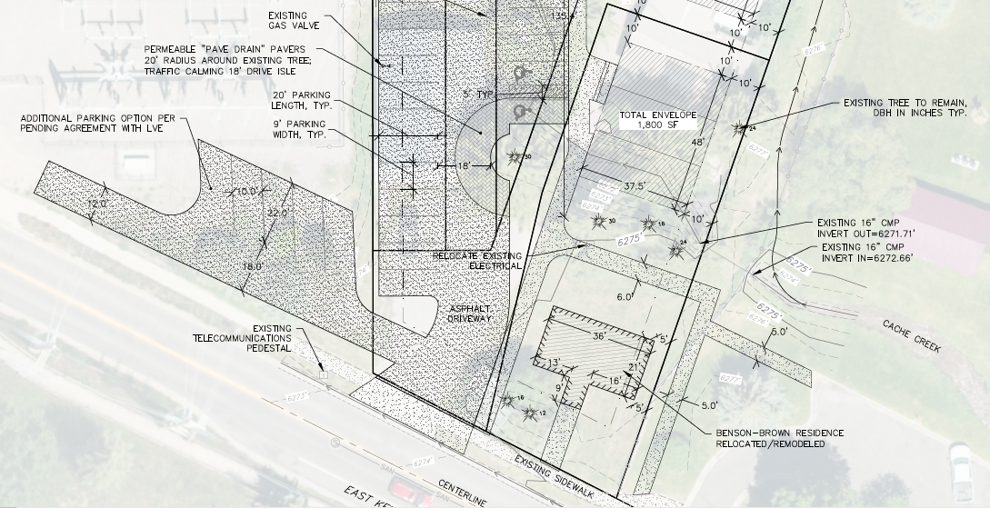 "The issue is primarily the middle unit," Peter Wood, Habitat's construction manager, told commissioners. He was describing how the current conceptual width for the majority of the buildings — 46 feet — would reduce wall thickness for that unit. "If we were able to add six feet to each of those footprints, we would we'd get a much more livable space," Wood said.
The commission agreed, giving Habitat, Y2 Consultants and the Housing Department the go-ahead to finalize designs for the site. It did not take a formal vote on the issue, which was discussed during a workshop.
The building that will be relocated on the property is home to the first turbine-driven electric generator in the valley. Its historic elements are now slated to be preserved on the southwest corner while the building will be used for something new, possibly a Parks and Rec-administered public space.
The building on the property's southwestern edge is slated to be removed, officials said. The trees in question will come from the eastern center of the property. Other trees will likely be planted elsewhere on the property.