About 220 residents from Wilson and the surrounding neighborhood are asking county commissioners to help them nix plans for a truck arrestor in a location they say is unsafe and unattractive.
The design process for the truck arrestor is slated to begin in 2025 with finishing touches in summer 2026, Wyoming Department of Transportation Construction Engineer Pete Stinchcomb said. It would end below the speed limit sign across the road from the Stagecoach Bar.
The biggest issue, petitioning Wilson residents say, is that the $4.5 million truck arrestor would be built downhill from where traffic often starts to back up on Highway 22, especially in summer.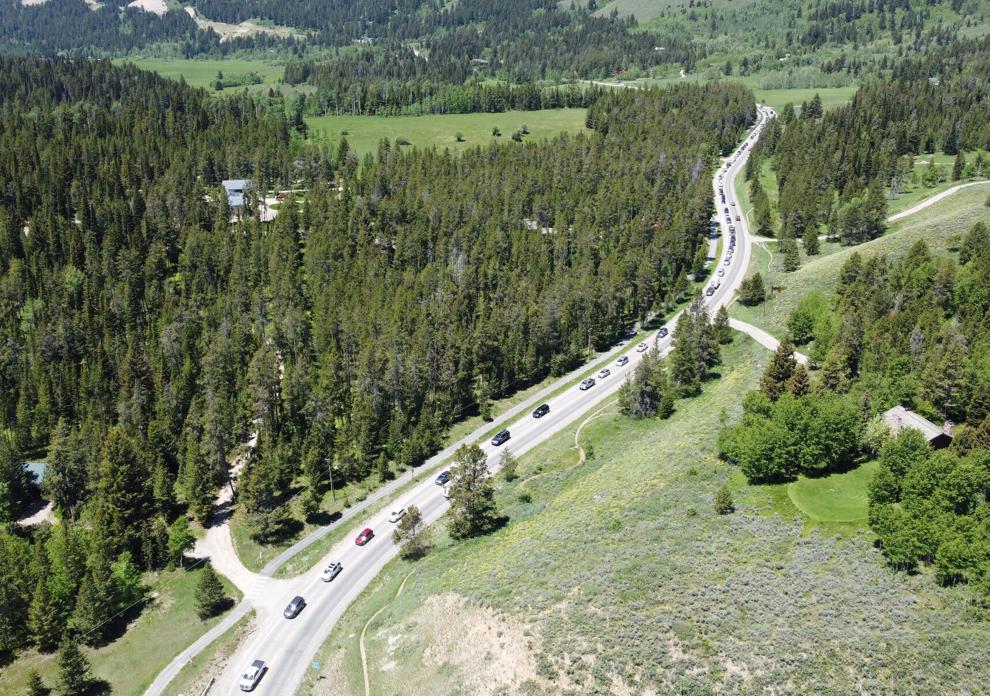 Though neighbors have told WYDOT they oppose the current location, petition organizer and multimodal transportation activist Tim Young said he feared the agency had already made their decision.
"WYDOT takes input from counties more seriously than individuals," Young said.
Young said he thinks the environmental impacts of the arrestor need to go "back to the drawing board" because traffic has worsened since the site was studied in 2018.
Wilson Residents are asking for a new site analysis for the arrestor be included in the upcoming environmental impact statement for the redesign of the Highway 22 and 390 intersection and  Snake River Bridge, which will account for environmental impacts, animal crossings, pedestrians and transit vehicles.
When the truck arrestor was originally studied, the project has a categorical exclusion.
A "cat-ex" means federal agencies like the Federal Highway Administration have deemed the project won't have a "significant effect on the human environment" and doesn't need the typical impact assessments.
But Stinchcomb said it wouldn't make sense to slow down progress by tying the projects together. 
"The arrestor is for safety, and it's very much needed and we've already done the study process," he said.
While they're both on Highway 22, Stinchcomb said the arrestor and the bridge/intersection project are "totally separate."
The piece that connects them, though, is that the efficacy of the arrestor depends on the other project reducing traffic.
The state highway department is "confident," Stinchcomb said, that the upcoming WY 22/390 Snake River Bridge project will push traffic along much smoother.
The agency will monitor traffic with cameras, he said, but since the location by the Stagecoach has been in the plans since 2018, it will "probably remain."
"I don't know if there's really another spot where it could go," Stinchcomb said. "The pass gets really narrow, and you're dealing with landowners too."
WYDOT is already dealing with landowners as it is.
Wilson resident Norm Duke says part of his property adjacent to Highway 22 will be sold — or condemned if he's an unwilling seller — to create the gravel pullout at the top of the arrestor.
Since Duke has been a vocal opponent of the planned arrestor for many years, he said the petition could help legitimize his concern. Being directly impacted, he doesn't want to be dismissed for having a "not in my backyard," or NIMBY, attitude.
"That excuses it," he said. "I'm against [the arrestor] because that is where all the traffic backs up, and because it's going to be the 'gateway to Wilson.' "
In the letter to commissioners, Wilson residents say they would prefer "no-build" precautions like a permit system or a weigh station.
That wouldn't stop all runaway trucks, Stinchcomb said, especially those with drivers who aren't local and don't know exactly how much their trailer weighs or the condition of their brakes.
One existing precaution is already in place at the top of the pass.
Though it is often packed with parking for access to hiking and skiing, the pullout is rarely used for its intended purpose as a place to let a vehicle and brakes cool off before heading down the pass.
Brakes can get so hot they start to melt, but most people drive right past that pullout — or can't pull off because it's full, Stinchcomb said.
The first runaway truck ramp with a catch net cable system opened March 2017 near milepost 7 on the south side of Highway 22. The truck arrestor was installed to replace a runaway truck ramp which trucks had to cross uphill traffic to use. It's been used a few times every year since it's been installed, Stinchcomb said.
"I was down there at Nora's [Fish Creek Inn] two weeks ago and, oh my gosh, I could smell hot brakes come by on every vehicle," Stinchcomb said. "I worry about [their] safety."
As far as the concern that the concrete structure would spoil a traveler's "welcome to Wilson,'' Stinchcomb said the design isn't set in stone.
"It doesn't have to be this big, ugly thing," he said.
This article has been changed to specify which study components Wilson Residents are requesting change. - Ed.