Candidates for Jackson mayor and Town Council tackled several hot-button issues last week during a video forum presented by the League of Women Voters, Teton County Library and local media, including the News&Guide.
Michael Kudar and current Jackson Vice-Mayor Hailey Morton Levinson — the two mayoral candidates — joined Jessica Sell Chambers, current Jackson Mayor Pete Muldoon, Jim Rooks and Devon Viehman — the four council candidates — at the forum, moderated by League of Women Voters member Susan Dong. The four council candidates are vying for two open seats. (See more on the candidates in our Election Special Section inserted in this week's edition.)
Representatives from KHOL radio, Buckrail and the News&Guide posed the questions with each candidate, who had two minutes to respond. Candidates also had the opportunity to wave a red card, allowing them a minute to respond to or rebut what another candidate had said.
Questions covered a range of topics, including sexual assault, housing, female and minority representation on local elected boards, the "seventh-penny" sales tax, and development of northern South Park and Snow King Mountain Resort.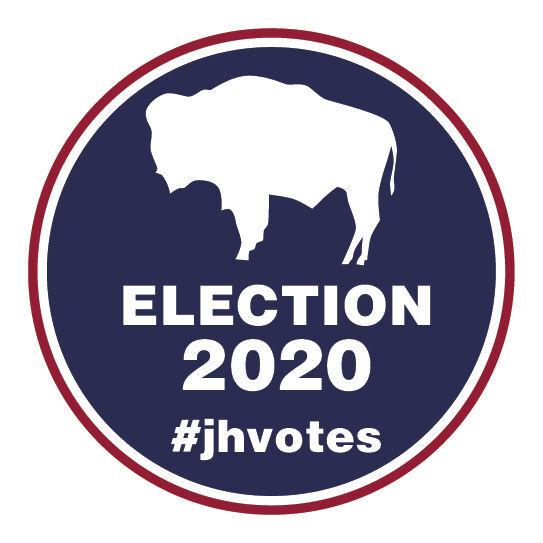 The forum kicked off with a question from KHOL's Robyn Vincent about how best to handle the ongoing COVID-19 pandemic, which has seen a recent spike in Jackson Hole, as it has in many other areas of the nation. Vincent asked whether the recent spike requires another shutdown.
"No, it's not time for a shutdown," said Kudar, the mayoral candidate. "The last shutdown cost this community huge. ... This is an education thing. This evening when you go home and you go to bed, and you look at your kids and you look at your friends and family, it's time to say, 'Hey, we've got issues, we've got problems and this virus isn't going anywhere soon' — there's no quick fix to it — and it's time for the community to step it up. It's time for us to realize that we have to do better. We have to do more. We've got to listen and we've got to stop fighting about this thing. We've got to keep our businesses up and going."
Morton Levinson, who was among the Town Council members who voted to implement a local mask order before any such order from the county, reiterated what Mayor Pete Muldoon had said previously, that it's important to rely on the recommendations of public health officials.
"They are the experts, and I am not. I think that that was a really good thing for our community to do, and I think that was really strong leadership from the town and county," she said. "Because we were able to have that dialogue and get out in front of this, we fared far better than some of our other [peer] ski resort communities. I'm grateful for that. I think we've done a very good job since then in working as a community to keep our number of cases down. I am concerned about this recent uptick ... Again, I will rely on our health care professionals."
The candidates addressed a question about the proposed "seventh-penny" sales tax — all but Kudar said they favor approving it as an added revenue stream for the town.
Supporting assault victims
Almost an hour into the forum, after candidates had also addressed the development of northern South Park, Vincent asked how the candidates would address barriers that exist for sexual assault survivors to report such assaults.
The issue has been at the forefront of community conversation for nearly two weeks, after it became publicly known that Muldoon had been accused of sexually assaulting a woman in 2018. No charges were filed in that case. The alleged victim insists her claim was valid, but that there simply wasn't enough evidence to prosecute. Muldoon, meanwhile, said the evidence produced, including text messages and recorded conversations, exonerates him. He was the first to address Vincent's question.
"I think this is an important conversation; victims want to feel safe again," he said. "I think they want their experiences to be understood. They want to be heard. ... I think it's unfortunate that we're having this conversation in the context of one of the extremely rare cases where an accusation was false. That shouldn't be the narrative here, but it's still a conversation we have to have. We have a huge problem with sexual assault in this country, and in our community."
The woman who accused the mayor of sexual assault responded to Muldoon's claim of innocence with an emailed statement to the News&Guide, saying that Wyoming's laws are "designed to protect the rapist" and that it's "next to impossible for survivors to hold predators accountable in a court of law."
In her statement she encouraged survivors to have the courage to report sexual assaults and deemed Muldoon "absolutely the wrong person to be in a position of leadership and power."
Council candidate Chambers, herself a survivor of sexual assault, which she pointed out at the forum, said that "the situation that unraveled or occurred in the last week is definitely not one that has removed barriers for victims of sexual assault who have come forward." Chambers bemoaned that an alleged victim's story was "weaponized" for political purposes in some cases and stressed the importance of male elected officials listening and learning, rather than talking over people.
Viehman, a Jackson realtor vying for a council seat, said it's crucial that people be educated on the issue and that safe spaces are provided for survivors of sexual assault. She pointed to an event sponsored by the Community Safety Network as an opportunity for people to learn how to support victims of sexual assault.
"We can always learn," Viehman said. "I think we also have to look at the cause from this; what is it? What are so many of these things about? It's about consent. And so many people don't — there's a huge grey area on what consent means to people ... Probably to each one of us, it's a little bit different."
Longtime educator Jim Rooks noted his range of experiences working in inner cities, on Indian reservations and elsewhere, teaching and coaching, and stated that sexual assault is "an incredibly complex issue, especially with local politics [involved] here."
He pointed to an August candidate forum in which COVID-19 was named by all the other candidates as the primary health issue we currently face.
"I used my red card at that time and specified sexual assault, domestic abuse and suicide," Rooks said. "I appreciate the phrasing to distinguish between victims and survivors, which is subtle but important."
Throughout the remainder of the forum the candidates also fielded questions about what they perceive as their weaknesses and biases, as well as future development at Snow King Mountain Resort and how they would like that to be managed in order for Snow King to remain "the town hill."
The forum video is embedded below.