Just as the United States has grappled with questions of race and racism all summer, Jackson Hole is having conversations of its own on the eve of the 2020 election.
Mayoral candidate Michael Kudar admitted last week that he wore blackface at a Pinedale Halloween party in 2011. And a News&Guide article from earlier that week described how Jessica Sell Chambers and Mary Erickson had suggested to Town Councilor Jonathan Schechter that he resign his seat on the possibility that a woman of color might be appointed to fill it, though both women said that was only part of their conversation.
Both developments have spurred conversations about race, racism, and what can and should be done to combat the latter's systemic presence in our society.
Kudar, who originally told the News&Guide that he did not wear blackface, but admitted he did after KHOL broke a story about his doing so at the 2011 party, said he didn't remember it the first time he spoke with the paper. But after speaking with his wife, Serese, who donned a similar costume, he said he remembered that he had. He apologized after the KHOL story broke.
"I wholeheartedly and openly apologize," he said, "with love of the people of Jackson and the state of Wyoming and will continue to listen, learn and strive to be better together."
Blackface is a practice where people wear black or brown makeup to darken their skin, impersonating people of color. It has been denounced as racist since its origins in the 1800s, when minstrel performers began painting their faces black to portray Black people, who were enslaved at the time, as lazy, ignorant and hypersexual, among other negative stereotypes. The practice is widely condemned for enforcing those stereotypes, and celebrities and politicians alike have all come under fire for donning blackface. Jimmy Fallon and Jimmy Kimmel both recently apologized for performing in blackface to portray Black celebrities.
Some community members were skeptical of the apology.
"I think an apology is important because when you've done wrong, as an adult, that's the right thing to do," said Kori Arritt, the president of Teton People of Color and Allies, a group that formed in the wake of George Floyd's killing this summer. "But for a politician, for someone who wants to represent the people, and wants to tell us that we all matter, you know, that all of our voices should be heard, I think they need to go beyond just an apology."
In her mind, that would mean Kudar educating himself "and educating others, and encouraging others to also do that same work." She and Jailyn Wallace, the group's vice president, said it wasn't the responsibility of people of color like them to educate others about why practices like blackface are harmful, instead encouraging people to educate themselves.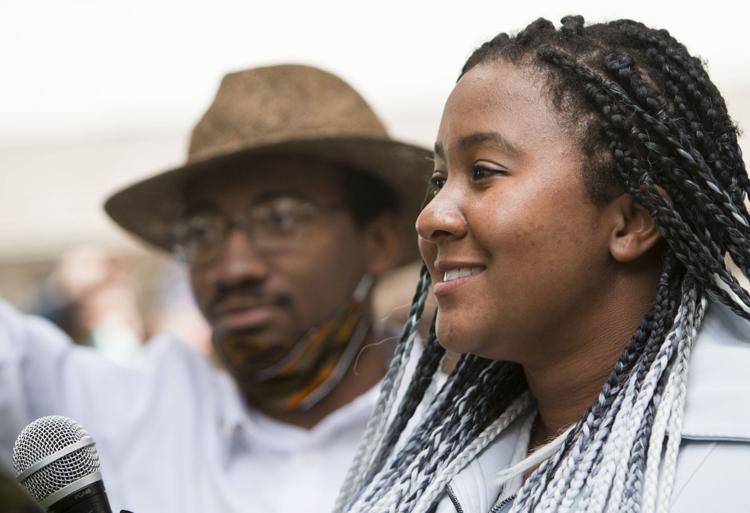 "We have so many resources today, where you have every opportunity to educate yourself," Arritt said. "And we expect people that are especially going to represent people, a politician, to take every opportunity to educate themselves."
Kudar said he was "not aware of blackface" in 2011, but Wallace pushed back on that. He said he didn't feel Kudar's apology was "acceptable."
"There's no excuse for anybody to do blackface," he said. "Everybody knows that's racist."
Though he acknowledged that some people would think about him as such, Kudar maintained last week that he is not a racist: "I am far from it," he said. "I am not."
Jennifer Ford, a business consultant and president of the Frederick Mountain Group, is Black. She felt differently from Wallace, and said she had talked with the Kudars and accepted their apology.
"I felt it was a very heartfelt recognition that something they did was harmful, and something that we all need to learn and grow from," Ford said.
Ford, who penned a Guest Shot on the topic in this week's News&Guide (see page 7A), was more concerned about the conversation Chambers and Erickson had with Councilor Schechter. She felt that conversation circumvented the democratic process — and that Chambers and Erickson had erroneously spoken on behalf of women of color.
Ford described that as a different form of blackface.
"What is offensive about the minstrel" — the character that lived on through the 20th century in vaudeville and other forms of entertainment — "is white people pretending to be black, for their own end," Ford said. "When I heard that they asked Jonathan to do something that was patently wrong, and then they went a step further to say, 'because women of color need this,' it's the same thing: You are speaking for people, you are putting behaviors on a community that you are not of, and that no one has given you that permission to do. It's not okay."
Chambers and Erickson told the News&Guide they did not intend to speak for anyone when they approached Schechter, and felt that their conversation with him had been misconstrued.
"I did not ask on behalf of people of color," Chambers said. "That was never, ever, ever conveyed, and I would never, ever do something in that way because I know that it is inherently wrong and I don't have the place to speak for a woman of color."
Chambers, who is running for Town Council and ran in the primary as a write-in candidate, said that's why she didn't bow out of that race, in which Ford was also running as a write-in: "That would have been an insult."
Erickson, like Chambers, said she had not spoken on behalf of anyone but herself, and asserted that their conversation with Schechter stretched beyond suggesting he resign.
The conversation, she said, was about "how leaders in our community can address historic systemic inequities" like racism and sexism that "create barriers to leadership." She said the three of them talked about something she often asks herself: "What power am I willing to relinquish in order to try to create a more just world?"
"It's harder for women, it's harder for people of color, it's harder for people from the LGBTQIA community. There are barriers. And if we pretend there are not, we're just fooling ourselves," Erickson said. "So, for me, it was a conversation about that."
Ford, who saw the suggestion that Schechter resign on the chance of being replaced by a woman of color as inappropriate, drew a distinction between intent and result.
"Some things on their face are wrong. It doesn't matter what your intent is," she said. "If your intent, when you catcall a woman on the street, is to give her a compliment? Doesn't matter. Does not matter … It's the same thing. That is not appropriate. It's just out of bounds."
But Wallace, who spoke for himself on this issue, not Teton People of Color and Allies, said he thought the issue wasn't so black and white.
"I personally felt that Jessica Sell Chambers had the best intentions, right? But it wasn't the right way to go about it," Wallace said.
Demonstrating that there is no one answer to these questions, the Texas transplant who moved to the valley with AmeriCorps to build homes for Habitat for Humanity of the Greater Teton Area and ended up leading anti-racism marches in June put it simply.
"I agree with both of them," Wallace said.