A crowd at the corner of Cache and Simpson gasped Sunday morning as a house wobbled back and forth on a semi trailer as the truck turned off the property's curb and onto the street.
The growing audience sighed when the house, which was hanging off both edges of the trailer, didn't tumble off. And they clapped as the home slowly rolled east on Simpson.
"I can't believe we are actually doing this," Esther Judge-Lennox said.
Judge-Lennox, through her nonprofit Shacks on Racks, works to publicize which houses and structures are slated for demolition in Jackson.
Then she works with interested people and willing companies to save the structures by moving them to a new location.
She was surprised to get an email May 22 from Natalie Fath, of the National Elk Refuge.
"She's a dream client," Judge-Lennox said. "I gave her the information she asked me for, and she made a decision."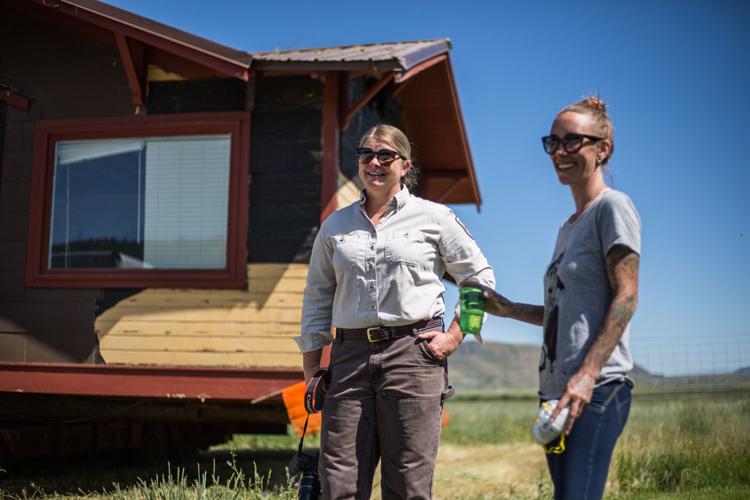 Judge-Lennox and Fath worked hard to make all the July 1 deadline requirements to prepare the house for its move, including getting the Grand Teton Association, another nonprofit, involved as a financial backer.
"This is supporting housing for their staff, so we thought it was an amazing idea," executive director of the association April Landale said.
Teton Transport's Vern Woolstenhulme and his crew moved the house about a mile east Sunday morning to Elk Refuge property, where it will provide housing for a refuge employee and family.
"This is a precedent-setting project for our agency," Fath said. "The house relocation is a creative solution to the staff housing crisis that our agency continues to face at the National Elk Refuge. The project is not only a win for the National Elk Refuge, but also a win for our partners on this project — Shacks on Racks and the Grand Teton Association, and a win for the community."
The bungalow sat at the corner of Cache and Simpson for about 90 years, with several prominent members of the Jackson community having owned it over the decades — Charles Fox (Jackson's sole carpenter in the early 1900s, who built it in the '30s), Almer P. Nelson (former Elk Refuge manager, coincidentally) and Lester May (a former Jackson mayor).
Early photos show it as a white single-family home with a front porch. In more recent years it was used as a rental property, the front porch was enclosed, and the house was painted brown with a red trim. Attorney Bill Schwartz has owned the property since 2006 and said he's planning on building townhomes there.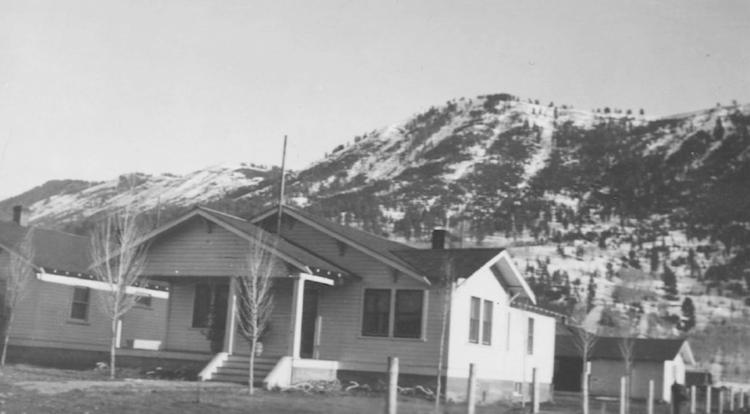 Judge-Lennox is especially passionate about historical houses in Jackson and said that despite her motivation to save them all, most of them end up "going to the trash" because the time between when the demolition permit becomes public record and the actual demolition is short.
"I've relocated three structures personally, assisted in a garage dismantle and two shed relocations," she says on her website ShacksOnRacks.Com. "In 2019 about 94% of structures with demolition permits were taken to the trash."
But Sunday's successful move gave Judge-Lennox the motivation to keep advocating for saving perfectly good houses, usually free to whoever wants to move them.
The East Simpson bungalow will sit on a temporary site at the refuge while a foundation is being laid in its permanent spot, which is yet to be determined but will be near refuge headquarters.
"We had to move quickly, otherwise this home would have been demolished," Fath said.
Sunday's move took about four hours and cost $35,000. Placing the home in its permanent location will cost another $5,000.
"The National Elk Refuge utilized our non-governmental funds through the Grand Teton Association to cover that cost," Fath said.
Though the house didn't qualify for a spot on the National Register of Historic Places list, those involved are happy to see it preserved.
"It was a trifecta because without GTA we couldn't have fulfilled this project, and without Esther's facilitation and expertise and passion and tenacity we wouldn't have even known about this opportunity," Fath said.
Fath said once the house is placed in its permanent location she wants to do a cost analysis comparing the house preservation and move to what it would have cost to build that same size house today.