There was a relative calm at Pearl Street Bagels' Jackson location Thursday at 9:30 a.m. The line of nine people waiting to order didn't quite reach the door, and only four people waited for takeout. Outside, every table had customers, but nobody was eating on the sidewalk.
That's all to say, bagel shop co-owner Heather Gould had time for a break.
"There's not a line out the door and around the corner, so we're good," she said.
Even during her break, no two minutes passed without another hungry customer climbing the three steps past the yellow door frame into Pearl Street Bagels, where Gould is among the hundreds of business owners struggling to compensate for the worker shortage straining the valley.
"Right now we're covering the employee shortage [with me] and my business partner working shifts," Gould said. "But we can't do that forever."
Throughout Gould's brief rest, dozens of customers left to walk down the street or return to their cars with license plates from Idaho, Washington, Colorado and Wyoming. They chatted about their upcoming hikes, climbs, meals, country concerts. If the view from the Pearl Street sidewalk can attest to anything, it's that Jackson's tourist scene has returned since the pandemic abated.
County tax revenue spreadsheets say as much: Sales and use tax revenues in Teton County are higher each month this year than any of the same months in the last five years, according to Teton County financial documents. But while tourists and tax income are abundant in the valley, workers are not. And while the few fully staffed businesses in Teton County are flourishing, others, like Gould's, are understaffed, their employees often overworked and their revenues affected by the closures owners must make to keep themselves and their employees sane.
"We're definitely taking a bit of a hit," Gould said.
Gould needs a baker and barista for the Jackson shop. She needs the same for the Wilson location. Some of the jobs have been open since April. But with housing shortages in town, and worker shortages across the country, her ads have received little attention.
"What we're seeing right now is that we don't even have any applicants," she said. Gould typically expects at least 10 applicants per job opening.
Aimee MacDonald, the front-of-the-house manager at the Wilson location, said the team is managing despite worker shortages, but added, "It does feel crazier than ever, and we're stretched pretty thin."
MacDonald credited Gould and co-owner Polly Filice with finding quick fixes when a worker takes a sick day or if there's another hiccup.
"Polly and Heather are like magicians when it comes to shifting things around," she said. "During chaos they find ways to keep it together, but it does kind of feel like it's right on the edge."
The two bagel shops are managing with reduced hours, 7 a.m. to 3 p.m., which Gould said she will keep for now to make sure she and her employees have some work-life balance. That decision has affected revenue, but Gould said it's her best strategy to prevent the owners and staff from burning out.
Besides the hourly reduction, Gould and her business partner have had to close the Wilson location one day a week.
"We're going to go as long as we can but, pretty much, the only option is closing one day a week or even more," Gould said. "I don't want to go there. But we're at the point where we can't break ourselves and our employees that we do have to work tons and tons of shifts just to stay open."
Having to work the jobs she can't fill, Gould has trouble finding enough time in the day to manage the business side of the bagel shop and support her staff.
"My body does not work the same way it did 20 years ago," she said. "It's a lot more exhausting to work."
The pandemic added more pressure. Gould, the mother of three children, said she struggled to manage the business while making quick adjustments with the ever-changing availability of child care and school in the past year.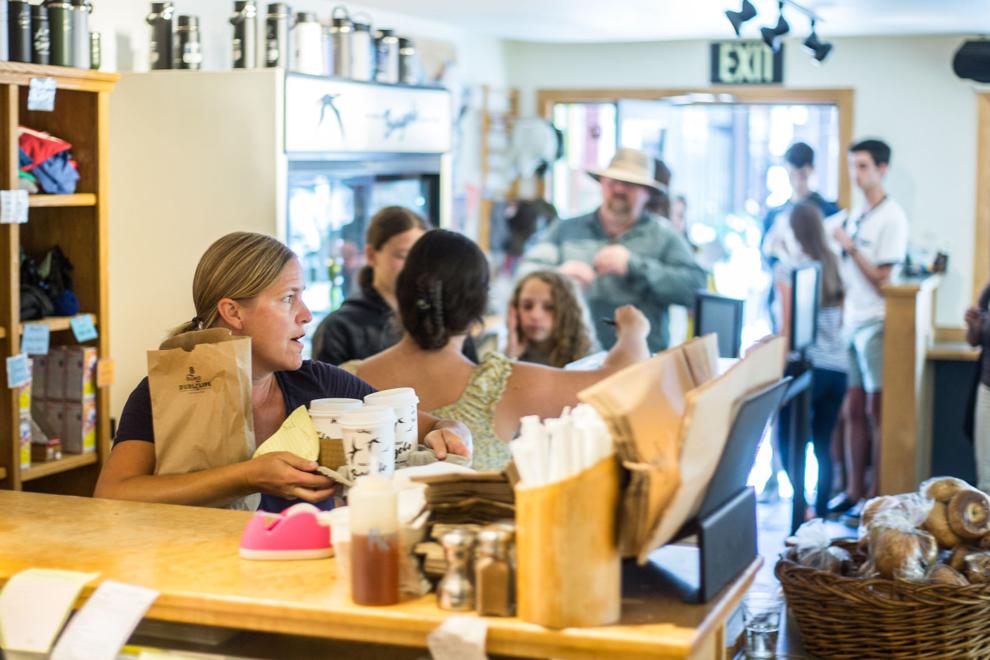 Now the children can return to school, and summer camp is back in session. Still, Gould can't fit all of her accounting work into her hectic days at the bagel shop, so she sometimes brings her work home to Alta, doing payroll on late nights after her children go to bed.
"It's hard not being able to run your business the way you want to because you're struggling to keep the doors open."
Pearl Street Bagels is not alone.
According to a Jackson Hole Chamber of Commerce survey that 240 businesses completed, 94.5% of respondents stated "challenges related to housing are at the core of their staffing struggles."
Nearly one-third of business operators stated they might adjust their operations by changing business hours or days the business is open. One in 20 respondents said they were considering closing up for good.
Kendra Alessandro, director of communications of the Fine Dining Restaurant Group, said the restaurant group's reputation as a top employer in the county has slightly padded the effects of the worker shortage.
"But even with that said, we're feeling it, too," she said.
The Kitchen and the Bodega food truck have reduced their numbers of days open. The Kitchen is now closed Sunday and Monday; Bodega is closed Monday.
It isn't that business is slow, Alessandro said; Fine Dining's restaurants are typically full when they're open. It's that management wants to ensure they and their employees don't burn out.
Businesses at Four Seasons Resort in Teton Village have also had to adjust their operations.
"We navigated Four Seasons strategically, to operate at our level, by sort of manipulating our business model," said Cory Carlson, the regional marketing director at Four Seasons.
With too few workers the hotel management decided not to open The Handle Bar, one of the hotel's restaurants, and to consolidate what staff they have at the Westbank Grill and other hotel services that require fewer staff.
Carlson said the hotel took out ads looking for employees to no avail. The business offers competitive wages, he said, but competitive wages matter little when there's no available housing. "It's housing that is killing all of that staffing opportunity for outsiders coming into Jackson," Carlson said.
The housing shortage isn't anything new.
Gould from Pearl Street Bagels recalls a conversation 20 years ago with a potential employer when she was applying for jobs while living in Connecticut. In an interview a potential employer asked Gould if she was already in the valley. When she said she was coming soon, she was told, "Call back when you're actually here and you have housing."
But the shortage is worse than it used to be, both in terms of price and scarcity.
"It's only gotten 100 times worse since then," Gould says.
A North Carolinian applicant who was offered a baking job at Pearl Street Bagels ended up staying put in her home state because of her inability to find housing as far south as Alpine. Another worker gets by because her husband's job provides housing.
Gould would consider buying a shared housing space for her employees, but the current market is too expensive, she said.
If there's a silver lining, it's that the pandemic made Gould more adaptable.
"I think we're better equipped to roll with the punches because of what we've all just been through," she said.
If the bagel shop has to close for another day, Gould will work with it. If she has enough energy to continue the summerlong marathon without any additional closures, even better. But Gould knows that her energy is finite, and she hopes job applicants will come to alleviate her, her management and her staff soon.
"We'll do what we've got to do, and we've always done what we've had to do, but we can't keep doing that forever," she said.