A Monday meeting where the Darwiche family solicited feedback on its proposal to repurpose the former Legacy Lodge building for employee housing occasionally got raucous as neighbors asked questions and spoke for and against the family's plan.
Alice Widdess, a 26-year resident of Rafter J, the subdivision that the former assisted living facility calls home, said she thought the meeting was beneficial. About 100 people showed up. Many weighed in, sometimes many at once.
"This was healthy," Widdess told the News&Guide after the meeting. "There's people that came with an attitude. And I don't think everybody left with an attitude."
One Rafter J resident called the proposal "outrageous." Some worried about its impact on traffic and the neighborhood's infrastructure. Others questioned why the family was saying they wanted to use the space for housing, while keeping other options on the table.
Some people encouraged other residents to the support the move as a play for housing more Jackson Hole workers locally, especially as businesses, nonprofits and government struggle to find employees.
Others still said that, if the family continues to pursue housing, they should ensure the units are affordable to local workers.
Karen Jerger, a member of the Rafter J homeowner association's board, told the attendees the HOA had not yet taken a position, including whether residents were afforded a formal vote. Many said they thought they were.
"I want you to know that we have no position at this time," she said. "We're trying our best to listen to the homeowners, to work with these folks to try to figure this whole thing out."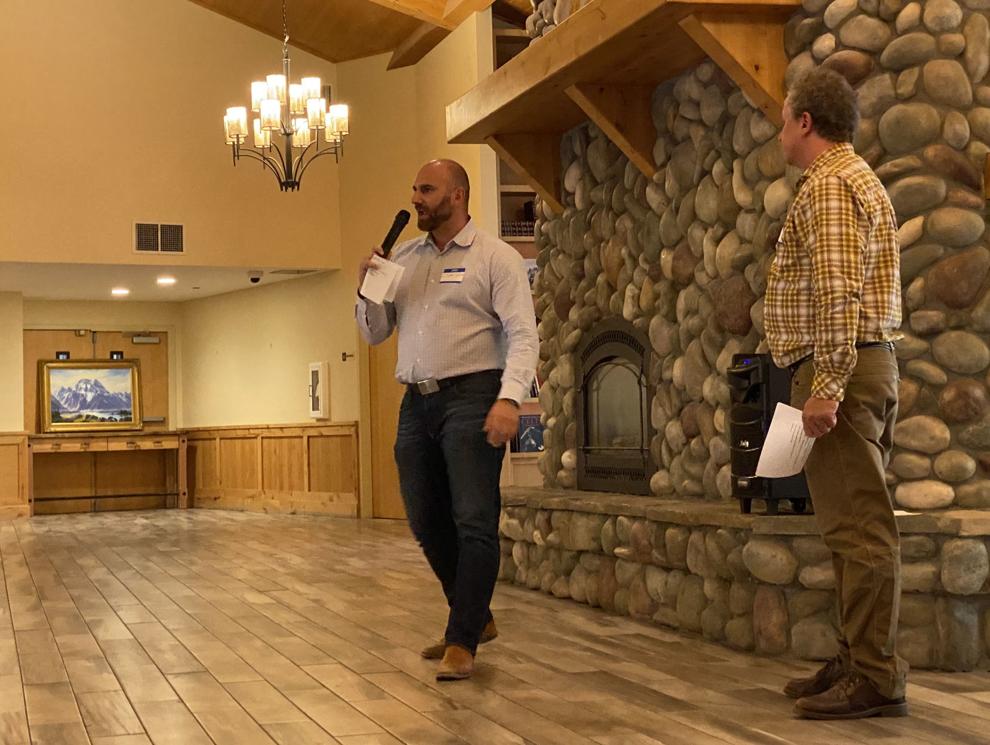 The Darwiches, for their part, stressed their interest in converting the lodge into apartments for local workers, a change that would require an amendment to what's being referred to as the Rafter J Planned Unit Development, or PUD. That's essentially a master plan for the neighborhood that currently allows assisted living but bans residential uses like apartments. But Sadek Darwiche also said that other uses like a gas station, commercial offices and more could be pursued "by right" — or without a rules change.
In response to questions, Darwiche said repurposing the Legacy Lodge building as proposed could benefit Rafter J in a number of ways. One was relatively big picture: By helping the community staff businesses like restaurants that neighborhood residents likely patronize. Others were more direct, like by potentially incentivizing START to put a stop in Rafter J or by providing a community space if his family turns the first-floor kitchen space into a restaurant.
But he wondered whether the community would prefer housing and amenities like those, or one of the commercial uses currently allowed on the property.
"Ask yourself the alternative. If you don't like housing, what else would go here? Or should be here?" Darwiche said. "Is it more of an impact on you? Or less of an impact?"
Some residents wondered why the Darwiches had submitted a plan for housing but were still talking about different uses on the property.
Hal Hutchinson, a land-use planner representing the family, said part of the reason is that Teton County will have to approve changes to the Rafter J master plan.
"In order to get a clear and actionable response from Teton County, it's necessary to say what your plan is," he said. "If you go in and say, well, we're thinking about this or thinking that, you're not going to get a clear response."
Jan Lovett, a 27-year Rafter J resident, spoke during the meeting to ask whether the Darwiches would consider continuing to use the property as an assisted living facility. She tossed her hat in the ring because the family asked for other ideas and she thought there was demand for an assisted living facility in town. At 68, Lovett said she would have considered moving into Legacy Lodge if the need arose. Other attendees echoed that sentiment.
Lovett also thought an assisted living facility would be more beneficial for the community than "workforce" housing, a type of town- and county-restricted housing that sets housing aside for local workers but does not cap prices.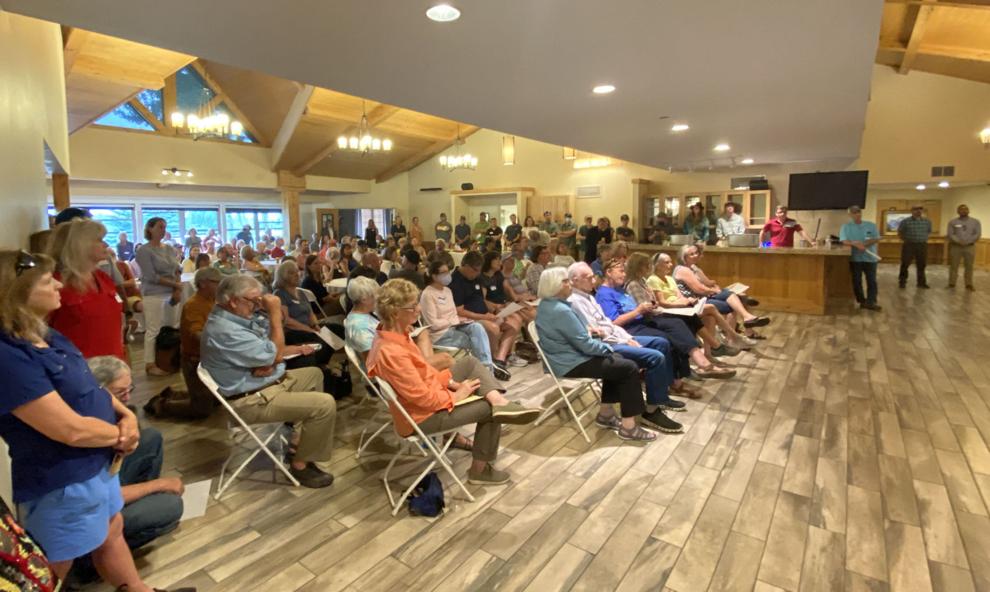 She pointed to the Sagebrush Apartments, where prices are starting at $1,695 for a 371-square-foot studio, as an example of "workforce" housing being too expensive. Thirty-two of its units are set to have "workforce" deed restrictions.
Lovett said, however, that she would support the Darwiche's plan if prices were truly affordable.
Darwiche told the News&Guide the family proposes to lease out the units on master leases to businesses, which could then sublease those apartments to their employees. Businesses, he said, would pay a market rate, and the employees would benefit from a subsidy that he said would be negotiated in the master leases.
The number of employees that would be housed under the proposal was uncertain. Legacy Lodge currently has 55 units, but some Rafter J residents asked if that number would remain or increase to place multiple employees in each unit.
"I think that's something we need to think hard about and understand exactly what might be appropriate to not overwhelm any of the other issues that you've all talked about, like your pathways, like the sewer, and water," Hutchinson said.
Asked if he would be open to recording the town and county's "affordable" deed restrictions on the property, which reserve housing stock and cap rent prices for local workers based on their income, Darwiche said he thought the "workforce" restrictions were best.
"We can do the rest through the leases," Darwiche said, referring to affordability. "What we support is that the end user has an affordable place to [live]."
Monday's meeting was the first of a few public meetings set for the proposal. The Teton County Planning Commission and Teton County Board of County Commissioners, which will have to approve the amendment to the Rafter J master plan, will both review the plan.