At Monday's Town Council meeting Jackson Mayor Pete Muldoon was mostly denied a public forum to rebut criticism for what he said is "a false rumor" regarding an alleged 2018 sexual assault, days after initial reports about the allegation were released.
He did, though, again hear calls for his resignation amid the controversy surrounding the allegation.
Mayor Muldoon, who said last week that he consulted an attorney about possible legal action against the Teton County Sheriff's Office after it released his name in the 2018 sexual assault reports, switched from offense to defense at Monday's meeting when he tried to quell what he called "a false rumor about me being spread around the community" at the beginning of the meeting.
Vice-Mayor Hailey Morton Levinson, however, cut short Muldoon's attempt to explain his side of the story when she interrupted his planned statement and said the matter should be handled in a different forum.
"Mr. Mayor, sorry, I'm going to interrupt just because I don't think this is an appropriate time or use of a Town Council meeting," Morton Levinson said. "I would just ask that you, if you have comments to make on your personal situation, that you do that in another setting."
Muldoon agreed and acknowledged that he and the rest of the council were there "to do the job that we are gathered to do and that we were elected to do." The council then moved on to the public comment portion of the meeting, during which Muldoon was chastised by local resident Eden Morris, who called for the mayor's resignation after receiving at least two direct messages on Sunday from Muldoon on Facebook regarding Morris' own social media post regarding her personal experience with sexual assault.
"My social media post was forwarded to Pete Muldoon, and he chose to respond to what I wrote by sending me private Facebook messages saying, 'I believe you. But women lie,'" Morris told the council in her public comment. "This was my first-ever contact with Pete Muldoon, and I had no prior knowledge to any details regarding the case brought against him in 2018."
Morris said a social media post by Jessica Gill that she had read "triggered me to write my own." She said she believes Muldoon singled her out and targeted her, rather than Gill, with his direct messages because he perceived her "as less of a threat" than a member of the prominent Gill family.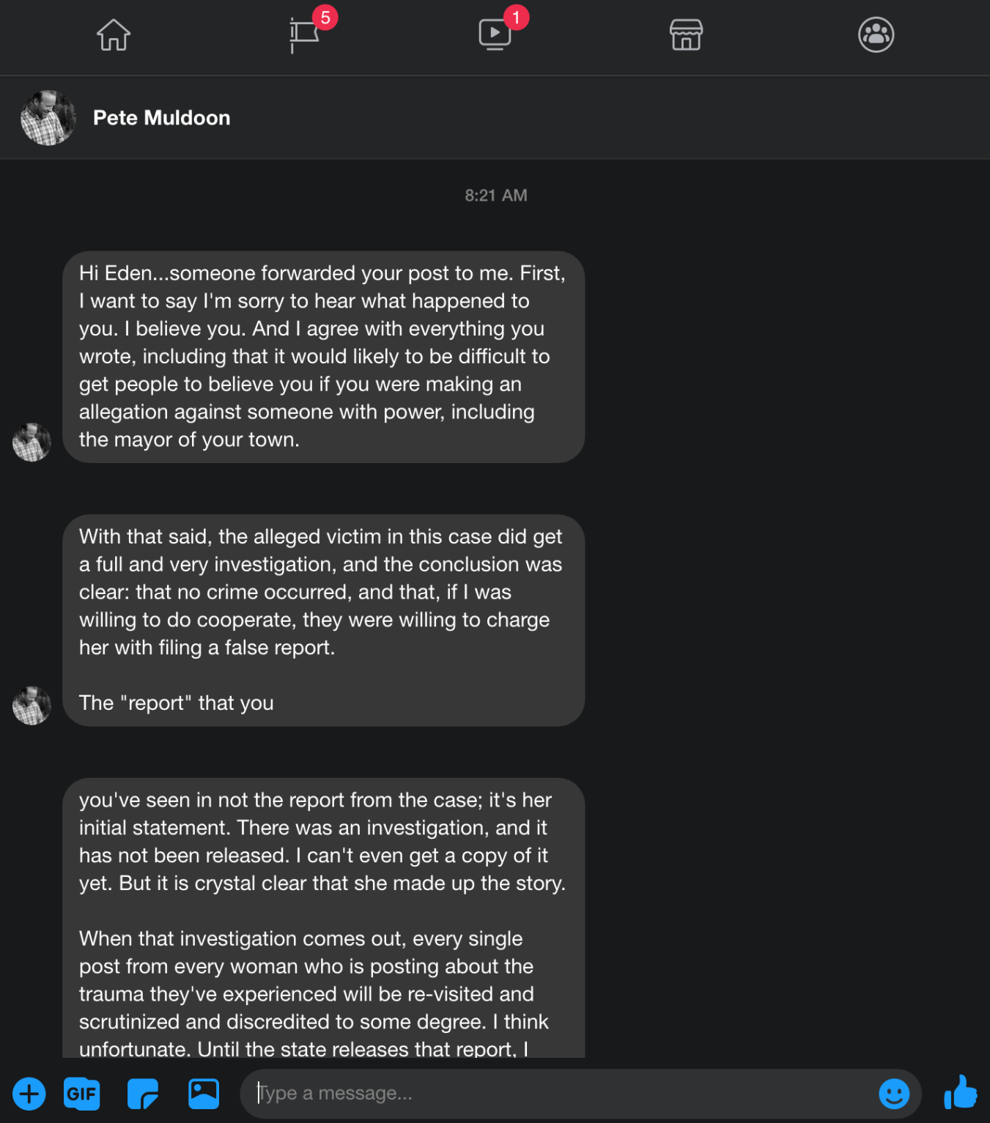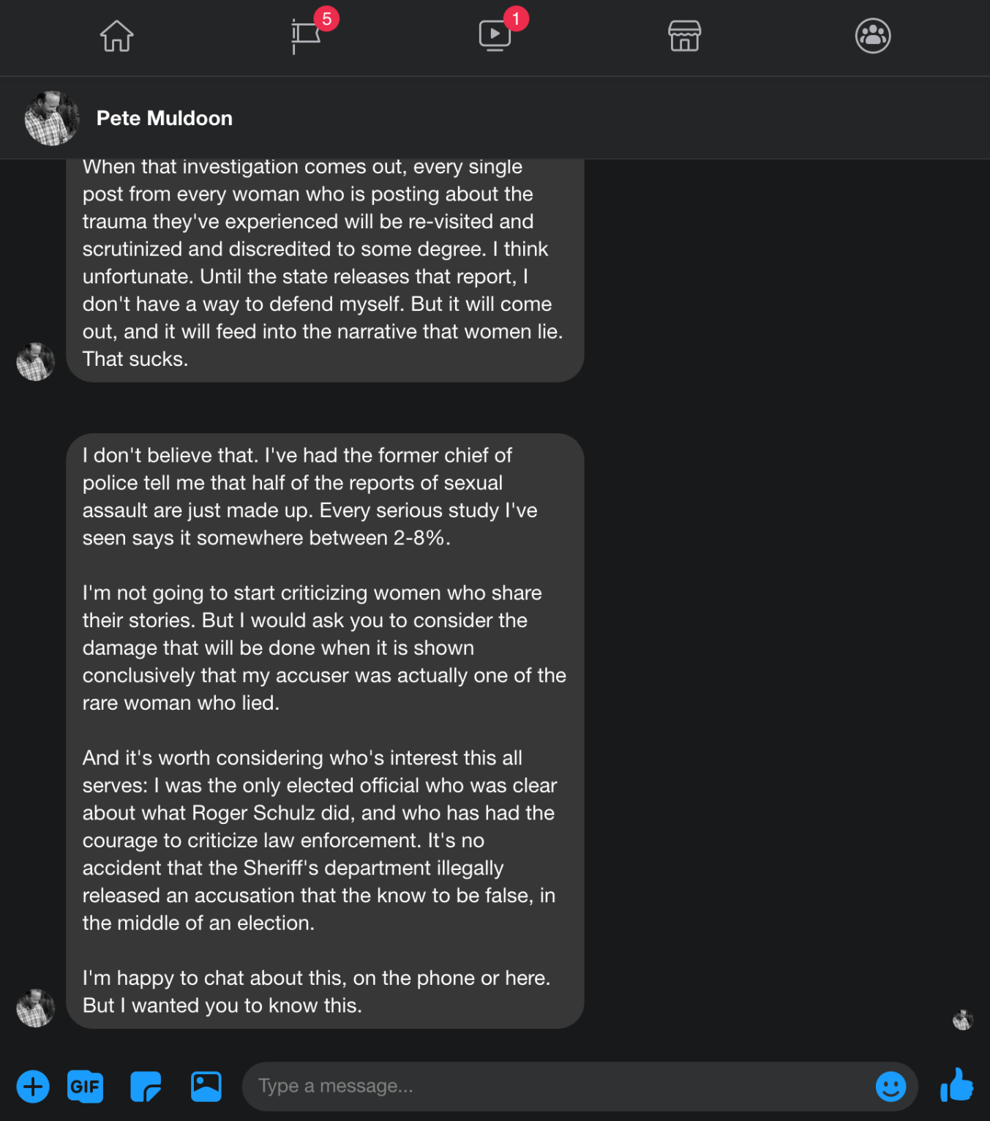 "He chose to use his position of power to intimidate a woman he did not know," she said. "That was a mistake."
In his messages to Morris, Muldoon wrote that he looks forward to the full report on the alleged 2018 sexual assault coming out. And when it does "it will feed into the narrative that women lie. That sucks. ... I'm not going to start criticizing women who share their stories. But I would ask you to consider the damage that will be done when it is shown conclusively that my accuser was actually one of the rare women who lied," read the screen shots of the messages that Morris emailed to all of the Town Council members and that Muldoon acknowledged were now part of the public record.
Later in her public comment, Morris asked Muldoon, who is running for a seat on the Town Council rather than seeking to retain the mayorship, to resign his post.
"I stand with Jessica Gill and countless others in this community that are calling for his immediate resignation," Morris said.
In her own post on Instagram and Facebook, Jessica Gill — who is followed by more than 11,200 people on Instagram — called for Muldoon to be held accountable.
Muldoon did laud Morris for being brave enough to speak her mind publicly.
"Thank you, Eden. I'm listening," he said on the heels of her comment. "I thank you and applaud you for having the courage to speak up."
Morton Levinson also Tuesday said that she recognizes "the strength and courage" it took for Morris to share her story.
"Victims need to be supported, heard and believed when sharing their experiences and feel safe when doing so," she added. "I commend her for speaking to us at the council meeting. A leader needs to consider how their actions will affect an individual and community and recognize their unique position in interacting with others. Casting doubt on someone else's story is not OK and not how I want community leaders to act."
The woman who accused Muldoon of sexual assault declined to specifically address questions posed by the News&Guide, including Muldoon's assertion that her allegations are untrue. But she did offer encouragement to survivors of sexual assault. The News&Guide generally does not name alleged victims of sexual assault unless they choose to come forward.
"I would like to offer a message of support for everyone who is being re-traumatized. Eden and Jessica are heroes. ... And I think this is a time for women (as well as the community) to come together to support those who have experienced trauma," she wrote in a statement emailed Tuesday to the News&Guide.
Muldoon's defensive stance at Monday's meeting came after he denied wrongdoing and the issue caught fire on social media.
"This was a false allegation, period," Muldoon told the News&Guide last week. "I've contacted an attorney, as I think the sheriff's department has obviously and willfully violated my rights under state statute and must be held accountable."
The statute Muldoon referred to is Wyoming's restricted disclosure law, which requires the name of the suspect in an alleged sexual assault case to remain confidential until probable cause is found for indictment. (6-2-319)
Teton County Prosecuting Attorney Erin Weisman said that because no charges were ever filed against Muldoon, his name is subject to release.
"The release of the name of an alleged actor is not released prior to the filing of an information or indictment," Weisman said. "In this case, prosecution was declined, and at that point the records may be released."
However, Muldoon and attorney Bruce Moats (who occasionally represents the News&Guide and its sister paper, the Jackson Hole Daily) see it differently and say Weisman's interpretation flies in the face of the reason the law exists in the first place.
"The idea was this was to protect those falsely accused," Moats said. "I have a hard time wrapping my head around how that would change just when charges aren't filed."
Muldoon said the sheriff's office should be investigated because the state law says the release of a name prior to felony arraignment is a misdemeanor crime.
"Up until last week the system worked as it should have," Muldoon said. "An allegation was made, treated seriously, thoroughly investigated and properly found to be untrue."
Multiple texts and phone calls to Muldoon on Monday evening and Tuesday were returned by Nina Hebert, the communications director for the Wyoming Democratic Party, who emailed a statement from Muldoon, along with a copy of an ethical violations complaint Muldoon filed Tuesday with the state bar against Weisman.
In the statement Muldoon acknowledges "the very real pain and harm suffered" by victims of sexual assault, and said that "when a victim of sexual assault comes forward, we need to listen to them the way we do victims of any other crime, and immediately launch a thorough investigation. Many victims never get that thorough investigation, and this must change."
He said every aspect of his life was fully examined by law enforcement in 2018 and noted that charges were never filed, calling the controversy arising now "someone else's political hit job."
"This past week was challenging for our community on many levels, but I've never been more committed to providing leadership that makes it a better, healthier and safer place for us all to live," he concluded the statement.
This is not the first time Muldoon has been in the crosshairs during an election season. The 2016 election cycle also involved mud from Muldoon's past being slung in his direction after a tip to the county elections office spurred an investigation into his criminal past to determine his eligibility to hold office. The look into Muldoon's history uncovered a couple of felonies — one for writing bad checks in Louisiana in the 1990s and another for burglary in 2001 in Wyoming — and misdemeanors including a 2009 charge for possession of cocaine.
He was pardoned for the Louisiana felony two years later and received a deferral for the Wyoming felony. Thus, he is not deemed a felon and may legally hold office.
Morton Levinson, who cut the mayor off when he tried to use council time to explain his personal matter — she told the News&Guide on Tuesday that she "didn't feel it was appropriate for someone to use their position of power to defend personal accusations" — acknowledged that the drama surrounding Muldoon is a bit of a distraction for the council.
"Yes, in the sense that it's hard, when this sort of stuff comes up and it's the community conversation, to focus on some of the other issues that we are tasked with dealing with," said Morton Levinson, who is currently running for mayor against Michael Kudar.
"I think it's unfortunate, how people are trying to use this for political gain, on both sides," she added. "Because what matters to me is how victims feel, how they're heard and how they should be made to feel safe speaking out in the community."