Pieces of Jackson Hole history will be available for sale on Friday.
As locals bid farewell to Snow King's Mountain's historic Summit Lift, which is being replaced this summer to make way for a gondola, the resort is offering 100 chairs from the "steep and deep" lift that will likely turn into decorative porch seating or maybe public benches.
"We've been getting calls and emails probably since we announced that lift was going away, three or four months ago," Snow King General Manager Ryan Stanley said. "And I'd say a lot of people have been interested for sure."
Each chair will cost $1,500, with proceeds helping pay for improvements on the mountain this summer.
"You know I think some people may have thought the price might be a little cheaper," he said. "We did a little survey of recent ski lift sales and saw they sold for $2,500 apiece at Bogus Basin ... in just the past year so we figured we were in the running."
The Summit Lift, and Snow King Resort, are significant features in Jackson's history.
Snow King Mountain Resort has the distinction of being Wyoming's first ski resort, and, since locals first began to ski the "Town Hill" in the 1920s, generations of locals and visitors have enjoyed recreational skiing, alpine ski racing and a number of summer activities.
Snow King today looks quite different from when it first opened in 1939, and the resort is looking forward to updating the ski area for the 2021-22 ski season. In late March the resort was given approval to start construction on several projects on the mountain, set to be the most extensive overhaul and expansion in the mountain's history.
"We're super excited about all the improvements that I think the community is going to love and enjoy for a long time to come," Stanley said of the planned renovations to the mountain.
Improvements include installing a new eight-passenger gondola in place of the Summit Lift and a new four-person lift on the backside that will open skiing on the sunny south side of Snow King. The resort will add a maintenance facility for the gondola that will double as ski patrol space at the top of the mountain, a beginner or teaching ski zone with two magic carpets also at the top of the mountain, and a new road.
The resort initially tried to find a new home for the entire Summit Lift at another ski resort, but two deals fell through and the resort, pressed for time, had to find another way to repurpose the old machine.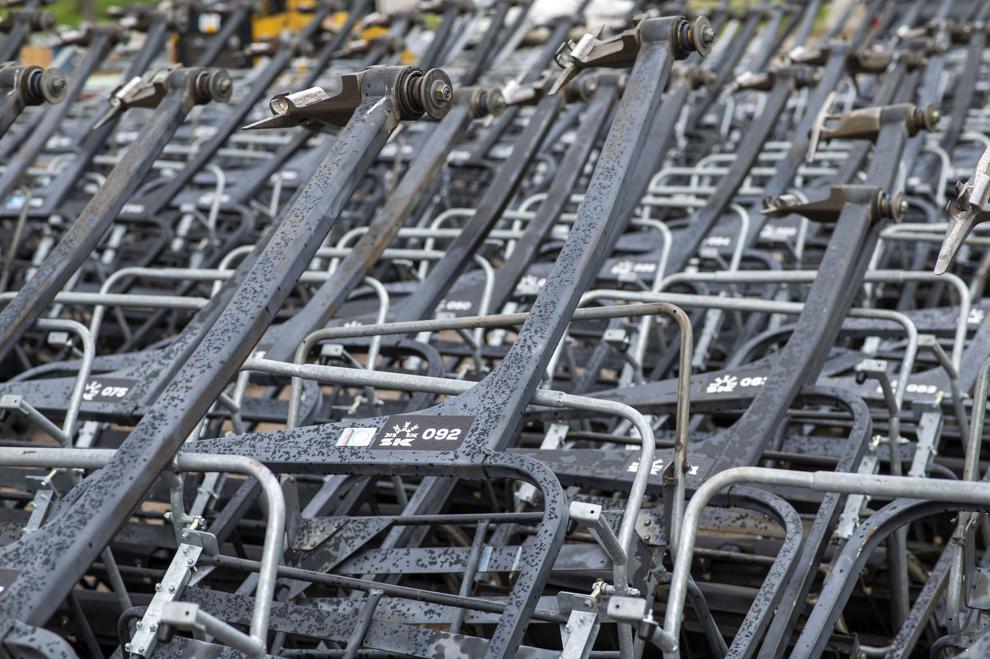 "We started off with this ski area in Michigan that seemed really interested and sent an engineer out here, indicated they were going to buy it, and then I guess they had a bad ski season, and they decided they couldn't afford it. And so that one didn't happen," Stanley said. "And then we had another interested ski area actually in Wyoming that was kind of interested in taking it, but they didn't have the Forest Service approvals already in hand to do so."
With gondola construction "parts and pieces" arriving and limited storage space available, Stanley said it was time to find another solution.
Ten to 15 of the chairs will likely stay at Snow King as outdoor seating, but the hope is that the remaining chairs will be donated to a public bench collaboration project so that the history of the old Snow King hill will live on in Jackson.
"We've been in talks with the town of Jackson and Jackson Hole Public Art and the Chamber of Commerce, who have looked at applying for grants for the state of Wyoming to refurbish them into benches and swings that could be used around town and painted up nicely."
The 100 Summit chairs will go on sale at 10 a.m. Friday, May 28. You can purchase a chair by going to SnowKingMountain.com and clicking on the "Buy Now" button in the upper right corner. Snow King Mountain staff will be available to help load chairs during pickup from 9 a.m. until 5 p.m. June 1-4.