Update, 4:25 p.m., Wednesday: Jackson Altema, the driver of the truck involved in Monday's accident, is in "fair" condition as of Wednesday afternoon, according to a spokesperson at St. John's Medical Center. He is still in the primary care unit.
Investigators are still examining the details of a wreck that sent a semitractor-trailer driver and thousands of pounds of potatoes destined for Five Guys fryers hurling through the air near the base of Teton Pass.
The driver veered the rig into a sand storage shed Monday, the best choice available said a Wyoming Department of Transportation official, as the Teton Pass vehicle arrestor — meant to safely catch out-of-control vehicles — has been out of operation since Sept. 10 pending the conclusion of a separate investigation.
Steve French said he was driving west on Teton Pass when he saw the truck racing toward him at what he estimated to be 80 mph. He lurched his vehicle into the opposing lane so hard he thought his car would flip.
"I had to whip into the oncoming traffic lane to dodge him, otherwise my wife and I would've been killed," French said. "If it had been bumper to bumper like it usually is, he could've easily wiped out 10 to 12 cars."
French said he could tell the truck's brakes had failed.
"It smelled of rubber," he said. "It smelled like you're in a war zone. You've got all this diesel fuel and that burnt brake system.
"It's a smell I'll never forget."
Unable to round a curve, the truck driver rammed into the gravel shed. The impact ripped the cab from the trailer, sending it flying at least 100 feet, where it hit a tree, leaving marks 30 feet off the ground.
French, a trauma surgeon, pulled over and raced down to meet the driver, who he said appeared mostly OK.
"I don't know why, but today, it was not your day to die," French recalled telling the driver. "There's a reason you're alive, and I don't know why, but you are a miracle."
The driver, 31-year-old Jackson Altema, is licensed out of Tennessee, and his semi had Illinois plates, Wyoming Highway Patrol Trooper Todd Baxter said.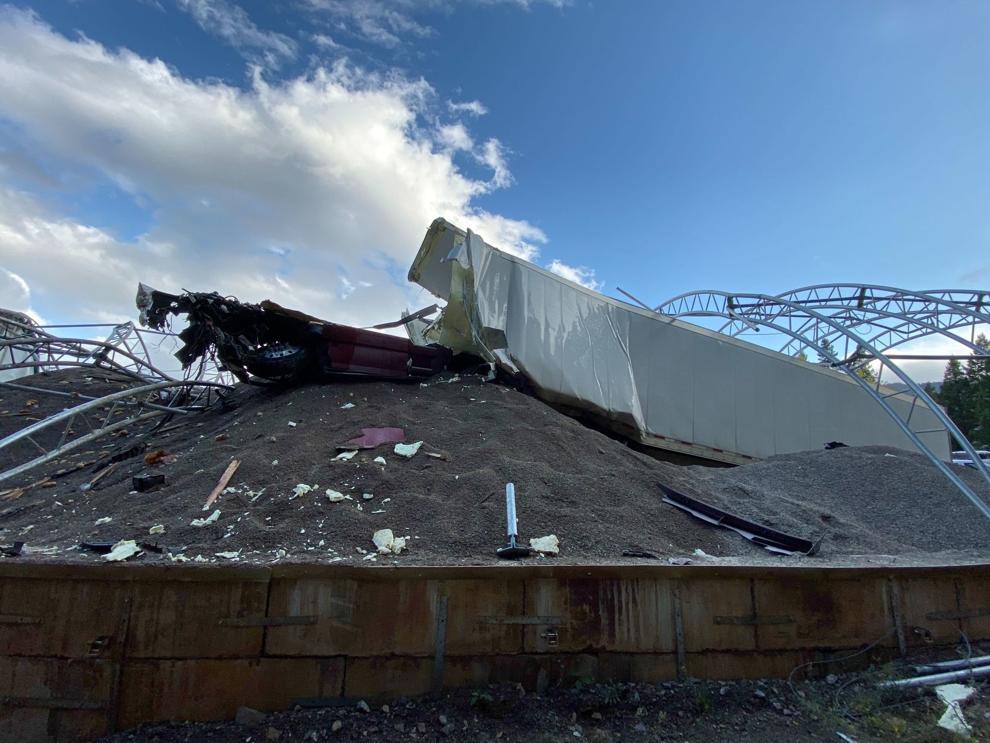 St. John's Medical Center did not release Altema's condition Tuesday evening, but a spokesperson said he was in the hospital's primary care unit.
As of Tuesday, Altema had not been cited for the accident, Baxter said. Baxter is still interviewing witnesses, aiming to answer questions about the truck's weight and where exactly on the pass the brakes failed.
"It looks like it was overweight," Baxter said. "I'm still working on it."
The weight limit on Teton Pass is 60,000 pounds, and violations can carry fines. According to Wyoming statute, the fine for a load 10,000 to 12,000 pounds over the limit is $300. The fine for a load more than 20,000 pounds over the limit is $1,000.
WYDOT maintenance foreman Bruce Daigle said signs from Rexburg, Idaho, to the Teton Pass entrance in Victor, Idaho, warn drivers of the weight limit. The pass is home to a weigh-in-motion scale, a $1 million investment installed in 2014 at the east entrance to Teton Pass that weighs vehicles as they roll over.
"The weigh-in-motion [scale] has pads in the roadway, so as you drive over it, it weighs you and takes a picture of you, takes a picture of the license plate and the truck," Daigle said.
When the weigh-in-motion scale detects an overweight load it flashes lights, indicating the driver should pull over at the scale station down the road. The weigh station, however, has been out of commission since it was destroyed in an Aug. 4 crash. Even when it's running, it's not always manned due to staff shortages.
The beginning of potato season (the time of year spuds are harvested, which starts in September) always heralds a spike in overweight traffic, Daigle said, which can trigger five to 20 overweight notifications a day.
Daigle received an alert at 4:24 p.m. Monday, shortly before the accident, indicating the weigh-in-motion scale had detected a vehicle carrying a load of more than 80,000 pounds. In addition to the Wyoming Department of Transportation, the system sends an alert to Wyoming Highway Patrol.
Too few troopers, too far away
Baxter said he doesn't know why he didn't receive an alert Monday. But, he said, "even if I had gotten an alert, I was not very close to the area to be able to follow up."
It's a continuous challenge for troopers to enforce the Teton Pass weight limit. With a team of seven Wyoming Highway Patrol troopers — and only up to four "on" at a time — monitoring an area that reaches as far as the bottom of Salt River Pass is difficult, Lt. Matt Brackin said. Even if troopers are close, it's rare they can reach the offending truck before it's on or over the pass.
Wyoming Highway 22 over Teton Pass serves as a major artery for thousands of commuters who live in Teton Valley, Idaho, and work in Jackson Ho…
"If we're in a position where we can go and find that truck, we will do everything we can to stop it and verify," Baxter said. "But, for instance, if I'm the only guy working and I get a call down in Alpine and then somebody comes across the pass, I'm obviously not going to be able to get up there to do anything."
Baxter said he can't usually rely on the accuracy of the weigh-in-motion scale to issue citations. Instead he's looking to track down the truck's bill of lading, a document that indicates the rig's loaded weight. So far it hasn't been found at the scene.
"It's the driver's responsibility, really, to know what they got for a weight," Daigle said, "and they do know when they leave from where they pick the materials up."
WYDOT installed a $3.6 million truck arrestor on Teton Pass in March 2017, replacing a runaway truck ramp that required out-of-control vehicles to cross the oncoming lane of traffic.
With a series of steel nets that absorb the force of a vehicle, the truck arrestor is designed to handle a 90,000-pound vehicle going above 90 mph.
Three weeks ago a pickup with a flatbed trailer crashed through all eight catchnets, leaving the truck teetering on the edge of a cliff. The system failure remains under WYDOT investigation, and the agency has shipped parts of the system to the manufacturer for inspection.
"The vehicle arrestor did not perform as expected," WYDOT District Engineer Keith Compton said in September. "We will be analyzing the system and how it functioned and take necessary steps to correct any noted problems."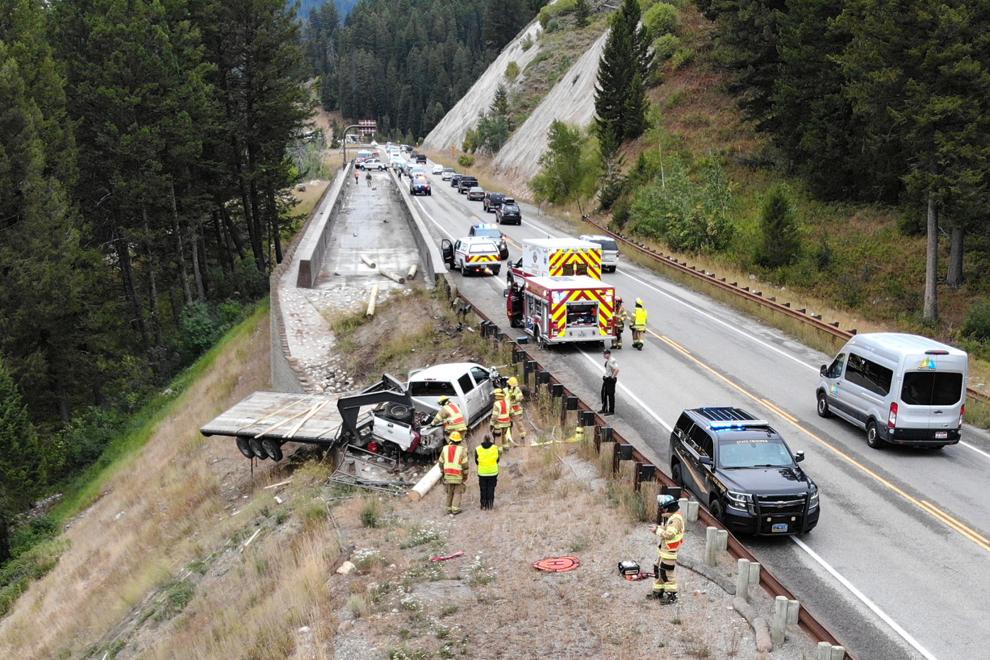 Department officials aren't sure whether the arrestor will re-open before the seasonal tractor-trailer ban kicks in in November. Trailers are prohibited on the pass between Nov. 15 and April 1.
WYDOT is in the early planning stages for a second vehicle arrestor near Wilson, a location opposed by some neighbors. Asking for help from Teton County commissioners Monday, a group of neighbors said eastbound summer traffic backups would prevent runaway vehicles from reaching the arrestor, endangering other drivers.
Compton said Monday's accident reinforces a need for another fail-safe.
"I think all it does is really point out the need for some type of vehicle arrestor system," Compton said. "Had that been open and functional, it may have been in the right location to keep this truck safe and stop it."
He said that even if tractor-trailers were banned year round, the arrestor system would still be needed to stop other runaway vehicles on the steep roadway.
"There are RVs, delivery vans, pickups pulling gooseneck trailers," Compton said. "Those vehicles also have the potential on that kind of grade and with that topography coming off the pass of losing their brakes as well. The need for an arrestor doesn't go away if you remove semitractor-trailers from the pass."
Daigle said the driver "absolutely" did the right thing by veering into the shed: "If he would've continued anywhere else, it probably would've been a fatal wreck," he said. "If it would've got down into Wilson or something we could've had multiple fatalities."