The status of Teton Pass' prized backcountry access point is uncertain.
Part of the problem is that people don't see eye to eye on whether or not it's a parking lot.
To the skiing public, County Commissioners Luther Propst and Mark Newcomb among them, the patch of asphalt that sits atop Teton Pass, straddling the divide between Mount Glory and the pass's prominent, southern backcountry, is a place to park. And it has been for a long time.
To the Wyoming Department of Transportation, which keeps both the pass and that pullout clear during western Wyoming's harsh winter, the small stretch of pavement serves an important function: a spot for a final — and, since the truck arrestor is out, mandatory — brake check for commercial vehicles before the haul down either side of the 2,000-foot-plus pass.
On Monday, it became a flash point as the Teton County Board of County Commissioners met with WYDOT. An exchange between Propst, Newcomb and District Maintenance Engineer Tory Thomas called wintertime access to the popular pullout into question.
"Can you guys assure us that the parking lot on the top of Teton Pass will open Nov. 15 when the trailer limitations go into effect?" Propst asked.
"Well, let's be clear that was never a parking lot," Thomas replied. "That was always designed as a brake check. It's just morphed into a parking lot over the years. It's kind of morphed into WYDOT's ski hill."
That evoked a strong response from Newcomb, who, like Propst, is a backcountry skier.
"You can call it a truck arrestor parking lot, a brake-check parking lot until we turn blue in the face. That's not what it is. We've got to deal with the reality of what it is up there," Newcomb said: "It's recreation access. It's been that way since the '50s, and it's incredibly popular."
Thomas said access to that area will remain "restricted" while WYDOT works to repair the truck arrestor — a fail safe for large, runaway vehicles that has been offline since a log truck blew through its catch nets in September 2019.
The state transportation agency, which filled the arrestor with a sand barrel array this summer as an interim fix, is working to finish the repairs, ideally by the end of November.
The idea is to continue restricting parking at the upper Teton Pass pullout until it's complete, reserving the area as the mandatory brake check station (for commercial vehicles). Making brake checks mandatory for trailers was a safety measure that helped the department justify allowing 60,000-pound trailers over the pass, rather than capping them at 40,000 pounds.
"While we're working on the catch net system, we want to make sure we have a good level of safety," said Bob Hammond, WYDOT's resident engineer for Jackson: "a mandatory brake check at that location, versus just a regular brake check, which has always been there."
But, when Propst asked whether the area would remain closed if WYDOT didn't complete the work before winter, Thomas' answer led to outcry from backcountry advocates and calls for calm and understanding from officials, elected and not.
"It will remain a brake check station if that work is not complete," Thomas said.
Other WYDOT officials said the intent is not to restrict access to the area used for parking at the top of the pass through the winter. Spokeswoman Stephanie Harsha said that, as far as she was aware, the agency's "planning to open it up to parking by the end of the month."
Gary Kofinas, chairperson of the Teton Backcountry Alliance's steering committee, said that regardless of whether the lot is closed for the winter, limiting skier access will be an "externality."
"Ski season on the pass really kicks off as Thanksgiving approaches," he told the News&Guide. "This decision by WYDOT will have an impact on thousands of recreational users."
Hammond said the decision to restrict access up there was due "100%" to "roadway safety."
WYDOT Director Luke Reiner and Assistant Chief Engineer for Operations Tom DeHoff did not return requests for comment by press time.
"We have no interest in limiting anybody," Hammond said. "We do our best to try to provide a parking space up there. Really, the backcountry users are managed by the U.S. Forest Service."
But Town Councilor Jim Stanford, himself a backcountry skier, called for calm.
"I'm not hitting the panic button," Stanford said. "It's not an unreasonable position by WYDOT — to give them some space while they get the work done. But if it were to drag on for the entire winter not only would it be unacceptable to curtail public access, but it doesn't make any sense for drivers to be checking their brakes up there."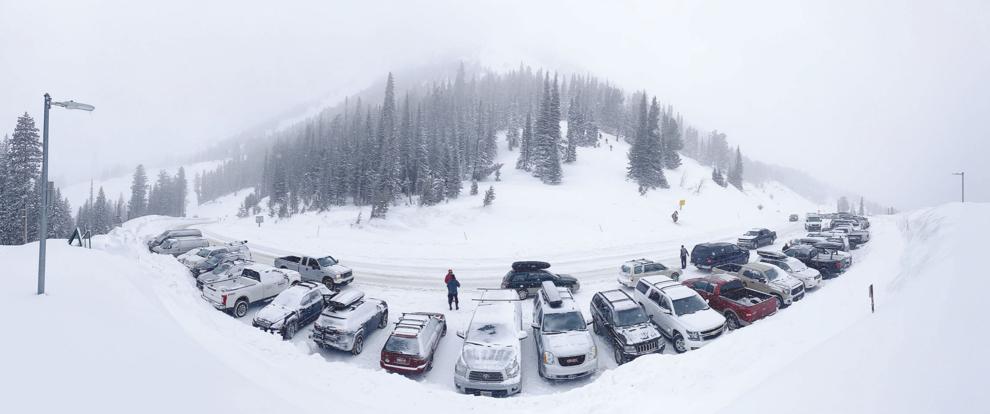 Kofinas and Propst likewise took issue with the idea of checking brakes at the top of the mountainous road, where, if there is a brake failure, there's no easy way down. Both said checking brakes at the bottom of Teton Pass would be safer.
Kofinas pointed to the usual trailer traffic restrictions that run from November to April on the pass, arguing that lower heavy vehicle traffic in the winter reduces the need for such work.
"I grant you that some vehicles will continue to go across the pass which may merit inspection," he said, "but I don't see a reason why those inspections can't be — and, in fact, shouldn't be — done at the base of the pass."
Thomas seemed to concede that point when Propst asked him about it Monday, but there was no discussion Monday about a policy change.
Hammond said there were no plans to limit access to other areas where people park and reiterated that the goal is to get back to "normal operations" by the end of November.
"There's one about a quarter mile to the east where people have been parking — they get to use that — and also do some carpooling, planning ahead," he said. "It might be a slight inconvenience, hopefully to make it just that much safer until we can get going."
Skiers were, however, disheartened to hear about the uncertainty with the top pullout.
"I moved here in '85 and started skiing the pass in '85-86," said Tom Turiano, a skier and author who writes about backcountry skiing in the Tetons. "There was no question, it didn't even enter our minds the idea that you could come up on the pass and not be able to park.
"We just assumed it was a public parking lot," he added.
But Teton Pass Ambassador Jay Pistono said that it was not — and suggested recreationists should use this situation to assess their behavior on the pass, which he gave a "C-minus." He suggested they could start by not parking in "no parking" areas, say.
And if backcountry enthusiasts feel strongly one way or another about the way the roadway's being handled, Pistono added, they should get organized and make their voices heard.
"We're long overdue on a lot of fronts," Pistono said. "If it's that important, if, you know, you're in a rage because you can't get access to that point, take that rage and talk to some other people about getting organized in the future."