Dog owners looking for socialization have set their sights on May Park for nearly a decade, but some of its neighbors say the park would better be left in peace.
Over the course of a two-day open house at the Teton County/Jackson Recreation Center, Jackson residents used the venue to inspect plans for proposed upgrades to the Rec Center, Wilson boat ramp and several parks in town. By far the most controversial additions to May, Powderhorn and Miller parks are the dog off-leash zones.
In Wayne C. May Park, proposed amenities include a 0.12-acre plot for small dogs and a 0.87-acre plot for larger dogs. Both additions, as far as some neighbors are concerned, are a step in the wrong direction.
Among their concerns: noise, disruption of open space and increased traffic.
Currently, the park serves as a kind of East Jackson oasis, neighbors said at the open house and in emailed comments to the Parks and Recreation Board. The grassy field is quiet, and it offers the flexibility for various activities like frisbee and Nordic skiing in the winter months.
The proposed May Park master plan, in addition to the off-leash zones, also includes tennis courts, pickle ball courts, a wellness garden and a "natural" playground. A significant portion of the park would remain open, grassy land open for multiple uses.
Also included in the current rendering is a proposed 23-space parking lot.
During the open house Tuesday, Parks and Rec Director Steve Ashworth fielded questions and explained the proposal, which will soon be submitted as a conditional-use permit application to the town planning board. Once it goes through that group, it will advance to the town council. Each leg of the process will be open to public comment.
"We're trying to represent a balance," Ashworth said to a crowd of May Park neighbors who were concerned about the environmental impact of the proposed changes, as well as residents' quality of life.
The reasons for a dog park are clear: there are thousands of dogs in Jackson and limited places for them to run free. But May Park already serves a different purpose, neighbors said.
"It's an oasis within East Jackson, not only for frisbee bros and cross-country skiers but also for wildlife," Hansen Meadows resident Kayla Arend told the News&Guide.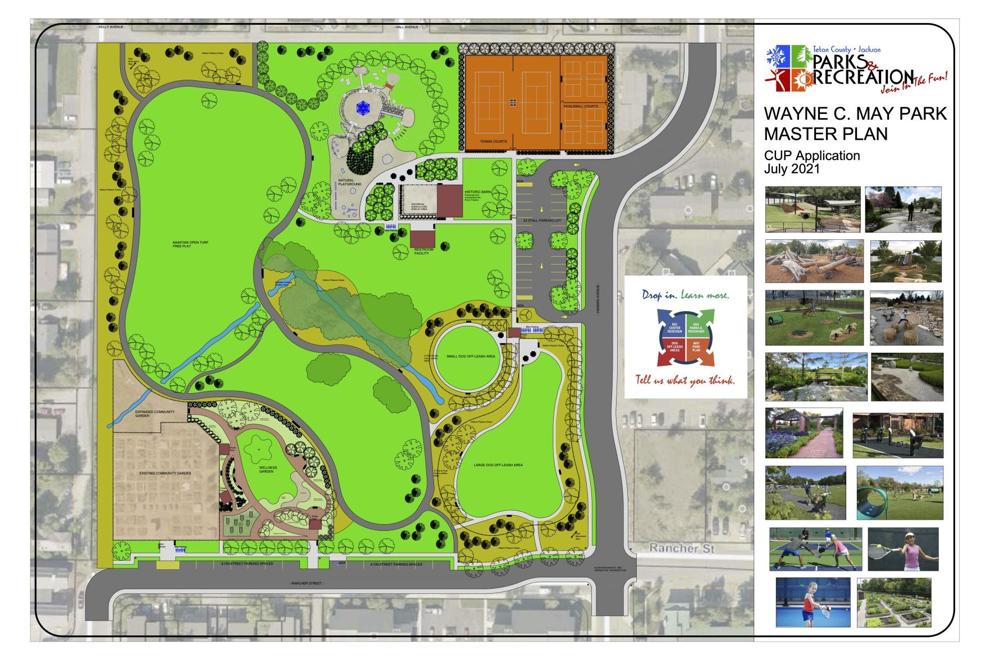 In an April 2021 informal poll of Hansen Meadows Homeowners Association members, 70% voted against a dog park, according to poll results as provided to the News&Guide.
Many of those local residents knew the May Park proposal was in the works (it was part of Parks and Rec's 2018 master plan), but last week's open house was their first time seeing the changes drawn out.
One resident said she found the placement of the pickle ball courts "offensive" due to the courts' proximity to housing across the street.
Another suggested that the dog off-leash areas shouldn't be drawn as green.
"We know it's not going to be green," she said. "Dog parks are never green."
When she asked Ashworth — a landscape architect by trade who had personally drawn the rendering — to nix the green, he tentatively agreed.
Parks and Rec has worked extensively with advisory group Y2 Consultants to render the proposal, but communication has been an issue. In a June pre-application meeting with town planners, Ashworth pulled out the wrong drawing, delaying the process by a few weeks.
The updated drawing wasn't publicly available until the Teton County/Jackson Parks and Recreation Department advisory board workshop on Thursday, July 28.
While residents waited for a specific look at the proposal, Jenn Ford and Amberly Baker started a digital campaign called "Promised Parks," suggesting that an off-leash zone in May Park violates the May family's original wishes when it sold the parcel to the town in 1990. Though the appraised value of the land was $1.2 million, the Mays sold it to the town for $400,000, requiring in return that the land be used as a park, according to Jackson Hole News&Guide archives.
The warranty deed and original purchase and sale agreement, which were available for review Tuesday, list no restriction against a dog park. But Rudy Sanford, Wayne C. May's stepson, has spoken out against the dog park at previous town halls.
Both Promised Parks and many of the outspoken neighbors are adamant that they support a dog park in Jackson, just not in May Park.
According to PAWS, a local pet-centered nonprofit, there are 11,000 dogs in Jackson. Thousands more come to town with tourists, and there is currently no dog park for them to roam.
Pooches can romp off-leash on the Snake River dike and up Cache Creek and other national forest areas, but those locations offer potentially hazardous opportunities for confrontations with wildlife and other trail users.
Under town ordinance 793, dogs are not allowed in many of the public parks, though Jackson Police Chief Michelle Weber said it's a difficult rule to enforce.
"The challenge is right now there's no place for people to take their dogs to, so they're just all over the place," she said. "It would be nice to have a couple designated parks for dogs that we could refer people to."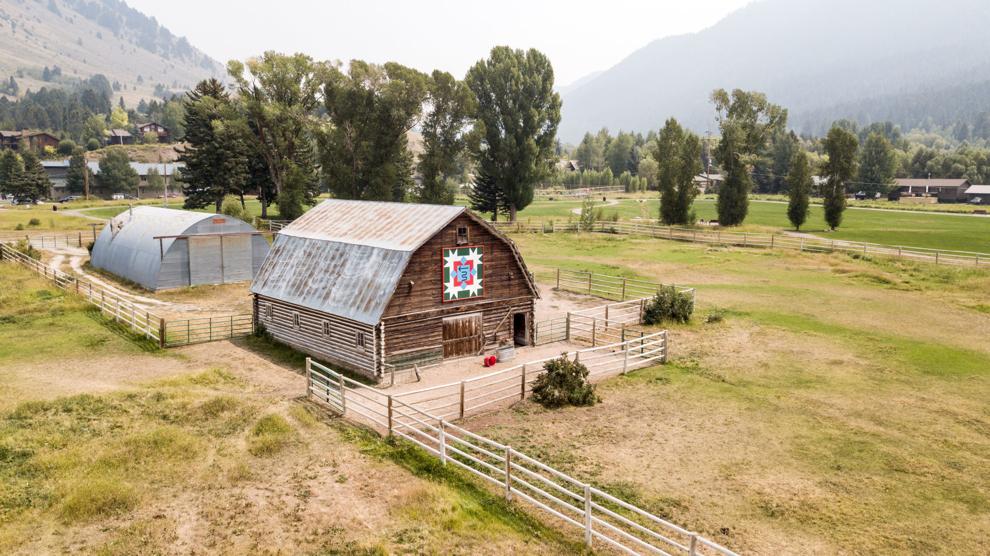 When Parks and Rec originally came to the Town Council in 2018 with its master plan, which identified a dog park as a "high-priority goal," councilors recommended submitting multiple off-leash proposals simultaneously so that traffic would be distributed across multiple locations.
Parks and Rec has not done specific traffic studies around May Park to analyze potential impact.
PAWS, in an effort to assuage fears of noise and overuse, collected data this May at the seasonal fairgrounds dog park. Based on 750 recordings, the nonprofit found an average of three dogs, three humans, and three cars at any given time at that site. The data was collected between dawn and dusk.
One concern from neighbors is that once off-leash zones are created in May Park, tourism apps and local hotels will drive traffic, creating overflow parking and a perceived overcrowding in what has largely remained a local gem for years.
But as pet ownership in Jackson continues to grow, such proposals are bringing into question the true best use for undeveloped land.
Some have suggested Lot 5 of Karns Meadow as a potential alternative, but Ashworth said the environmental impact there would be more adverse. That's based on a 2019 environmental assessment that found the fencing needed for an off-leash dog park would interrupt deer migratory patterns.
In contrast, Ashworth said, the proposed May Park additions are "not a biological hazard."
Parks and Rec is also planning to re-zone May and Miller Parks from public/semi-public to park. That change will require its own public meeting, following a posted site notice and written communication to neighbors.
Ashworth didn't offer details on why they decided to separate the conditional-use permit and rezoning proposals.
Tyler Valentine, a senior planner with the Jackson Planning and Building Department, said the proposed changes in May Park don't require a rezone, but his department recommended it anyway to bring the plot more in line with its intended use.