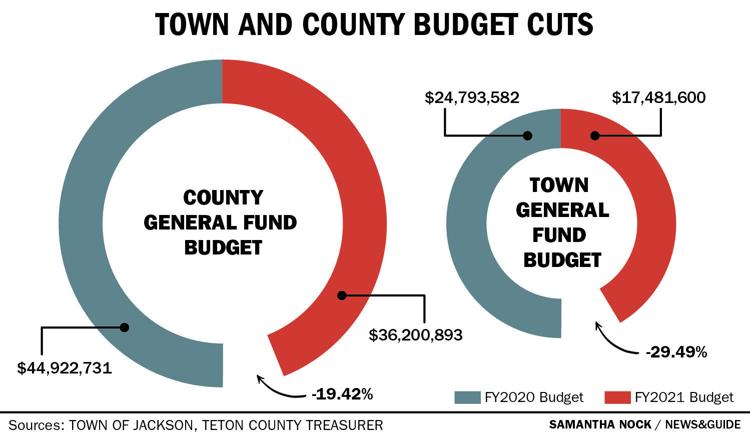 The town has cut about 30% out of its budget for the next fiscal year. The county cut about 20%.
Numbers still need to be finalized in budget meetings, but if the numbers stay close to where they are, the cuts could amount to a valleywide decline in government spending of about $16 million. While the percentage the county cut from its budget is smaller, the amount it cut is larger: about $8.8 million to the town's $7.3 million.
Most officials stressed that's because the county has a bigger budget in general. The county also has a more diversified revenue stream because of its property tax, which, some said, better insulates the county from recessions. While sales and lodging tax fluctuate with the economy, property tax is relatively sticky and can even go up in down years, as was the case this year. Some individual property owners saw taxes increased by between 30% and 40%.
"The county has that supply of revenue, and that remains fairly constant despite the plummeting tourism," Town Councilor Jim Stanford said. "We rely on sales tax more than they do so we had no choice but to cut our budget."
But County Commissioner Mark Barron pushed back. He said the town is cutting more than the county because its spending has risen faster.
"They're cutting 30% out of inflated spending, in my humble opinion," Barron said.
The town and county generate revenue primarily through sales and use taxes levied on most purchases (groceries are exempt) and lodging taxes paid by hotel customers. Those two moneymakers tend to contribute upwards of 70% of the town's annual revenue, with the remaining coffers filled with fees and other taxes like the cigarette and gasoline tax.
But for the county, sales and lodging tax contribute less to the overall budget: usually around 45%.
Another 25% to 30% of the county's revenue comes from fees and other sources.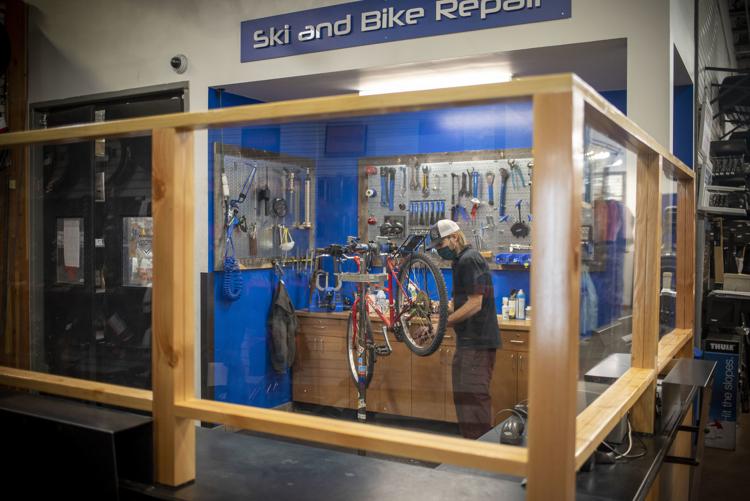 The remainder generally comes from property taxes, mills that are levied every year to support the county's general fund alongside other mills to fund schools and other government programs. The county's general fund is the vehicle that drives money to the government's core services: sheriffs, attorneys, public health, planning and, through transfers, Jackson Hole Fire/EMS and Teton County/Jackson Parks and Recreation.
All told, the property tax usually sources between 20% and 30% of the county's annual revenue.
In down years, when sales tax and lodging tax plummet because of a decline in visitation or economic activity around town, property tax stays relatively constant. That gives the county a bit more of a financial cushion than the town.
With no property tax on the town side "there is no backup," Jackson Mayor Pete Muldoon said. "We have not diversified. When the sales tax falls off a cliff, so does our revenue."
But the problem, in Barron's mind, isn't diversification. It's overspending.
"I think the county has been pretty conservative in their spending — yes their spending has gone up," he said, but "I don't think you'll see the same percentage of increase on the county spending as you will the town spending."
The county's general fund budget as adopted at the beginning of each fiscal year increased about 9% between the 2018 and 2020 fiscal years, jumping from about $41.1 million to about $44.9 million. The town's general fund budget increased about 21% in the same period, from $20.5 million to $24.8 million.
Though that's not an exact comparison (the 2018 town number is what the town actually spent from its general fund because what was originally adopted in that year was not available by press time) it's indicative of the trend Barron sees.
"Their spending has gone up dramatically," the county commissioner said.
With revenue off — the town and county are both predicting a 50% decline in sales and lodging tax collections — the town is staving off deep cuts to services by spending over $4 million in reserves, a pot of money built up in good years to spend in bad ones.
"We had put away money in the past for a rainy day," Councilor Jonathan Schechter said. "And as we speak, it's raining,"
Dipping into reserves means the town is now close to the amount the state recommends municipalities hold in reserves — and that will make it more difficult to spend from that pot next year.
But doing so this year, combined with a salary freeze and a delay on filling new positions, allowed the town to fully fund department requests for social services.
The county will likely not have to dig as deep into savings as the town. It has about $18 million on hand between its general fund balance and its reserve account.
And, with similar human resource policies on the books, it plans to spend the same amount on human services in the next fiscal year as last year.
Muldoon said Jackson isn't "going to see much of a reduction in service levels" in other areas. Dipping into the reserves has helped keep basic services running.
Even so, Town Manager Larry Pardee said some things may be noticeable, like delays in snow plowing or a reduced number of START buses running on town and commuter routes.
"It's going to take us a little longer to provide our services to people," Pardee said.
This article has been corrected. The writer mistakenly added transfers from the county's general fund to three joint departments — the Jackson/Teton County Housing Department, Jackson Hole Fire/EMS, and Teton County/Jackson Parks and Recreation — to figures for the county's general fund budget. Those figures were already included in the budget. Proposed cuts to town and county budgets amount to about $16 million for the upcoming fiscal year. The county trimmed about $8.7 million for the same period from the general fund budget. As originally approved in each fiscal year, that budget increased from $41.1 million to $44.9 million between the 2018 and 2020 fiscal years. — Eds.