Commissioners are set to vote Tuesday on the controversial Tribal Trail Connector as budget cuts and a million-dollar price tag for planning add fuel to critics' fire.
"That million should go to a county employee payroll increase," said Mike Halpin, a proxy stakeholder who stepped in for other Tribal Trail stakeholders when they couldn't make meetings. "They deserve it more than this community needs Tribal Trail at this time."
Last fall a majority of the 10-person stakeholder group assembled to review and settle on conceptual designs for the proposed intersection of Tribal Trail Road and Highway 22 called for holding off on the project.
Seven of the group's members wanted to slow down until other Highway 22 improvements were resolved. Now at least four stakeholders say the $1 million — the amount staff say would be needed to plan for the project in the 2020-2021 fiscal year — should be spent elsewhere.
Commissioners have toyed with pressing pause on capital projects ranging from this connector to a new fire station (see related story page 16).
Scott Pierson supports the project.
"I think the connector's definitely important for safety reasons," he said.
An argument for the connector is that it would provide another route for emergency vehicles, or redundancy. That's identified in the project's stated purpose and need, along with reducing vehicle miles traveled and trips through the "Y" intersection.
Pierson thought building the connector would relieve congestion.
"I think it's going to reduce traffic through the 'Y,'" he said. "When my daughter was learning how to drive and she was driving into town, it sure would've been nice to go that way to get to the high school rather than go all the way through town."
But as the economic fallout from COVID-19 takes county revenues with it, the Jackson Hole Conservation Alliance has also piled on against the connector.
In a letter to commissioners, Community Planning Manager Brooke Sausser lamented that the fall proposal to halt the project was "not honored" — it never made it into the formal National Environmental Policy Act process.
She also called for the project to be paused, citing budget problems.
"Please put the Tribal Trail Road on the backburner and do not fund it now," she wrote, asking commissioners to instead allocate Tribal Trail funds towards planning northern South Park and "core government services that provide for human health."
"Please focus your limited budget and limited time on more important, less controversial projects," Sausser wrote.
The cost for the Tribal Trail Connector is not final. It will depend on the design for the intersection of Tribal Trail Road and Highway 22. Stakeholders identified two alternatives for that area in their meeting in February.
One, which the News&Guide has dubbed "Option A," could see an interchange complete with on-ramps, off-ramps, retaining walls and an underpass built at the intersection of Highway 22 and Tribal Trail Road.
The other, "Option B," would be simpler: an at-grade intersection with a traffic signal.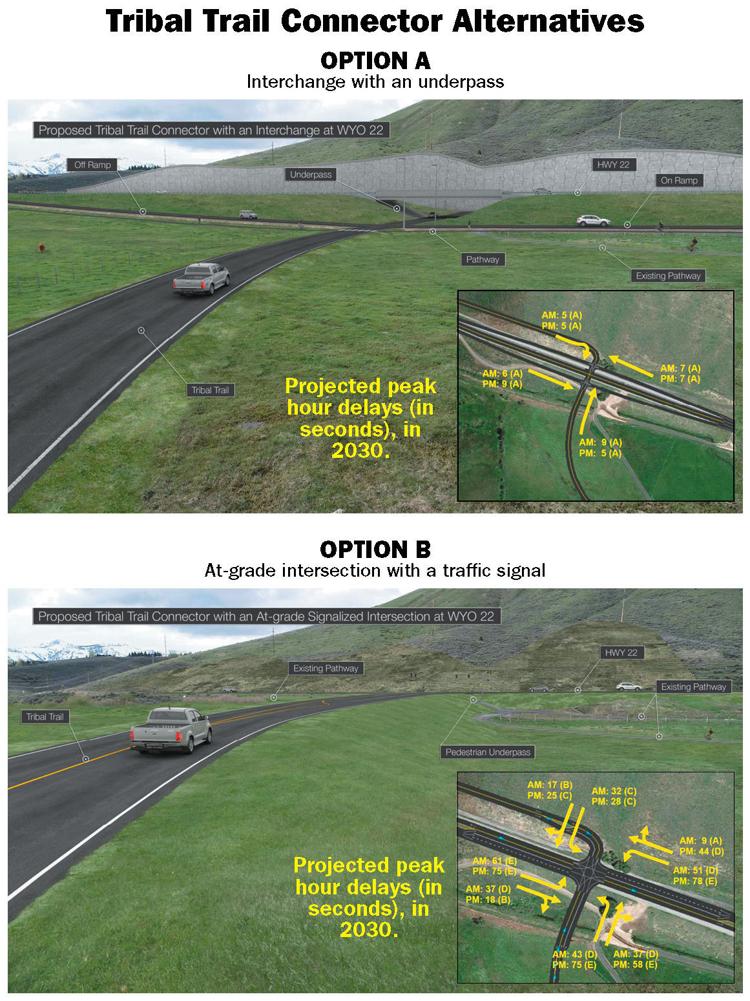 Building Option B would likely cost less overall (an estimated $8.5 million) than "Option A" ($17 million) but see more delays.
The Wyoming Department of Transportation is set to foot the bill for work inside Highway 22's right of way. So the simpler and overall cheaper Option B could actually end up costing Teton County more money because more work would be done on county land.
Option A, by contrast, is more heavily biased toward the right of way. It's estimated to cost Teton County $800,000 less. But WYDOT would pay just shy of $10 million more than the other design.
Director of Public Works Heather Overholser called that "a very large difference."
What's actually built, she added, will come down to what WYDOT will approve in the right of way and the amount of funding it has available.
"I think the big question is 'Are the benefits of the more expensive project worth the significantly higher cost?'" Overholser said.
But it's likely commissioners won't answer that question next week. That will come in later conversations with WYDOT, if the project moves forward.
Commissioners will focus on that question Tuesday: whether to give the project the green light or not.
"They're not at this point voting on a preferred alternative," Overholser said.
Stakeholder Tom Holland thought the project would meet purpose and need but hoped commissioners wouldn't give the "no build" option short shrift.
"Our recommendation was one that came out of a process where we knew that sitting in front of them was the 'no build' option," he said. "I hope that they really take that into account."
Pierson disagreed: "I think it's worth it now."
Commissioners will consider their options during their 9 a.m. Tuesday meeting, which will be held virtually. A login will be posted later this week to TetonCountyWY.gov.