Officials are gearing up to start building a portion of a pathway connecting Wilson to Stilson this summer, but it will be some time before the path connects the intersection of Highway 22 and 390 to downtown Wilson.
Segment two, the longest of three subsections of the proposed pathway, would run east from the Teton Raptor Center to Hardeman Lane. Teton County Pathways and Trails Coordinator Brian Schilling said that piece of pedestrian- and cyclist-oriented pavement was more or less a go.
"We're full steam ahead and planning to construct this summer," he said.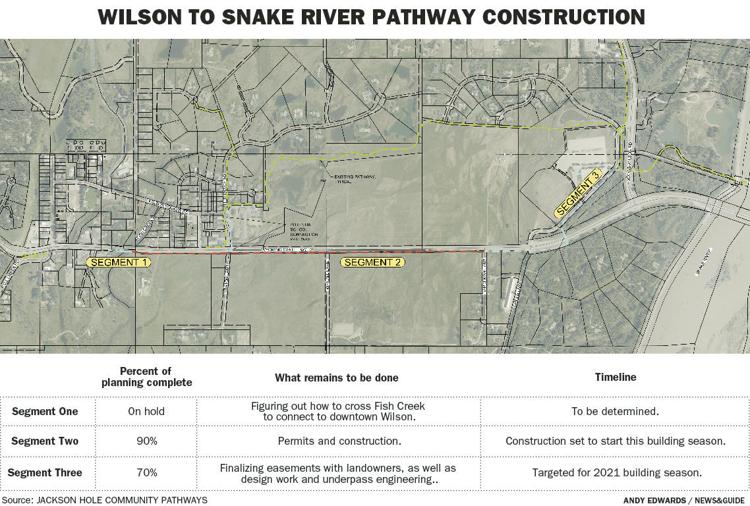 Of the other two segments, one would take cyclists from the Teton Raptor Center west across Fish Creek to Wilson; the other would take cyclists from Hardeman Lane east and eventually across Highway 22 to connect to the pathway system near the Stilson parking lot.
Those two portions, dubbed segment one and three, are still not ready for construction, pending Wilson-area planning with the Wyoming Department of Transportation and easement negotiations with property owners.
That means those who hop on the path will still have to ride along Highway 22 or cross it when walking or cycling west to Wilson or east to Stilson.
"It's an obvious gap," Schilling said.
He acknowledged the somewhat piecemeal approach the county has chosen for the pathway will not immediately "provide the complete connection that we intend to construct long term."
"But it will at least provide much improved access for neighbors south of Highway 22," he said.
Reactions to the partial pathway construction have been mixed.
The position of the Wilson Advocacy Group is "whatever we can get done is good," Marylee White said.
Though she has reservations: "It's not going to get me anywhere," she said.
Like many other Wilsonites, White lives in a neighborhood south of Highway 22.
"When we leave our homes, we have to cross the busiest highway in the state," she said. "It puts us in a difficult position."
Tim Young, the executive director of Wyoming Pathways and also a Wilson resident, said moving forward with construction — even if it is just in part — "provides a really important benefit."
"Even if it ends at the Raptor Center," he said, "that gets us to where the speed limit is slower and we're able to cross the street."
The new path will also provide those who live in neighborhoods south of Highway 22 a separate pathway for traveling along the highway corridor.
Still, Young was frustrated that this pathway has taken as long as it has to get going.
It was first proposed in 1970, when community members kicked around a bridle trail connecting Wilson and the Snake River. More recently, proposals for a Wilson to Snake River pathway were included in a 2001 Wilson planning initiative, the Charette Report, as well as the 2007 Pathways Master Plan.
Shilling said the Wilson-to-Snake River route has been delayed because the highway-adjacent path is a "more limited neighborhood connector"; another trail connects the northern portion of Wilson to the pathway network. It also did not readily fit the mold of other county pathways the federal government has funded, he said.
Now the pathway is one of the last outstanding projects from the 2007 pathway plan.
"It's definitely needed," Schilling said, "and it's the one we're doing."
The pathways department began the permitting process recently, so, it hopes to break ground on segment two in the summer.
Similar discussions on the eastern portion, segment three, which would see an underpass connecting the pathway to Stilson, are moving forward.
"I expect that we'll be able to resolve that situation so that connection can be made, if not this year, then the following construction season," Schilling said.
Finalizing plans from the Teton Raptor Center to a spot across Fish Creek has proven a bit more complicated. The county can either build a new bridge outside of the highway corridor, which would require easements from landowners adjacent to the creek, or use the highway corridor, which would require WYDOT approval.
For now, both are off the table.
Using the corridor would require rebuilding the Fish Creek highway bridge, WYDOT Traffic Engineer Darin Kaufman said.
The state agency has also been hesitant to permit crosswalks in the area, White and Young said.
Resolving both issues has been bundled into the ongoing Wilson Multimodal Corridor Study, through which the community, county and WYDOT will come up with a plan for the future of transportation in Wilson. White said figuring out road crossings was a top priority at Monday's steering committee meeting.
"Everybody's hoping that this Wilson planning is going to figure out how cyclists will cross the highway," she said. "Since it's being done in collaboration with WYDOT, we're really hoping we'll resolve that issue"
Regardless of the bookend segments, White underscored Schilling's interest in getting something built soon, even if the rest needs to be worked out.
"We would like to see at least a portion of the pathway constructed this summer," she said.