Walking around his Melody Ranch home Tuesday morning, Frank Lyons rattled off the family members who had lived in the five-bedroom, 3 1/2-bath home.
Grandkids in a bunk bed in a small room downstairs. His daughter and son at various times in the separate efficiency apartment upstairs. And, at one point, his son and his family in the upstairs rooms while Frank and Kathleen, his wife, lived downstairs.
"Right now there's nobody upstairs," said Lyons, 62, as he walked through the empty rooms. "It's pretty vacant."
Lyons gave the News&Guide a tour of the property, which was listed by the Jackson/Teton County Housing Department for $1.95 million last week.
That's a good bit pricier than most county-administered workforce housing. Officials call this house a "one-off" created by a deed restriction recorded on the property in 2013.
"This is a completely unique situation," Housing Director April Norton said. "It's the only one of its kind."
The home is technically part of the town and county's "workforce" housing program, which allows developers to set the initial sales price and then caps appreciation at 3% a year.
But unlike other homes in the "workforce" program, the home in Melody Ranch does not have an appreciation cap — and it's the only "workforce" property that doesn't, Norton said.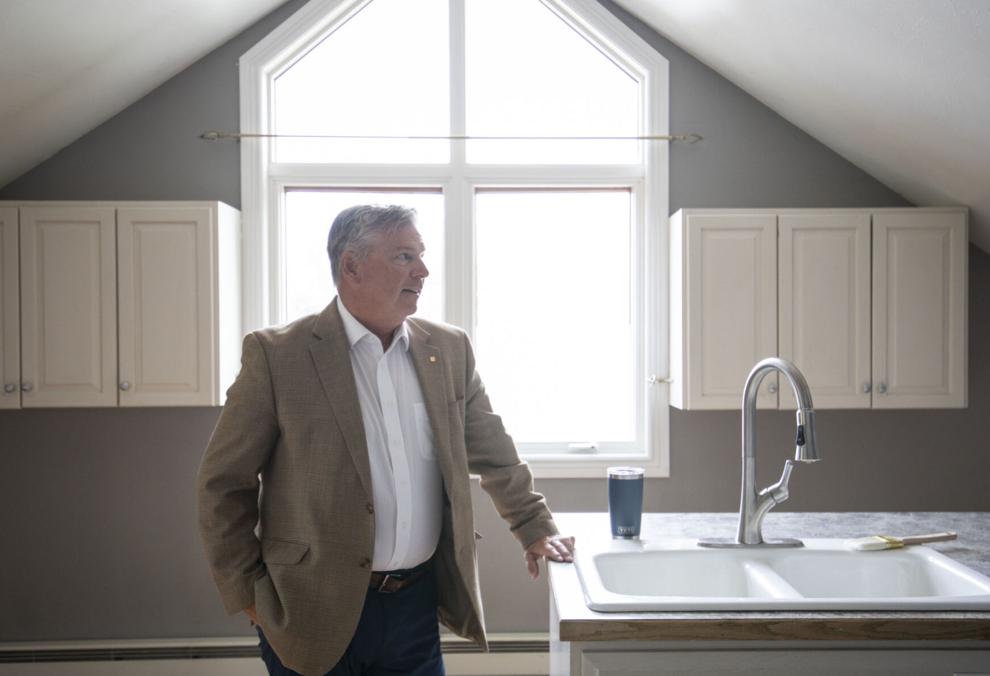 And so, while the Housing Department is required to assist with the sale of the home, the sellers were able to set the $1.95 million price tag.
"I get it, the price seems up there for something that's deed-restricted," Lyons said.
But he feels "there's nothing else like it." Other Housing Department-administered homes are smaller. And granite countertops and brass sinks aren't common features.
Sale forced by Housing Department
The Lyonses, bankers with First Interstate Bank, didn't, however, choose to list their home with the department.
They're selling after buying an empty piece of land in Pinedale to build a home for retirement.
Because town and county workforce deed restrictions bar homeowners or renters from owning residential real estate within 150 miles of Teton County, the Housing Department is forcing the sale.
"Normally when we find someone in default, they have 30 days to cure the default and if they don't cure the default or request a hearing with the Housing Authority Board, then we force the sale," Housing Manager Stacy Stoker told the News&Guide.
In this case the Lyonses didn't request a hearing, Stoker said, and the department gave them until the end of July to list the property. But there's been a monthslong dispute — lawyers have been involved — and that date was pushed back to September.
"I get what they're trying to get to — that they don't want somebody living off of a government-subsidized or -restricted home, and then going around investing in land," Lyons said. "If you can afford that you shouldn't be in the house."
But Lyons feels the policy, one of a few intended to ensure that Housing Department-administered units go to Teton County workers, is hampering his ability to plan for retirement and could make him retire earlier.
"It's an inadvertent consequence," Lyons said.
He wondered whether the department should have some sort of exemption for retirement planning. It currently does not.
Stoker and Norton said forced sales are infrequent.
"It really doesn't happen that often," Stoker said. "Maybe once every couple of years."
Underlying the whole dispute is property encumbered with a workforce deed restriction that doesn't cap a home's appreciation.
But that restriction is the only one in the town and county's housing program that doesn't have some form of price control, either through appreciation caps or income and asset limits.
Typically the workforce program does not reserve and price homes for Teton County workers based on their incomes. Instead it allows developers to set initial sale prices for ownership units and thereafter provides some price control through the appreciation cap.
And workforce properties generally have other requirements that essentially limit the pool of buyers to locals. In addition to the requirement about not owning residential real estate within 150 miles of Jackson Hole, workforce deed restrictions also require households that own the property to make 75% of their income in Teton County and one household member to work a minimum of 30 hours a week for a Teton County business.
The Lyons' property has those other restrictions, but not an appreciation cap.
That's because the property originally had a different type of "attainable" deed-restriction with a so-called "sunset clause." That's language that was included in deed restrictions during an earlier era of Teton County housing programs that lifted requirements after homeowners owned the property for a significant period of time. At one point, the Lyons' home almost went into foreclosure, which would have lifted the deed restriction.
So the family and Christine Walker, the housing director at the time, agreed to put the workforce deed restriction on the unit without the appreciation cap. The current deed restriction kept the home from sunsetting and kept it in the housing program.
The thinking at the time, Walker said, was that "it was going to go to market in a few years and this was an option to keep it out of the more speculative market and keep it more available to workers in Teton County."
"It saved the house at the time and kept it in the program," Norton said. "It was probably hard to imagine that the market would go up quite as quickly as it has in 2013 when they recorded this restriction."
The Lyonses set the price at $1.95 million after estimating that a comparable, market-rate property would sell for $1,000 per square foot.
The house is roughly 2,900 square feet, so they figured it could sell for $2.9 million — and took $1 million off that price.
"In my view, it's about a million dollar discount from retail," Lyons said.
Norton said Realtor Brett McPeak appraised the property for her department and estimated that it could sell for $2.6 million. McPeak told the News&Guide he stood by that assessment, but that his analysis was for a free market home.
But McPeak said that even with the "workforce" program's requirements — and without an appreciation cap, which would further limit who was interested in buying the property — he anticipates there will be demand for the Lyons home.
The listing is above the prices for other units sold by the department but below the average ($4.2 million) and median ($2.75 million) sales price for single family homes in Teton County in the first six months of 2021, according to the Jackson Hole Report.
"I think if the only requirement is you have to make your money in Teton County and you have to be a Teton County worker, the Lyons house will get a lot of attention," McPeak said.
Norton and Lyons both said the Housing Department tried to get Lyons to agree to put an appreciation cap on the property before selling. But he declined.
"We tried," Norton said. "But they fought us on it."
Lyons said he wanted to keep the value of his home.
"At the end of the day, I want to make as much money as I can so I can retire," Lyons said. "I'm kind of being forced into retirement. So I need to have that bank account up there where it needs to be."
As it stands the deadline to apply to purchase the affordable home through a Housing Department lottery closes at 4 p.m. Oct. 5.
Stoker said the Housing Department hasn't yet had anyone apply for the unit.
And, if they don't by Oct. 5, Stoker said the sale will still be administered through the Housing Department but on a first-come, first-serve basis, rather than a lottery. But there's some disagreement there.
Lyons said he thinks he'll be able to market the home if people don't apply.
Regardless, Norton and Walker said the sale will be an interesting test case as the community thinks about development in northern South Park, the mostly undeveloped Gill and Lockhart ranchlands surrounding Jackson Hole High School.
In addition to "affordable" units aimed at households who make less than 120% of median family income — roughly $138,000 for a four-person household — preliminary alternatives for developing the area proposed a new type of deed-restricted housing for households that make between 120% and 250% of median family income and those who make between 250% and 350% of the same metric. For reference, 200% of median family income is $231,200 for a four-person household.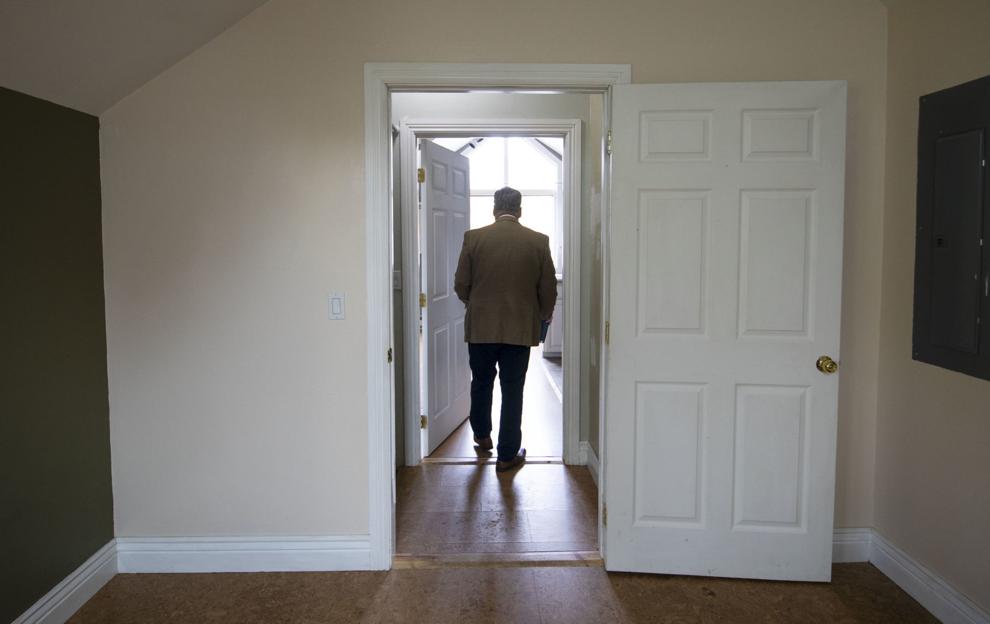 "Should there be a pot of these workforce units that don't have appreciation caps?" Norton said. "I don't know."
Consultants preparing the alternatives for northern South Park haven't released many details on what sort of deed restrictions would accompany the housing intended for higher-wage earners, so it's hard to say what those restrictions could require.
But Norton said part of the question is going to be about demand.
"Is there a demand for a deed-restricted home that costs $2 million?" she said. "We're gonna find out."
In the meantime, if the house sells the Lyonses are planning to live with their daughter in Rafter J until they finish building their home in Pinedale.
Frank Lyons said he wasn't heartbroken over having to leave.
"We're not all that upset about having to go because Jackson is not the same Jackson it was 20 years ago," Lyons said. "It's extremely busy. So we'll see. Time for another chapter."