As you navigate the last hours of 2020, punching the accelerator into 2021, we invite you to slow down and check the rearview mirror. Here's a chance to reminisce, recall and ponder how you can get involved in making this valley the best it can be.
If you were too busy to keep up with the news, we've condensed it here for you. Even distilled to a sentence or two per news event, 2020 in review is tipping the scales at nearly 5,000 words, so pull on those comfy PJs, pour a hot drink and settle in.
If the spirit or the topic moves you, tell us about it. Letters to the editor are always welcomed by noon on Mondays to editor@jhnewsandguide.com.
A grand jury indicted Teton County man Bryan Jones and three co-defendants for conspiracy to distribute and manufacture a metric ton of marijuana and conspiracy to launder money. Jones was arrested near his Teton County home after a five-year investigation into what federal officials called a large drug-trafficking organization.
The Gill family announced its intent to seek a rezone of 100 acres of its property in northern South Park, initially aiming to develop up to 488 lots and give 30 or 40 to Habitat for Humanity of the Greater Teton Area. Many people wondered about affordability.
The Teton County Board of County Commissioners agreed to sell the 5-acre Rains parcel on the West Bank for $1.9 million, $50,000 less than what taxpayers paid for the land in 2007. The move capped a yearslong argument between the commission and Jackson Town Council over that property and 440 W. Kelly Ave.
Legendary political activist Captain Bob died at 87.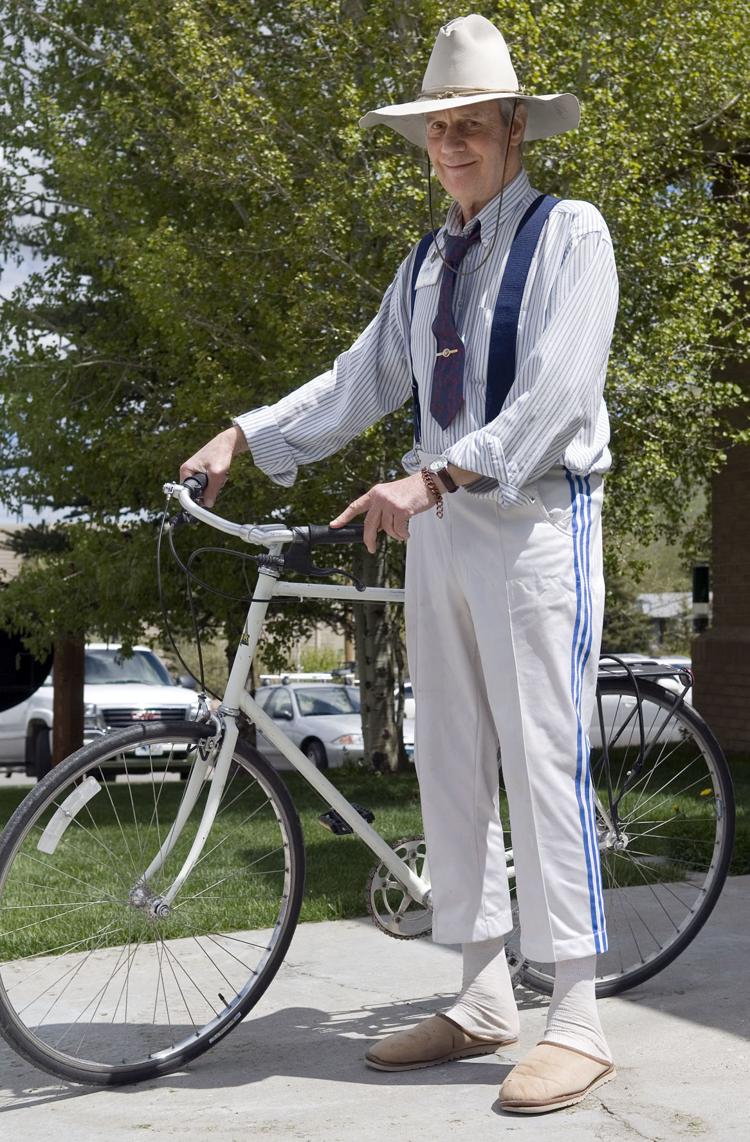 Teton Digital Media, a newly formed independent business subsidiary of the News&Guide's parent company, Teton Media Works, acquired the digital and publishing assets of Buckrail LLC.
The Equity and Access Cafe opened in Jackson Hole High School as a place for students to feel welcomed and discuss issues of privilege and equality.
Jeff Leger, aka Dr. Huckinstuff, aka the voice behind the Jackson Hole Mountain Resort snow report, crashed in S&S Couloir. After decades of snowy escapades without major incident, Leger found himself facing serious injuries and a lengthy recovery.
All of Fish Creek and a portion of lower Flat Creek were listed as "impaired" by the Wyoming Department of Environmental Quality due to fecal bacteria pollution. The condition of Fish Creek has been scrutinized and researched by U.S. Geological Survey scientists for years. Flat Creek, meanwhile, has another long-standing impairment in the town of Jackson related to stormwater runoff and sediment that is unresolved.
Late in January a mountain lion fed on a mule deer carcass on High School Butte above the Maverik gas station, attracting a crowd of 150 passersby and photographers. As word spread, people from hundreds of miles away ventured to Jackson, eager for the opportunity to see one of the ecosystem's more secretive large mammals.
Through an open records request the News&Guide uncovered that the crime statistics the Wyoming Division of Criminal Investigation publishes online are wrong. Wyoming law requires DCI to keep certain crime statistics organized and publicly displayed, but there appears to be no penalty if those reports are wrong or incomplete.
An elderly bald eagle crashed through Reed Moulton's bedroom window. The Teton Raptor Center said it had lead poisoning and rehabilitated the bird.
Town Councilor Jim Stanford protested the U.S. Senate's acquittal of President Donald Trump during his impeachment, drawing ire from veterans for wearing his father's Army jacket from the Vietnam era and holding an American flag upside down at the Town Square.
A bill that would have gutted Teton County's affordable housing policy died in the Legislature.
Lucky's Market in Powderhorn Plaza closed after its parent company filed for bankruptcy. Later in the month, Kmart, also part of a struggling company, closed the Highway 89 store where it had operated since spring 1991.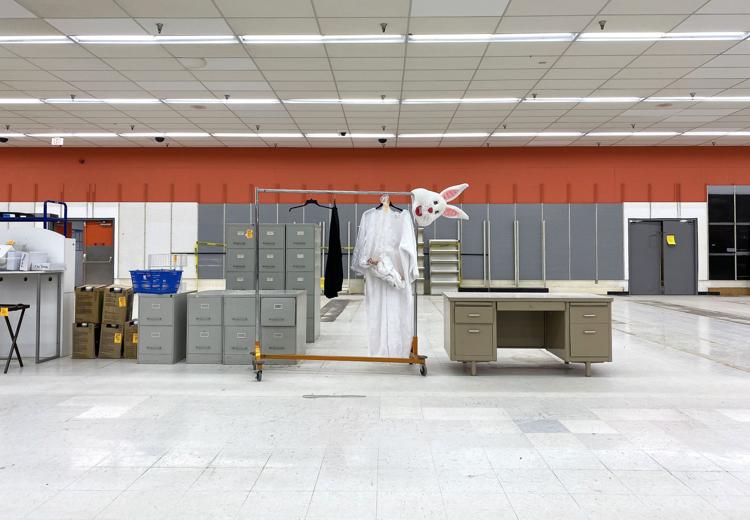 Clad in their warmest clothes, Munger Mountain Elementary School students evacuated and sat on buses for the morning after a strange smell led to worries of a gas leak. No leak was found.
Grand Teton National Park announced a large-scale area closure in the Tetons to give a helicopter gunner space to eradicate nonnative mountain goats from the range. The state of Wyoming vociferously opposed the aerial operation, aimed at helping native bighorn sheep. The day the lethal operations began, grievances from the Wyoming Game and Fish Department and Gov. Mark Gordon worked. U.S. Department of Interior Secretary David Bernhardt called the gunner down, but only after 37 goats were shot down in half a day.
A number of people who parked at the vacant Kmart were slapped with tickets, upending a decade-plus habit for some who used the mostly empty lot as a way to park and take the bus to Teton Village or shop in Jackson.
The Grand Teton Music Festival named Simon Woods interim executive director, giving the Tetons' classical festival a leader after former president and CEO Andrew Palmer Todd resigned. He did so under pressure after three longtime musicians were "disinvited" for the 2020 summer season, leading to a contentious spat with the orchestra.
Responding to the onset of the COVID-19 pandemic, businesses of all varieties closed temporarily, some with plans to open in a few weeks, others not until May. Some offered online and telephone shopping with curbside service. Some fitness facilities debated online classes. As the economic realities set in, businesses began applying for low-interest economic assistance loans through the Small Business Administration, and layoffs spiraled through Jackson's tourism-centric economy.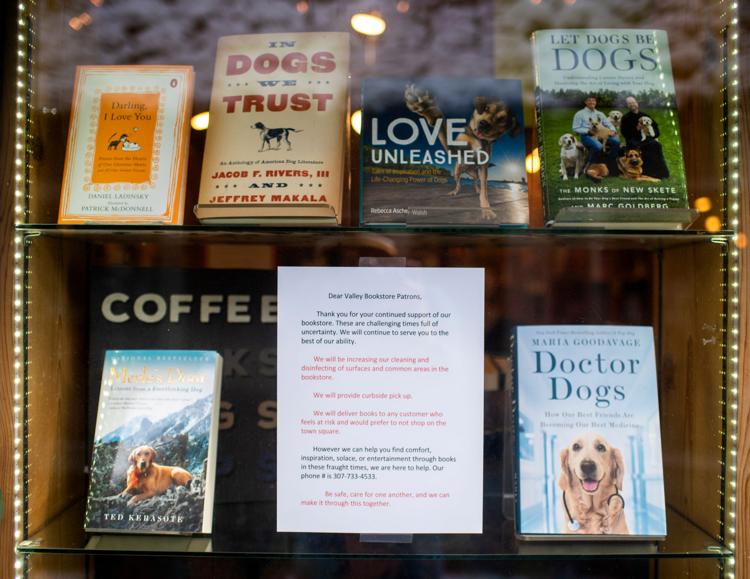 Fears over COVID-19 prompted school officials to enact what they hoped were temporary closures. As schools shuttered, district administrators scrambled to find roles for teacher's aides suddenly out of a normal job.
Jackson Hole Mountain Resort said it might not provide bus passes for season pass holders for the following winter season in a dispute over START funding.
Teton County reported its first case of the coronavirus as businesses closed amid fear of the virus. Public health officials began a campaign to ask people to "flatten the curve," a reference to changing the shape of the epidemiological graph of the virus by slowing its growth. In an unfortunate twist of events, deliveries of Girl Scout cookies were delayed.
As worries about the coronavirus surged, Jackson's ammunition retailers ran out of bullets.
Grand Teton and Yellowstone national parks announced a total closure, the result of the COVID-19 pandemic and concerns about attracting tourists from afar. The closure was widely supported.
We interviewed the first known COVID-19 positive residents in Teton County. Most were young, healthy and had minor symptoms.
Emails obtained by the News&Guide through the Wyoming Public Records Act showed a back and forth that became heated as Teton District Health Officer Dr. Travis Riddell pushed state officials to allow him to enact a stay-at-home order.
The County Commission trimmed $5.3 million out of the county's budget for the 2020 fiscal year, which ended in June. County employees were also laid off as sales tax collections spiraled downward as a result of the COVID-19 pandemic.
The Jackson Hole Tea Party gathered on the Town Square to condemn coronavirus closures, insisting the gathering was not a protest.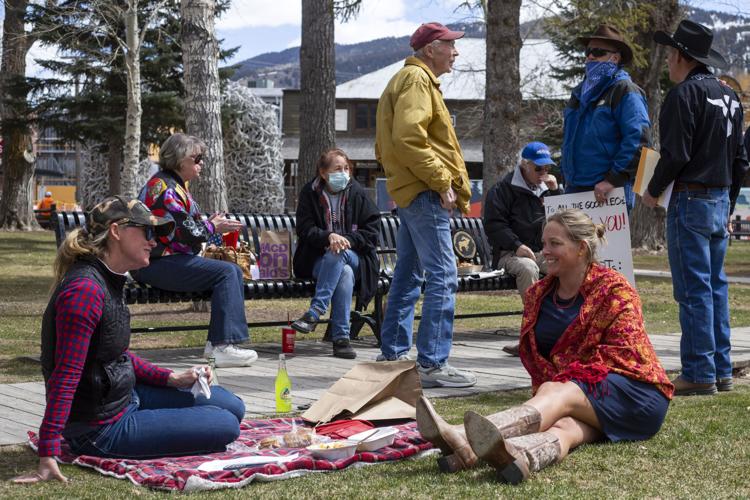 Bonnie Budge forgave April rent for 35 tenants to ease the burden of COVID-19 closures.
The Jackson Hole Chamber of Commerce, in collaboration with the Teton County Emergency Management Plan, launched an Economic Recovery Task Force. After an often frustrating application process, some valley businesses began receiving Paycheck Protection Program loans.
For at least one business, the Pink Garter Theatre, the pandemic was the final blow. The operators vacated the theater but planned to reopen its bar, The Rose.
Teachers found ways to continue teaching over Zoom, and those with things like 3-D printers and sewing machines started making masks and face shields to help with a shortage of protective equipment.
Antibody testing became a hot topic of discussion. Covaxx, a biomedical company with an investor in Jackson, tried to convince elected officials and the hospital to purchase thousands of tests that would tell people whether they had developed antibodies from exposure to the coronavirus. Officials instead decided to look deeper into the tests before buying.
"Gentle giant" Bill Sweney was Teton County's first death from COVID-19.
The Jackson Hole Airport's board of directors authorized the first scenic helicopter tour business at the airport in nearly two decades. The community fought the idea, with 366 personal letters submitted — 96% of which were in opposition. Nevertheless, Hoback businessman Tony Chambers' Wind River Air got the nod of approval. Airport board members said their hands were tied and that they risked losing Federal Aviation Administration funding if they rejected the business.
The Wyoming Law Enforcement Academy closed, causing an officer shortage at departments across the state.
Republican Sherry Daigle, who served as Teton County Clerk for 21 years, announced her retirement, kicking off an appointment process that saw the County Commission appoint Maureen Murphy as the new clerk. Teton Democrats questioned the process.
After Gov. Gordon gave them the green light, hair salons and barbers reopened with new mandated protocols, including masks for everybody, stations at least 6 feet apart, and surface sanitation after each patron was served. Retailers began reopening cautiously with a variety of COVID-19 measures. Some required masks, some limited the number of people inside, some required appointments, and most implemented rigorous sanitation programs.
Teton County School District No. 1 decided to keep students home for the rest of the school year over fears that the coronavirus could spread in schools. As virtual education became permanent, parents agonized over how they could keep working and help their kids with assignments.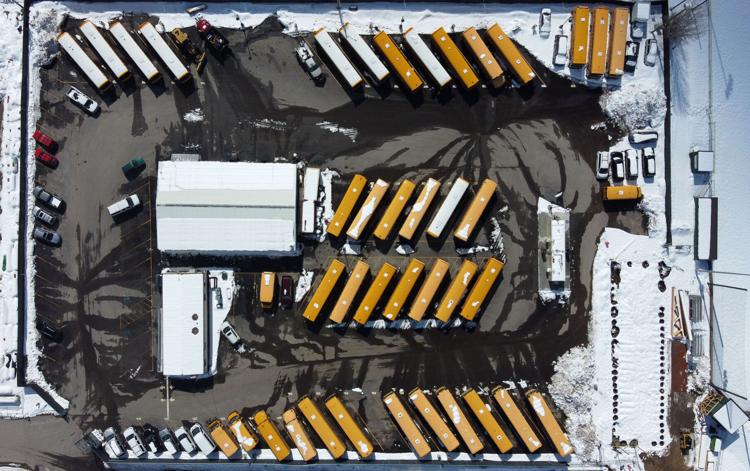 School district Food Services Director Wes Clarke pivoted his program to feed kids through delivery, sending busloads of food around town so students could still access school breakfasts and lunches.
The Gills formally applied to rezone their land in northern South Park, with the plan changed to include rezoning only 74 acres. The family said it would develop 312 lots, deed-restrict 65% for the local workforce and donate 30 or 40 of the restricted lots to Habitat for Humanity.
Teton County took "flattening the curve" to heart: Hospitalizations at St. John's Health dipped to zero, and a mass testing event at the Teton County Fairgrounds found no positives among more than 1,300 tests.
Yellowstone and Grand Teton national parks reopened after a 55-day closure. The tourism season started abruptly, and on opening day the crowds were delighted to see grizzly bear 399 emerge from her den with four cubs — an especially large litter.
People packed Town Hall to hear law enforcement leaders respond to nationwide protests condemning police brutality. Racial justice protests happened all over the country in June after George Floyd, an unarmed Black man, died while in police custody in Minneapolis. Protesters also took to the streets in Jackson Hole and nearby communities, like Pinedale and Driggs, Idaho.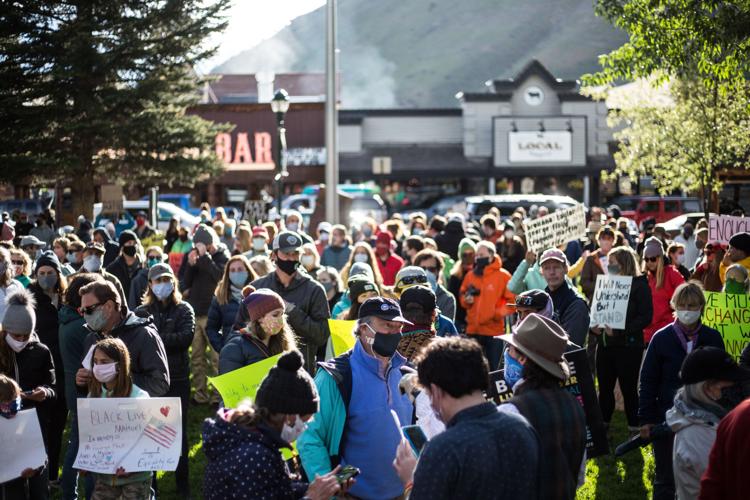 The County Commission delivered an affirmative vote on the Tribal Trail Connector, keeping it alive for subsequent planning work. The final approval has not been given and won't be for some time, if at all.
The town and county voted to put the seventh penny sales tax on the November ballot and trimmed millions from their budgets for the 2021 fiscal year, which started July 1. The County Commission agreed to spend $10,000 on a law enforcement assessment.
The Wedding Tree closed to camping. The News&Guide interviewed people there on the last night when overnight stays were allowed.
The R Lazy S Ranch, the West Bank salon Greta and Haakon, and many other valley businesses received Business Interruption Stipends of up to $50,000 from the Wyoming Business Council. The stipends were part of an aid program created by the state Legislature using federal pandemic relief funds. Other relief funds would be opened by the Business Council later in the summer, fall and winter.
In cars and socially distanced lawn chairs, parents, students and teachers made sure high school graduations went as scheduled (kind of).
Teton County Library announced it had hired Oscar Gittemeier to take over as director. Gittemeier became the sixth head of the library since 2015, including interim directors.
Research began to coalesce around masks as a crucial tool to prevent the spread of the coronavirus. Models and studies showed that droplets and aerosols that spread the disease could be slowed with cloth masks. However, business owners were left to enforce mask requirements in the absence of governmental action.
Bondurant billionaire Joe Ricketts proposed an upzone that would allow for a luxury resort at his Jackson Fork Ranch. But the 45-unit destination resort, which was paired with an "employee village" for 23 workers, was buried by the Sublette County Board of Commissioners, which voted 4-to-1 to deny a 43-acre upzone scattered across three parcels on a sagebrush steppe bench above Upper Hoback River Road.
In the wake of George Floyd's death, the Teton County Sheriff's Office enacted a policy that forbids deputies from using their knees to control an unruly suspect.
A former Jackson Hole High School student sued the school district and several of its employees on claims they retaliated against her after she reported being sexually assaulted by a classmate.
After months of discussion, the school board approved the Smart Start reopening plan, which outlined options for the 2020-21 school year. The plan left open a trio of possibilities — full-time in-person learning, a hybrid schedule and full-time virtual education.
Average hotel occupancy hit 94.1% over the Fourth of July weekend. A wave of temporary restaurant closures became a necessity as businesses found that employees had been exposed to or infected by the novel coronavirus.
After seeing activity tank in the spring, real estate agents in Jackson Hole found themselves in a frenzy of business deals as buyers fleeing big cities or simply reevaluating their lifestyle amid the COVID-19 crisis snapped up homes.
Before the Fourth of July holiday, Teton District Health Officer Dr. Travis Riddell sent a mask order to the state for approval. The Jackson Town Council passed one for the town, while the County Commission took about three weeks to make a statement of support for Riddell's countywide order. It was approved soon after.
Comet NEOWISE dazzled skywatchers for several evenings.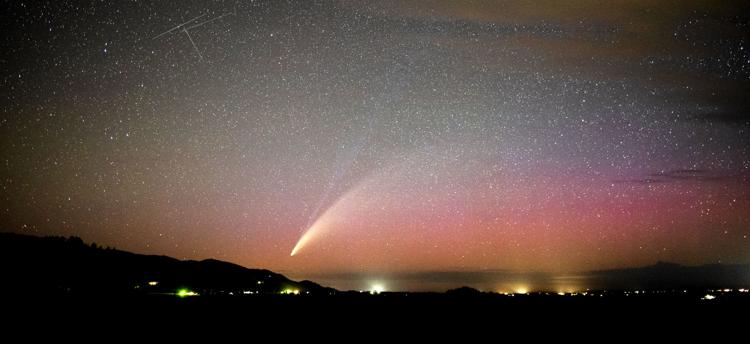 Community spread — infections without a known origin — returned, and a summer spike in cases gave Teton County Director of Health Jodie Pond "the chills."
The Lockhart family announced its interest in developing 117 acres of its property in northern South Park. After months of debate, the town and county reached an agreement on planning northern South Park for future development: The County Commission took the lead with the Town Council serving as a recommending body.
The Jackson Town Council voted after months of deliberations and discussions to approve a gondola for Snow King Mountain Resort. Still on the table, though, for the Town Hill were the issues of council approval of a series of summit-to-base zip lines and finalizing a lease for the gondola to be based on public land in Phil Baux Park.
Citing concerns over the ongoing coronavirus pandemic, Old Bill's Fun Run announced a switch to a "virtual," online format. Participants were asked to document their own 5-kilometer run, walk, bike or hike with photos and video, to be compiled by Old Bill's organizers.
The Bridger-Teton National Forest dealt with unprecedented crowding at its trails, campgrounds and dispersed camping areas. "It's the eclipse every day," longtime Bridger-Teton employee Linda Merigliano said. "It's lasting all summer."
A severe downdraft over the southern Teton Range on Aug. 3 pushed three hot air balloons violently to the ground, terrifying and injuring the 30-some people on board. Some of the balloon baskets dragged along the ground, and one bucked out the pilot.
Controversy rippled through the Jackson Police Department in August, causing some residents to question the culture at the agency. Leadership changes and promises to the community came during and because of the fallout.
Descendants of The Virginian founders Glenn and Virginia Napierskie sold the property — the saloon, the lodge, the liquor store, the RV park and everything on the 13 acres. The buyers were Orion, billed as a "100% locally owned" group, and Waterton, a Chicago firm that owns and runs hotels and apartments around the country.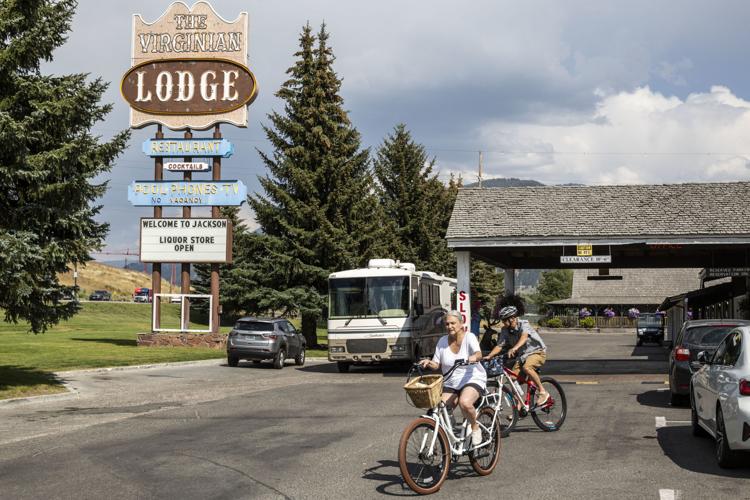 Just a month after approving the Smart Start plan, the school board voted to start the school year under the hybrid model, with elementary schoolers in the classroom four days a week, and middle and high schoolers two days.
After months of curbside service, Teton County Library settled on a plan to allow a few patrons at a time back in the building.
Quarantines and COVID-19 cases among hospital workers forced people to work extra shifts and sparked worry about filling critical roles in the community.
Uncontested primaries meant the November general election races easily took shape. A number of people voted absentee, but those who voted in person were comfortable doing so.
The town and county reached an agreement to fund a program that gives season pass holders at Jackson Hole Mountain Resort a complimentary START bus pass.
In another win for Snow King, the Town Council approved the lower portion of a series of summit-to-base zip lines for the Town Hill. The approval came despite the protests of Councilor Jim Stanford, who worried the resort was turning into "an amusement park."
Longtime educator Jim Rooks, current Mayor Pete Muldoon, Realtor Devon Viehman and political consultant Jessica Sell Chambers won in the primary election to get their names on the November ballot for Town Council seats. Meanwhile, Vice Mayor Hailey Morton Levinson and consultant Michael Kudar got their names on the ballot for the mayoral contest.
The Swinging Bridge Fire started abruptly on a windy afternoon and ran toward homes on the bench splitting Game and Porcupine creeks. The blaze grew to over 100 acres and burned up to the green in residential yards and hayfields, but an all-hands-on-deck firefight extinguished it. No structures were lost.
Police started searching for a prowler after several reports in East Jackson that involved a man preying on women late at night.
Even as its finances struggled amidst the pandemic, St. John's Health purchased Emerg-A-Care after a venture capitalist approached retiring Dr. Brent Blue about buying the clinic.
The COVID-19 caseload in the Latino community skyrocketed. At one point the group, which makes up about one-fifth of the overall population, accounted for more than half of active cases. Officials cited high-risk jobs and cramped living spaces as the culprits.
Target said it would open a store in the former Kmart building on Highway 89. The Forget Me Not thrift store prepared to close after 16 years. After five months of hibernation, MovieWorks Cinema reopened. After being surprised by a gangbuster summer, the valley's restaurants were enjoying a booming fall business as well.
Students returned to the classroom for the strangest school year of their short lives, wearing masks and learning in pods. Within a week, quarantine orders came down, forcing entire classrooms to switch on a dime to learning from home.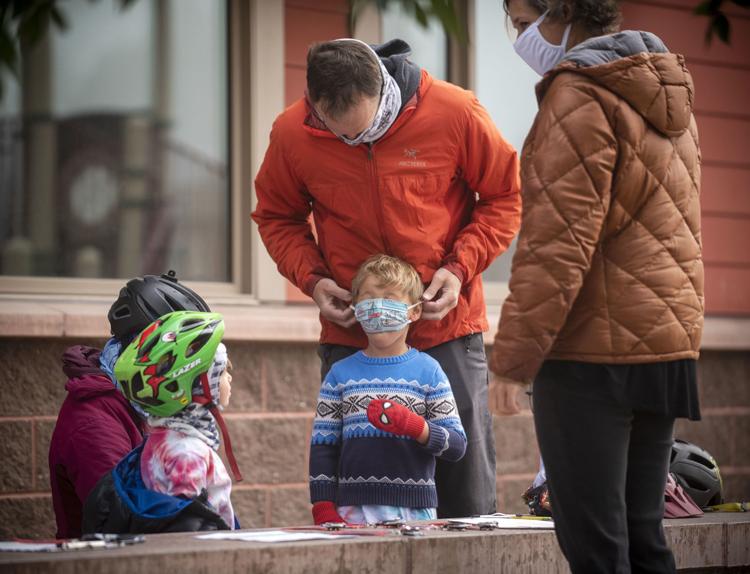 Two moose were killed over the Labor Day weekend on the Village Road, leading to calls to lower the road's speed limit. The Wyoming Department of Transportation later rejected those calls, and citizens instead began fundraising to have the Teton County Sheriff's Office patrol the road on overtime.
The County Commission denied the Gill family's rezone request, opting to wait to grant rezones in northern South Park until after the conclusion of a neighborhood planning effort that kicked off following the family's application.
KHOL radio reported that mayoral candidate Michael Kudar wore blackface at a 2011 Halloween party in Pinedale. Kudar then changed the story he had earlier given the News&Guide — that his wife had worn the racist getup, not him — starting another communitywide conversation about race and racism.
A News&Guide investigation revealed that the Gills' representatives had been texting commissioners during meetings about northern South Park — and that officials regularly text each other during meetings. An open records attorney said the commissioners' texting habit flew in the face of Wyoming's open meetings laws, but stopped short of saying it broke the law.
Town Council candidate Devon Viehman made news when she announced she was returning a donation from a political action committee funded by wealthy Jackson Hole residents Wayne and Molly Hughes. Viehman cited the nonpartisan nature of the council race as her reason for returning the donation.
After more wrangling, and the council asking Snow King for more "gives" in return for a gondola lease on public land in Phil Baux Park, the council approved the lease.
Grand Teton National Park's goat cull resumed, and this time volunteer hunters on the ground were tasked with removing the nonnative species from the Teton Range. Volunteers killed 43 goats during a six-week effort.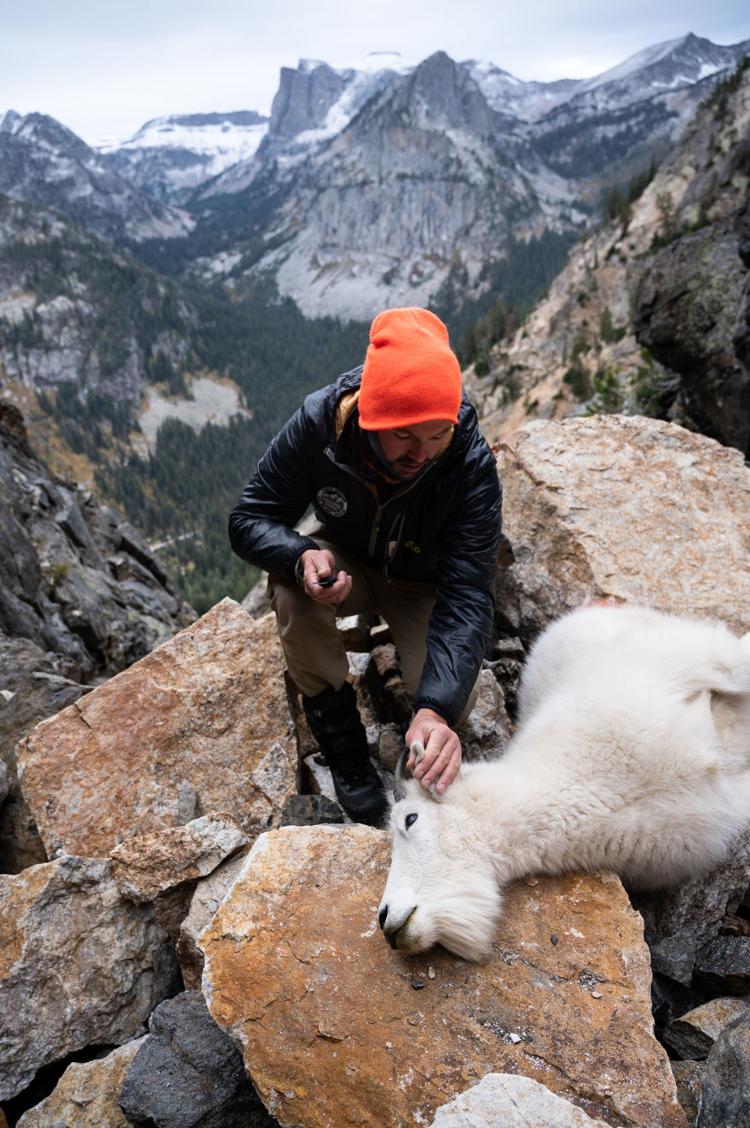 Third-quarter real estate sales put Jackson Hole on track for a record year. The Jackson Hole Report put total sales for the first nine months at $1.558 billion.
Teton County Library Director Oscar Gittemeier left his post just three months after taking the job. County and library board officials refused to say whether he was fired or quit, but his departure set off a period of upheaval in which current and former staff, as well as community members, decried county involvement in library affairs.
A spike in cases stretched resources at the hospital. Living Center residents and staff tested positive for COVID-19, and the residents were all transferred to the primary and intensive care units at the hospital. Though the outbreak was the first significant test of St. John's Health's systems from the pandemic, quick actions meant no residents died.
County Commissioners and backcountry recreation advocates scuffled with WYDOT over its decision to restrict parking at a pullout on the top of Teton Pass until work on the truck arrestor on the east side of the pass was completed. The issue was resolved when WYDOT agreed to move the brake check area at the summit to the west side of the pass and reopen the lot to parking.
Teton County Clerk Maureen Murphy began processing absentee ballots, and 10,625 of Teton County's 15,760 registered voters had voted by Oct. 30.
A 2018 sexual assault allegation against Mayor Pete Muldoon was brought to light after an open records request made by a local political activist. Muldoon repeatedly denied the allegation, in which no charges were ever filed following a DCI investigation, and called the move "a political hit job." The mayor said the sheriff and county attorney broke the law by releasing his name after no charges were filed against him.
A News&Guide investigative series into solutions in other mountain communities that have roads through avalanche terrain found a number of strategies for Highway 22 over Teton Pass. Chief among the things that could work were snow sheds, a permit system, and snow fences, but cost and community buy-in remain obstacles.
A records request revealed a complaint list the Teton County Health Department keeps about businesses that weren't following COVID-19 protocols. Our story also uncovered why the cops wouldn't ticket people for not wearing masks.
Hoback RV Park residents were notified they had to vacate the property by New Year's Eve due to septic system upgrades. They fought back, saying it was inhumane to kick out long-term residents in the middle of winter, the holidays and a pandemic.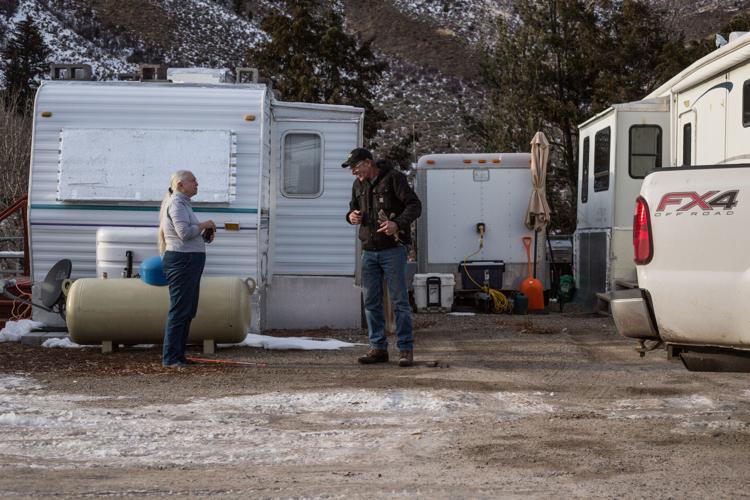 REI Co-op announced plans to open its first Wyoming store in Jackson in summer 2021 at 974 W. Broadway, formerly the home of Lucky's Market.
For providing financial assistance to the vulnerable members of the community during a terrible year, One22 received the first Nonprofit of the Year Award from the Jackson Hole Chamber of Commerce.
Following the sale of its home at 175 Center St., E.leaven Food Company closed after 15 years in business.
A dearth of teachers because of exposures to COVID-19 led the school district to switch to online classes for the week before Thanksgiving.
COVID-19 barreled out of control in Wyoming and Teton County as local infections reached peaks well higher than anything seen in the spring and summer. Hospitalizations stretched capacity across Wyoming as regional partners saw their wings fill, limiting the potential for out-of-state transfers.
Case loads were so high that both the county and state health departments had to triage contact tracing, focusing on high-risk groups only and relying on infected people to contact their friends.
Motley Crue bassist and co-founder Nikki Sixx spoke with the News&Guide about moving to Jackson Hole, saying he wanted to become involved in the community.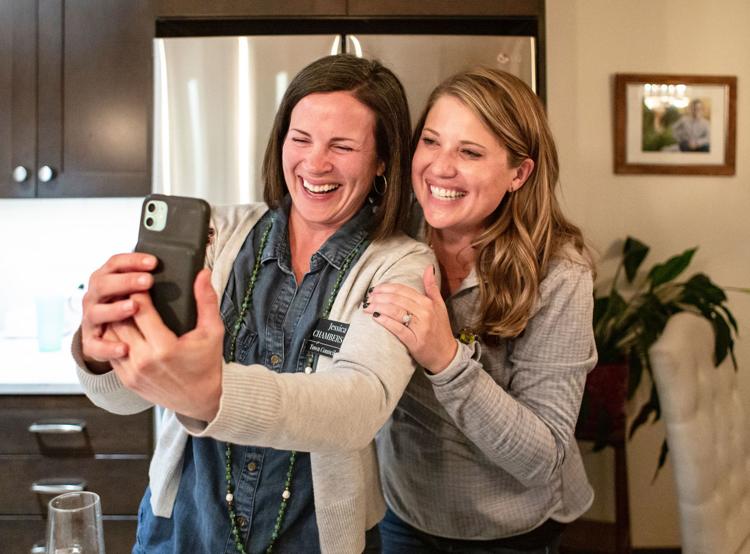 The November general election came and went. Vice Mayor Hailey Morton Levinson handily beat Michael Kudar in the mayoral race. Jim Rooks and Jessica Sell Chambers won seats on the Town Council, narrowly beating Devon Viehman and ousting former Mayor Pete Muldoon. Commissioners Natalia D. Macker and Greg Epstein kept their seats, beating Peter Long, Christian Beckwith and Wes Gardner.
The County Commission removed Dail Barbour from the library board behind closed doors and without giving her any notice. The reason was at first unclear though it later became evident that other members of the library board asked for her removal. Barbour said the reasons given to justify her removal were baseless, and that evidence to the contrary is on the record.
The national parks closed down after a hectic summer and record-busy fall punctuated by a lot of visitor misbehavior. In Yellowstone, for example, rangers handed out 122 "thermal trespass" tickets to tourists who couldn't fight the temptation to leave boardwalks and inspect geysers and hot pots up close. The problems were so rampant that Yellowstone Magistrate Mark Carman started handing out jail time regularly — about 25 people did time as a result of thermal trespassing.
Much to the dismay of town councilors, who were facing an anticipated $4.8 million budget shortfall, the "seventh penny" sales tax measure was defeated by voters in the Nov. 3 general election.
In a meeting, outgoing Mayor Pete Muldoon scrutinized the Jackson Police Department's budget and the agency's effectiveness in the community when it comes to public safety. Muldoon said the department's budget is one of the biggest the Town Council oversees, and after researching some of its daily tasks he questions whether taxpayers are getting the most bang for their buck. "In a lot of ways we are acting as, say … a publicly funded private security agency for the Cowboy Bar," Muldoon said.
Wendy Dodson, who purchased the long-running Valley Bookstore from Steve Ashley, debuted the shop's new location on East Broadway.
The first vaccines for COVID-19 arrived in Teton County and were administered to front-line medical personnel and first responders.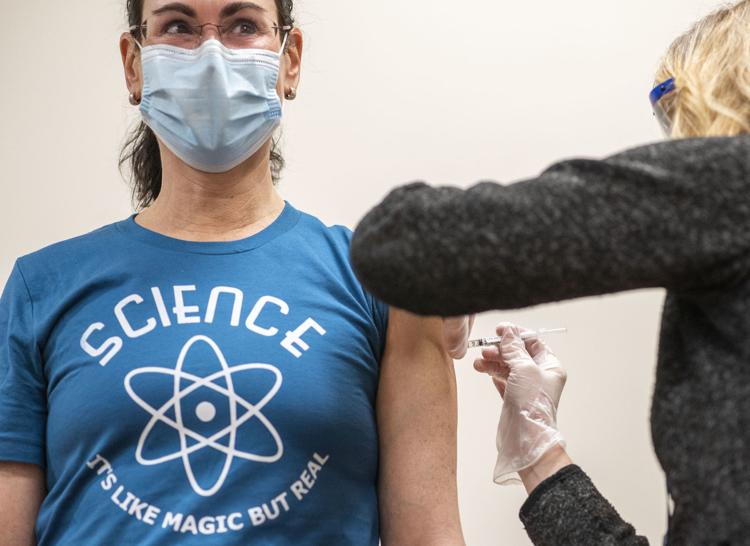 Following Gov. Mark Gordon's early closure order for bars, the Wyoming Business Council began disbursing grants of up to $50,000 from the new Hospitality Loss Relief Fund, created with CARES Act dollars. Among the recipients were The Rose, The Stagecoach Bar, the Silver Dollar and the Million Dollar Cowboy Bar.
Public health officials asked that afterschool sports be canceled due to a sharp rise in COVID-19 cases, but after testimony from coaches and athletes, the school board declined to stop wrestling and basketball.
St. John's announced it had hired Will Wagnon to take the role of CEO. Dr. Paul Beaupre announced his retirement over the summer, though he elected to stay on as a COVID czar until a majority of the community is vaccinated.
To combat the record COVID numbers, county health officials recommended that people should interact only with the folks they live with. State officials mandated mask wearing after several months of lobbying from the public.
The Town Council held several special meetings regarding a dire COVID-19 situation in the town and county. St. John's Health CEO Dr. Paul Beaupre warned that the hospital and its staff would soon be overwhelmed if measures weren't taken to stem the rising tide of coronavirus cases. The town also announced that four START Bus riders had tested positive for COVID-19 and had ridden several START buses during their infectious periods before testing positive.
A hopeful guest and the Good Samaritan Mission clashed over its policies, leaving the guest out in the cold and highlighting the difficulties homeless people have finding a safe place to stay in Jackson Hole over the winter.
A slew of community members showed up at a joint information meeting of the County Commission and Town Council, raising questions about Oscar Gittemeier's departure. Some called it a firing, alleged the potential for LGBTQ discrimination (Gittemeier is transgender), asked for a countywide nondiscrimination ordinance and requested an investigation of Teton County's Human Resources Director Julianne Fries. A week later the County Commission started looking into a countywide nondiscrimination measure.
START riders had trouble getting to and from Teton Village as capacity limits reduced the bus system's ability to move riders. The town and county approved a contract to increase service, with the county footing the $281,000 bill.
Dail Barbour lawyered up, alleged the County Commission broke the law, and sued, asking the courts to require commissioners to reinstate her to the library board.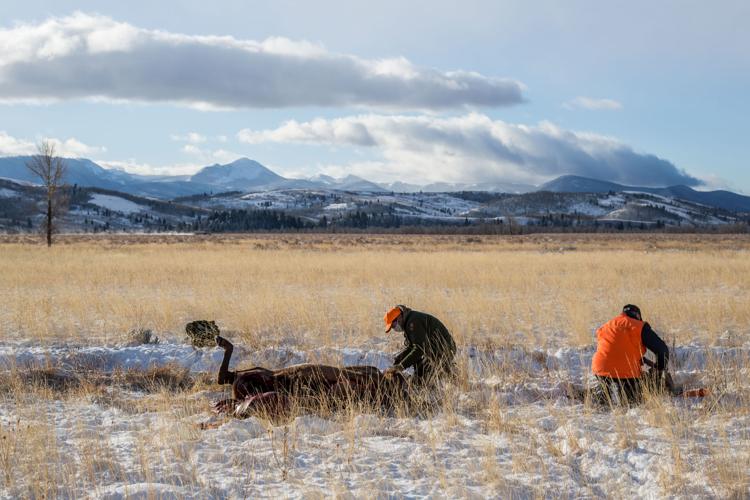 Lethal, incurable chronic wasting disease was discovered for the first time in an elk in the region of the state where the ungulates concentrate most tightly on winter feedgrounds. The dire confirmation of a prion disease among the ranks of feedground elk came from a cow killed just a few miles from where alfalfa pellets are lined out on the National Elk Refuge. The cow was shot by a hunter Dec. 2 in Grand Teton National Park, and two weeks later its lymph nodes tested positive.
After the failure of the seventh penny sales tax in the November election, the Jackson Town Council took the first steps toward implementing both a town property tax and a paid parking program for the downtown area in an effort to find new revenue to fund core programs amid a budget crunch.