In a nod to the pervasiveness of the COVID-19 pandemic, we opted for a pair of top 10 lists. The one that begins above is the news that would have dominated in a usual year; below is what drew the most attention.
1. COVID-19 reaches Jackson
Though it's hard to remember, there was a time before the pandemic gripped the Tetons. The first case of the coronavirus in Wyoming was reported March 11; then the virus reached Jackson a week later.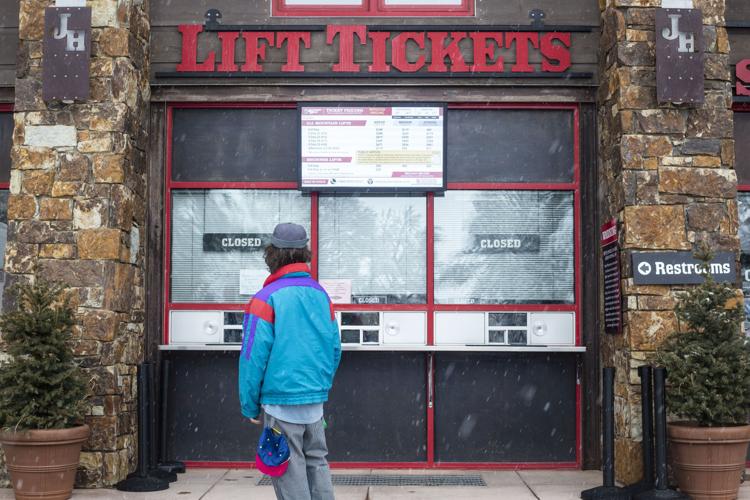 Public officials jumped into action: Ski resorts closed, a stay-at-home order was enacted, and everyone urged each other to "flatten the curve."
It worked. Teton County had zero active cases of COVID-19 by May, with a mass testing event at the Teton County Fairgrounds finding no positive infections in well over 1,000 people.
Such draconian measures were unsustainable, however, especially with a tourism-centered economy, and following the successful flattening of the curve many restrictions were lifted. Increased visitation by high numbers of vacationers and movement of locals brought on a summer and fall that featured an up-and-down battle with the virus.
2. More dead than ever in Wyoming
Around the world many places are seeing increased deaths due to the coronavirus.
Wyoming is no different, as it is on pace to eclipse 400 deaths related to COVID-19, though State Health Officer Dr. Alexia Harrist told the News&Guide that the number could actually be higher because of a lack of testing at the beginning of the pandemic. A News&Guide investigation found the state lacks consistent rules for coroners on postmortem testing, which means the state may have missed some COVID-19 deaths.
Globally, deaths and hospitalizations have followed spikes in cases, and the big increase in cases this fall pushed many Wyoming hospitals to capacity. It also resulted in the bulk of the coronavirus fatalities, with at least 310 deaths from COVID-19 being reported between the beginning of September and mid-December.
In all the state is on track to see at least 400 more deaths in 2020 than in 2019, which was the most deadly in the past 15 years.
3. Mask mandate sparks controversy but wide compliance
Public health officials have said since early in the pandemic that masks are a crucial tool for stopping the coronavirus. Cloth masks, which most people wear, don't stop all viral particles, but they do limit the travel of the aerosolized drops that have been found to be the biggest source of spread.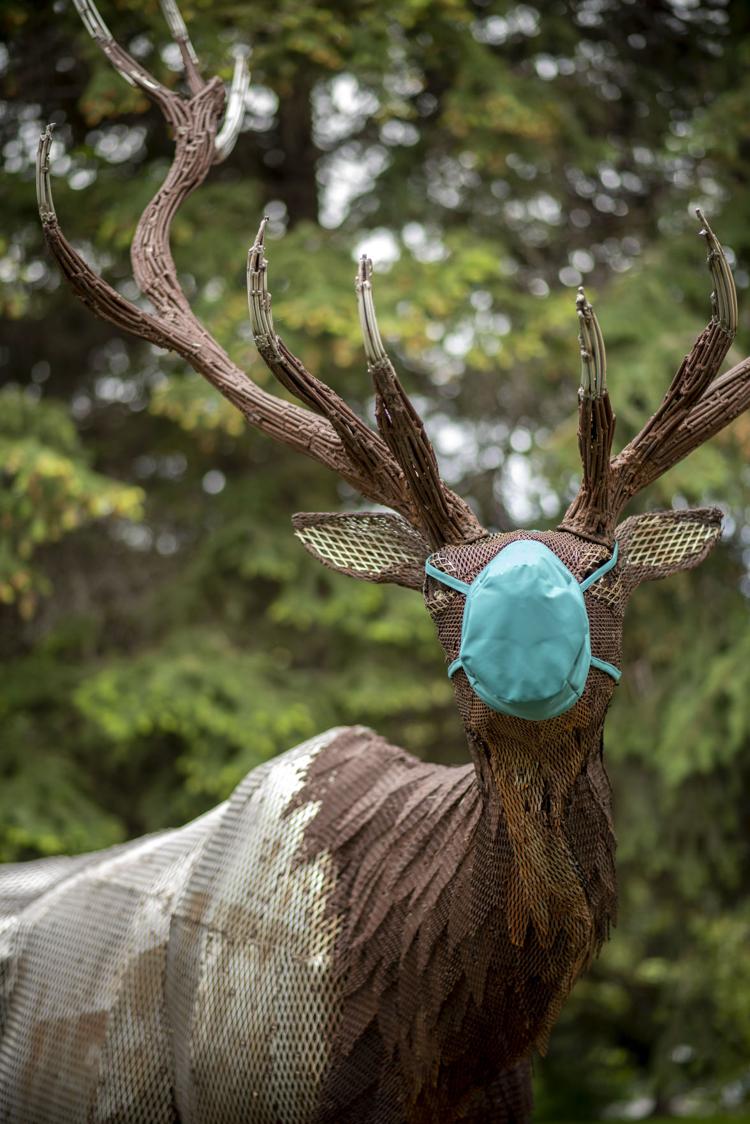 Teton District Health Officer Dr. Travis Riddell asked the state for a mask mandate in retail establishments in early July, but wrangling over the language of the order took three weeks. The Jackson Town Council stepped in to issue a townwide order that kicked in before the Fourth of July weekend, and the amended county order was approved July 20.
In response to the fall spike in cases, a statewide mask order, which some had lobbied Gov. Mark Gordon to enact for months, went in effect in early December, just a week after Teton County extended its order to cover basically "everything outside your house," Director of Health Jodie Pond said.
Though a vocal contingent of residents pushed against the mandate, a News&Guide observational survey in late November found that 95% of people in places covered by the mandate had masks, and nine in 10 wore them correctly.
4. COVID-19 disrupts schools
The coronavirus arrived just before spring break, and the school board opted to go to virtual school in the hope that an extra week off could help the community get a handle on it.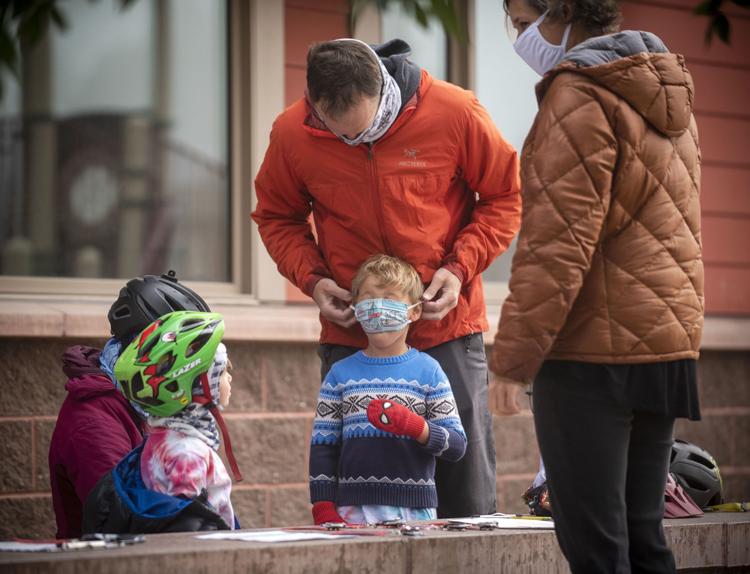 Nine months later things still haven't returned to normal. Elementary schoolers are in class four days a week, while middle and high school students go to school just two days a week.
In arriving at the decision to instate a hybrid schedule (and to stick to it), the school board has heard input from parents who want a fully virtual schedule to those who want their kids in class five days a week. Trustees have heard arguments on a host of contentious issues, including that sports should be canceled (or not).
Teachers and students, meanwhile, have adapted, adding things like Flipgrid and Google Classroom to their lexicon, and finding gratitude in the days they do have in the classroom.
5. COVID-19 decimates the workforce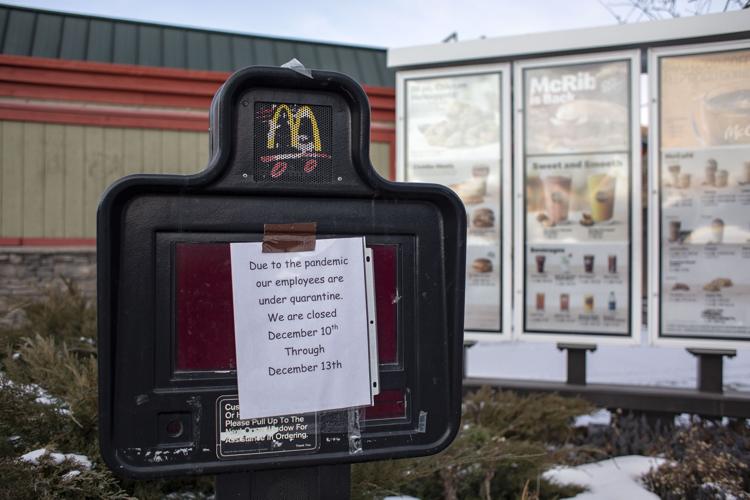 Both state and local orders have limited businesses' ability to operate at full capacity, and in the beginning of the pandemic many businesses took a long spring offseason. Many service industry employees in particular found themselves out of work.
Even after tourism picked back up, employees and businesses found themselves dealing with a new problem — COVID-19 cases. Organizations large and small, from restaurants to St. John's Health, contended with workers who were out because of quarantine orders or diagnoses of the coronavirus.
They dealt with it in a variety of ways.
6. Bonnie Budge gives park tenants a reprieve
In April landlord Bonnie Budge found herself with a mobile home park full of tenants facing unemployment or loss of wages. That story likely played out in rentals across Jackson Hole, where the service economy ground to a halt overnight.
Recognizing the dilemma her renters faced, Budge offered them a rent-free April in the hope they could keep their feet under themselves. Housing insecurity has become an even more prevalent problem since the pandemic started, even with a federal moratorium on evictions, so the 88-year-old wanted to do what she could.
"I felt like they needed some help and that was one way I could do it," she said.
7. People head to the woods to avoid the virus
If people took one message to heart this year it's that COVID-19 doesn't spread as easily outdoors. Campgrounds, trailheads and national parks were packed this year, setting records like the pandemic didn't exist.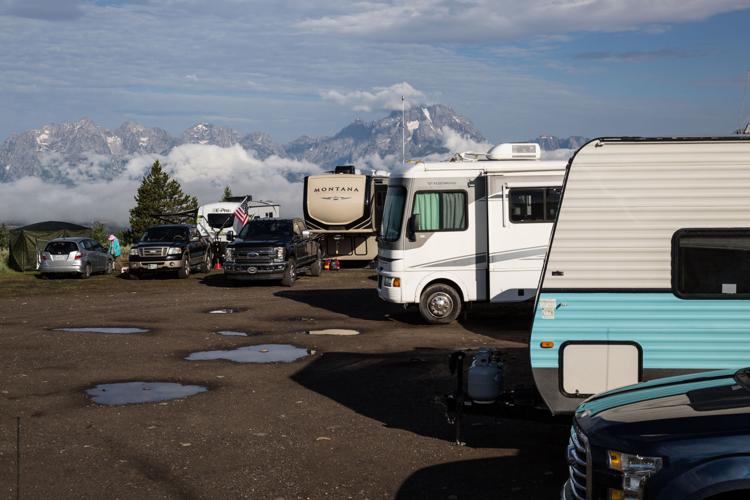 Outdoor gear shops sold out of everything: bikes, cross-country skis, alpine touring setups. Neophytes flocked to the woods in search of connection with friends or just something to do. Teton County Search and Rescue found itself busy, and abandoned campfires started a spate of small wildfires over the summer.
Grand Teton and Yellowstone national parks saw their fair share of shenanigans, including one of the stranger stories to come out in recent years: A trio of men were cited for trying to fry chickens in a burlap sack in one of the hot springs.
8. COVID-19 destroys government budgets
Town, county and state coffers were no match for the economic downturn caused in the wake of the pandemic. Even though tourism numbers were high over the summer, the complete stoppage of life in the spring, the increased costs because of the virus and an uneven recovery have made it tough for officials.
State revenues in particular took a nosedive, as the extractive minerals sector cratered when demand for oil and gas fell. Rather than seek new sources of revenue during hard times for Wyomingites, Gov. Mark Gordon asked state departments to cut their budgets.
Town and county officials have also faced tough decisions about what essential services are and how to pay for them, sending a seventh penny of sales tax to the voters (which they rejected) and considering a property tax.
For a while it looked like Jackson residents living in alleyways might find themselves without snow plowing, but town officials stepped in to say that, indeed, the alleys would remain clear this winter.
Democracy waits for nothing, not even a global pandemic.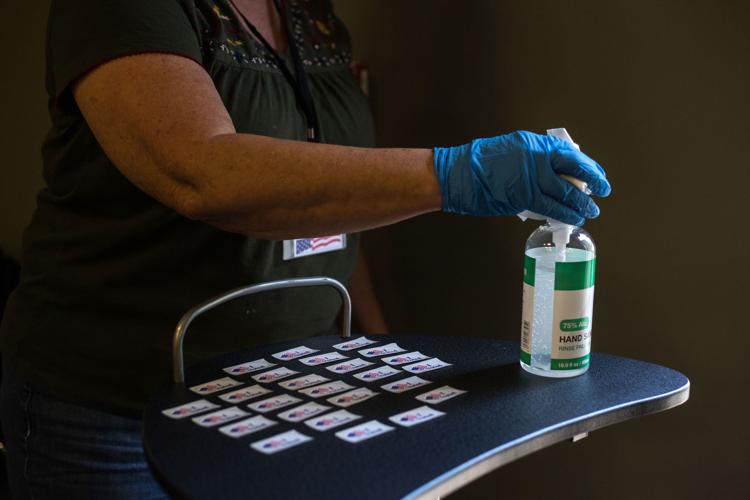 Though there's never a good time for a deadly virus, a presidential election year isn't a great time for that kind of emergency. With many worried that voting in person would expose them to the virus, officials increased early and absentee voting.
Turned out that making it easier to vote encouraged people to participate in democracy, with 93% of registered voters casting a ballot and almost 2,000 more people voting in this year's presidential election than in 2016.
10. Vaccines promise a happier year in 2021
Just as 2020 was ending, coronavirus vaccines came to market in one of the fastest development processes ever.
St. John's Health purchased an ultra-cold storage freezer in the summer when it appeared that the Pfizer-BioNTech vaccine would be one of the first to receive emergency use authorization from the Food and Drug Administration.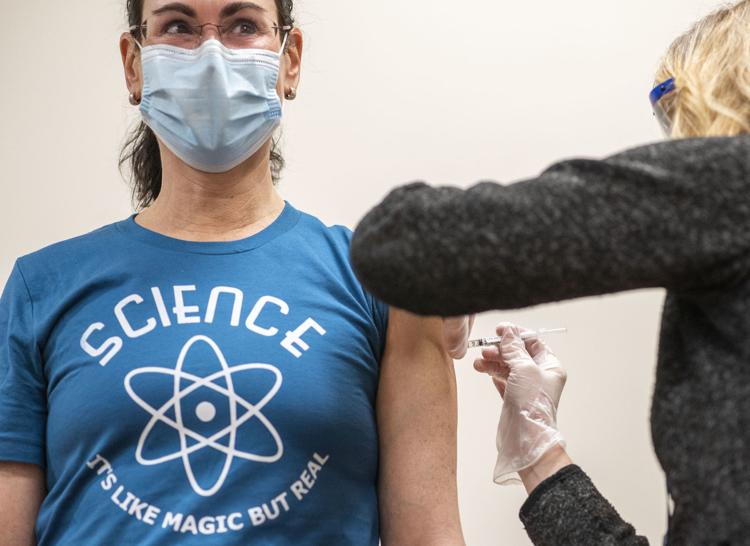 That helped Teton County be one of the first five counties in Wyoming to receive the vaccine, and health care workers got the first dose as "a Christmas present," CEO Dr. Paul Beaupre said. By the end of 2020 more 1,000 Teton County residents, mostly in health care and emergency response, will have the first dose.
Though it will take several months for companies like Pfizer and Moderna to produce enough doses of their vaccines to inoculate everyone who wants a shot in Teton County, public health officials are touting 2021 as the year we put the COVID-19 pandemic in the rearview mirror.