1. Jackson pays tribute to fallen Marine
The Marines stood still when the plane touched down Sept. 10 and didn't move until after U.S. Marine Lance Cpl. Rylee McCollum's casket was taken from the plane and put on a cargo carrier, and a Marine issued a command to march.
They walked forward, in sync, toward the casket draped in an American flag.
"He's coming home," said his father, Jim McCollum, holding his cowboy hat over his heart.
As the family, motorcyclists and law enforcement officers led a procession from Jackson Hole Airport through town, thousands lined the route, some waving signs saying "Remember the fallen" and "God bless our hero."
The procession came two weeks after McCollum and 12 other U.S. military personnel were killed Aug. 26 by a suicide bomber while evacuating U.S. citizens and allies from the Hamid Karzai International Airport in Kabul, Afghanistan.
His funeral came two months later, Oct. 23, and marked the last memorial service for a U.S. service member killed in the United States' 20-year war in Afghanistan. More than 400 people, including over 50 U.S. Marine, gathered in Jackson to honor McCollum.
Family, friends and comrades remembered him as a young man who went from "roly-poly" kid to lean high school wrestler to U.S. Marine. They described a boy who combined earnest and goofy, a young man eager to help even when he might have needed a hand himself, a kid who sometimes had to back up and take a second run at something before he got it right, but did it anyway.
"In Rylee's 20 years and six months, to the day, he lived a lifetime," Jim McCollum said. "He wanted to be surrounded by great people doing great things."
Rylee McCollum was born in Riverton on Feb. 26, 2001, and grew up with his dad and sisters Cheyenne, Roice and Stephenie in Dubois and Jackson.
He met his wife, Gigi, in San Diego during his time stationed there. Their daughter, Levi, was born Sept. 13, less than three weeks after her father was killed.
2. Surveillance intensifies as Grizzly 399 swings south
After unprecedented time spent well to the south of Grand Teton National Park, Grizzly 399 led her four cubs to their den on New Year's Day. The famous grizzly attracted a fan club as she made her final push north, paralleling highways 26/89/191 and crossing the Snake River and Teton Park Road on her way to the Teton Wilderness.
The famous fivesome padded right through the heart of Jackson Hole, getting an escort from law enforcement and making a cameo on the webcam showing the crew passing in the night right past the Teton County Jail.
Before hibernating though, three of her cubs landed in traps near Astoria Hot Springs set by federal wildlife managers, who outfitted two of them with tracking collars to step up surveillance of the famous bear family in an attempt to curb potential conflicts with people. Wildlife watchers saw the trapping operation as high risk for the bears and are pushing for Teton County to tighten regulations to put things like bee hives, bird feeders and garbage out of reach.
Federal managers continue to emphasize that the public can do more by securing anything that attracts bears and making noise when bears come near homes.
3. Gabby Petito galvanizes search for the missing
On Sept. 19 the father of Gabrielle "Gabby" Petito shared a photo of his daughter posing in front of an angel mural, the 22-year-old smiling and seemingly sprouting lifesize, rainbow-colored wings.
"She touched the world," Joseph Petito wrote in the post on the family's Facebook page, Find Gabby, closing the message with a broken heart emoji.
Just minutes before, FBI agents stood at a podium in Grand Teton National Park's visitor center in Moose to report that human remains had been found. They were later confirmed to be those of Petito, a 5-foot-5-inch, blond-haired, blue-eyed adventure blogger who hadn't been seen or heard from since late August. She had been strangled to death and left near Spread Creek at the edge of the Bridger-Teton National Forest.

The case had captivated people from across the world since Sept. 11, when her family reported her missing. Petito was last known to have been in Jackson Hole as part of a cross-country road trip with her fiance Brain Laundrie in a white Ford Transit van. The couple intended to camp their way to Oregon by the end of October, but instead Laundrie returned to their home in Florida the first of September driving Petito's van — alone.
The FBI, National Park Service, U.S. Forest Service, Teton County Sheriff's Office, Jackson Police Department and Teton County Search and Rescue followed tips and conducted intensive ground searches before finding Petito's remains in the area where the couple's van had been previously noted just east of Teton Park in the Spread Creek dispersed camping zone.
Teton County Coroner Dr. Brent Blue ruled the death a homicide. By then Laundrie, a person of interest in the case, had disappeared himself, having killed himself by a gunshot to the head in a swampy nature reserve in North Port, Florida.
While Petito's death grabbed headlines around the world, it was not the only notable and tragic search in 2021. Cian McLaughlin, a 27-year-old Dublin, Ireland, man, was living and working in Jackson when he didn't return from a hike in the Garnet Canyon area in Teton Park on June 8. Teton Park rescuers and family have conducted intensive, ongoing searches in the park's mountainous terrain but have come up empty.
Later in the summer a 46-year-old visitor from Texas, Robert Lowery, was reported missing, last seen Aug. 19 in Wilson. National publicity that he was missing led to a tip from another tourist that Lowery had been seen hiking around that date on the Black Canyon Trail on Teton Pass. After the tip was received, Search and Rescue scoured the area and found his remains on Sept. 28. His death was ruled a suicide.
The fact that the 2020 Jackson Hole missing cases were so high-profile was jarring for neighboring Native American populations. Members of a newly formed Missing and Murdered Indigenous People coalition on the Fort Hall Reservation spoke to the News&Guide in person about the many unsolved cases that have brought tragedy and sorrow in their community. A report submitted to the Idaho Legislature in September found that a disproportionate percentage of Idaho's missing persons are identified as Indigenous, as much as 2.1 times their proportion of the population.
4. Housing crisis balloons
Two summers after the COVID-19 pandemic hit, any fear that fallout from the virus would dampen Jackson Hole's real estate industry had evaporated.
Driven by the usual culprits — social problems and high taxes elsewhere and the lure of mountain living — as well as some new stressors (like the COVID-19 pandemic) and workers' newfound ability to work a big city job remotely, demand for homes in the valley skyrocketed. So did prices, with the average single-family home going for over $4 million in September.
That acceleration exacerbated one of the valley's most pernicious problems: housing.
"It took off, and it's left locals behind," Realtor David Viehman of Engel&Volkers said of the market. "It was already hard, but it's impossible now."
By midsummer Jackson Hole was facing a housing crisis for local workers. That's not necessarily new to the valley. Housing here has always been a challenge. But the severity was acute, with people being displaced or forced to look for much more expensive places to live.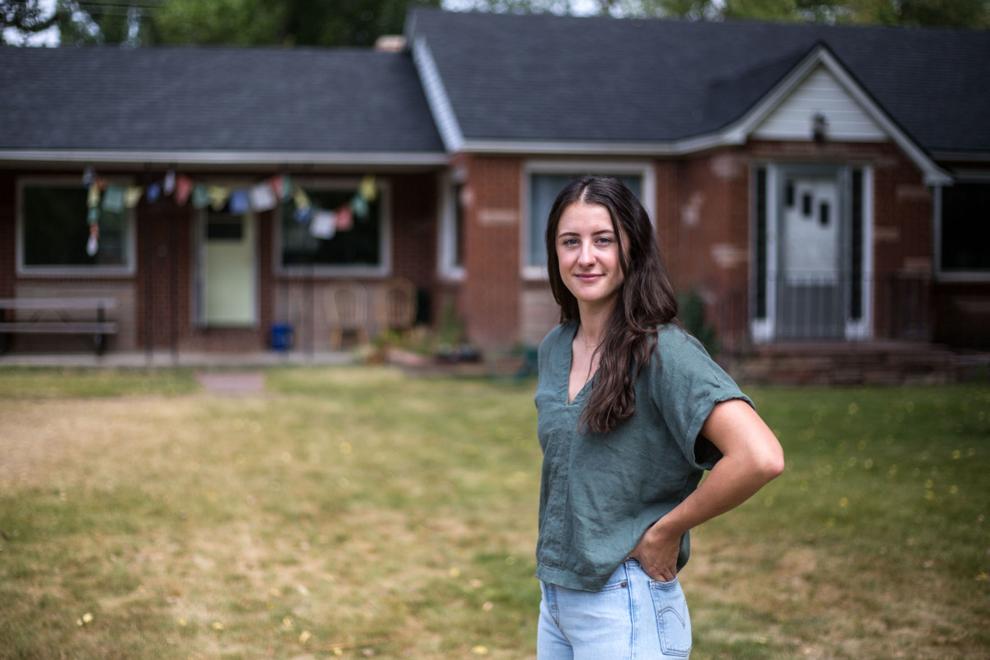 Some renters saw monthly costs more than double, in one case spiking from $3,200 to $6,000 for a three-bedroom house after a lease expired. Other renters saw the place they lived sold out from under them and needed to find a new place to live, only to find increasingly limited supply. And local workers who wanted to buy a home saw that dream grow further out of reach.
Bedroom communities like Victor and Driggs, Idaho, experienced housing crises of their own. Businesses in the greater Teton area struggled to hire and retain staff, residents reported housing-driven mental health problems, and, then, in September, the Blair Place apartments sold, sparking fears of rent hikes.
Amid all of the housing-caused malaise, there were efforts to address it.
Locals organized to save some historic homes in town from falling to luxury condominiums. Though they're expensive, the Sagebrush Apartments came online. Other developers also eyed new projects, pairing them with commercial development in downtown. And town and county officials agreed to spend $13 million to build new housing and develop new programs aimed at giving more local workers a place to live.
Though Realtors and some elected officials disagree on its merits, a county-option real estate transfer tax, which would function much like a sales tax on Teton County's $2 billion-plus real estate market, passed out of legislative committee for the first time.
5. Record sales, record airport enplanements, record park visitors
Monthly visitation records were repeatedly smashed in Jackson Hole throughout 2021, as crowds and traffic jams became a local equivalent of talking about the weather.
From January through September, Grand Teton National Park hosted 3,493,937 recreational visits, outpacing the most recent record of 3,491,151 set in 2018. Increased visitation tracked a similar rise in Yellowstone, where breaking records hit a milestone as the national park counted more than 4 million visitors by the end of September for the first time in history.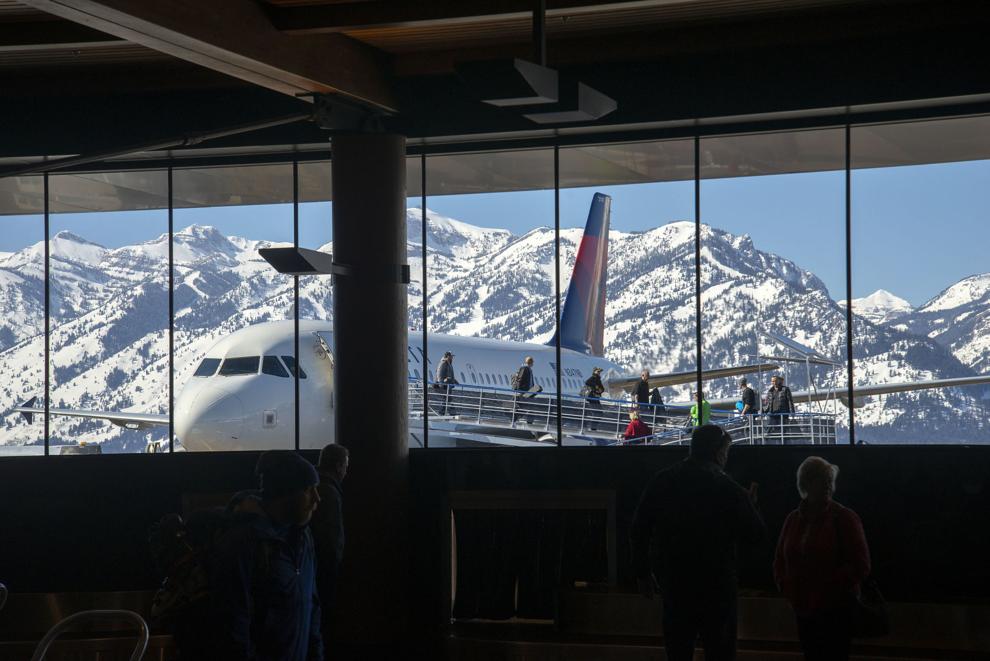 "Never in Yellowstone's history have we seen such substantial visitation increases in such a short amount of time," Superintendent Cam Sholly said.
Both Grand Teton and Yellowstone are investigating ways to handle the crowds while preserving the parks and the visitor experience.
How did many visitors arrive? By plane of course.
Jackson Hole Airport anticipated having its busiest year to date, with more than 500,000 annual passengers expected to depart by plane by Dec. 31.
Despite ongoing concerns over a lack of affordability and deepening congestion, there were bright spots. The town of Jackson and Teton County received a striking sales tax report, with the county's overall taxable sales totaling over $2.1 billion, an all-time record and the third month in a row that sales have broken the $2 billion mark.
6. COVID-19 pandemic continues
Headlines painted an encouraging picture of the COVID-19 pandemic in Jackson Hole at the outset of 2021, as clinics successfully managed to deliver vaccines to priority groups. But as months passed, worries took hold anew as more contagious variants emerged and cases spiked.
In January 2021, health care workers were all smiles at vaccine clinics, where the movement of patients was, for the most part, a model of efficiency.
"We've been able to distribute and deliver the vaccine to people as soon as we've had it," Teton District Health Officer Dr. Travis Riddell said.
Progress was light-years better than across the rest of Wyoming and the nation. A variant was believed to be more contagious than earlier strains of COVID-19 but not thought to be more deadly.
Health officials repeated their plea for people to gather only with household members, although case numbers continued to rise. Teton County saw 413 new COVID-19 cases in just two weeks, and it counted 273 active cases in Jackson Hole.
Teton County proceeded to tighten its rules even as the state loosened its health orders.
A 10 p.m. closure was mandated for bars and restaurants, while indoor fitness classes were limited to 10 people. Indoor gatherings were similarly limited to 10 people, or 25% of a venue's capacity. Outdoor gatherings were capped at 50% of a venue's capacity or 250 people.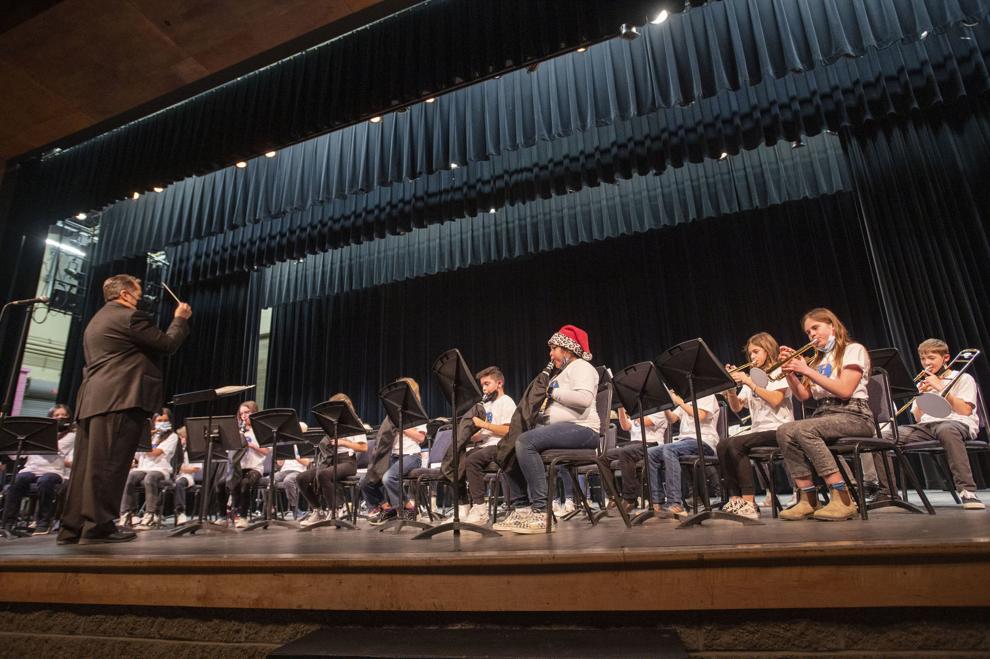 Through the summer, the Health Department continued to ask residents to practice COVID-19 preventive measures like wearing a dry, double-layer fabric mask over the nose and mouth, maintaining a distance of 6 feet or more from others outside of one's household, washing hands regularly with soap and water and staying home when sick.
But the debate over masks continued to roil the community throughout the year, particularly as school began in the fall of 2021. School board trustees found themselves on the precipice of a decision almost guaranteed to generate backlash, and they ultimately decided to mandate masks. A few months later, as students entered 2022, masks became optional in Teton County School District No. 1 as the omicron variant continued to spread easily, even among vaccinated individuals.
7. Hospital CEO abruptly departs
After just under six months as CEO of St. John's Health, Will Wagnon provided no reason for his abrupt resignation in July. "This is obviously not an ideal development coming at a time when the delta variant of COVID is rising in Teton County and cases are on the increase," Trustee Joe Albright said at the time.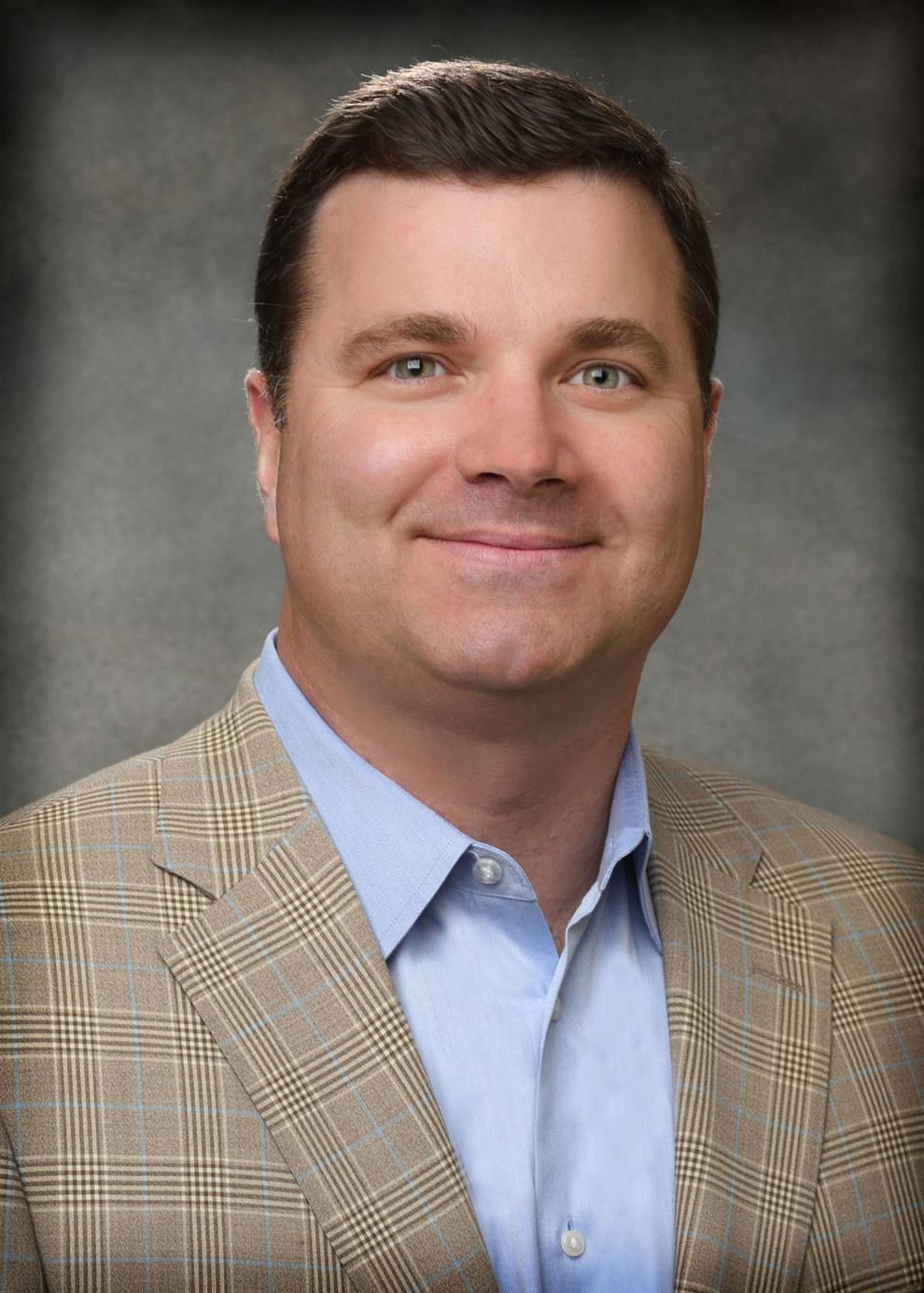 The hospital board's chair, Sue Critzer, said Wagnon left under a section of his contract that allowed him to resign with "good cause."
Wagnon departed with a severance package totaling over $1 million, leaving a sour taste in many people's mouths. On social media, residents called his departing pay a "golden parachute," "unethical" and "disgusting." Former St. John's nurse anesthetist Molly Breslin had similar feelings.
"Our hospital administration and board and consultants saw fit to write a contract for this gentleman and allowed him to walk out of our community with $1.5 million after six months," she said. "That's just not acceptable."
The former CEO didn't respond to multiple requests for comment.
A News&Guide investigation into hospital CEO contracts in December found the clause that granted Wagnon a severance package for resigning with cause is not a common feature in executive agreements.
8. National politics come to valley
National politics came home to roost in Teton County, first when Rep. Liz Cheney, a West Bank homeowner who serves as Wyoming's lone voice in the U.S. House of Representatives, cast a vote in favor of impeaching President Donald Trump for a second time.
It did so again when Jackson Hole Mountain Resort co-owners Jay and Karen Kemmerer decided to co-host a far-right fundraiser headlined by former Trump Chief of Staff Mark Meadows and Republican U.S. House Reps. Jim Jordan and Marjorie Taylor Greene.
Cheney's vote, which she called a "vote of conscience," came after the Jan. 6 attack on the U.S. Capitol, during which a pro-Trump mob stormed the building as lawmakers gathered to certify President Joe Biden's electoral college victory. Cheney blamed the violence on Trump, who urged his supporters to go to the Capitol and falsely claimed that he had won the election.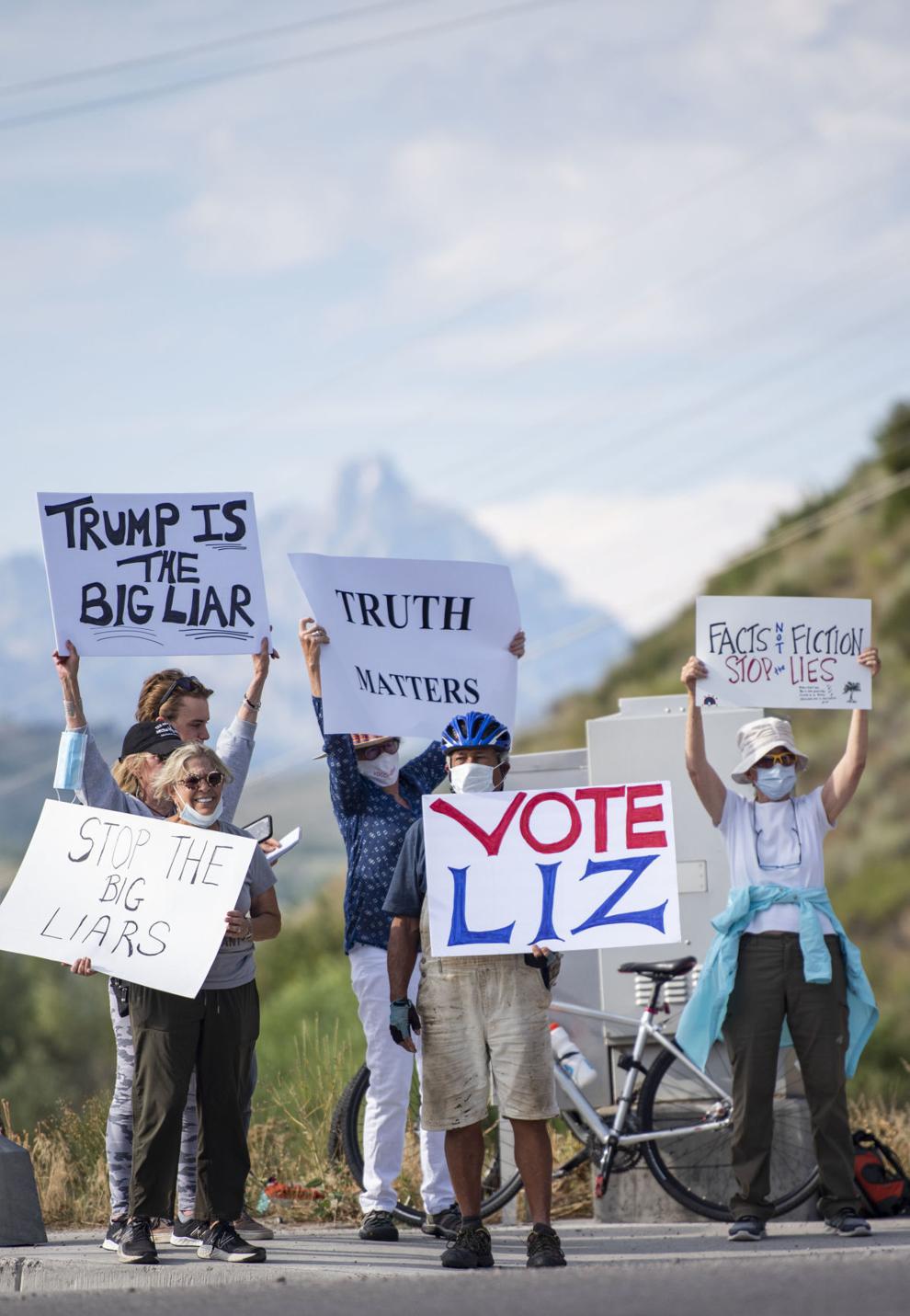 The Wyoming congresswoman joined 222 Democratic and nine other Republican representatives in voting to impeach Trump for "incitement of insurrection."
But her vote cost her a leadership position in the U.S. House GOP leadership, something some Jacksonites saw as a tragedy and others as a deserved punishment for her vote.
"I think the Republicans are shooting themselves in the foot," valley resident Kamaya Cohen said. "I think they are very short-sighted. I think they're selling their soul to the devil."
In Wyoming, and in Teton County, Cheney's vote had repercussions.
It spurred a heated effort to "primary" Cheney in the 2022 elections, and the incumbent's Trump-annointed challenger, Harriet Hageman, met with Jacksonites in October. Cheney hasn't yet met with local voters. One Republican official called the 2022 primary "hers to lose."
The Wyoming Republican Party also voted to censure Cheney and later voted to no longer recognize her as a Republican. In both cases, Teton County GOP members voted in Cheney's favor, but there was consternation in the local party over those decisions. Some wished local leaders had taken the statewide party's tack.
And then, amid all the hubbub about Cheney, the Kemmerers' name appeared on invitations as co-hosts for the fundraiser for the House Freedom Fund. All three ultra-conservative pols were invited because they were members or have been members of the House Freedom Caucus, a group of the U.S. House of Representatives' most conservative members.
Jacksonites protested the event, with some calling for a boycott of the resort and others thinking that would go nowhere. But shortly after, Patagonia made the decision to pull its products from the east Teton ski hill's stores, one direct reputational repercussion for its co-owners' politics.
9. Barbour fights for library board spot
County commissioners reinstated Dail Barbour to the Teton County Library Board after removing her behind closed doors and without notice in November 2020. Barbour crowdfunded $10,000 and filed a lawsuit against the county, alleging that commissioners' action broke the law and denied her due process.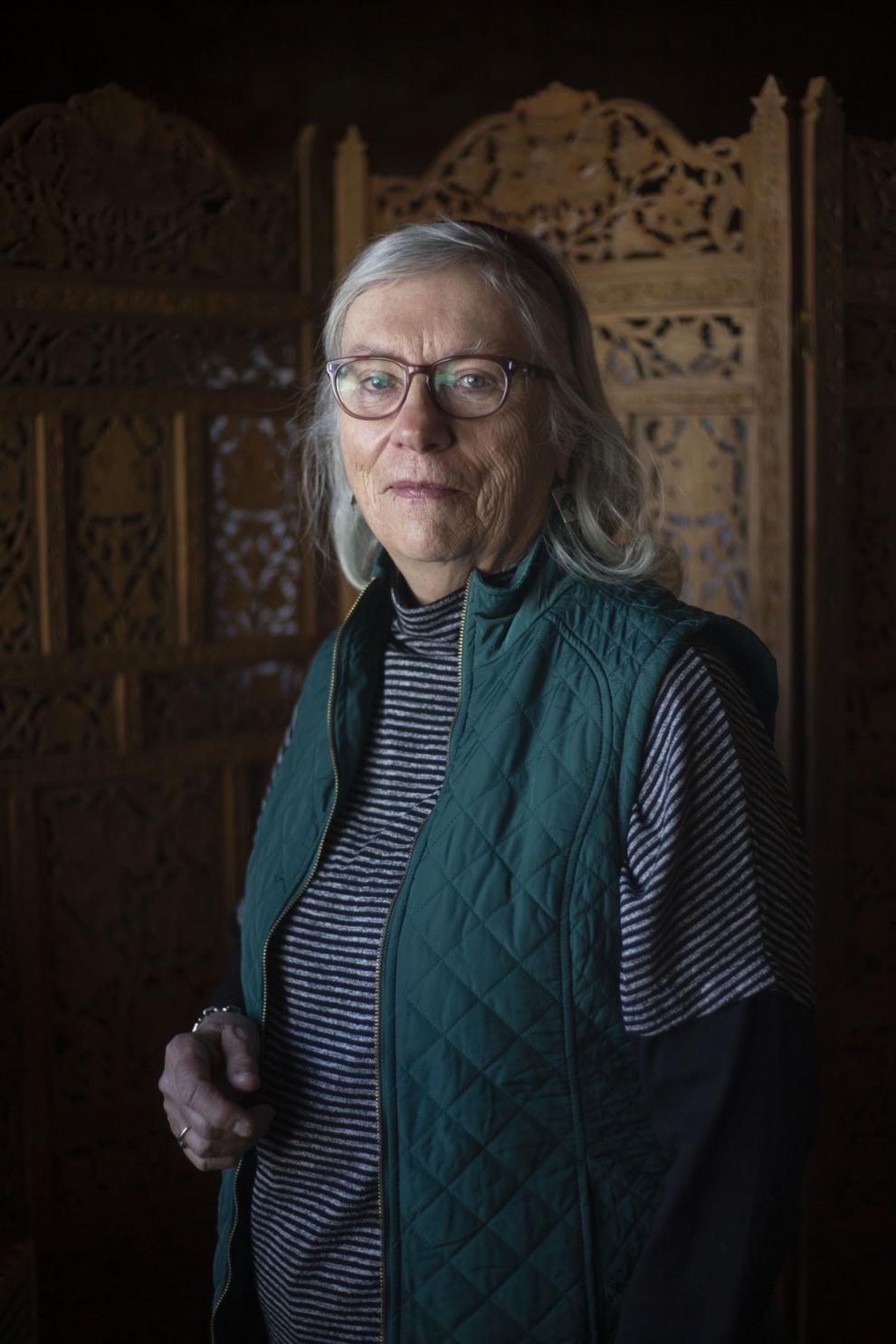 She also alleged that library board members Peter Stalker and Mark Hendrickson complained about her during the closed 2020 meeting, though she was given no notice of the meeting and no opportunity to defend herself. Some county commissioners said a majority of the library board had threatened to resign if Barbour wasn't removed, alleging that she created a "toxic environment."
But Barbour maintained, as she had since the fall prior, that wasn't the case. She said she and the other library board members had simply disagreed.
Commissioners settled, agreeing to pay Barbour's legal fees.
Barbour was a county commissioner in the early '90s and was a county employee for 22 years afterward, serving as Teton County Library's facilities manager. She said suing the government she helped direct and later worked for "wasn't a good feeling."
"On the other hand," she said, "it's something I did care about. I worked in it for a long time, both being an employee and an elected official, and so you want it to be the best it can be."
The library has come under scrutiny as former employees and others have alleged county overreach into library affairs. The library has gone through seven directors since 2015. Staffers told the News&Guide in 2020 the turnover was evidence of a "toxic work environment" that devalues front-line library workers and pushes out those in leadership roles.
Former library Director Besty Bernfeld chalked the perception of overreach up to the library board's decision to cede some of its roles to the county.
"There should be a separation there between the library and the county, and that is the responsibility of a library board," she told the News&Guide. "The library system is set up that way so that there is a separation, so that the public, the private citizens, control the library more than the political county government."
10. The changing face of Jackson Hole
Frank Londy sold Jackson Hole Twin Cinema and then Movieworks to Ted Staryk, Noa Staryk, Tyler Davis and Joe Rice. Londy opened the Twin in 1977, the same year "Star Wars: A New Hope" debuted. "It was my baby," Londy said of the Twin. "No question about it." Londy lost a battle with non-smoker's lung cancer on Dec. 22.
Teton County legends the Bar J Wranglers said goodbye in September as the property they played on for decades sold and some of the group's members contemplated retirement. For one last hurrah from the Chuckwagon, tears were shed, big tin plates of food were served and legendary songs were sung.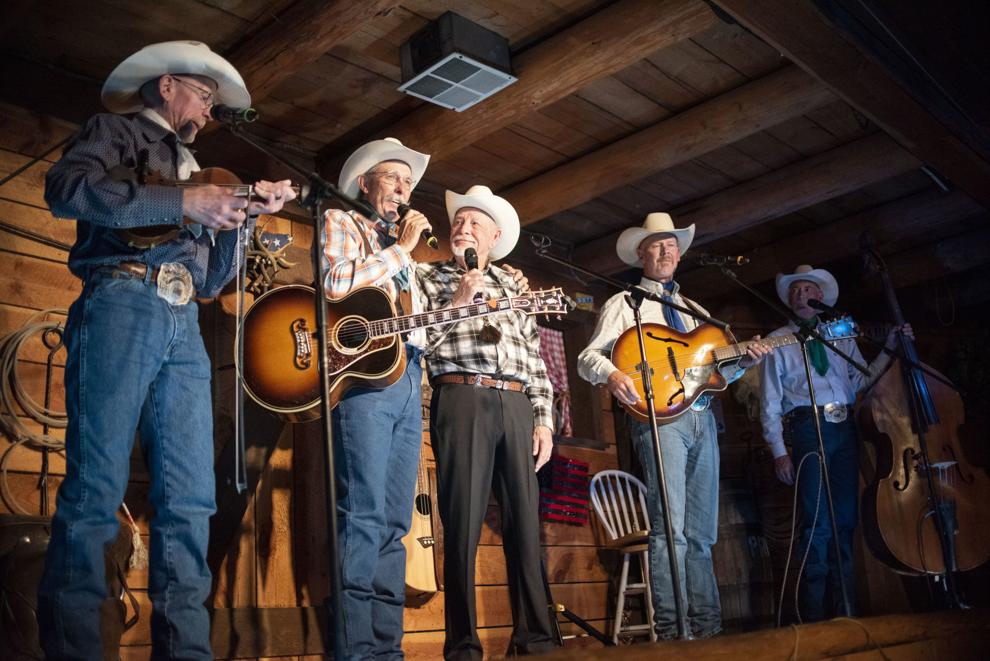 Rising property taxes made operating the Chuckwagon an uphill battle, and the Humphreys, who started the band, said they were ready to take at least a quick break.
At the last show, Cody Lara, a Jackson Hole Fire/EMS staff member who washed dishes and did miscellaneous tasks at the Chuckwagon years before, showed up with his pregnant wife and their kid.
Pat and Kathryn Murray, who had been coming to the Chuckwagon for decades, came as well.
And so did hundreds of others, all of whom walked past the ticket booth, gift shop and train ride to Ronnie Henson, who served tenderfoot lemonade out of the Chuckwagon kitchen and fixed up the property for 22 years.
"We're like a big, happy family," said Henson, who added that he was really sad.
Meanwhile, Snow King Mountain Resort received a signed decision from the Bridger-Teton National Forest authorizing the most extensive overhaul and expansion in the small ski area's 82-year history.
Snow King debuted its newest addition — a high-speed gondola — at the Town Hill on Saturday, Dec. 18, welcoming the public for a free, scenic ride to the peak. The gondola was part of a $20 million construction project that took several years to make possible, and it is the largest project in the mountain's history.