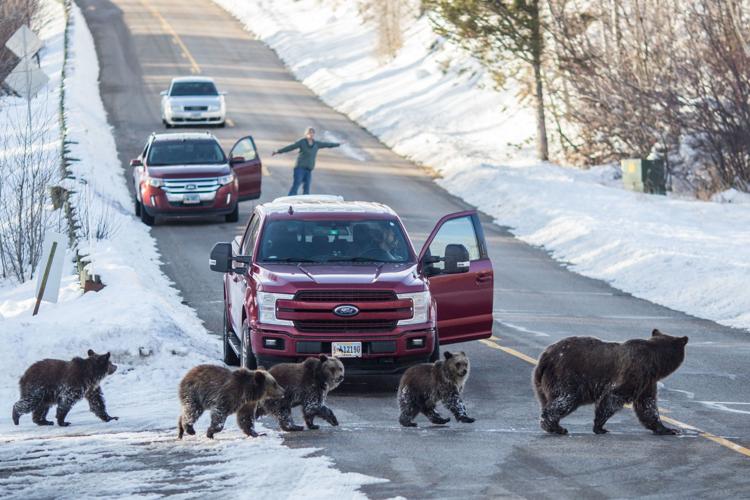 1. Grizzly 399 and crew's big walkabout
Jackson Hole's most well-known wild animal had an awfully eventful 2020. At 24 years of age the sow grizzly known for her predictable and visible travels through Grand Teton National Park emerged from her den with four cubs — a number even younger, more fecund bruins rarely produce.
Then the globally renowned grizzly took her brood to southern Jackson Hole for almost the entire month of November, munching food like a beekeeper's honey and livestock feed.
Rumor has it that the grizzly bear family remains out of the den and are scavenging remains left behind from elk hunts in Grand Teton National Park and the National Elk Refuge.
2. Jackson Police Department is rocked
Controversy rippled through the Jackson Police Department in August, causing some residents to question the culture at the agency. Leadership changes and promises to the community came during and because of the fallout.
An online post set off the wave when then-lieutenant Roger Schultz wrote what many called a flippant and disrespectful "blotter item" on the department's Facebook page. "On August 13, 2020, at 12:26 p.m., we responded to a report of an underage female having sex with an adult," Schultz wrote. "We will be investigating the case to determine if a crime has been committed and if we can prove that crime. You would think having sex with an underage juvenile would always be a crime. Not necessarily. There are a number of factors involved in deciding whether to file charges to include the age of those involved. Fortunately, determining the age difference of those involved doesn't involve complex math, so we should be able to figure it out without too much trouble. Just as long as we have coffee and donuts (the ones with the little sprinkles on top) to get us through."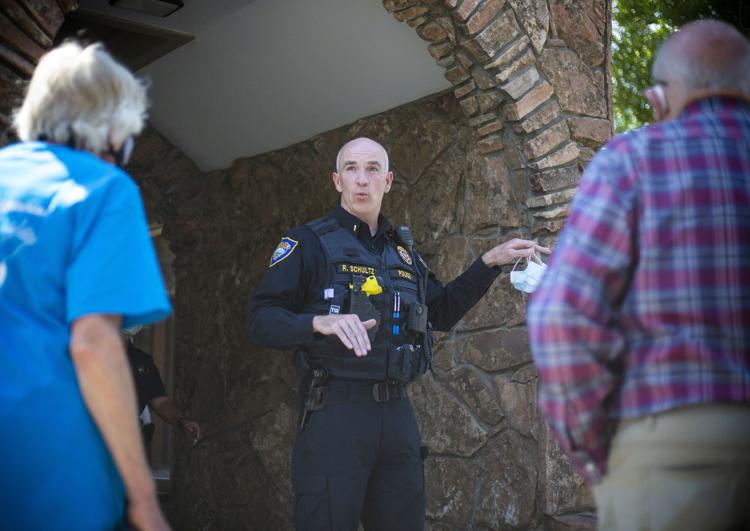 The post made rounds on social media, the department posted an apology that it later deleted and soon after that the town manager issued an apology, as did interim Chief of Police Michelle Weber.
The controversy came the week of former chief Todd Smith's retirement.
Schultz, who was second in command under Smith, resigned.
Soon after the News&Guide uncovered a lawsuit filed by a former JPD officer who alleged a misogynistic culture at the department. The town of Jackson sued the female officer for leaving before her contract was up.
The officer replied to the lawsuit, saying she was sexually harassed by her colleagues and direct supervisor.
"I could not be there another day," she wrote.
Weber said she's working hard to make changes at the agency.
"These comments were careless and insensitive, and I fully understand that their impact was both far reaching and hurtful to vulnerable members of our community," she said of Schultz's blotter entry in a letter to the community.
Weber, who's been in law enforcement long enough to know what it's like to be the only female in the room, is also focused on gender equality at the department. Today there are seven female officers on patrol.
3. Water quality woes compound
Headlines about water issues during 2020 add ammunition to the argument even protected headwaters in a place like Jackson Hole are susceptible to pollution problems that plague lower and more densely populated areas.
The year started off with news that Flat Creek and Fish Creek were being classified as "impaired" by the state of Wyoming due to unsafe levels of E. coli bacteria. There were also allegations of poor management of the town of Jackson's wastewater treatment plant in order to save energy.
Up in the mountains, environmental regulators were documenting hazardous cyanobacteria blooms in places they never had before, like Upper Jade Lake off Togwotee Pass.
Jackson Hole Airport took steps to address an emerging groundwater pollution threat, of polyfluoroalkyl substances, in drinking water traced to aviation firefighting foam.
Meanwhile effluent violations and enforcement are displacing longtime residents of the Hoback RV Park.
4. Building a neighborhood in northern South Park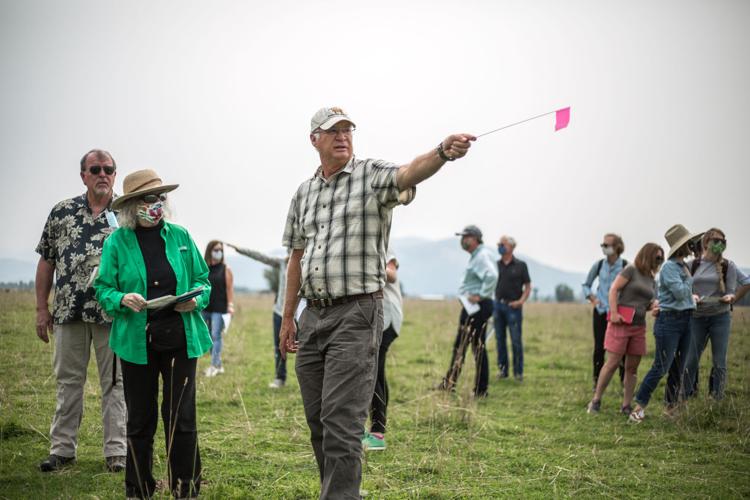 The County Commission voted down a Gill family request to rezone 74 acres in northern South Park for a 300-plus lot housing development. Instead, commissioners decided to require a neighborhood plan — an approach endorsed by the Lockhart family, which is also eyeing future development of neighboring ranch lands. The Gill proposal called for 65% of the lots, about 200, to be deed restricted in some way for the local workforce. Thirty or 40 would have gone to Habitat for Humanity of the Greater Teton Area, and later another 50 lots were earmarked for the Jackson Hole Community Housing Trust. Still critics worried about the overall afforability of the homes. Ultimately, the project was shelved until a neighborhood plan, now underway, is complete.
5. First Teton Park elk discovered with CWD
Lethal chronic wasting disease has been discovered for the first time in an elk that dwells in the region of the state where the ungulates concentrate most tightly on winter feedgrounds.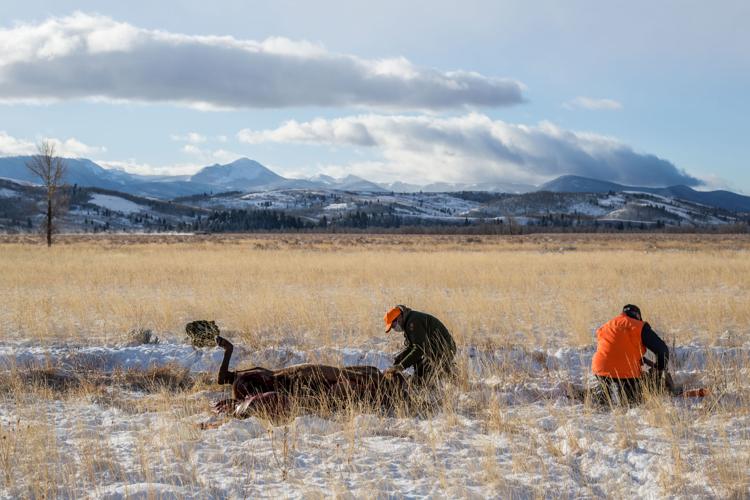 The dire confirmation of a prion disease among the ranks of feedground elk comes from a cow killed just a few miles from where alfalfa pellets are lined out on the National Elk Refuge.
Little is changing to the feedgrounds in the near future as a result of the detection, and now begins a new era of management of the Jackson Elk Herd, which could be knocked down in number as a result of the incurable disease.
6. Library director leaves, board member is dismissed
Teton County Library had a summer of upheaval. Oscar Gittemeier was hired to take the director role after a pair of interim heads filled the gap after Dawn Jenkin left in late 2019. Staff and board members alike were excited about his hiring, but just three months after he took the job he left, though library board and county officials have refused to say whether he was fired or quit.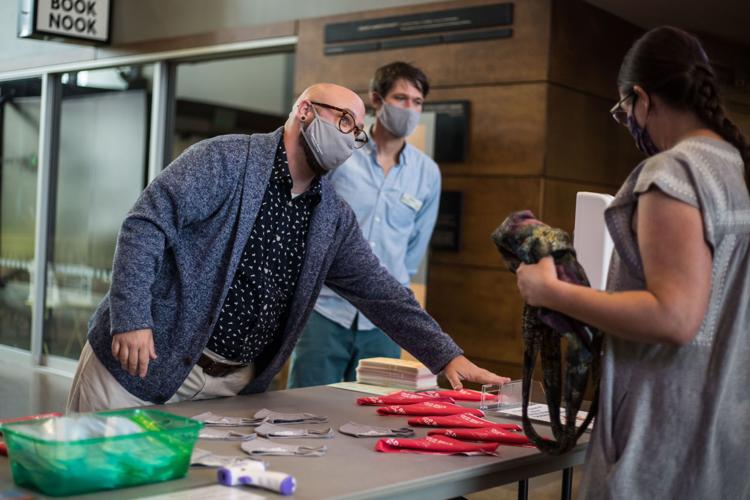 Soon after Gittemeier left his post, library board member Dail Barbour was dismissed from her role by the Teton County Board of County Commissioners in an executive session. Barbour has sued to be put back on the library board, and since the upheaval began a multitude of former staff members and community members have come forward to allege mismanagement by the library board and illegal involvement on the part of county employees in library affairs.
Snow King Mountain Resort made repeated headlines throughout 2020 as it won initial approvals to stretch its boundary and overhaul infrastructure on the Bridger-Teton National Forest and within the town of Jackson.
The ski area came to the Jackson Town Council and forest asking for a gondola, a series of summit-to-base zip lines, summit buildings, new lifts and more. Lengthy planning documents were produced and there were months of back-and-forth discussions, but ultimately "the Town Hill" got everything it asked for.
Meanwhile, Grand Targhee Resort is starting along a similar renovation and expansion path and has asked the national forest for onslope restaurants, several new lifts and a nearly 50% increase in the 64-year-old ski area's footprint along the west slope of the Tetons.
8. Black Lives Matter protests
Racial justice protests happened all over the country this summer after George Floyd, an unarmed Black man, died while in police custody in Minneapolis. Protesters also took to the streets in Jackson Hole and nearby communities, like Pinedale and Driggs, Idaho. Some of the protests in major cities resulted in violence and property destruction. Most of the protests in the Mountain West were peaceful, though armed counter- protesters did show up to some of the demonstrations, like in Pinedale.
A June Black Lives Matter demonstration was one of the biggest to ever take place on Jackson's Town Square, where protests of all types tend to take place. A News&Guide drone counted more than 700 people kneeling silently for Floyd.
The movement saw the creation of some new activist organizations in Teton County, like Teton People of Color & Allies.
It also sparked community conversations with local police, like the Q&A discussion held at Town Hall in June, where residents asked law enforcement leaders about use of force and police brutality.
9. Sexual assault accusation made against Jackson mayor
During the lead-up to November's general election, a local political activist brought to light a 2018 sexual assault allegation made against Jackson Mayor Pete Muldoon.
Muldoon repeatedly denied the allegations, while his accuser maintains she was assaulted.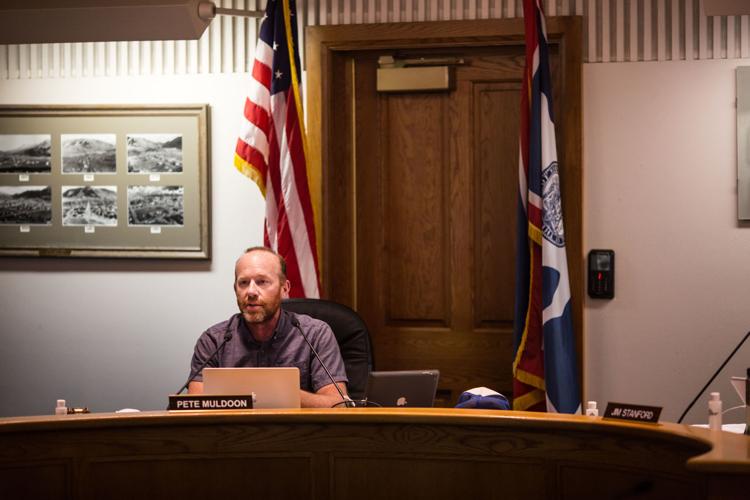 The Wyoming Division of Criminal Investigation conducted a thorough inquiry — the more-than-400-page report was obtained by the News&Guide through an open records request — and no charges were filed against Muldoon. In fact, the report concludes with a one-paragraph letter to DCI signed Jan. 15, 2019, by then-Teton County Chief Deputy Prosecutor Clark Allan.
Allan's letter to DCI states: "I have reviewed your reports on the investigation into sexual assault allegations against [name redacted]. I do not intend to file any charges in the case since there is not sufficient evidence to support prosecution. Furthermore, the preponderance of the evidence supports the conclusion that no crime occurred."
The woman and Muldoon had a relationship before the encounter in which the woman said she was assaulted, and they continued to communicate through text messages for weeks following the woman's report to police that she had been assaulted in July 2018.
Muldoon, who was running for a Town Council seat when the allegations were made public, has said that every aspect of his life was fully examined by law enforcement in 2018, and he called the controversy around the allegations a "political hit job." He was defeated in the Nov. 3 election.
10. Three hot air balloons crash
A severe downdraft over the southern Teton Range on Aug. 3 pushed three hot air balloons violently to the ground, terrifying and injuring the 30-some people on board. Some of the balloon baskets dragged along the ground, and one bucked out the pilot.
Wyoming Balloon Company owner Andy Breffeilh said he was sorry and that it was the first time in his 31 years of piloting visitors that anyone was hurt. His team reads the sky every day before launching.
"It wasn't cloudy when we went out," Breffeilh said, but inclement weather developed as he and his crew set up the balloons.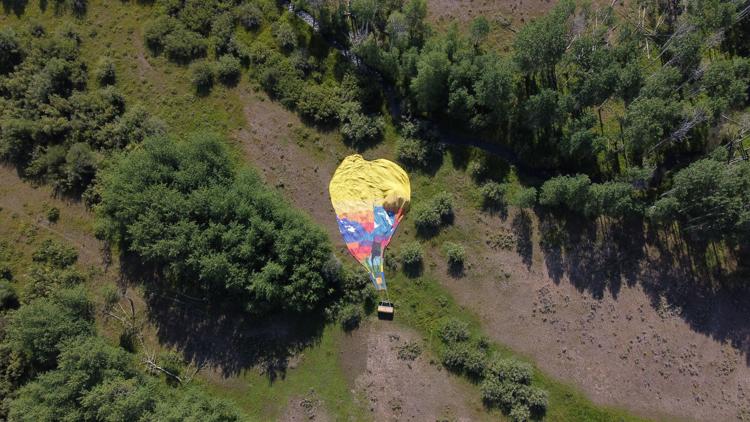 "It was just kind of building over on the backside of the Tetons," he said. "It looked like it was going to go past us like it often does."
Robert Krayevsky, 12, was getting ready to board one of the balloons with his family when he started to be concerned about the darkening sky.
"Before we got on I was saying there were dark clouds and it was windy," Robert said after the crash. "But no one was listening. I don't know why they didn't cancel it."
St. John's spokeswoman Karen Connelly said the 10 people the valley hospital treated primarily had minor lacerations and orthopedic injuries — wrists, shoulders, ankles and the like. One more person was flown to Eastern Idaho Regional Medical Center with more severe injuries.