As we learn more about the novel coronavirus, one thing has become clear: If 80% of us wore face masks in public places, it would halt the spread of the disease.
Instead of taking this simple and cheap step we have shut down our society and are on our way to letting over 100,000 Americans die from this disease. So far, over 33 million Americans have filed for unemployment. The human and economic cost of this pandemic will impair our lives for years to come. We have spent $2.5 trillion on federal bailouts, which does not come close to covering the full cost to our nation.
All of this so we do not have to wear face masks in public places?
Any kind of face mask, even a homemade one, is effective at preventing spread of the disease from an infected person. Unfortunately, about half of those infected spread the disease without knowing it. They have few, if any, symptoms.
Any contagious disease has what is called a reproduction rate, the rate at which infection spreads. When that rate falls below 1.0, that is, when each infected person transmits the disease to fewer to than one other person, the disease dies out.
Ordinary face masks are helpful but less effective at protecting the wearer. This is why we all need to wear face masks. My mask protects you — your mask protects me. The exception to this is expertly fitting N-95 type face masks that protect health care professionals. Mask use in combination with physical distancing is even more powerful.
In places where people are required to wear face masks the disease is under control. For the past six weeks you could not get into a grocery store in Hawaii without wearing a face mask. In a state with 1.3 million residents and a lot of tourists they have never had more than three deaths a day. In the past week they have had zero.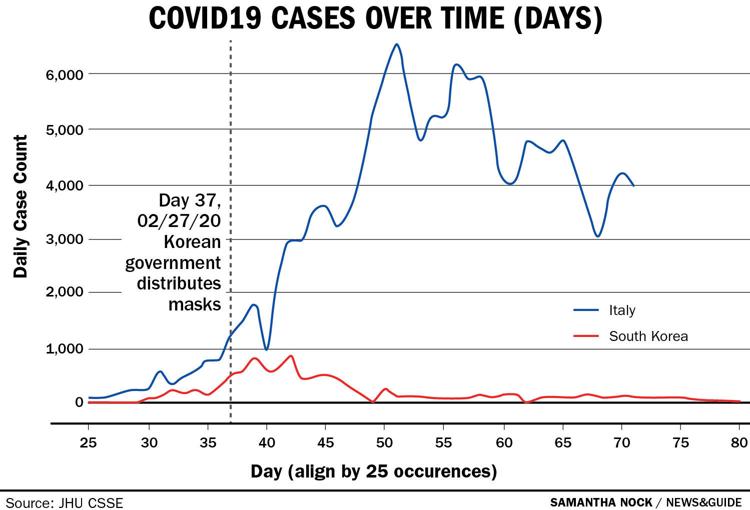 See the graph comparing Italy and South Korea, which are about the same geographic size and population and were infected about the same time. South Korea moved quickly to widespread mask use; Italy did not. South Korea reports no new infections for the past week.
Even more dramatic is a comparison between Austria and Czechoslovakia, similar European countries next to each other. Both started out on a similar infection trajectory, but Czechoslovakia quickly ordered face mask use, limiting spread. Seventeen days later, when Austria ordered face mask use, its disease rate plummeted as well.
The Centers for Disease Control urges Americans to wear face masks in public places. The major airlines now require face mask use for all staff and travelers. About 30 countries, seven states and hundreds of towns require face mask use. Jackson Hole does not.