Few things are more thrilling than solving mysteries and gambling. Do the two always go hand-in-hand? Probably not, but they will at the Art Association of Jackson Hole's 12th annual WhoDunnit? show Thursday.
From 5:30 to 8:30 p.m. partygoers will have the chance to peruse anonymous artwork from Jackson artists. Among 200 pieces there are works from household names like Wendell Field, Travis Walker, Katy Ann Fox and Scott Craighead, to name a few, as well as Art Association staff, members of Community Entry Services, local youth, and more.
"It's just a great representation of Jackson," said Kirsten Corbett, the Art Association's director of marketing and communications.
In January, the association put out canvases of various sizes to anyone interested in creating art for the show. The pieces were donated to the Art Association for the WhoDunnit? sale, with 100 percent of the proceeds benefitting the nonprofit.
"We have a lot of really generous artists who contribute every year," Corbett said.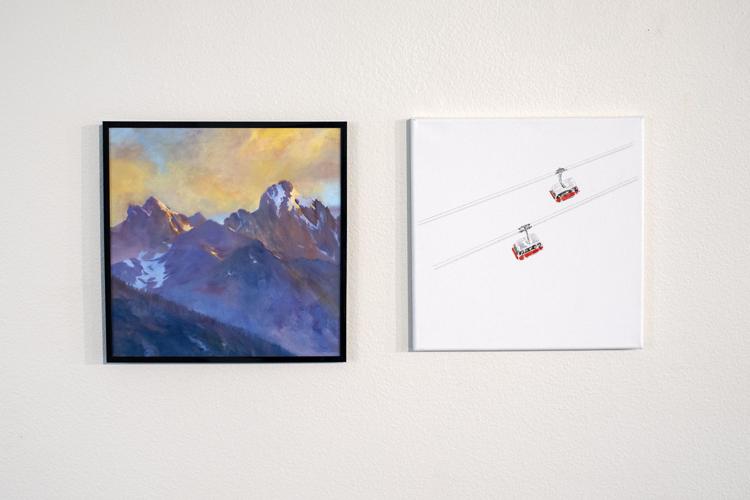 One of those artists is Jennifer Hoffman. She just started working at the Art Association as the manager of student and retail services in May, but the Art Association has been a part of her Jackson experience since the first summer she moved here 23 years ago.
"When I first moved here, I came to a figure drawing session at the old location on Pearl Street, so I've been doing stuff with the Art Association practically since the day I got here," Hoffman said. "It's been an important part of my life in Jackson, and it's awesome to be able to give back."
Artworks sized 6-by-6 and 12-by-12 inches will be sold at the fixed prices of $99 and $299 based on a dice throw: Once 12 people sign up to purchase each piece, a 12-sided dice will be rolled to determine the lucky buyer.
Artworks sized 18-by-18 will be sold during a silent auction, with a starting bid of $499. Jewelry is new to the show this year.
Money raised at the WhoDunnit? show and other fundraisers like the Art Fair and Holiday Bazaar help the Art Association provide subsidized arts education to the Jackson community.
"A lot of people don't know that the classes we offer are 60 percent subsidized," Corbett said. "So when you pay to take a class here, you definitely make a big contribution towards it, but the money that we raise through events and from generous donors really makes a difference."
In previous years WhoDunnit? has raised as much as $30,000 for the nonprofit.
Also new this year is a VIP viewing, happening 30 minutes before doors open to the public. VIP attendees can get a sneak peek of the collection for $100, as well as a champagne toast. General admission costs $25.
"I love that we make art accessible to people," Hoffman said, "whether they're making it, they're getting it for their homes or just getting the chance to see what people in the community are making."