Above-ground trees look like individual organisms, but their roots tell a different story.
Trees are connected by an underground fungal internet of mycorrhizae, a type of fungus that grows in and around tree roots, forming pathways for trees to share resources and communicate. Their relationship — the trees and the fungi — is symbiotic.
Trees trade mycorrhizae sugar for use of their pathways. This complex system, which has been dubbed the "wood wide web," allows older "mother trees" to supply nutrients to younger saplings in their shade, as well as notify other trees to put up defenses when being attacked. When one trees gets sick and dies it passes its remaining nutrients on to its neighbors.
As a result, while forests are made of individual trunks and branches they function as a large, single superorganism. Much like a community.
"For me that was an amazing metaphor for thinking about artistic communities, or social communities, and how people engage with each other," Trevor Amery said. "Instead of being competitive or trying to outdo each other, celebrating each other, lifting each other up."
Amery is the artist behind Consciousness Among the Trees, the newest installation in the courtyard at the Center for the Arts.
Working in multiple mediums, but primarily carved wood and found firewood, Amery explores how people come together and influence one another through their experiences with nature.
Amery grew up near the woods in Upstate New York, but it wasn't until a fateful and expensive turn of events that he pledged his career to this fundamental medium.
After he graduated as a painting major from the Maryland Institute College of Art he worked as an admissions officer for his alma mater.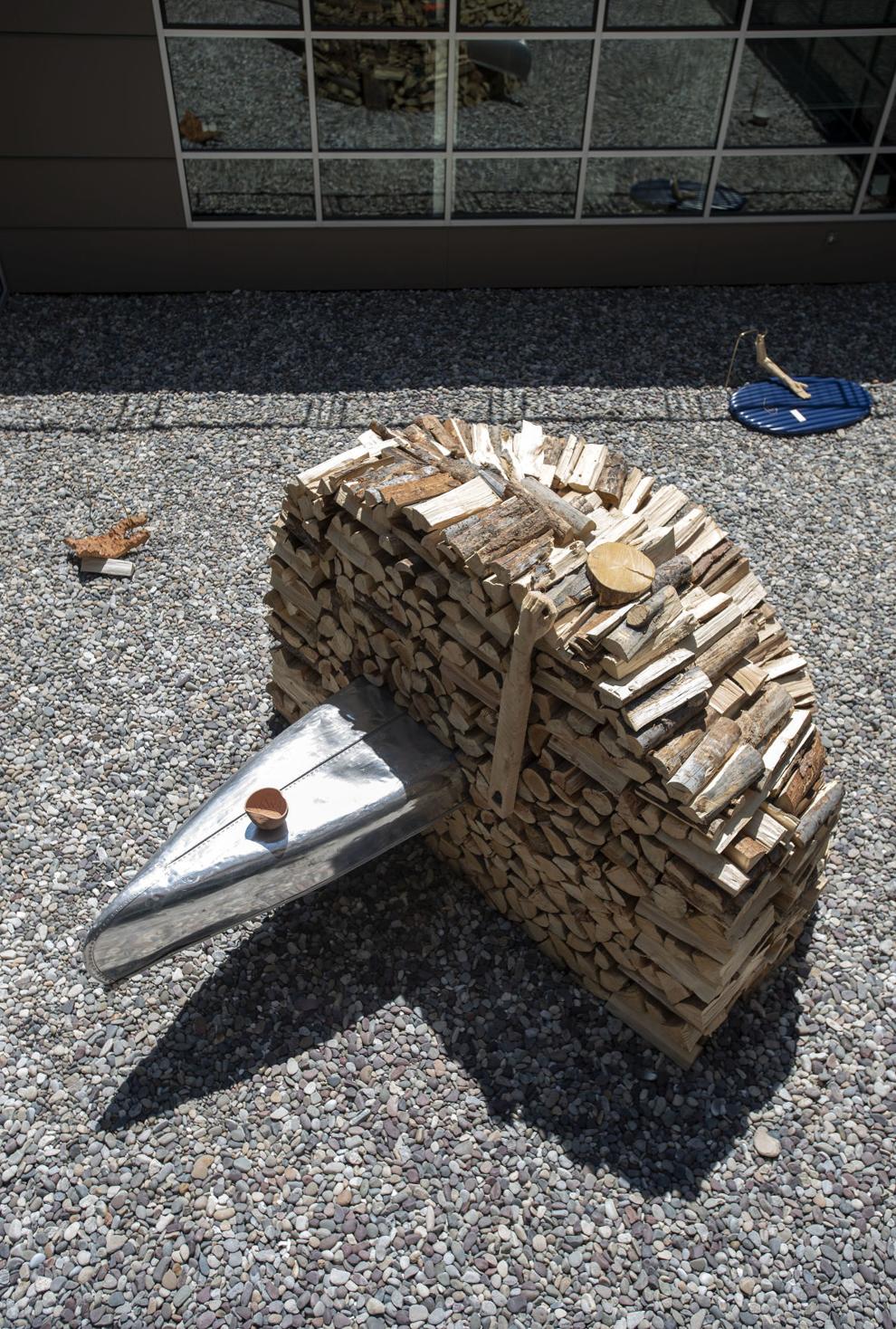 "I was tired of telling kids to take risks when I wasn't," Amery said. "Painting was feeling too safe for me, plus I couldn't focus on my art while working so much."
In 2011 he applied and was accepted to the Arteles Creative Center residency in Hameenkyro, Finland, where he hoped to paint and reconnect with himself as an artist.
But, on his way over, customs agents confiscated his paints.
"I wasn't about to buy new oil paints in the most expensive country in the European Union," he said.
And so, feeling a little lost, he took to bicycling around the Finnish countryside to get his bearings.
In Finland there is an unspoken competition between neighbors about who can build the most elaborate firewood stack. Wood and forests are very important to their Nordic culture.
Paintless and inspired by the countryside, Amery started chopping, carving and creating installations out of wood.
During his latest trip to Jackson he gave a talk in July inside his newest studio, the Center for the Arts courtyard, where he was creating his installation. With temperatures rising to 82 degrees outside, the all-glass courtyard felt closer to 90 degrees.
"I think I'm done for today," Amery said. "I'm getting to the point where I think I may need more firewood."
Amery had spent the week first collecting firewood in Curtis Canyon and sculpting in the Art Association's ceramics lab. Then he installed his collection of found and created objects inside the courtyard a few days before his opening reception Friday.
That meant chopping wood — broad ax and all — inside the 30-by-30-foot glass-enclosed space.
"It's not lost on us that that's what you've been doing in here for the last week," Carrie Richer said, underscoring the performance element that runs through Amery's work.
Richer is the creative initiatives coordinator for the Center. She recruited Amery for the courtyard installation, a project pursued in coordination with Teton ArtLab.
"We really try to make it so the art makes sense with the site," Richer said. "And Trevor's work lent itself very well to the courtyard. The process, the fact that it's in a fishbowl-like space — it's a spectacle."
Performance — but perhaps more aptly, experience — is integral to Amery's work. His work explores the history of objects, not just how they relate to places but also how they relate to people.
"I look at the history of the objects I collect," Amery said. "Yes, I'm splitting all this wood, but I also got to go into the woods with Brett [Richer's husband] and Andy [Kincaid] and cut down trees. I've never felled a tree, so that was an awesome opportunity to have.
"But then to spend time in the woods and foster those friendships. All that wood now has its own history."
And even after the installation, the wood — weathered by the Wyoming elements in the open air courtyard — will continue to live on and add to a new history. When the installation is dismantled in October the wood will go to local artists to heat their homes this winter.
"I like to think a lot about how sculptures are not dead objects," Amery said. "That it's not this static, perfect thing that doesn't evolve or change.
"I think sculptures should be a lot more of a living thing," he said. "They have a continual relationship to a lot of different people and history."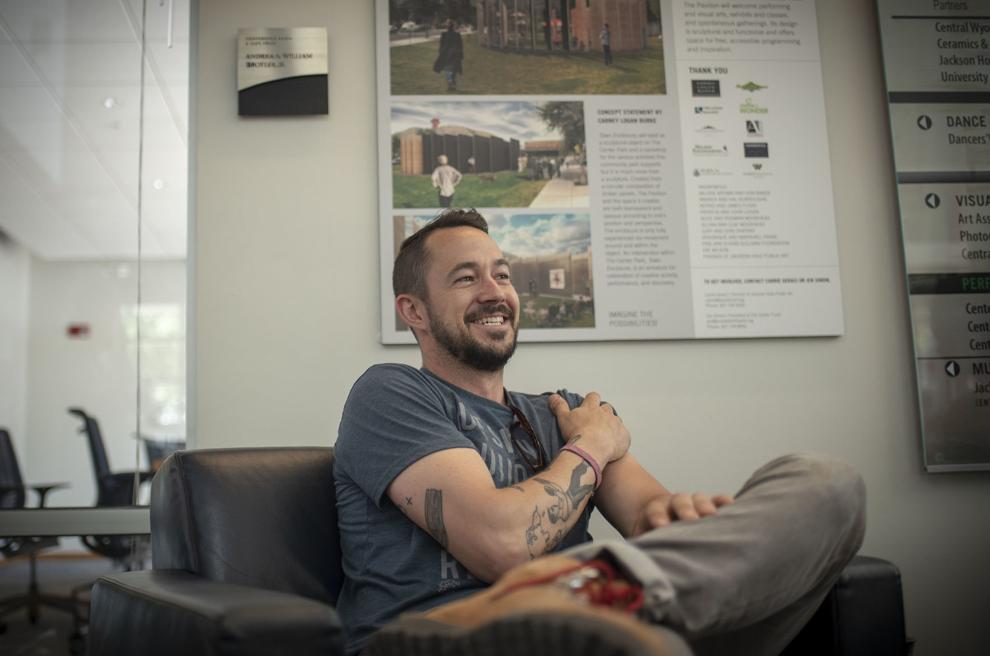 When Amery came to Jackson last summer he was given free rein as a resident at Teton Artlab to do whatever he wanted and needed to do as an artist that month, whether that was making a bunch of stuff or simply going on a ton of hikes.
"A lot of what goes into art can be really invisible," Amery said.
While a lot of people see a finished project and think that's the "art," for Amery the final display is only part of it.
His "finished" installation in the Center's courtyard emphasizes the importance of that process by including unfinished objects that explore the balance between the raw and refined.
He has a personal relationship with, and story about, each of the objects he used in his installation, which includes a collection of unfired ceramic pots; a gold chain he found on the ground in Omaha, Nebraska; various carved wooden sculptures; water from a glacier in Alaska; vintage life jackets, and — perhaps the most central piece besides the firewood — a half-restored canoe that belongs to Willi Brooks, the front of house manager at the Center.
Amery's compilation of found objects, steeped in personal histories, some raw and unfinished, others polished and refined, exposes the often invisible underground process of making art.
For him the connections between person and place, artist and environment eclipse the significance of any sense of "completed" work.
Which is why, he said, "Yeah, I don't like pedestals. ... It's a personal thing."
Though based in San Diego, where he went for graduate school, Amery is a traveling artist.
Since 2011 he has taken artist residencies in Finland, New York, Miami, Hungary, Mexico, Omaha and, last summer, in Jackson as part of the Artlab residency program.
For the third year in a row the Center for the Arts has worked in collaboration with the Teton Artlab to invite a past resident to return to Jackson and create a unique piece for the courtyard as an extension of his or her work from the previous year.
"He really connected with our community," Richer said, explaining why Amery was chosen for the courtyard project. "He incorporated a lot of artists that live here into his work and vice versa."
For Richer as well as the Artlab those residencies are meant to "infuse the local art scene with new ideas," as well as build lasting relationships that connect Jackson with a global community of artists.
Last summer Amery extended his time in Jackson past his monthlong residency to assist with Matthew Day Jackson, Camille Obering and Andy Kincaid's exhibition, Observatories, at the Center. As Kincaid describes it, Amery introduced himself one day while they were working on the installation and offered to help.
"He was incredibly generous with time and labor," Kincaid said.
When Amery returned a year later, Kincaid helped him collect firewood for his project at the Center.
Amery's modus operandi when he visits a new place is to experiment a ton and "hopefully find cool people to hang out with."
Seven years and eight residencies later, Amery's experience in Finland is still central to his work.
"Firewood for me is the symbol of conviviality," he said.
"In Finland [around wood is] where people gather in a lot of different ways," he said. "They are not the most social people. We fill air with our voices a lot. There they just sit together in silence a lot. But then it's funny. When you get into the sauna, they're all Chatty Cathys."
The opposite is true of saunas in America.
"In the states when you go into a sauna, it's like a library," Amery said. "You can't talk."
Amery is enamored with how firewood fulfills multiple functions for different people. On one hand it fulfills the base need for the body to have heat. When the firewood from his installation goes to the homes of artists in the Tetons it will serve that purpose.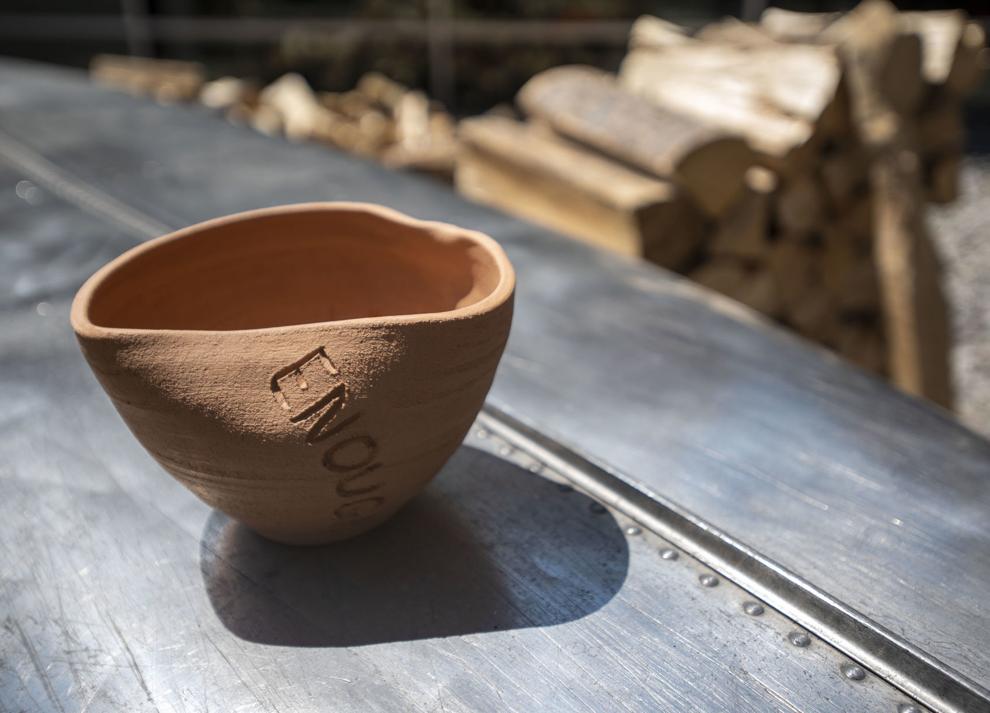 But firewood also creates a social space.
"It's the original technology for hanging out," Amery said.
While in Finland that may be in a sauna, in the United States, and Jackson in particular, perhaps the most preferred form of social gathering comes from a different fire-powered experience: sitting around a campfire.
The campfire experience is one Amery has shared with newfound Jackson friends. Amery and his girlfriend, photographer Maha Comianos, camped up on Teton Pass with their friend and collaborator Andy Kincaid. The following morning they woke up, hiked to Ski Lake and jumped in.
When Amery came to Jackson he planted himself and his work deeply and intentionally within the community. His art is far from a personal, isolated experience, which is an impressive feat to maintain when one is constantly uprooting oneself.
It's hard not to draw the connection here back to the "wood wide web" — where individuals are trees, connected through a root system through which they share ideas and support one another.
"My engagement is not just something where I'm dropping in, doing something and then disappearing," Amery said, "but maybe has a little bit more of a lasting effect that engages the community in a better way."