After 35 years, the Fall Arts Festival may look different, but the spirit remains the same.
This week marks the kickoff of the annual fall celebration of Jackson Hole culture, a nearly two-week affair filled with art, artists and the Teton County galleries that promote them every day of the year.
Typically, several thousand people come into town. This year hotels are at around 80% occupancy for this and next weekend.
The Fall Arts Festival is organized by the Jackson Hole Chamber of Commerce and Jackson Hole Gallery Association. Some of its signature events each year include the QuickDraw show and auction.
Some no-go events this year are the Palates and Palettes gallery walk, Sips on the Square and the Art Brunch.
But galleries still will have their open doors, with visiting artists and art-covered walls.
One of the biggest changes this year is at the QuickDraw, which will adopt a coronavirus-fighting virtual component. Participating artists this year will be on the Town Square on Sunday, Sept. 19, and while they will have the usual 90 minutes to create a finished, saleable piece, videographers will be broadcasting the process.
Work produced will be auctioned off virtually starting at 10:30 a.m., and is expected to draw people from all over the world. People can also place bids on artists now even before the QuickDraw if they know they love a particular artist.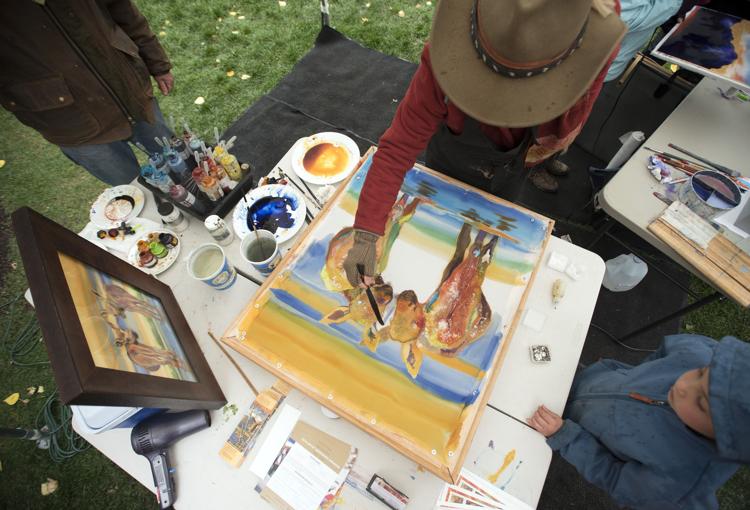 Andi Golwitzer, communications director for the Chamber of Commerce, said most people are expecting a more virtual presence, but there are a lot of in-person events as well.
"While this year's Fall Arts Festival will look different," she said, "it will undoubtedly serve its purpose in celebrating the incredible Western art and culture famous to Jackson."
This week the Fall Arts Festival highlights many of these gallery events. Most galleries are taking reservations and walk-ins, will require face masks and will not be serving food.
The Western Design Conference has switched entirely to digital.
The Art Association of Jackson Hole hosts its Takin' It to the Streets local arts fair from 10 a.m. to 4 p.m. Sunday on the Center for the Arts lawn.
The Western Visions Jewelry and Artisan Sale at the National Museum of Wildlife Art has been canceled, though the museum will remain open for the festival.
And, since so much has changed so fast in the past couple months due to the coronavirus pandemic, updates about Fall Arts events can be found on this page and page 11.