The Jackson Hole Fall Arts Festival's QuickDraw called upon all the elements this weekend: speed, technique, surprise, friendship, the wilds of fall weather, Grizzly 399, The Wort, aesthetic and, most of all, fun.
Artists, observers and bidders alike seemed excited to be on Town Square for the 37th event, where artists are given 90 minutes to complete an original work that then goes straight to the auction block.
"We were here the first week of August and found out about the QuickDraw through touring the art galleries when we bought a piece by Caleb Myer," said Doug Stewart, in town from Peoria, Illinois, and making the rounds at 8:30 a.m. "But our trip was a family trip, so my wife and I decided to come back, just us, for art and some fishing."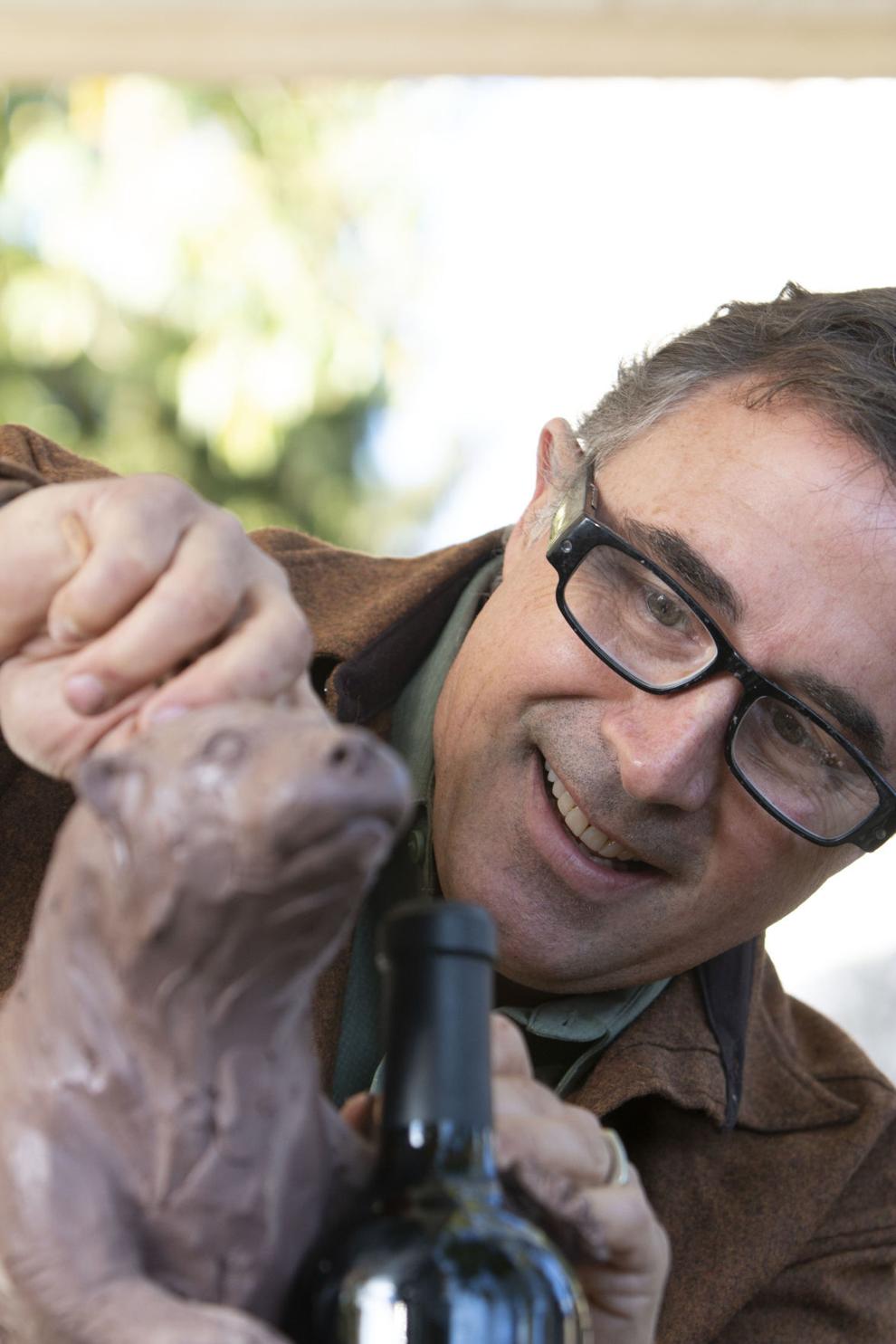 Crowds moved around the pop-up art studios as painters and sculptors took on their materials and prepared for an onslaught of spectators. The QuickDraw is a unique opportunity for artists to answer questions while amid their creative process. Though for some patrons, this year's paint-off was not their first rodeo.
"We have been up six or seven times," said Julie Rawlings, from Salt Lake City, who turned out with her children and husband. Watching first-time participant Gleb Goloubetski, from St. Petersburg, Russia, Rawlings' kids thought his dreamy landscape "very cool."
The morning was a bit nippy, and artists donned gloves and down jackets to work. Sculptor Bryce Pettit, represented by Mountain Trails Gallery, had a heater out for his clay.
"I made a specific request for a power source to keep my clay warm," Pettit said as he worked on Date Night, a pair of screech owls. "One is always an enthusiast for morning events, and the partner is just supportive of the other," he described the couple.
Some first-time spectators visited as well, including a couple from Texas who came specifically to catch Lyn St. Clair and Amy Ringholz in action.
"We saw St. Clair's piece in our friends' house and knew we needed to join the group for art week," Gracie Miller said.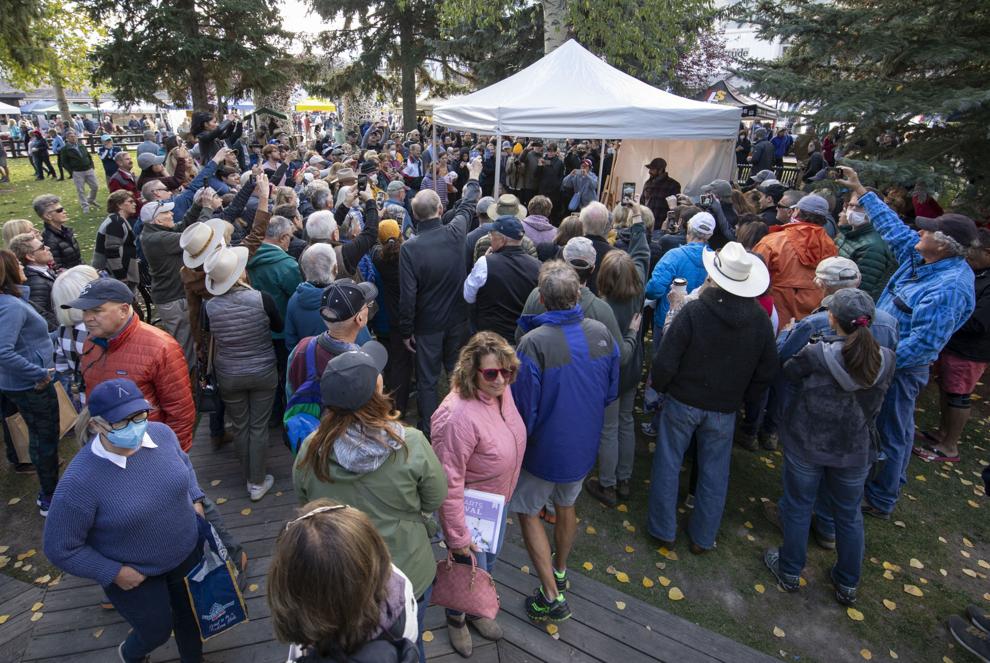 For the artists the day started at 8 a.m., although they were allowed to work on up to 25% of their pieces before the event. The whistle was blown at 9:30 for them to put their tools down, and the artwork was framed, photographed for online bidders and marched across the auction stage beginning promptly at 10:30 a.m.
Unlike your standard auction house experience, the QuickDraw has a casual swagger. There was no shortage of cowboy boots, jokes, mimosas and, with 39 lots, art. From local veterans to first-time visitors, clay to acrylic — and even gunpowder on wood, in the case of Jackson's Danny Shervin — the work celebrated light, wildlife and landscape.
As lots came up, the banter between the artists, auctioneers and crowd picked up. Tate Heinzerling, from Boise, Idaho, returned for his ninth year as the auctioneer for the event. His witty comments and rapid-fire announcing roused bidders (only 100 paddles were sold for in-person attendees this year) and maintained a speedy pace while building momentum.
Art collectors also could bid online — many were on their phones just outside the tent — which made for a fun variable inside the tent, as the mystery bidders helped to raise the ante.
Before work went up for auction, artists shared the impulses behind their work. On two occasions, auction proceeds went back to pet causes. Anecdotes mostly were about appreciation for being able to come together, jokes about being able to finish on time and comments about how important art is.
"The difference between a wildlife painter and a landscape painter is that a wildlife artist would have the bears painted in front of the trees, and a landscape artist would have the bear behind the trees," quipped Jackson's Jim Wilcox, a QuickDraw veteran.
Jennifer Adams introduced her painting "Unleashed," which may have referred to its equine subject, its fantastical setting or both, with an original poem, "Escape," which primed people in the audience to ready their paddles with her description of her horse or her process for rendering it: "Like a wild stallion running free must our souls be unleashed."
The auction brought a few noteworthy sums. Haley Badenhop, a first-time QuickDraw artist, sold her ski-lift perspective for $6,750, while newbie Katherine McNeill's "Aspen Sunrise" brought $7,250. Longtimers St. Clair, Ringholz and Troy Collins did well, as did valley artist Jason Borbet, who is known for his neon landmarks but for this event took a different direction entirely. He jokingly called his spectrum of gray tones across the Teton landscape "sinister" while painting, but said it is a tribute to photographer Ansel Adams. It sold for $11,750.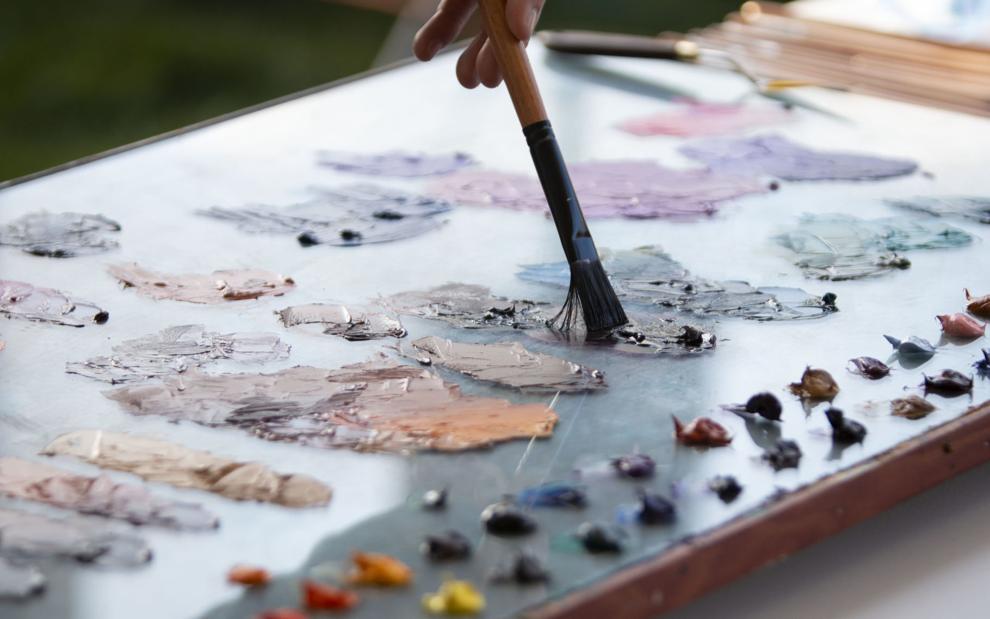 But the big-ticket item was Gary Lynn Roberts' 64-by-48-inch painting featuring cowboys in front of The Wort Hotel, which as this year's Fall Arts Festival featured artwork had a special spot in the auction lineup.
"As an artist, you start with composition and design," Roberts said of his work. "I like to tell a story and emotion."
Roberts said Jackson Hole has always inspired him, but when he first discovered The Wort he felt like he was home.
His painting met expectations the Jackson Hole Chamber of Commerce set, selling for $65,000, and found its permanent home at The Wort for everyone to enjoy.
The event raised a grand total of $279,800, which the chamber splits 50-50 with artists. The chamber's $139,900 will go toward its various free programs throughout the year, such as the Easter Egg Hunt, Santa on the Square and the Town Square lighting.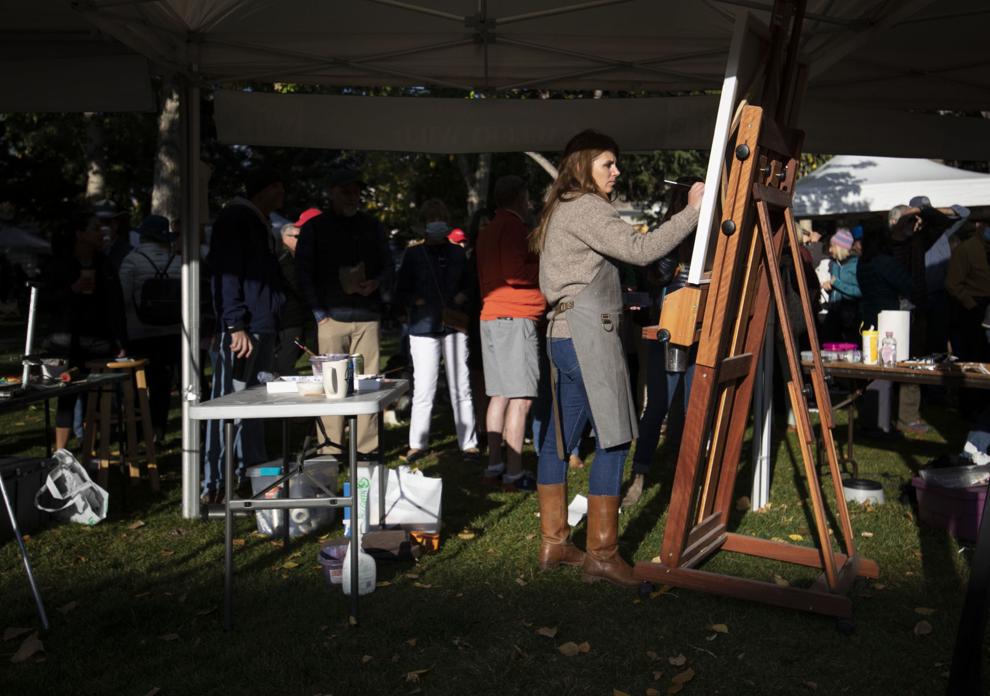 In spite of pandemic-related conditions and limitations on in-person bidding and the challenges of managing a robust online audience, "I would say that we're all really pleased with the results," said Britney Magleby, the chamber's events director. "Our artists and our audience showed excitement, passion and resilience. Art in Jackson Hole is very much alive and thriving, and the Jackson Hole QuickDraw is a true celebration of that."
Completed artworks can be viewed online through the bid link on the chamber's website, JacksonHoleChamber.com.