A little more than a year ago, early in the coronavirus pandemic, when people were beginning to isolate at home, it became clear to artist Kathryn Mapes Turner that in a time when uncertainty permeated everything, people needed art.
"It was art, it was music, it was Netflix, that was getting us through it," the Jackson Hole native artist said. "The world really needed, more than ever, some beauty."
So Turner contacted some of the best floral artists from around the world to paint for an invitational art show called "While we were still ... flowers bloomed."
"It was kind of a call to action," Turner said.
A year later Turner Fine Art is hosting a sequel to that exhibition, "When Flowers Bloom … So Does Hope." The show, featuring a "wonderful bouquet" of 30 paintings, Turner said, opened June 4 and hangs at the North Cache Street gallery through June 25.
Last spring was a time of fear for many people, but also a time of stillness, Turner said, a chance to listen to the birds and appreciate the natural world. For the acclaimed watercolor and oil painter, flowers became a reminder of growth, health and hope.
"When you live in Jackson, the emergence of flowers is so welcome after a long, white, cold winter," she said. "Flowers are such a symbol of new life and new growth and emergence."
This spring, as the community began to reemerge from an unprecedented year, Turner realized people still needed beauty and a reflection of the hope many people were feeling. So she called on the same artists who participated in last year's invitational.
"When Flowers Bloom ..." is meant to not only lift spirits but also bring the work of new artists to Jackson Hole's attention. As in the first show, the 14 participants this year all painted flowers at the same time of year, from their own homes and in their own styles.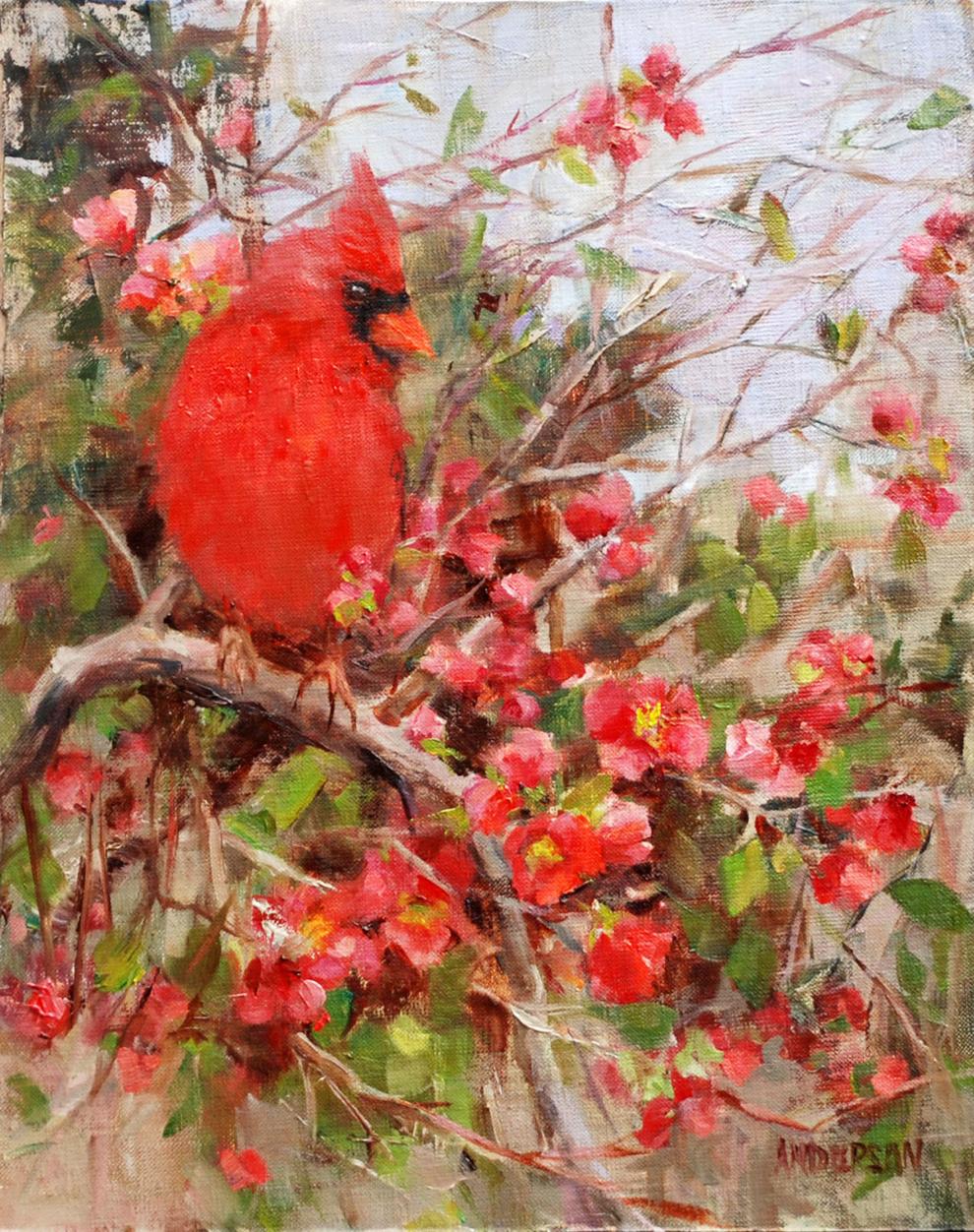 "While peonies were blooming in Pennsylvania, I was relying on what was available at Albertsons to paint," Turner said. "Here we all are, painting the same subject matter, with the same tools, and it's extraordinary to see the different approaches everyone took. That's why if you aren't even really super into flowers, it's a neat to show to see the variety that occurs when artists share the same subject matter."
Contributing artists include Sherrie McGraw, whom Turner calls one of the country's greatest classical fine art painters, whose work hangs alongside that of Scott Conary, whose painting of a white iris showcases his contemporary approach, Turner said.
One painting, "Cardinal and Quince," by Kathy Anderson, went to a patron who bought it in memory of her mother, who loved cardinals and flowers, and who died of COVID-19. She said the painting reminded her of her mother and brought her peace and hope.
"That's the power of art," Turner said.
Creating the work also provided an emotional outlet for the artists. Last year's show gave them something to focus on, even as exhibits were canceled.
"It was a time that really supported our growth as artists," Turner said, "because it gave us an opportunity to really focus on our craft."
This year's show allowed many of the artists to channel their feelings of the past year into new art. The result is an exhibition that is vibrant and joyful, Turner said.
Turner created one of her own pieces, "Love is the Whole Story," while grieving the death of her beloved dog, Heidi. The oil painting has a luminosity that gives it a watercolor-like feel, Turner said. She wanted to capture Heidi's personality with the colorful flowers and playful composition, to honor the dog and also to give herself an outlet for her grief.
"Flowers give hope," she said. "That's what art is capable of."
Turner said the world today is in some ways is smaller than it was last spring — so much more takes place or is shared virtually over computer screens. Last year's flower show was held online because it had to be. While this year's exhibit can be seen in person at Turner Fine Art, it also is available for online viewing at TurnerFineArt.com.