Thirty-five years ago Labor Day meant the start of the offseason in Jackson.
Now it means there's a week left before the Jackson Hole Fall Arts Festival, started over three decades ago by a group of gallery owners and the Jackson Hole Chamber of Commerce to extend the shoulder season. For the past three decades the two groups have built the festival into an event that spans two weekends and attracts art collectors from all over the country and world.
This year, though, it attracted something new: the Jackson Hole Fine Art Fair, a pop-up art show that took over Snow King Sports and Events Center for the second weekend of the festival to showcase — and sell — a range of contemporary, wildlife, Western and Native American art.
Some local galleries and business owners didn't take well to the change.
"When a community does build something like this, you don't want to see out-of-state companies come in and feed off the Fall Arts Festival for a few days and then go home again," Astoria Fine Art Managing Partner Greg Fulton said. "We're all here 365 days a year and we have a lot of employees and pay high rents and contribute to the community."
Gallery owners like Fulton, Adam Warner of Mountain Trails Gallery and Barbara Nowak of Horizon Fine Art all staked out various forms of opposition to the fair, primarily based on its timing and its out-of-state ownership. Nowak, Fulton and what Fulton called a "majority" of the Jackson Hole Gallery Association's members, as well as a number of other local businesses, joined together to take out an advertisement critical of the fair, paid for by "a group of local business owners who care for their community."
Fulton refused to disclose names of those involved with the advertisement, and the News&Guide advertising department doesn't share its client information with the News&Guide editorial department.
The advertisement, which ran in the Jackson Hole Daily and News&Guide, staked a claim for locals, promoting local business and condemning "weekend pop-ups and fairs" on economic grounds.
Among the most intriguing works at the inaugural Jackson Hole Art Fair were Anthony James' geometric infinity installations. James' biography …
"Make no mistake, if you support out-of-state companies who come in for a few days to take advantage of the Fall Arts Festival, it could hurt local businesses," the advertisement read.
For the three gallery owners who spoke with the News&Guide on the record before press time, that sentiment rang true. Though their reasons for opposing the fair were different, they agreed on one thing. They were worried about the community of local business owners.
"We're brick and mortar, we support the community, we're here year round. We work at it, we love it. We're not in and out," Nowak said. "We're all in this together."
A bit of 'unfriendliness'
Run by Executive Director Rick Friedman, the Jackson Hole Fine Art Fair brought over 50 art vendors to town. The Gallery Association has about 25 active members, according to its website.
Friedman said the goal was to bring something "different."
"The idea is that we could bring a different level of art, different kinds of art, a different range of artists — you know, a very strong contemporary flavor — to town that could provide a different choice of options for people," he said.
That decision was met with opposition, which Friedman called a bit of "unfriendliness."
When he approached the Gallery Association about partnering for the event, he was shot down.
"It was hard to break through," he said.
While most of Jackson's galleries opted out of paying for a booth at the fair — the application fee alone cost $2,750 — opposition wasn't homogenous.
The National Museum of Wildlife Art of became a beneficiary of the Fine Art Fair through the Harvest Moon Benefit, an art auction Friedman organized on behalf of the museum, and the Western Visions Show and Sale, a fundraiser the Fine Art Fair sponsored.
Friedman said the sale of two pieces during Harvest Moon Benefit netted $10,000 for the museum and noted that he always tries to benefit local art institutions when he brings his shows to town. Both he and the museum confirmed the partnership was forged following a phone conversation the two parties had to resolve a scheduling conflict between the Western Visions Artist Party and the Fine Art Fair's "Sneak Peak" on Thursday night.
Diehl Gallery and Tayloe Piggott Gallery also decided to participate in the fair.
Diehl Gallery owner Mariam Diehl said she chose to participate because she didn't want another gallery to promote artists she'd worked to promote for decades. She called the artists she intended to show, confirmed they'd only show with Diehl at the fair and got a booth.
"I thought it was untenable for me not to have a presence," she said.
The gallery owners who were critical of the fair were concerned about a lack of space in town itself (occupancy rates were between 80% and 90% at the 2018 the Fall Arts Festival, according to the Chamber of Commerce), competition in the art market and the Festival's already-busy schedule.
"The more competition that's brought in, the lesser chance we have of making a sale," Nowak said. "It's just additional competition that we don't need."
Because the Fall Arts Festival already has so many competing events — Western Visions, the Western Design Conference, the Jackson Hole Art Auction and the QuickDraw Art Sale and Auction among them — Nowak also said it can be difficult to draw a crowd, especially to her business off of Town Square.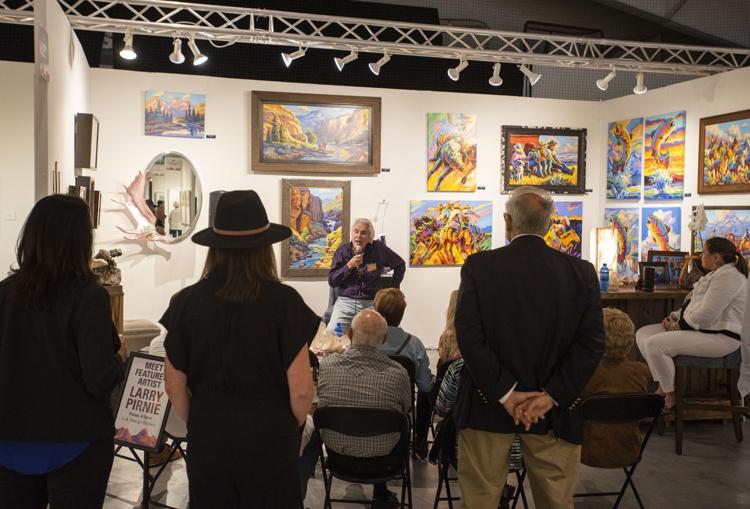 Warner agreed that the Fall Arts Festival was already busy, but thought the longstanding out-of-gallery events all had an established time and place, whereas the Fine Art Fair did not. It took place from noon to 6 p.m. Friday and Saturday and from noon to 4 p.m. Sunday, timing that directly conflicted with gallery shows and events like the art auction.
The gallery owners who spoke with the News&Guide said it seemed like Friedman's event was capitalizing on the 35-year-old tradition galleries had built from the ground up.
"I feel like this is a company just looking to rake in money and there's only so much to the pie to go around," Warner said.
There were also grumblings about the timing of the pop-up fair, which took place the second — and arguably busiest — weekend of the festival.
Friedman offered two reasons for the scheduling of the fair on the second weekend: the first weekend at Snow King was booked for the Western Design Conference and collectors would already be in town for the second.
"Frankly, if you're going to do a national fair, it should be when art collectors are in town, and not when they're not there," he said, adding that he thought the fair would benefit the community.
"As the tide turns in, I like to think that all boats rise and that's more additive than subtractive."
But in its first year the Fine Art Fair itself didn't appear to be a blowout. National galleries that participated and represented work similar to work shown in Jackson reportedly did well. Others did not.
Nieto Fine Art, a family gallery selling a retrospective collection of John Nieto's work, had strong sales, moving at least two big prints as well as seven or eight pieces from its online catalogue. Like other exhibitors who reportedly fared well, like the Maynard Dixon Museum and Redfern Gallery, which both sold a mix of Western art, the Nieto market was well established in Jackson. The artist was represented by Altamira Fine Art before his death and the gallery still has a number of his pieces.
Collectors were "familiar with" Nieto, Nieto Fine Art's Haldun Morgan said. "People knew what they wanted" and bought it.
Galleries showcasing more contemporary work didn't fare as well. Twenty minutes before the fair closed Sunday, Andrea Zemel of New York City's Iliad gallery hadn't made any sales.
"I haven't ever done a show that had such low attendance," Zemel said. "To not have the audience expected is a big disappointment.
"I don't know if we'll be coming back."
Other contemporary art galleries also struggled for sales, according to News&Guide reporting. Friedman, however, said he hoped to return in 2020.
"Some galleries killed it and sold an entire booth, some did OK and some didn't sell anything, but that's the business," he said. "It went very well for a first-year show. We hope to grow it over the next two, three years."
If he does return, local gallery owners are advocating a change: moving the fair to another weekend that doesn't conflict with the second, busy weekend of Fall Arts Festival.
Diehl said she had pushed for that already, suggesting the July Fourth weekend.
"I would hope that it happens at another time of year also," she said. "It certainly wasn't easy for my gallery to have an art fair on top of the Fall Arts Festival."
Many patrons the paper spoke with were locals who were there to browse. A few were there to think about buying.
One of the latter was Ryan Nourai, who's done business with a number of galleries in town. He was critical of local business' response to the fair because he thought it reduced the availability of different kinds of art in Jackson for both collectors and artists seeking inspiration. He was chagrined that the newspaper advertisement focused only on local business, not artists.
"Artists that don't fit into the small niche represented here might be able to find an outlet in the fair," he said.
Other residents, like husband and wife Matt and Judy Montagne, had mixed feelings.
Judy Montagne said that she was "really enjoying" the fair, especially the opportunity to see art that fell outside of Jackson's archetypal Western- and wildlife-centric mold. Matt Montagne was a little more reserved at first, noting that he was "very fond of the galleries in town."
"I have a kind of protective feeling about them," he said.
But, after touring around the Fine Art Fair, he realized something he liked.
"It's revealed to me the quality and scope of the local galleries and artists," Montagne said. "This is a sampling from around the world, and we have a sampling from the around the world represented right here anyway.
"That quality of what we can see right here in our community is world-class galleries, world-class art work. It's really fun to see this, but I really want to go dive into what's right here."