Kay Stratman didn't arrive in the Mountain West until she was in her 50s.
Her fascination with the region began after a family road trip as a teenager, but her husband's career as a conservationist and environmental advocate found them in a suburb of Washington, D.C., in the early aughts.
In 2007, after much planning and forethought, the couple moved to a home in Melody Ranch.
"It was fortuitous, me being an artist and he being in conservation," Stratman said. "It was a perfect fit. And besides, we already had a green Subaru Outback and a black Lab."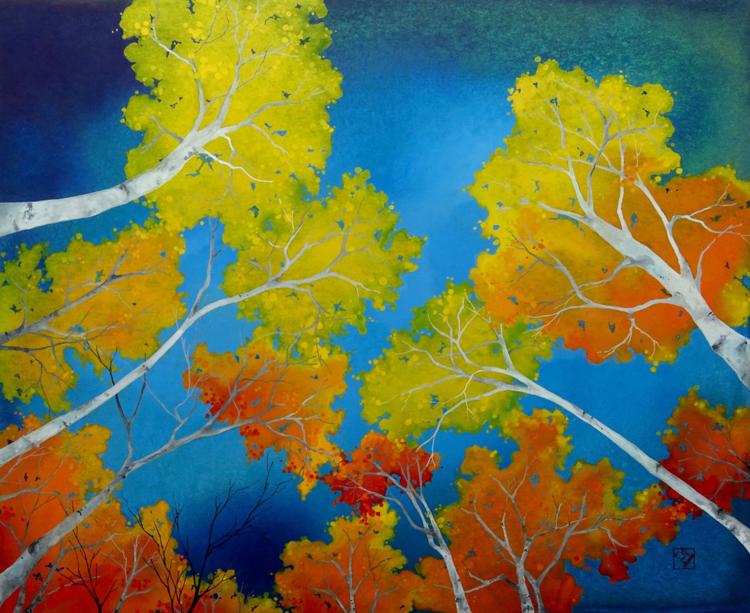 In the years since, Stratman has applied her idiosyncratic technique, which blends multicultural influences, to depict Western landscapes and wildlife. She is represented in Jackson by Horizon Fine Art. Although her exhibition "The Importance of Wild Places" was postponed from its planned showing at Raitman Art Galleries in Breckenridge, Colorado, during March and April, Stratman has made it available online as a virtual flip book.
The diverse blend of technical influences that Stratman employed to create the pieces may make her seem enigmatic, but each influence has a direct link to her life as an artist and student.
After spending 14 years working in a commercial art studio in Minneapolis, Stratman met an artist who practiced an ancient East Asian form of ink painting called sumi-e. The technique was so compelling to her that she devoted herself exclusively to learning and creating in the esoteric form.
"For about 25 years I painted in a very traditional Asian style," Stratman said.
The shikishi boards that serve as Stratman's canvas are a holdover from that time. The boards are made by layering gold leaf and then rice paper onto a wooden backing.
The second technique that is central to the work is p'o mo, a form of Chinese watercolor painting that involves pouring paint over a canvas and using gravity to create fading, blending and shading. Stratman creates definition in the work through fine brushwork.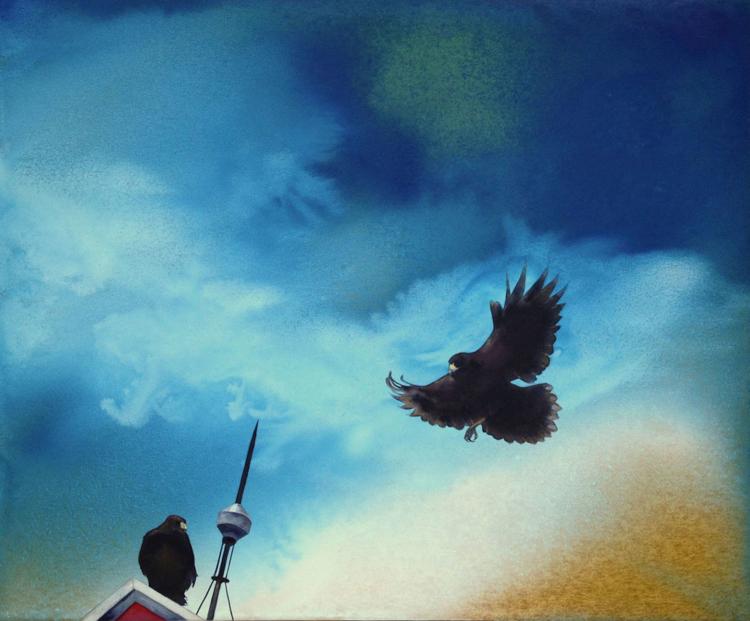 "My work evolved into a more contemporary style and something that was personally developed, but it was all part of my journey," she said.
Because her process is almost as interesting as her work, Stratman often gives demonstrations in conjunction with exhibitions. Last month, with the help of local digital marketing consultant Rose Caiazzo, she made a video of her process.
In the video Stratman is shown creating "We are Stardust," a brooding nightscape of the central Teton Range. The video is part of a larger push by Stratman to bring her art in to the digital domain.
"Every part of marketing any business now, and particularly artwork, is social media," Stratman said. "The only way to get people to see virtual exhibitions is through social media."
Stratman's public presence may be shifting into the digital realm, but her passion still lies in quiet moments with nature. During the winter her dog, Laddie, was dealing with health issues that required her to stay home with him often. So since before the COVID-19 crisis, she has been painting more and more images of the view out her back door.
"I just put my head down and stayed in my studio and painted a lot," she said.
One such piece "Melody Ranch Morning," made it into her current exhibition.