The Plexiglas dividers have come down, Teton County is in the green, and Cowboy Coffee is welcoming a steady crush of visitors to spend some time with the paintings of Jill Auerbach, who prepared a flock of chickadees, ravens and wrens for this year's show.
"When you're in Jackson and the Tetons, you're just mesmerized by the wildlife," the painter said while lounging in the coffee shop's front love seat. "But I'm most enamored with birds."
Auerbach splits her time between Jackson and Santa Fe, New Mexico, charmed by the seasons and the flying wonders in each locale. Her main studio is a cozy space in her Jackson home, small enough to form a sort of encapsulating orb of inspiration and a refuge during the valley's snow-packed winters. She spent even more time in the studio this past year as the coronavirus nixed many other options.
The frames in Cowboy Coffee are earthy and simple, allowing each bird to stand in relief against a lightly brushed background, which mirrors the painter's experience with them. Unlike some of the region's plein air painters, Auerbach has only fleeting moments with her subjects, capturing them in memory more often than with her camera.
Then she will pore through Google to understand more fully the effervescent creature that dashed across her horizon. Perhaps because of this level of removal, and the rediscovery that comes in her home studio, the birds have just a touch of fantasy or abstraction.
Take "3 Ravens," which resemble a trilogy of constellations rather than marred jet-black carrion-hunters.
As one visitor from Tuscaloosa, Alabama, put it, "I just see a raven as a black blob, but she sees blues and purples. It's wonderful."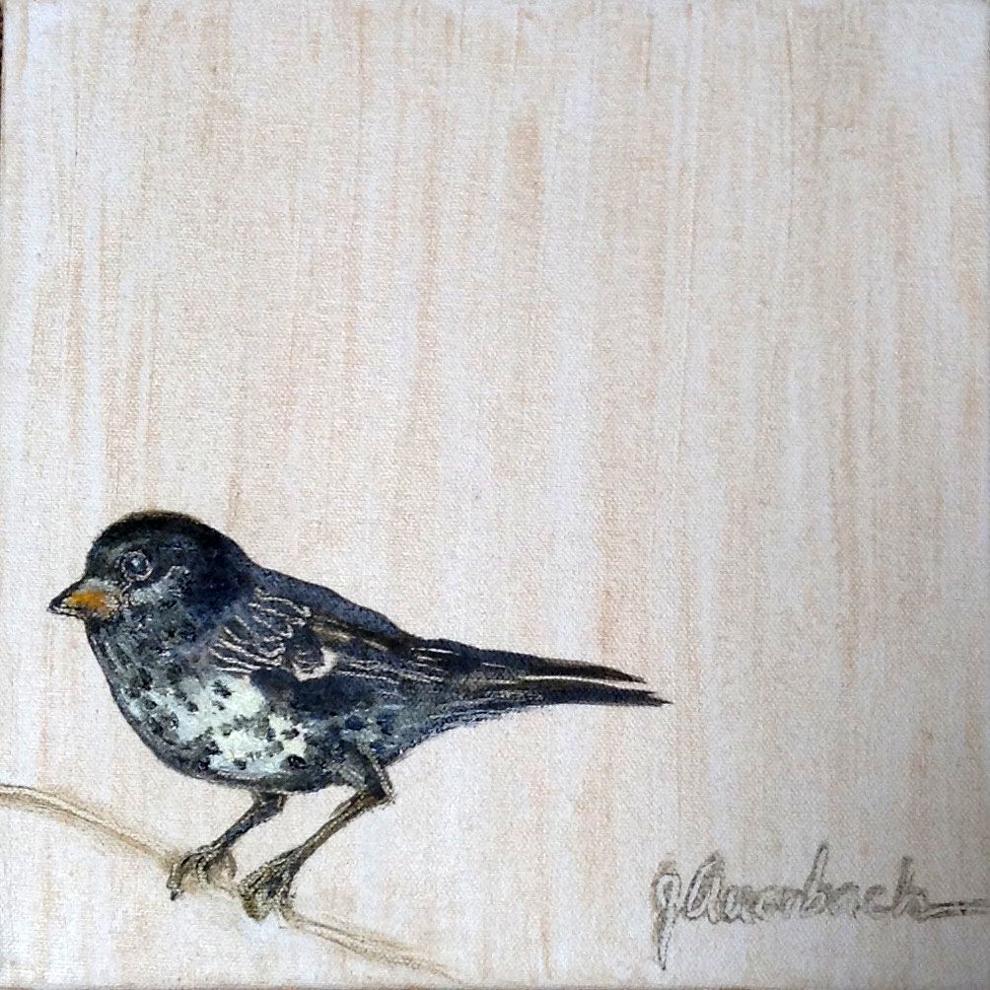 Another characteristic of some of her frames are the doubles or "shadows," suggested more with simple outlines than fleshed-out forms. In "Memories of Chickadees," several auburn silhouettes hang from the principal branch, suggesting echoed movement, traces of former flocks or, in a more pressing sense, lost connections.
Auerbach is inspired by the resiliency of migratory birds and the communities they form. When she was feeling particularly isolated during the pandemic she spent time observing local flocks, deriving a bit of hope from their morning rendezvous, and inspiration from their sense of freedom.
Many who pass through the café may be limited to the line, but those who take the chance to get up close with the works will notice real wood used in some of the twig landings.
"The canvas draws me in, reflecting the mood I'm in and working with my brushstrokes," the painter said.
Each work in the show is for sale, with prices ranging from $300 to $500 for the leading oeuvre, a 30-by-30-inch great blue heron.
Auerbach paints with oil, charcoal and cold wax on stretch canvas. She studied in Oaxaca, Mexico, and in New York City. Her current show will be on display at Cowboy Coffee through the end of June.