In 2001 Noppadol Paothong was working as a staff photographer for a small newspaper in Missouri. When his editor asked him to shoot a story about prairie chicken mating, he imagined hunting down a pack of feral farm birds. Luckily he was disabused of that idea by a local birder and sent to a blind on the prairie for an early-morning shoot.
"It was my first time photographing grouse, and I got there right before sunrise," Paothong said. "It was so captivating. I was immediately hooked."
The fortuitous assignment blossomed into a 20-year passion project. Since then Paothong has devoted countless early mornings to capturing images of endangered grassland grouse species in all corners of North America.
In his 2012 book, "Save the Last Dance: A Story of North American Grouse," Paothong created a narrative based on images that drew from 10 years of documenting seven species of North American grouse. Five years later he followed it up with "Sage Grouse: Icon of the West," in which he documents the unlikely idol of the movement to conserve sagebrush habitat across the American West.
Paothong's photo exhibit of the same name opens Saturday at the National Museum of Wildlife Art. Paothong will join the museum's curator of art, Tammi Hanawalt, for an "exhibition opening webinar" at 10 a.m. Friday. The collection will hang in the Bison and Changing Visions galleries until May 3.
Although Paothong's exhibit is decidedly focused on one particular species of grouse, its scope is far from myopic. Paothong designed the visual narrative of the exhibit to trace the written narrative of his book. Before landing on stunningly gorgeous pictures of the courtship dance that sage grouse are best known for, images place the bird into a broader geological, ecological and anthropological context.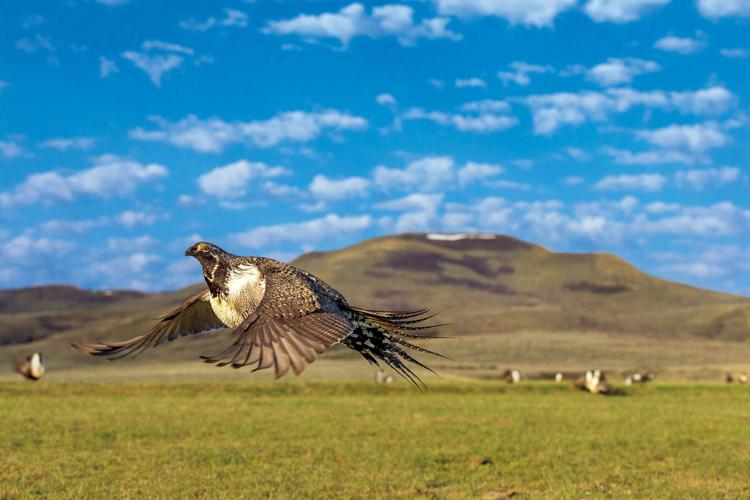 One photo captures the sunrise over the "Sagebrush Sea." Another follows multigenerational ranchers as they lead a horse to be branded. And a third shows Chippewa-Cree and Shoshone performer Levon Big Knife dancing in a traditional imitation of the sage grouse called the "chicken dance." Other photos highlight the diversity of fauna that rely on the sagebrush sea for habitat — pronghorn, golden eagle and Brewer's sparrow.
"It's not just about the bird," Paothong said. "I wanted to connect the bird with the landscape."
Through showcasing the ecosystem's most flamboyant species, Paothong hopes to raise awareness of the paucity of intact habitat. Though sagebrush steppe covers more land in the American West than any other plant community, much of it has been degraded and fractured by development, extractive industries and, most of all, invasive species. Many endemic native species have suffered catastrophic losses as a result.
"I want to not only show people the uniqueness of the habitat, but also the conservation concern," Paothong said. "It was an opportunity to say, 'OK, why does it matter to protect this landscape?'"
In recent years the U.S. Fish and Wildlife Service's consideration of the greater sage-grouse for listing under the Endangered Species Act sparked a collaborative effort between conservation organizations, landowners, government agencies and industry. In 2015 federal agencies announced the bird would not be listed under the act, but there is still much to be done.
Paothong's work looks beyond population graphs and ecological statistics to tell a more personal story through visuals.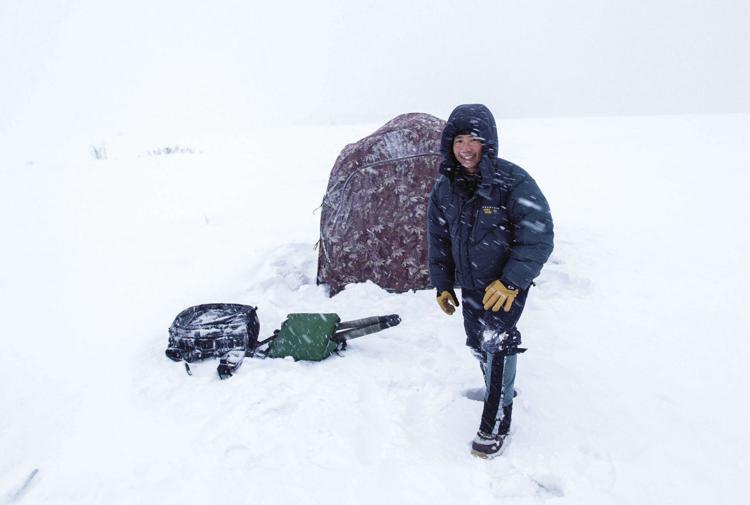 "The oil field has to be in the photo," he said. "Then you can see what happened to the landscape and what happened to the bird."
As a body of work the exhibit is unfathomably stunning. Each image is composed with clear intention and marked effect, while also capturing a fleeting moment of animal behavior. The secret, according to Paothong, is persistence.
"To be able to capture some of the more unique behavior of this bird, you just have to spend time watching them," he said.
Persistence isn't always easy in high-desert spring conditions.
"Photographing sage grouse is in a whole class by itself," Paothong said. "You have to get to the blind before sunrise in order to not flush them.
"Sitting in a photo blind when it's negative 20 is not a vacation for most people. You have to deal with poor weather and frustrations. I got stuck in the mud more times than I can remember."
"Icon of the West" collects the best moments from nearly 20 years of dedication to a singular task. As Paothong's project evolved over the years, so did his motives.
"The first time I photographed this bird 19 years ago, I didn't have a kid," he said. "Now I am focused on passing the love of nature onto the next generation. We have to do better in terms of connecting kids to nature."
Paothong will never be able to show his 10-year-old daughter the place where his love affair with grouse began, because there are no longer any prairie chickens in that area. But he is doing his best through conservation advocacy and art to create something to pass on.
It is this thought that gets Paothong up at 3 a.m. so he can make it to the blind on time. His perseverance is born of devotion to values that are unwavering within him.
"Humanity has to care for all living things," he said. "We have to understand that every living thing in nature is important."