Though masks were required, the location was different and there weren't huge crowds moving between rows and rows of craft-filled tents, the Art Association of Jackson Hole's Pop-Up Art Fair was a comfortable stand-in for the nonprofit's usual twin summertime fairs.
Vital fundraisers for the venerable Jackson Hole arts organization, the fairs usually provide an opportunity for artists from all around the country to sell their wares. For this COVID-19 edition, the Art Association stuck with artists from within 80 miles of Jackson.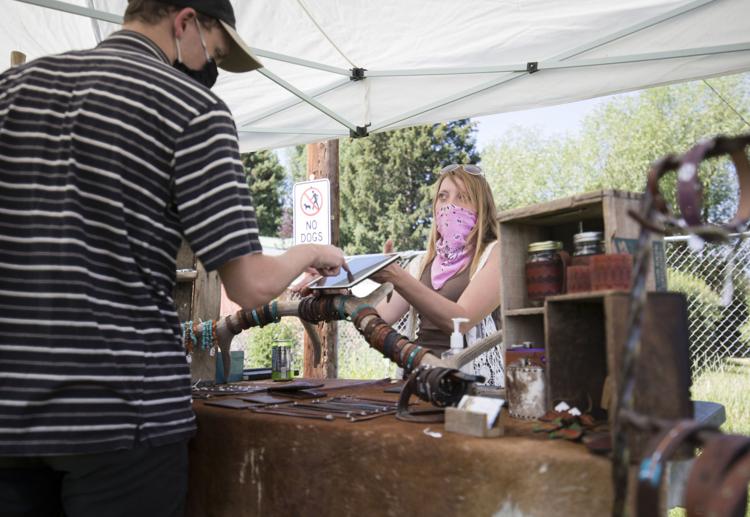 Natalie Connell, an oil and watercolor painter from Jackson, became a full-time artist just before the pandemic struck. She was happy to have a place to sell the paintings she had created during the lockdown.
"I've been painting all spring," she said, "so I'm psyched that they did an event. It's kind of a big deal for people like me."
Connell said she had managed to sell a few small pieces of art by noon Saturday, and others among the two dozen or so booths set up along perimeter of the Center for the Arts' lawn said they were doing well too, particularly those selling home goods and others who had adapted their crafts to the pandemic.
Hand-crafted masks, for one, were a big hit.
Katrina Ryan, the chairwoman of the Art Association's board, acknowledged the loss of revenue from the usual pair of fairs, which generate some $200,000 for the nonprofit in recent summers. She said the Pop-Up Art Fair, a substitute for the usual shindig on Miller Park that attracts hundreds of artists, was just one of many adaptations the nonprofit is making to keep its services going during trying times.
"Gotta keep the art alive," she said. "Gotta keep teaching classes. Gotta keep doing what we do."