Bison, bears, birds and butterflies are just some of the wildlife you might spot in Jackson Hole's natural surroundings, but this past Saturday several animals made appearances in work created by 33 artists on Town Square for the 2020 QuickDraw and Art Auction.
Artists were given just 90 minutes to create their pieces while attendees observed in person or by livestream. Afterward an auction — which usually is held in a tent outside on the square — took place in the Million Dollar Cowboy Bar. Only 80 tickets were made available for people to witness the action on-site, but more than 200 other bidders registered to participate online via BidSquare in yet another first-time concession to the coronavirus pandemic.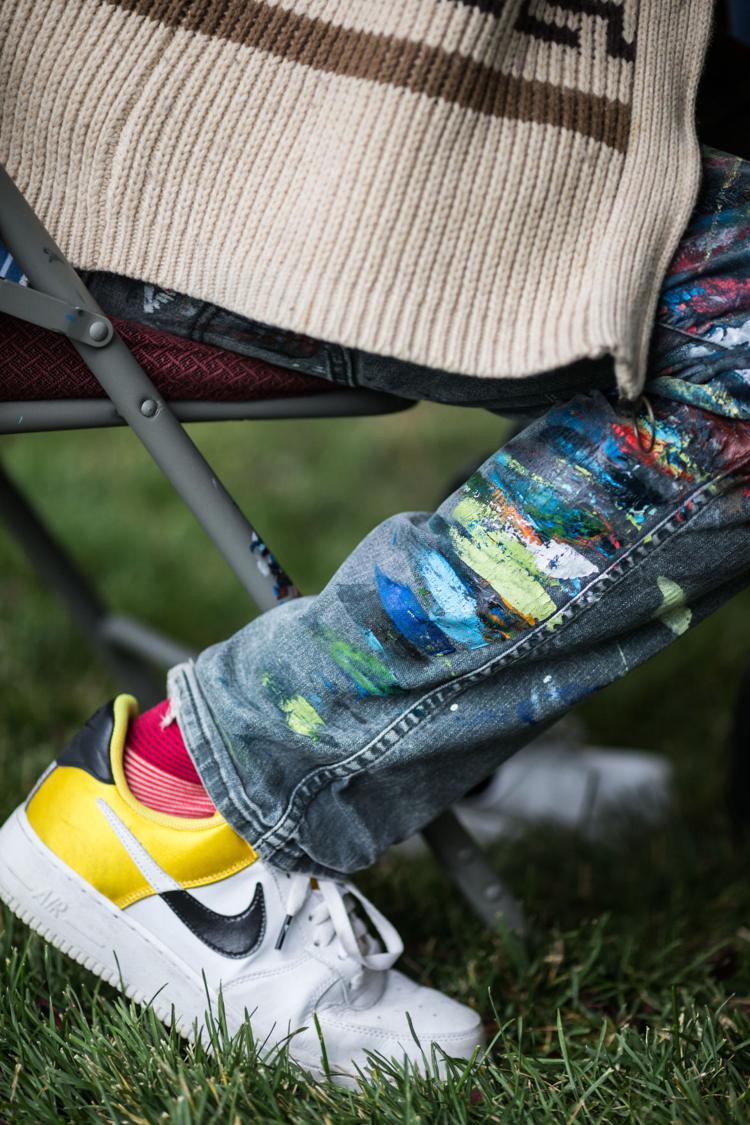 The QuickDraw, in its 24th year, is a highlight of the annual Jackson Hole Fall Arts Festival. It features local and visiting artists who create in all forms. Many painted. Others sculpted. One burned gunpowder into a canvas. All portrayed wildlife or scenic Western views — except one.
"I do minorities of the Old West: the underrepresented, the stories that most people don't know about," said Aaron Hazel, who had planned on painting a rodeo queen from the 1900s. "But then I'll bring it into contemporary times. Like, I just paint what moves me, so if something moves me, I'll drop my other plans and paint the thing that's happening right then and there."
Which is what he did when he heard about Supreme Court Justice Ruth Bader Ginsburg's death Friday night, just before the event.
"I've been doing a lot of social justice pieces, pieces on equality, and she was a pillar of feminism and equality and social justice," said the artist from Boise, Idaho.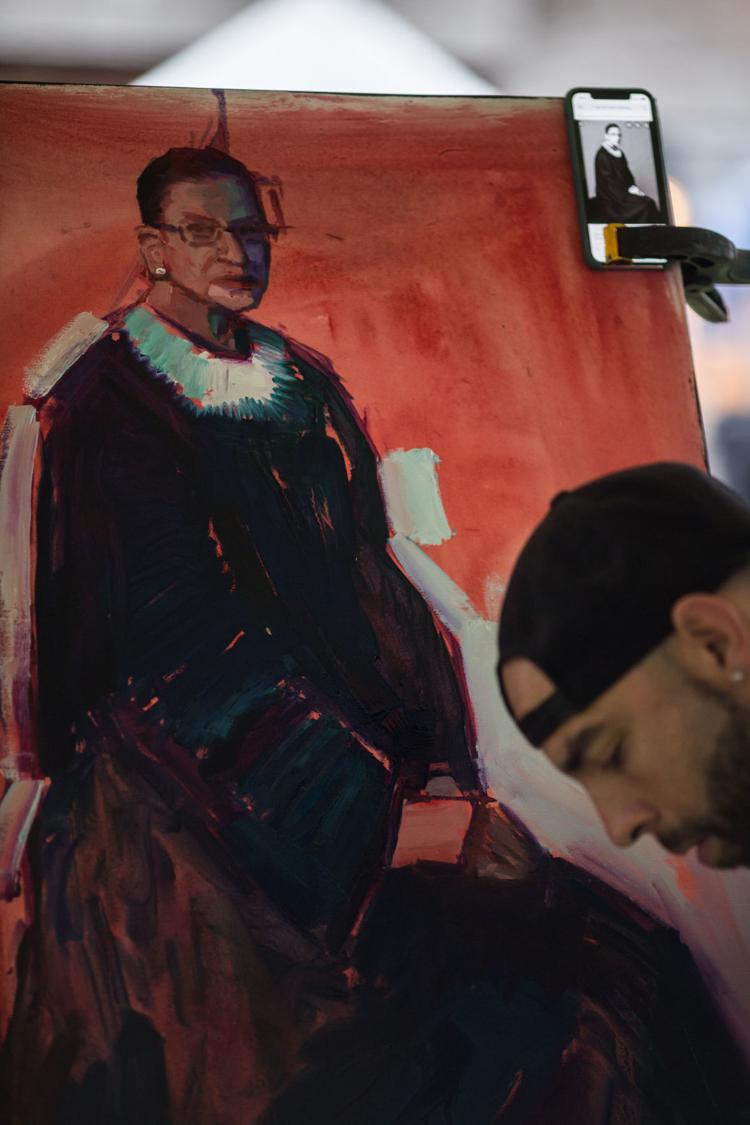 Because the news was late-breaking, he wasn't able to print out an image of Ginsburg and instead used a picture on his phone for reference.
Painting on Town Square, with people looking on, Hazel answered questions and took feedback as he worked.
"That is beautiful," one woman told him. "It's so moving. You've made so many people cry. I just wanted to let you know."
Others agreed, breaking out into applause for the Horizon Fine Art artist after he finished 20 minutes early.
"I was hesitant because I really wanted to at least do her justice," Hazel said later, after the auction. "No pun intended."
His work, titled "Notorious RBG," fetched $4,500.
GALLERY: 2020 Fall Arts Festival Quick Draw
Dozens of local artists gathered in the Jackson Town Square on Sept. 20 — conscious of social distancing — for the annual 2020 Quick Draw, one of the premier events of the Fall Arts Festival. For the first time in the festival's history, buyers were able to bid on the artwork online as the physical world goes virtual amid the COVID-19 pandemic. 
Other QuickDraw artists also were inspired by recent happenings, including 21-year QuickDraw veteran Lyn St. Clair, who titled her painting "Current Event."
St. Clair decided to paint grizzly 399, Grand Teton National Park's famous 24-year-old star bear and prolific mother, and her "fab four," as the painter dubbed 399's highly unusual quadruplets of the year — after watching them swim in a river the previous week.
"As soon as it happened, I'm like, 'That's my QuickDraw,'" St. Clair said.
While she usually focuses on one subject in a given canvas, St. Clair, who is represented by Mountain Trails Gallery, was so excited to see the whole bruin family that she was willing to take on the challenge.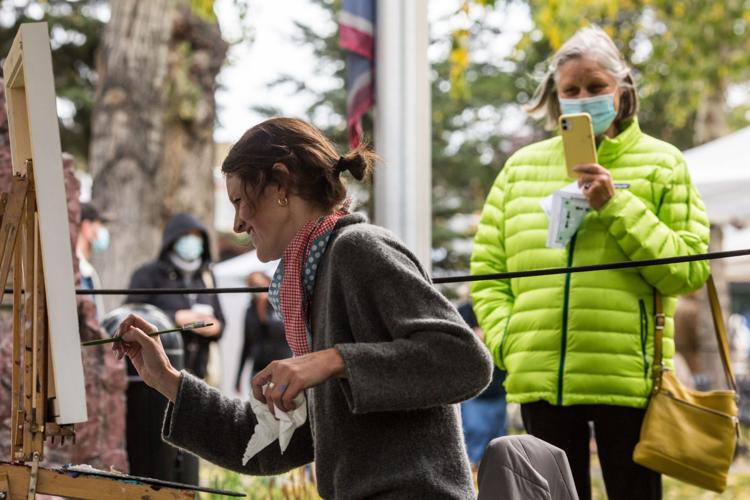 "I never paint anything that I haven't experienced," she said. "Twenty-one years doing it, and it's still terrifying every year because I don't practice or plan too much. I like it to be a challenge," she said of the 90-minute QuickDraw.
St. Clair's swimming bear clan sold for $12,000 at the auction.
The mother and her cubs were also featured in Patricia Griffin's "Queen Mother," Danny Shervin's "Pride" and husband-wife duo Rip and Alison Caswell's "Hanging in There."
The Caswells created a bronze vase that paid homage not only to the bears but also to the year. The mother and three of the cubs sit at the bottom of the sculpture. As for the fourth cub, well, Rip Caswell said, "He's gotten mischievous and gone up on the limb and slipped off. So he's hanging in there. Like the rest of us in 2020."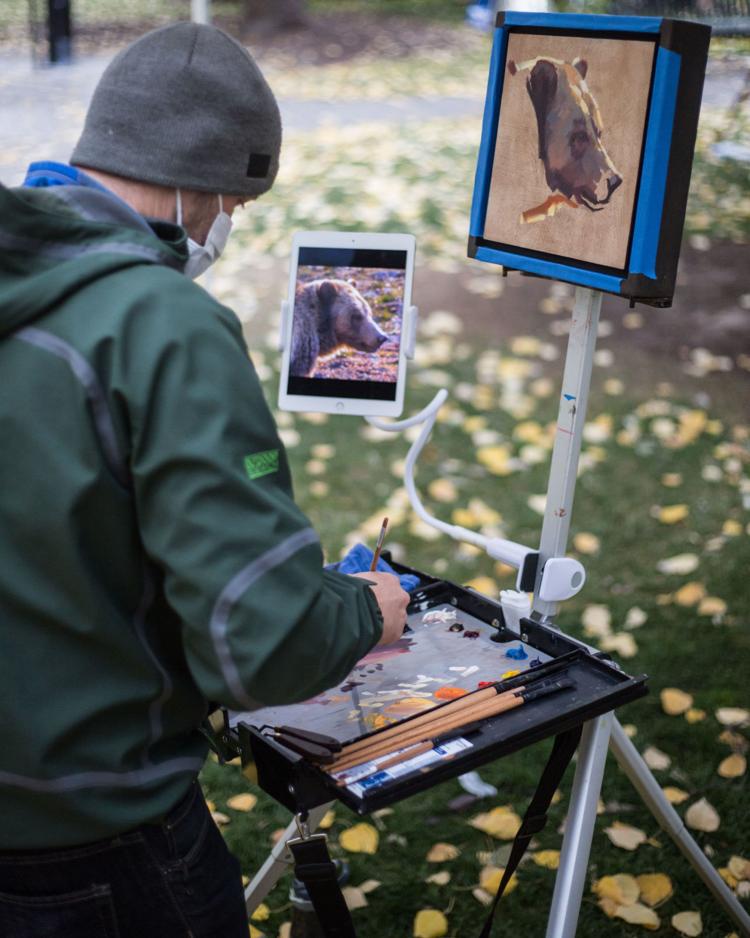 The Caswells, who are represented by Gallery Wild, sold their sculpture for $3,000.
Artist Jennifer Adams also tackled challenges she has faced this year in her piece, "Untamed," inspired by her longing for the mountains during hard times, which included her father's battle with cancer. Her 36-by-36-inch painting features a silhouette of Adams' head, filled in with mountains, pines and the sky.
"I really feel like I'm not the only one with a bad year," said Adams. "It's a hard year for everybody, and I feel like that's why it resonates so much with everyone. ... Because we are in the unknown and we are in uncertainty and we all love nature."
Adams, whose work is featured at Native Jackson Hole, incorporates something real into each piece in order to touch all the senses. Her QuickDraw painting, which sold for $10,000, includes pine scent, something that takes her back to nature.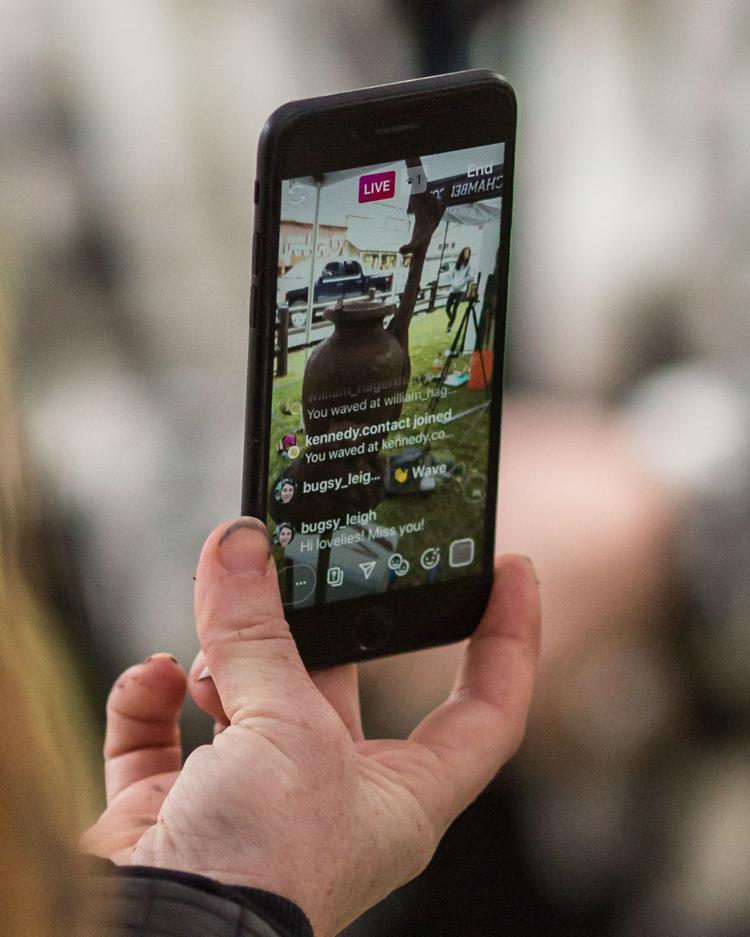 The featured work of art of the 36th annual Fall Arts Festival — Thomas Blackshear's "Hunter's Watch," selected by committee last fall to appear on all marketing material for this year's 10-day end-of-summer celebration of how nature and art combine in Jackson Hole — sold for $37,000.
All told, the 34 original pieces created during the 2020 QuickDraw brought in $178,650 at the auction, half of which the artists keep and half of which the Jackson Hole Chamber of Commerce will put toward 2021's events, according to Britney Magleby, special events manager for the chamber. Another $18,000 was brought in by seven bronze castings of three participating sculptors' originals.
Twelve of the original pieces were won by online buyers, Magleby said. Many internet bidders hailed from Wyoming, she said, but Texas, Utah, California and Arizona were also well represented, and others participated from the northeastern U.S., Canada, England and even the Netherlands.
Two QuickDraw pieces were created in advance by artists who could not attend live. One of those artists was Renso Tamse, whose "Silent Flight," depicting an owl, was shipped from the Netherlands.