Wilson's Rendezvous R Park is lighting the way to the new year with its annual winter solstice celebration.
But instead of a big gathering (a coronavirus no-no), this year's observance of Earth beginning to turn its Northern Hemisphere back toward the sun will be a quieter, more introspective affair.
For the next two weeks people who visit the park at the intersection of Highway 22 and the Teton Village Road can take a stroll guided by 250 lanterns that have been decorated by valley art students.
"We're so excited for the community to see the final product," R Park Community Outreach Coordinator Ellie Stratton-Brook said of the lantern display. "It's nothing like anything we've ever done. We wanted to offer something that families and community members can enjoy on their own and outside."
The 40-acre "nonprofit private park for public use" is a program of the Jackson Hole Land Trust, a group that has conserved tens of thousands of acres of northwest Wyoming landscapes, habitats and communal spaces. Created about six years ago on land that had been slated for development, the family-friendly park features ponds and woods, walkways and riverfront to make it easy for people to engage and interact with the natural world.
In the summer folks fish, float and flop on and about R Park's pond and riverfront; in the winter they scale the man-made pinnacle near the center of the park for sledding. And throughout the year R Park has been the site of Easter egg hunts, summer solstice celebrations, kite festivals and an apres-ski program for families coming home from Jackson Hole Mountain Resort. Its annual winter solstice party has over the years attracted hundreds to spread and share the warmth and light of their cheer on the longest night of the year.
This year's welcome back to the sun, however, called for a slightly different approach.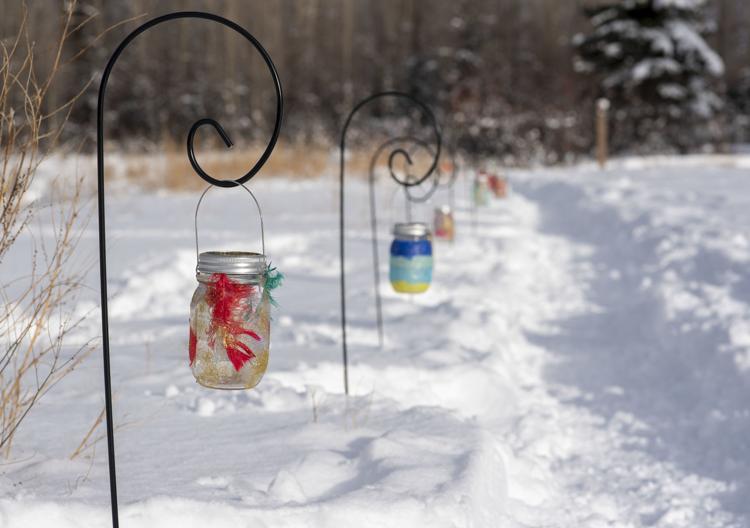 "Although this is a trying time and we cannot celebrate as we normally would, we are glad to offer a little light in the dark," Land Trust Community Conservation Manager and R Park Director Jr Rodriguez said in a press release. "The R Park winter solstice was one of our inaugural events upon opening the park six years ago, and it has been a magical event that many families and visitors look forward to — not to mention our staff — so we hope the R Park Lantern Trail captures the spirit of our usual winter solstice celebration."
R Park collaborated with teachers, community members and art programs from across the valley — including Teton Science Schools, Wilson Elementary School, Jackson Hole Middle and High Schools, Friday Crest Programming and others — to create and gather the artistic lanterns.
Teton County kids used tissue paper, glue, sticky stuff called "Mod Podge" and other art supplies to craft weatherproof lanterns.
Some pushed the creativity boundary by making sustainable lanterns, like the Teton Science Schools students who made them out of recycled tin cans.
"They were free to get as creative as they wanted," Stratton-Brook said.
Each lantern houses solar-powered lights that charge during the day and turn on as darkness falls to illuminate R Park walkways.
The lanterns were hung over the weekend, and the installation opened officially Monday, but R Park stewards decided to pass on the usual group celebration to maintain state and local COVID-19 health guidelines.
Swing by the R Park Winter Solstice Celebration anytime through Jan. 2, and keep up to date on the event by following @RendevousPark on Instagram.