Artist Patricia Griffin sees colors differently than most people. She sees a halo of color and what she describes as a vibration where, for example, a mountain meets the sky.
Artist Silas Thompson also sees the natural world a little differently than the average observer. He breaks the landscape into shapes most people don't notice until they see his work, said Carrie Wild, owner of Gallery Wild.
While Griffin is a wildlife artist and Thompson a landscape artist, both rely on light to capture their unique perspectives of the natural world.
"They pay attention to what's going on in the landscape," Wild said. "They look for intense moments of brilliance created by fleeting light. They capture those magical moments as the light or the rising or setting sun is touching things at the perfect time in the perfect place. They are not painting only the scene and the subject, but they are painting the experience."
The two artists' work hangs in a collaborative show titled "Uncommon Light" at Gallery Wild through June 27. The gallery will host a reception for them from 1 to 7 p.m. Thursday. Extended reception hours will allow people to have more space to spread out in the gallery and will give them chance for more intimate interaction with the artists, Wild said.
Griffin and Thompson are both oil painters. They use a lot of paint to create texture in their work. The results are paintings that from afar are realistic renderings, but when viewed up close are full of tiny spots of colors, visible brushstrokes and varying textures, Wild said.
"Both artists excel when it comes to their ability to paint light and shadow," she said. "But they also use really beautiful, vibrant colors and shapes that are completely and totally interesting. They just suck you in. They are both very lively in their paintings."
Thompson, originally from central Idaho, grew up exploring the backcountry with his father and developed a passion for drawing and nature at an early age. Today he often paints en plein air, using what he creates outside in larger pieces done in the studio.
"He experiences what he paints," Wild said.
Griffin, who has been coming to Jackson Hole for decades and recently moved to the area, works from photographs. Her work is defined by her relationships with her subject matter, she said. Many of her paintings feature wildlife, large and in the foreground, animal portraits that are in a way similar to human portraits.
"I want to think about their individual personality when I'm painting them," Griffin said. "People get that with dogs but don't think about that with bison. I work on bringing out individual character of the animal, and that encourages the viewer to create a personal relationship with it."
She hopes to make people think of wildlife with the same respect and reverence they have for their own pets, she said.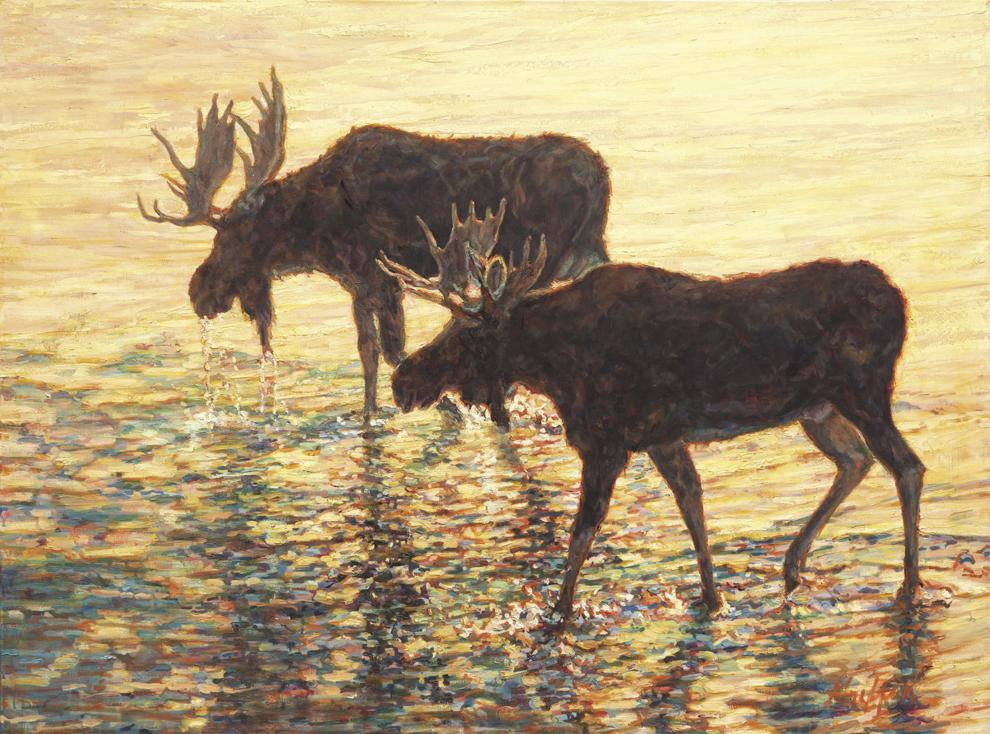 Both artists use backlighting to put subjects in shadow or to create a glow around the edges, Griffin said. Both also use intense colors with a lot of saturation.
"The light captures the time of day and the emotion of the experience," she said. "When you are painting light, you are also within the shadow and get a lot of reflective light. Both of us capitalize on the reflective light as well."
"Uncommon Light" features more than 20 new works and is Gallery Wild's first show of the summer featuring its in-house artists, Wild said. The show felt like a perfect start to the summer art season, because the paintings reflect the life and spirit in the community.
"Their personalities and how they translate what they see onto the canvas is very welcoming and enlightening and happy," Wild said. "People come in and really connect with their work because of that energy."