For decades now a debate has raged between old-guard artistic voices and technology lovers: Are video games art?
On one hand it seems somewhat silly to see a user experience that has been designed by meticulous research, coding and consumer testing as a form of artistic expression. On the other hand, many other art forms also require calculated execution to bring life to an artist's idea.
As art is continually influenced by and infused with technological advances, that becomes truer than ever. New York artist Jordan Wolfson works with animatronic specialists for years to create disturbingly realistic moving figures in his work. Norwegian artist Espen Kluge creates vector-driven abstract portraits using complex algorithms and lines of code.
For large-scale, commercially driven video games like "Fortnite," the argument for artistic significance is harder to stomach. If the landscape and experience of a game is principally informed by the efficiency in which it captures, holds and monetizes a player's attention, artistic expression takes a backseat.
But many independent games are created through a process that honors creative freedom. And, although they might not always be as all-consuming or adrenaline inducing as the rigorously crowd-tested giants, these games are often aesthetically stunning.
If you have dismissed video games as unimportant or juvenile in the past, but have always secretly wanted to explore them, now may be your time. With many of us enclosed by four walls for most of each day, there has never been a better time to escape through fantasy.
The following are two Wyoming-set video games that came recommended by local game designer Mollie Braley.
The sepia-toned landscapes of Campo Santo's 2016 game "Firewatch" will be familiar to Jacksonites. Aspen groves, lodgepole pine forests and craggy limestone cliffs are the core of the game's depiction of Shoshone National Forest in 1989.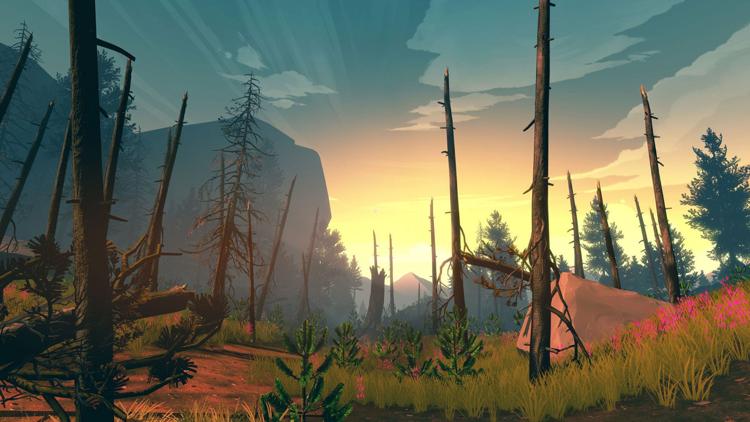 You are cast as Henry, a Forest Service fire lookout who hopes to escape the emotional anguish of his wife's early-onset dementia through a remote post at a fire tower. Throughout the game you interact with Delilah, your supervisor, through a walkie-talkie. She assigns tasks and discusses issues with you as they arise.
Before too long, strange occurrences at the fire tower, a barricaded natural cave and a government research station hint at a conspiratorial plot at work under the surface of the bucolic landscape.
Gorilla Games' 2017 release "Horizon Zero Dawn" may be set in the American West, but it is not set in the present. Humans, now known as "the old ones," live a tribal existence, while robots, referred to as "machines," have ascended to benign world-domination.
The game admittedly suffers from fantasy tropes and cultural appropriation. The main character, Aloy, is descended from a tribe of hunter-gatherers who worship the "all-mother." Another tribe, the "oseram," are argumentative metalworkers and brewers (anyone else getting Gimli from Lord of the Rings vibes?).
But what the game lacks in post-ironic wokeness, it makes up for with stunning visuals and a compelling plot. Throughout the game you complete missions in an open world and through them Aloy gains confidence and expands her worldview — a real "coming of age" story with lots of room for adventure.
Parts of the game are also set nearby. A part of the original world resembles a dystopian Yellowstone, while the expansion "The Frozen Wilds" features the Tetons.