Dylan McGee, 10, sat with anticipation as the sorting hat was placed on his head. The professor yelled out, "Gryffindor!" and Dylan broke into a wide grin as members of the Gryffindor house erupted into a cheer to welcome their new classmate.
"I think Gryffindor is great," McGee said. "I'm excited."
That scene played out many more times Saturday night as first-year wizards were sorted into Slytherin, Hufflepuff, Ravenclaw or Gryffindor during Teton County Library's "A Night at Hogwarts," an event that began three years ago to commemorate the 20th anniversary of the publication of the first Harry Potter book, "Harry Potter and the Sorcerer's Stone."
This year the library added an all-ages day program to its Harry Potter-themed programming as well as an adults-only "Harry Potter Trivia Night" set for 6:30 p.m. Saturday at the Teton County Library. Beth Holmes, the library's youth programs coordinator, said "A Night at Hogwarts" remains extremely popular.
"The original night event is still heavily anticipated with this year's night event being filled within nine hours," Holmes said. "I think the event is so popular because we really focus on the world that J.K. Rowling wrote about in the Harry Potter books and try to bring that magic alive here at the library.
"The sorting hat and houses play such an important role in the books that the kids can't wait to have the same experiences here at the library."
GALLERY: A Night at Hogwarts
The Teton County Library transformed into the magical world of Harry Potter on Saturday evening and invited 80 local kids to attend Hogwarts School of Witchcraft and Wizardry for the night. They learned magic tricks, were taught about different types of owls, and got lots of treats from Honeydukes.
After being sorted into their houses, 80 students took classes like "Charms," which was taught by magician Paul Brewer. "Professor Paul," as he's called, taught the wizards many ways to dazzle mere muggles.
"Dogs do tricks; wizards do miracles," he said. And he reminded them, "The louder you clap, the faster I teach."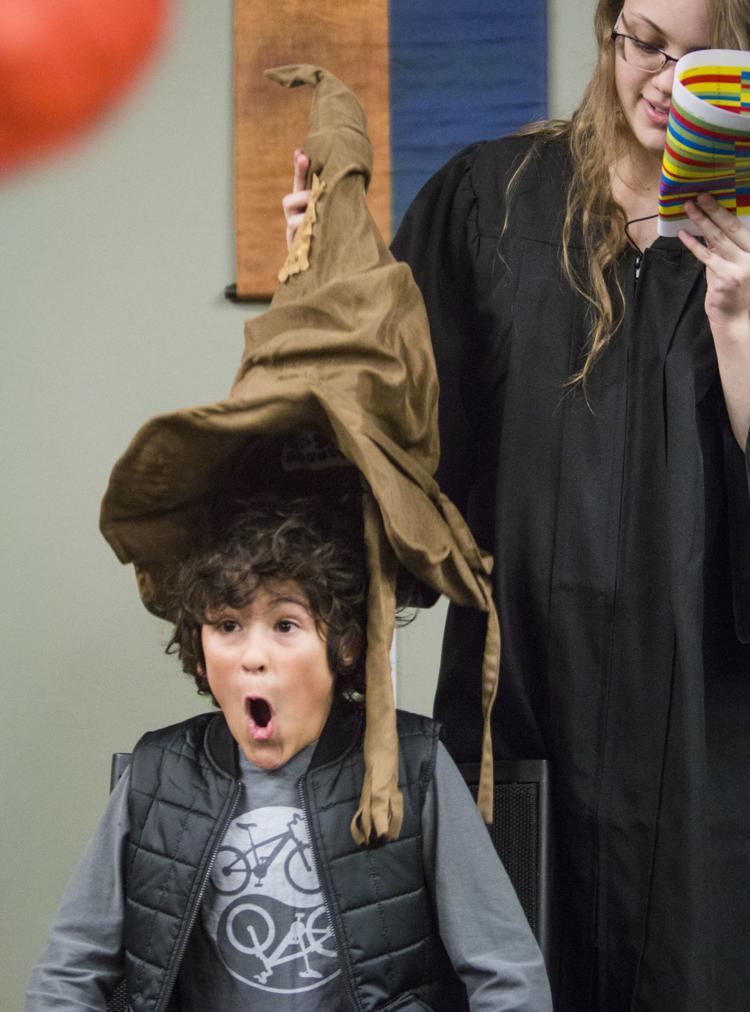 The Teton Raptor Center was on hand with owls like the barred and great horned species. The nonprofit led a "Care of Magical Creatures" class to help the students select the perfect owl to deliver Howlers and other mail like Hedwig does for Harry Potter. They learned about owl diets and behaviors and how to care for their potential companions.
Students also took a field trip to a magical sweet shop, Honeydukes, where they had a huge selection of sweets to choose from to make a candy necklace or simply eat.
"I really like this," Maya Brettell, 8, said as she strung candy onto her necklace. "I also really liked 'Charms' class because I like to play tricks on people. It's fun to learn a few new tricks."
Brewer's quips and sleight of hand were a big hit with every wizard.
"The 'Charms' class was my favorite," 11-year-old Francis Reid said. "That was so much fun. I also really enjoyed making candy necklaces. I'm going to bring my necklace with me to school."
Throughout the evening, members of each house competed for points, and Hufflepuff came out on top to snatch the "golden snitch."
"Tough stuff, Hufflepuff!" its members chanted as they jumped up and down.
Competition aside, all wizards earned a trip to Diagon Alley, where they received a wand so they could cast spells such as "Expelliarmus," and "Riddikulus."
And, as the wizarding folk made their selections, Holmes reminded them: "As you know, the wizard does not pick the wand; the wand picks the wizard."