Goblins, ghosts, witches and werewolves aren't the only scary things creeping around this Halloween.
With COVID-19 cases on the rise in Wyoming it's important to keep you and your little pumpkins safe if you are going to enjoy the spooky seasonal festivities.
"We of course want our kids to have fun and stuff," Teton County Sheriff's Office Lt. Lloyd Funk said, "but it can be very problematic with something like COVID running around. The main precautions will be to do everything you can for yourself such as hand sanitizer and face masks."
Though the usual trick-or-treating on Town Square has been canceled and its costume contest has moved online to social media, there is still plenty of candy to be eaten and plenty of ways to enjoy Halloween responsibly.
Teton County Health Department's public health response coordinator, Rachael Wheeler, said the department is promoting the Centers for Disease Control and Prevention's guidance on Halloween safety.
Trick-or-treating may place people at a higher risk of infection, so the CDC recommends that trick-or-treaters wear a cloth mask as part of their costumes, stay 6 feet away from those not in the same household, use hand sanitizer with at least 60% alcohol after touching objects and wash hands with soap and water for 20 seconds at home before eating any treats.
A costume mask is not a substitute for a cloth mask "unless it is made of two or more layers of breathable fabric that covers your mouth and nose without gaps around the face," according to the Wyoming Department of Health. Wearing a costume mask over a cloth mask may make breathing difficult, and goblins younger than 2 years or who have difficulty breathing should not wear a mask.
Funk notes safety is a two-way street: Candy givers need to be just as responsible for public safety as candy grabbers.
The CDC recommends that those handing out candy wear masks, wash hands before handling treats, bag treats individually and give them outside. Better yet, leave them at an outdoor station to avoid direct contact entirely.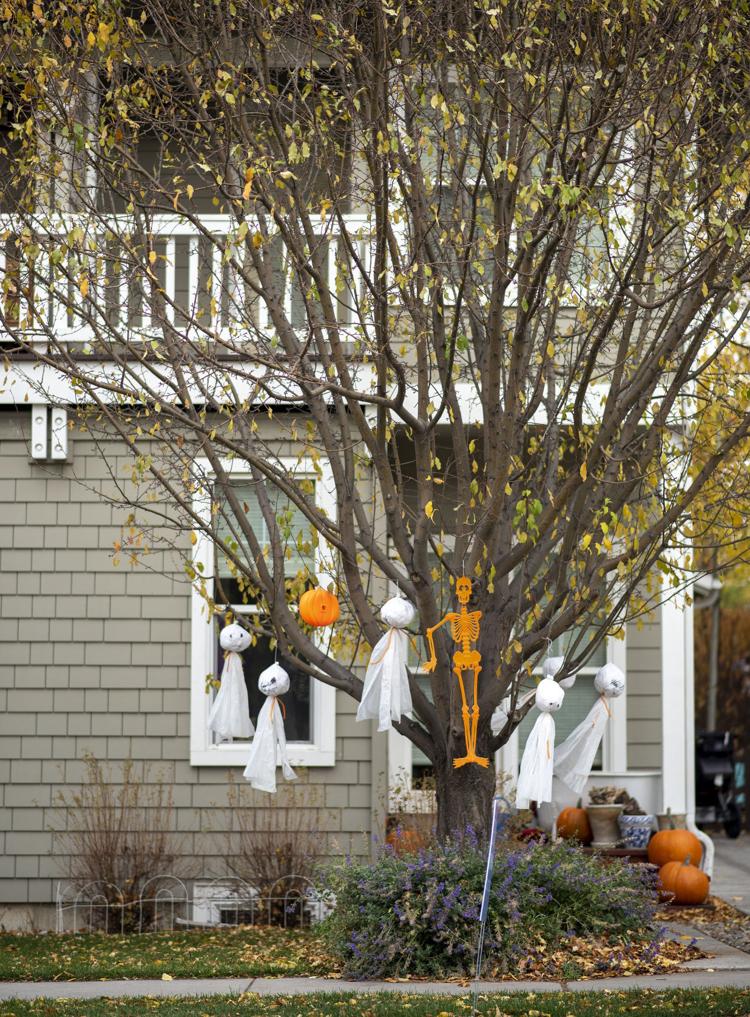 The Wyoming Department of Health adds that you should sanitize frequently touched objects like your doorbell if handing out treats from your house. The department encourages alternatives to trick-or-treating, like open-air costume parades or virtual costume contests, and it discourages traveling to other communities, hosting or attending large indoor parties or haunted houses, and sponsoring activities with alcohol that could impair judgment and increase risky behavior.
"Something you could do is treat it kind of like Easter," Funk said. "You know, hide it [candy] around your house, hide it around the outside of your house. You still make it fun for the kids and the adults, and you're actually taking precautions against COVID."
There are plenty of other alternatives to going door to door: carving pumpkins, decorating your house and admiring your neighbors' ghastly decor, holding an outdoor scavenger hunt, visiting a pumpkin patch or orchard, going to a corn maze or hosting an outdoor movie night. Virtual parties, murder mysteries and pumpkin-carving contests are all great options.
The Jackson Hole Children's Museum will host some Halloween-themed activities next week, including a lava lamp experiment, spooky spider plate crafts and a dry ice witch's brew. Activities are free with admission and will take place over several two-hour time slots throughout the week with no more than 12 visitors at a time. Members can make reservations at JHChildrensMuseum.org, and others can call half an hour before each time slot to see if there is walk-in availability.
"Halloween is a big event for children in this town, but with this year it's hard to trick or treat," said Tessa Lindman, program coordinator for the museum. "We definitely wanted to provide a space for our 12 visitors to create Halloween magic."
To make decisions about your Halloween plans the CDC suggests considering community levels of COVID-19, the location and duration of any gathering, the number of people expected, where attendees will be traveling from and their adherence to social distancing and mask-wearing before and during the event.
The Jackson Police Department reminds families that do plan to trick or treat to follow the usual safety guidelines: Be aware of your surroundings, stay close to your family, stay away from strangers, cross streets safely and stay visible with reflective tape, flashlights or glow sticks.