Restaurants and clubs may be shut down across Jackson, but the town is anything but quiet. At 8 every night howls rise from the valley, bouncing off the surrounding hills and buttes.
Some people howl to show support for medical workers; others howl to hear and be heard by their neighbors. Many howl purely for the animalistic catharsis it provides.
It was a trend started in Denver by a Facebook group in late March and the nightly howls have seen a rapid rise in popularity across the Mountain West. In Jackson, the howling started when Augusta Friendsmith made a post on her Teton County CAREmongering Facebook group.
"I went out that first night and I was the only one in my alley, and I felt like such a dork," Friendsmith said. "The neighbors were putting their kids to bed and they peeked out the window to ask what I was doing."
Friendsmith, who lives in East Jackson, now joins her entire neighborhood in the howl every evening and the response on her Facebook page has been overwhelmingly positive. Lisa Robinson, co-founder of Wyoming Untrapped, even started tandem Facebook and Instagram pages titled "Howl for Wyoming."
Howling can now be heard nightly from Wilson to Hoback.
One concerned poster on Facebook warned howlers that the noise would disturb local wolf populations, citing an article that mentioned the potential for wolves to mistake human howling for a rival pack. But, according to Kira Cassidy, a local wildlife biologist who leads a research team as part of the Yellowstone Wolf Project, supportive howlers shouldn't be worried.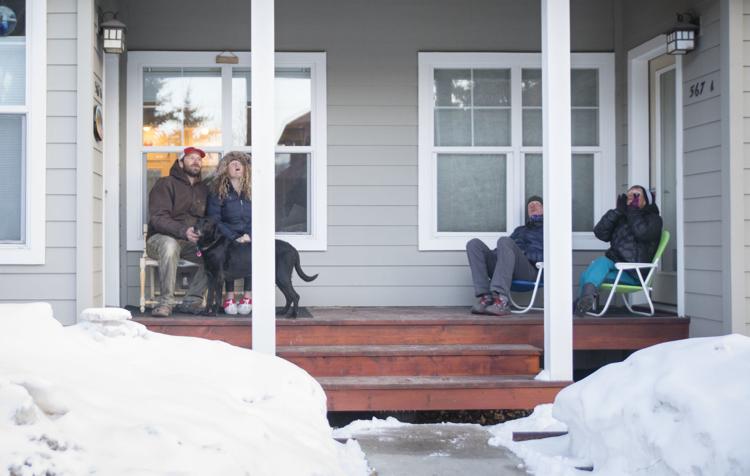 "I wouldn't worry about it from town or developed areas," Cassidy said. "Better to keep wolves away from those areas anyway."
Even in the wilderness, Cassidy said, wolves would most likely recognize the sound as a "noisy human to stay away from," but that doesn't stop them from wanting to take part.
"I would not be surprised at all if there's someone walking up the refuge road that hears them join in one day," she said.
Cassidy has joined the evening howls with her partner and dog from where she is staying in Jackson. She knows that if any wolves were listening in it would most likely be the Huckleberry Pack, which resides in the Gros Ventre mountains to the southeast of town.
For wolves, howling is generally reserved for two types of situations. The first is territorial. In an effort to establish the bounds of their territory, a pack will howl to alert rivals of their presence. Although wolf packs can be small, it is hard to judge thiat by their howls. Through modulating their pitch and tone they confuse the listener's ears to hear more individuals than are actually there.
The second reason may be closer to our own. Wolves howl as an expression of social bonds. According to Cassidy, that is especially likely to happen when a wolf returns from an extended absence from its pack. Its cohort gathers around it and celebrates its return.
"In a way it looks a bit ritualized. They're up and wagging tails and looking at each other."
In her initial post, Friendsmith coined the term "solitary solidarity," which may be the best description of the nightly howl that anyone has come up with. Like wolves, Jacksonites are finding ways to celebrate community, even at a time when we are physically distant from one another.
"Wolves are doing the same thing as us," Cassidy said. "The whole point is to remind you that you're not alone."