When she began rock climbing with the Stonemasters, a gang of dirtbag trailblazers in Yosemite National Park, Lynn Hill was even more an oddity than the rest of those counterculture icons.
She was a woman in what was then a climbing scene long dominated by men. She was neither the first of her sex to pursue the sport, nor the only one doing so at the time. But Hill did do more than anyone else to close the gap in climbing ability between men and women.
Hill is best known for making the first free ascent of the Nose of El Capitan in 1993, redrawing the boundaries of vertical possibility. No one before her had scaled the daunting Yosemite big wall without using equipment to aid their progress. She did it relying only on physical ability. It was the defining climb of a generation, and arguably the most famous in history. At the summit, she famously quipped, "It goes, boys!"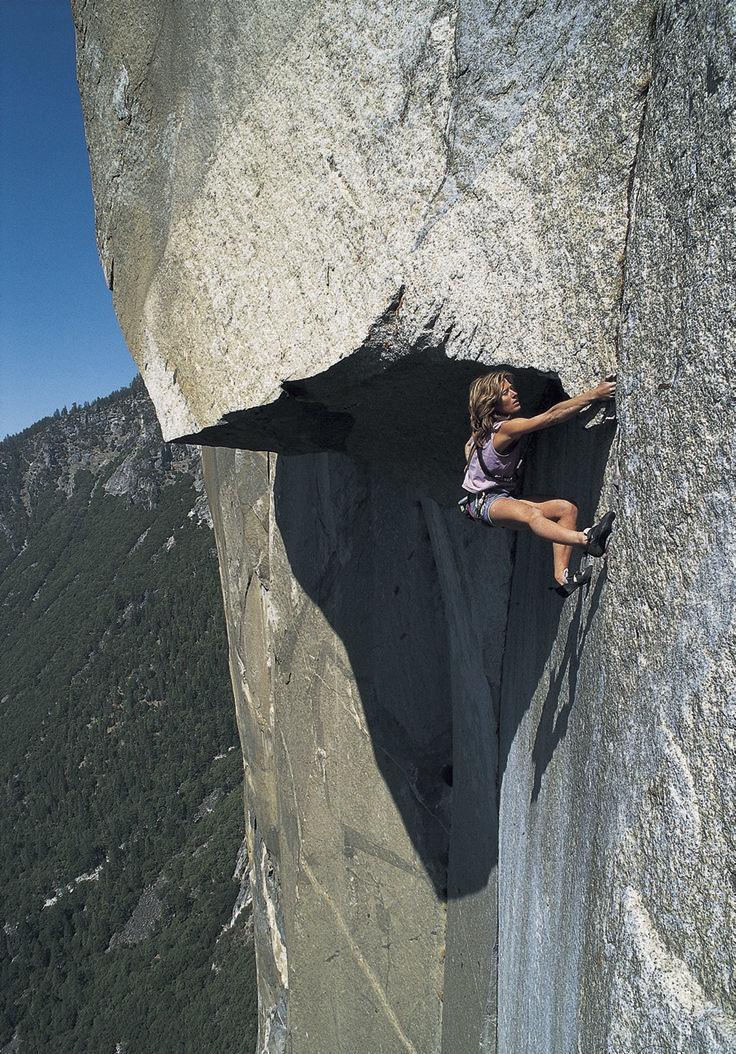 Hill became a public spokesperson, arguing for gender equality in the sport. Today some of the most promising climbers of the generation — Ashima Shiraishi, Margo Hayes, Brooke Raboutou — are women.
These days Hill's life still revolves around climbing, though in a subtler way. She has a teenage son, Owen, and spends most of her time coaching, guiding and working on side projects closer to home in Boulder, Colorado.
She hopes to release a series of climbing technique videos soon, 13 years in the making. She's also collaborating on a documentary about her life and climbing history. The ongoing project is centered around a 2019 repeat attempt at the Nose with Nina Caprez.
Though she didn't free climb the entire route last year, at age 59 she was still able to perform the moves on Changing Corners, the most difficult pitch. She said she may still even try to climb a separate 5.14b, which would be her biggest challenge yet for sheer difficulty.
"I don't know if that's still a possibility in my current state, but I suppose if I found the right one and worked it out I could do it," she said. "It would be cool to express that just because you're older doesn't mean you can't be in good shape."
Such stereotypes have never held her back before.
At 7 p.m. Tuesday at the Center for the Arts, Hill will discuss her 40-plus year climbing career and the history of the sport she helped to shape as the keynote speaker for the Teton County Library's Mountain Story series.
The News&Guide spoke with Hill over the phone ahead of her visit and compiled her answers in this Q&A, which has been lightly edited for readability and clarity.
Q: You and the rest of the Stonemasters did a lot to set the standards that climbers, by and large, still follow today. But in other ways the climbing world has changed dramatically, for example in the rise of competition and gym climbing. What has the evolution of climbing throughout your life looked like to you?
A: In my culture, where I came from in California, we were more trad climbers. We were interested in style above all. In the previous generation they were just peak bagging and climbing to get to the top. Anything was valid.
In our generation we knew that we could get to the top by aid climbing, but it was all about free climbing, and also not hanging on the rope and working out the moves and using the gymnastic approach that climbers use today. I think that was limiting on one level, but it kept people honest, and we were all playing by the same rules. It was pretty hardcore back then.
Climbing still today doesn't appeal to everyone. You have to be the kind of person that likes challenge, likes adventure. But today the demographic is much bigger. It's a sport now, and you can be just a gym climber if you want and nobody really cares about your style as far as if you hang on the rope or whatever. It's much more focused on performance, and there's less of this sort of pride with perfect style.
Q: You started out as a traditional climber in the 1970s, but for many years before your free ascent of the Nose you were widely regarded as one of the leading sport climbers in the world. What brought you back to trad?
A: I think it's great to have all those skills. And the best thing about trad climbing for me is that you can go anywhere and climb whatever formation using your trad climbing skills and sport climbing skills. When it gets hard, you need to be strong and have the vision and know what you can do with the holds. That's the sport climbing side. For trad climbing, you have to be able to protect yourself as you go.
I had the skills of trad climbing. It's kind of like riding a bicycle. It wasn't like I left that world. I just was exploring a new world that was new and exciting, and that's why I combined those skills to try to do the first free ascent of the Nose.
Q: The world obviously knows you best for that climb. Do you consider it your greatest climbing achievement, or are others more significant to you?
A: The Nose was certainly the most significant just because it hadn't been done. Nobody repeated it for a long time.
It's kind of that achievement that expressed something I wanted to express as a young girl. People made comments like, "Oh, gee, I can't even do that."
That came from some guy that didn't even look particularly fit. I was like, "Oh, so you think just because I'm a little girl" — and I was probably 14 or something — "that I shouldn't be able to do something more physically challenging than you, because you're a man?"
I wanted to wake people up to the idea that there's a lot more to performance than just being born a male or a female or whatever other stereotype people have. It really has to do with your vision and psychological aspects. Yes, there's a physical element in climbing, but you can develop that. Everything starts in the mind, and your spirit, and your intention.
For me the Nose was the most significant, but also being the first woman to be able to do a 5.14 — that also stood for three years. No woman was able to do a 5.14 before then because they didn't believe that they could. They were told all their lives that 5.14 was a thing of men.
Q: We've reached the point now where it's commonplace to see the best women climbing extremely close to the level of the best men. What's your perspective on how women have progressed in the sport in recent years?
A: Now, you look at bouldering and women's achievements, they're doing things so much harder than anything men were doing only five years ago. So why is it that we're slightly behind? That's a psychological attitude, I would say. Yes, there's a physical element, too, and I'm sure that as things get more powerful and crazy and gymnastic you might start to see a little more of the difference in being able to have testosterone or not.
But the psychological side is so much more important. I've always maintained that it's almost like magic. If you believe that you can do it, and you obviously work hard and build the skills to do it, there's no reason why you can't be the first person, as a woman, to do something.
Q: Your male contemporaries in the 1970s had any number of men who came before them in the climbing lineage to look up to. You obviously had far fewer women. What drew you to that world with so few examples to follow?
A: First of all, there was Beverly Johnson, who I did meet and I thought she was really cool. She downplayed the whole thing about being a woman in a man's world. She kind of was just one of them. I think that's pretty common. She had soloed the Dihedral Wall on El Capitan. All by herself, 10 days. Did all the leading, hauling, everything. So I had one role model.
Mari Gingery is my prime example of another woman who could hang with the guys. We would do our own little sequences on things that the guys could reach past or jump past, we just had a slightly different approach. We didn't make a big deal out of being women either, but obviously it was a fact and we appreciated that we had each other.
It was important for me to have somebody like Mari right there with me. It was with Mari that I did the Nose the first time [that was not Hill's free ascent]. Dean Fidelman joined us and after his first lead he said, "I'm too freaked out up here, you women will have to lead all the way to the top," which we did.
Q: Maybe in the early days you didn't make a big deal of being women in a male-dominated culture. But later, especially after your ascent of the Nose, you became a very public voice for women in climbing. How did that transition happen?
A: It happened by default, I would say. It was a novelty. I've been doing interviews since I was 18 years old. People were curious about climbing, and a woman in that realm seemed very unusual. To me it was normal. I felt that women were being underestimated and discouraged from something that seemed very natural to me.
I just spoke my mind. It was important to me to let people know that we don't have to follow those stereotypes, and we are individuals with different skills and desires, and that's what makes the world go round. We need that kind of diversity.
Q: You were a talented athlete from a very young age, starting with gymnastics before rock climbing. Were sports always your future, or did you consider any other careers?
A: My intention was to become a physical therapist. I got sort of kidnapped by the climbing world, and it seemed much more exciting to go explore Europe and go to the competitions and be a part of that whole new world of climbing. I got sponsors at that point, which made it easy to say, "Yeah, I'm just going to keep rock climbing."
It's not a great long-term career path, because it's not like there's any 401(k). I've always paid my own insurance, I've always been an independent contractor. And when you're older, the companies don't just hand out money anymore, so you've got to have a Plan B.
And having a kid, boy, that brings in a whole bunch of other challenges when it comes to climbing and making that your career.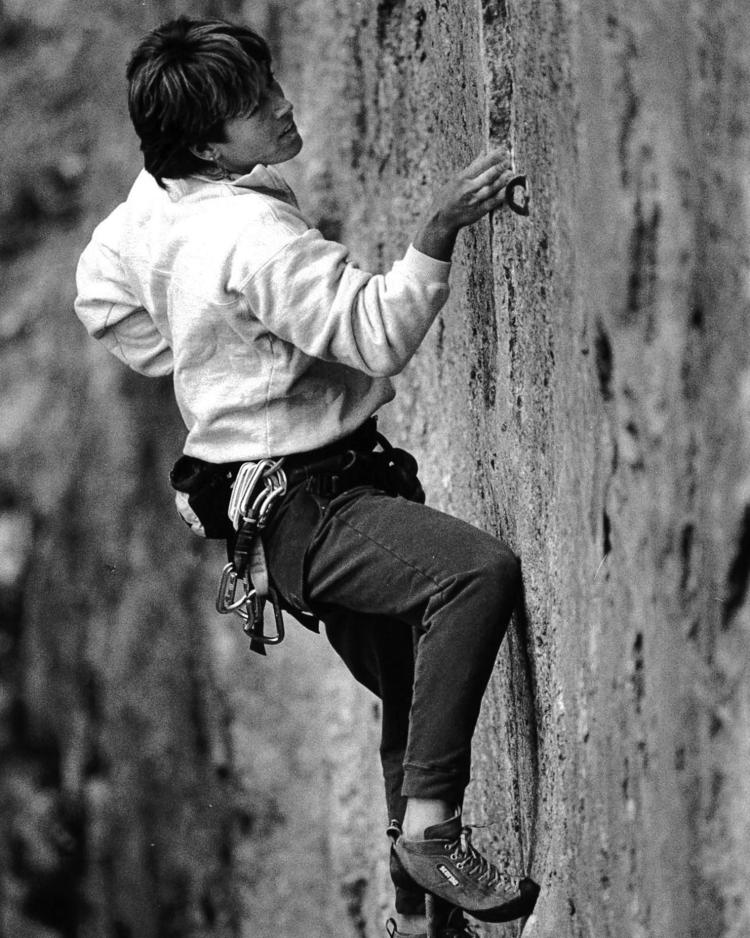 Q: How has your relationship with climbing changed as you've entered this stage of your life, especially becoming a mother?
A: I've been a single mother since my son was 2 1/2. How do you both be a mother and take care of your child and go off and do these grand things? It's impossible unless you want to be, in my opinion, not as responsible or accountable as a mother. That's not how I am. If I'm going to be a mom, I'm going to do the best I can.
One thing I'm very happy about is I've always made sure climbing is my passion, and I never let the industry's desires and people's desires pull me away in different directions. Climbing is for me. If I have my son as a priority, I still have climbing for me, but I can do it in a different way. It doesn't have to be grandiose. I don't need to go to the end of the earth to feel like a climber. That's one thing that people get wrong.
Q: You climb with and guide many young people these days in Boulder. I imagine you're a bit of local hero in such a climbing-centric community. How do they react to meeting you?
A: People will say, "Are you Lynn Hill? Wow!" Some people are so emotionally moved that there's tears in their eyes. It's crazy to me, but it happens in climbing gyms or in the airport or wherever I happen to be.
It's flattering, but I feel like I always want to take it down to a human level. When people do that, they're putting me on a pedestal, and that doesn't feel like I'm a human anymore. It just feels like I'm an objectified emblem of something to them. So I try to ask them questions about their life and engage in a more equal exchange. I am recognized as this legend, but what it means to people, I don't know.
A: It's hard to say right now. I would like to finish my technique video series and see where that takes me. Also following through with the other projects on the table, like the documentary.
But also my son is 17 now, or he will be in a couple more months. Which means only one more year and he'll be an adult and graduated from high school, and I won't feel like I need to be around as much, which means that I will have the freedom to be a rock climber again.
Being on this side of life — meaning older — I have to be more aware of not overdoing it and getting injured, so I'll focus on the art of climbing and exploring and developing my body without hurting it. We'll see where that leads. I'm open to all kinds of things.