In the Epitaph to "A Streetcar Named Desire," Tennessee Williams quotes the fifth stanza of "The Broken Tower," a 1932 poem by Hart Crane, a modernist poet whose struggles with depression, addiction and his own sexuality may have been prophetic of what was to come for Williams.
And so it was I entered the broken world
To trace the visionary company of love, its voice
An instant in the wind (I know not whither hurled)
But not for long to hold each desperate choice
The stanza, although somewhat opaque in the context of the original poem, gains clarity in the context of Williams' play.
Blanche DuBois, the central protagonist of "A Streetcar Named Desire," is both a victim of "the broken world" and a relentless pursuer of the ephemeral "company of love." It is this pursuit that leads her down a path of desperate choices and eventual delusion.
Because "A Streetcar Named Desire" is considered one of the greatest plays of the 20th century, it is both an obvious choice for Riot Act Inc.'s winter production and a formidable undertaking for the community theater company. Many theatergoers will have seen Vivien Leigh as Blanche DuBois and Marlon Brando as Stanley Kowalski in the 1951 Hollywood film adaptation.
But with a cast of experienced actors and a dedicated crew to help design the set and costume wardrobe, Riot Act seems poised for theatrical success.
The production, directed by Macey Mott, will play at the Center for the Arts Center Theater today through Sunday. It will begin at 7:30 p.m. today through Saturday with 1 p.m. matinees on Saturday and Sunday.
Mott was well aware of how ambitious an undertaking the play was when the committee put it forth. But, she was confident in her ability to bring the play to life and potentially spark a broader discussion about domestic violence in American society.
"I'm drawn to Williams' depth of characters and his ability to show us how different people handle different situations, usually crises in their own lives," she said.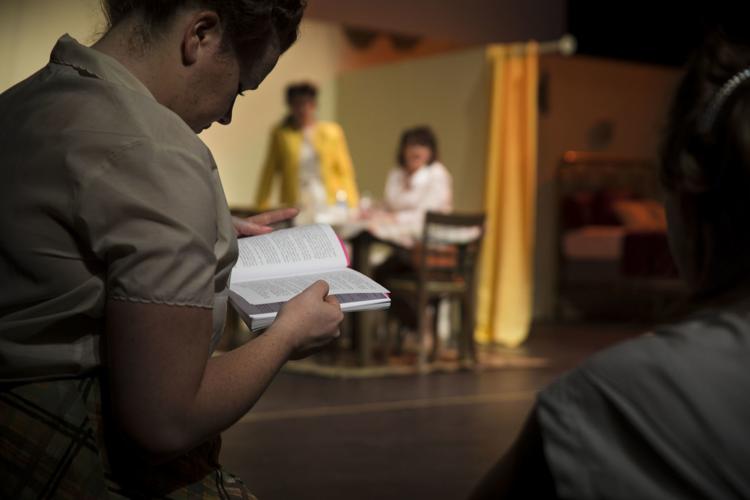 Mott was pleasantly surprised when a cast of experienced actors came together after auditions last December.
"We are so lucky to have this kind of talent in our small community," she said.
Samantha Wittig, who plays Blanche, was sure the role would go to a one of Riot Act's veteran actors when she auditioned.
"I came in not expecting to get anything," she said.
Wittig is a Jackson native and holds a degree from the Department of Theatre Arts at Colorado Mesa University. Although she lives in New York now, she quit her day job at a research economics firm this winter to come home and be with her mother while she underwent chemotherapy.
The time frame happened to line up perfectly for Wittig to rehearse for the show, and it was also an opportunity for her to reenter the acting world before going back to New York to pursue a full-time career in theater.
"I ended up working too much to be able to act," Wittig said of her former job.
At a rehearsal in Riot Act's Center for the Arts space last week, Wittig displayed her dedication to her character. She moved about the makeshift stage with the unmistakable anxious energy of someone who is waging an internal battle between her despair and delusions. When she called for a line during one of Blanche's many rambling monologues, she never broke from Blanche's sickly sweet Mississippi accent or distressed demeanor.
"It is easy to write her off in broad strokes as just someone who is flighty and narcissistic. ... but she definitely has PTSD," Wittig said of her character. "She's been a really interesting character to get in the head space of."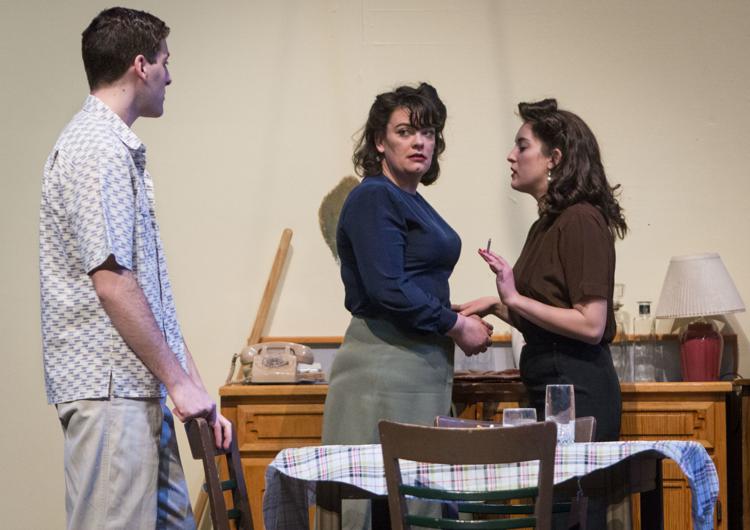 For Peter Hiebert, who plays Stanley Kowalski, Blanche's violent and vindictive brother-in-law, community theater is a way to get through Jackson's long winter season.
"I'm doing this show to kind of distract myself from seasonal affective disorder," he said.
Hiebert came to Jackson after graduating from the University of Vermont, where he made a friend who had worked as the stage manager for the Jackson Hole Playhouse. In 2016, he auditioned for a playhouse production and moved out for the summer. He moved to Jackson full time two years ago.
Hiebert's transformation into Kowalski is especially striking because his own personality is so far from his character's. While Hiebert is friendly and soft-spoken, Kowalski is tempestuous, cunning and violent.
"It was hard for me to find the anger for the character," Hiebert said. "I'm not an angry person."
It was easy to forget this watching Hiebert as Kowalski during last week's rehearsal. He vacillated between palpable rage, eager vindictiveness and utter desperation from scene to scene. Every trace of Hiebert's quiet thoughtfulness was replaced by Kowalski's turbulence and malice.
Some of the most evocative moments during the rehearsal were the scenes of intimacy, both requited and unrequited, between characters. The ease and fluidity with which the actors approach those moments is likely due to the focused work they did with Samantha Kaufman, a Midwest-based actor, fight director and intimacy director.
For Wittig, the coaching and detailed choreography was a transformative experience.
"Most of the time the director just throws you up there and goes, 'Make it sexy,'" she said. "She was like, 'You do this exact thing so you don't have to think about it.'"
The meticulous focus on perfecting both intimate and violent scenes may just be the edge that makes Riot Act's production a particularly memorable work of community theater.